Van life comes with pros and cons when it comes to exercise and healthy living. Pro: you get to immerse yourself in nature and constantly explore new hiking trails and other outdoor sports areas. The world is your gym. Con: moving around often can make it difficult to stay consistent with your fitness goals and routines. Long days spent driving can cramp your style (and your neck), while the small interior of a van isn't conducive to storing tons of exercise equipment.
Luckily, there are many workouts you can do inside or outside your van that don't take up much space or require any equipment other than a yoga mat. Having videos to follow will make you more likely to stick with a routine since all you have to do is muster up the motivation to press play, then follow along. That's why we're sharing five of the best exercise routines for van life, including overviews, difficulty levels, and video links for each. Choose the routines that align with your goals and enjoy your newfound van life fitness.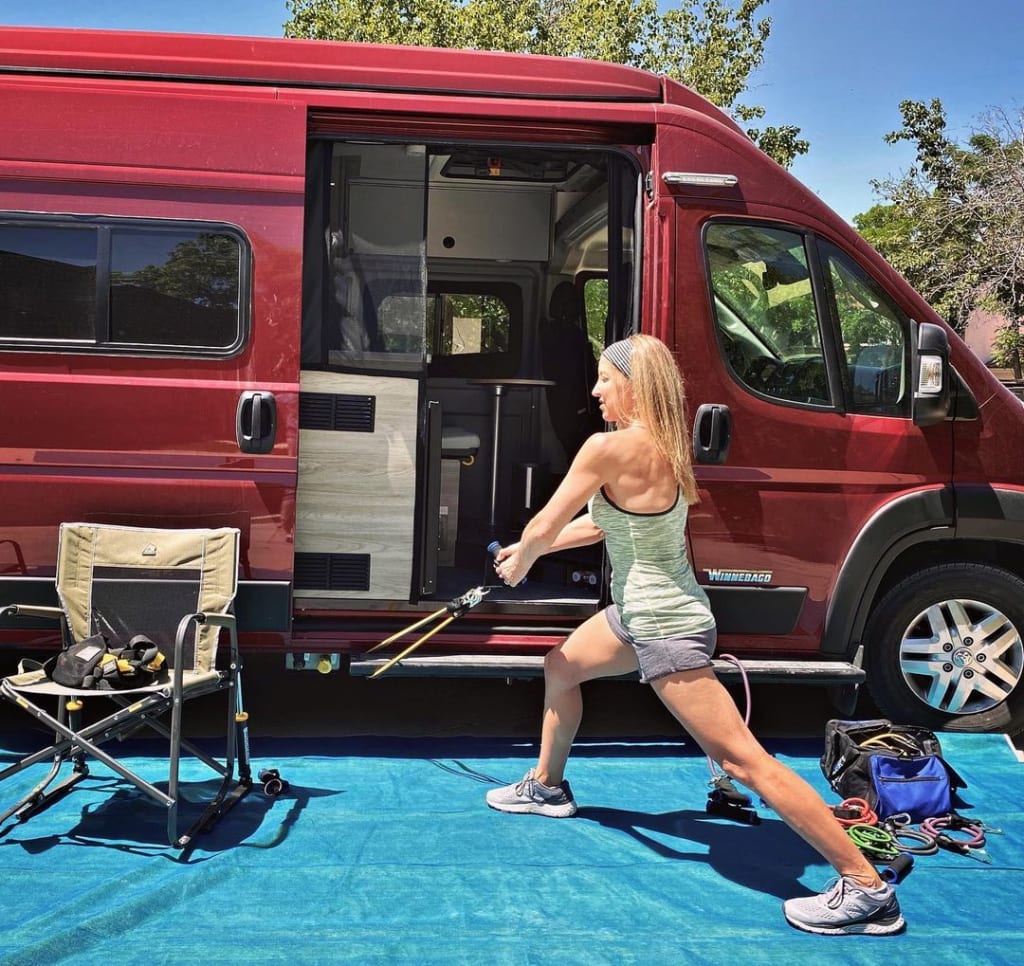 Photography: @thefitrv
MIX AND MATCH MORNINGS
Try short, intense workouts to start the day off right with a big boost in energy. Even ten-minute videos will yield real results if you do them often. We recommend rotating between workouts that target different parts of the body for variety and to let your muscles recover. For example, do the abs workout on day 1, arms on day 2, and legs on day 3. If 10-15 minutes isn't challenging enough, try pairing multiple videos. The YouTube channels of the three workouts linked below also have many similar offerings for different ability levels and target areas, so you can create a custom routine that works for you.
10-Minute Ab Workout With Calvin Corzine
Difficulty Level: Hard
Duration: 10:48
Location: Inside or outside the van
10 Min Toned Arms & Upper Body Workout- No Equipment
Difficulty Level: Medium
Duration: 11:01
Location: Inside or outside the van
12 Min Leg Workout- Butt, Thighs, & Calves// No Equipment- Pamela Reif
Difficulty Level: Hard
Duration: 13:05
Location: Inside or outside the van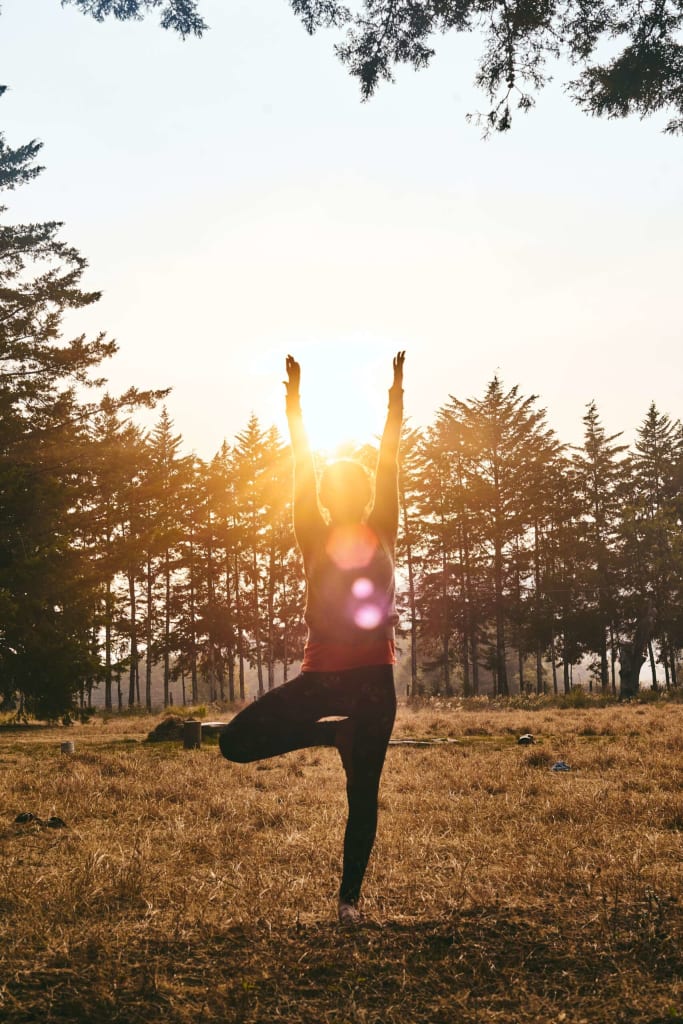 IMMUNE-BOOSTING FLOW
If changing locations often has you feeling less than centered, turn to this yoga routine to find balance. Smoothly transitioning through the poses in this Vinyasa yoga flow will help build up your immune system and flexibility. It is also described by its creators at Indea Yoga as a way to practice active meditation and feel more present. But don't let the relaxing nature of the video fool you—poses like Chaturanga Dandasana (similar to a low plank) are nonetheless working for you to build real physical strength and stamina.
20 Minutes Vinyasa Yoga Flow for Daily Practice
Difficulty Level: Medium
Duration: 19:48
Location: Outside the van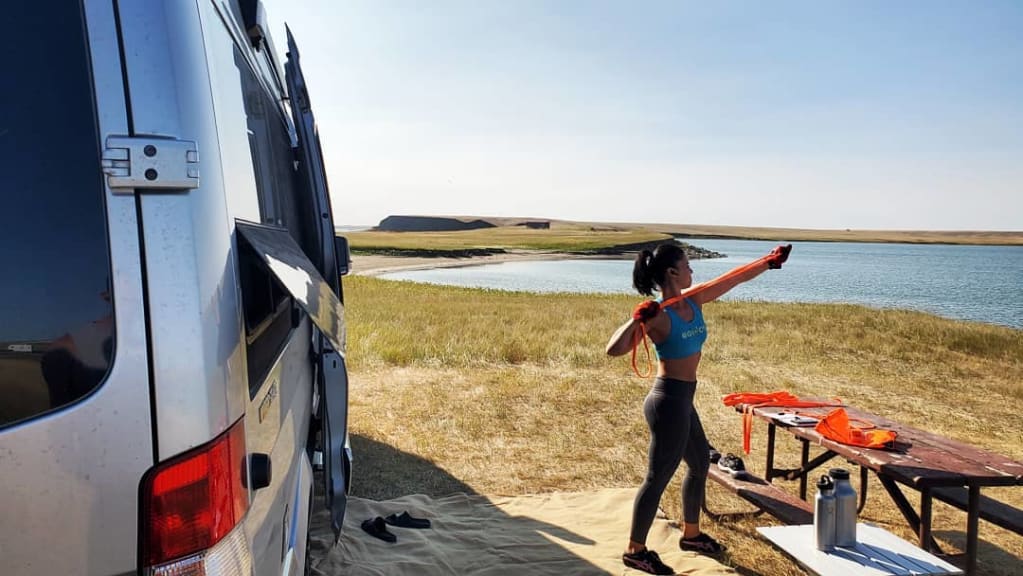 Photography: @ireneiornfitness
HIIT FOR BUSY PEOPLE
High Intensity Interval Training (HIIT) is an efficient form of exercise that lets you accomplish more in a shorter timeframe by pairing periods of intense activity with very short breaks. If you want to crush a quick workout on your lunch break (or anytime), try this challenging ten-minute routine. Fun fact—the motivating hip hop beats accompanying THENX workout videos are produced by the calisthenics company's founder and CEO, Chris Heria, who appears in many of the videos.
Get Ripped from Home- HIIT Workout (No Equipment Needed)
Difficulty Level: Hard
Duration: 10:35
Location: Outside the van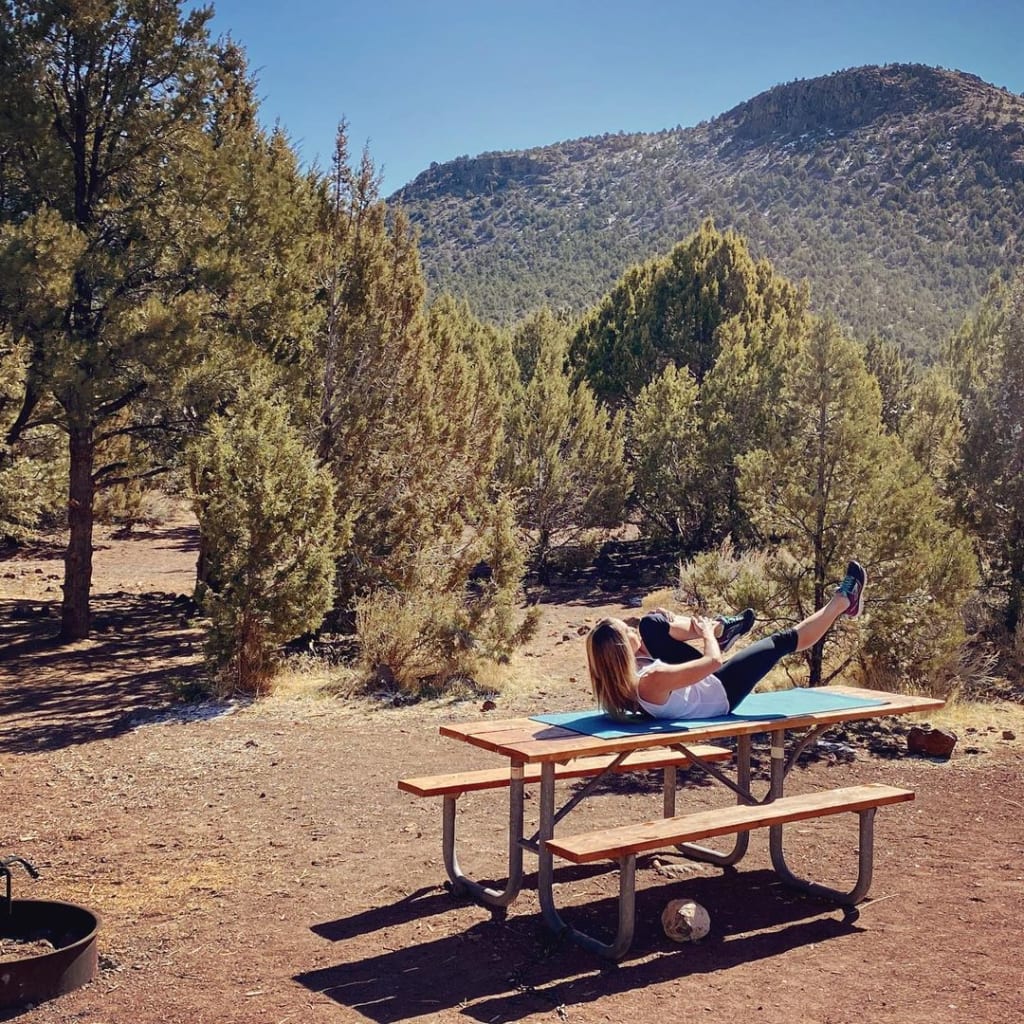 Photography: @thefitrv
WEEKEND WARRIORS
As the longest video on this list, this second HIIT workout is perfectly suited for days when you have a bit more time on your hands, like weekends. In addition to the high-intensity intervals, the video includes warm-up and cool-down sections to ensure you don't injure yourself. This bouncy routine is sure to burn calories and get your heart pumping with healthy cardio. Since the workout includes more jumping and quick movement than some of the others on this list, you will definitely need to do it outside of your van. Exercise early in the morning or later in the evening for cooler temps and fewer onlookers.
45 Min Full Body HIIT Workout – With Warm Up + Cool Down – Burn 500 Calories – At Home
Difficulty Level: Hard
Duration: 47:00
Location: Outside the van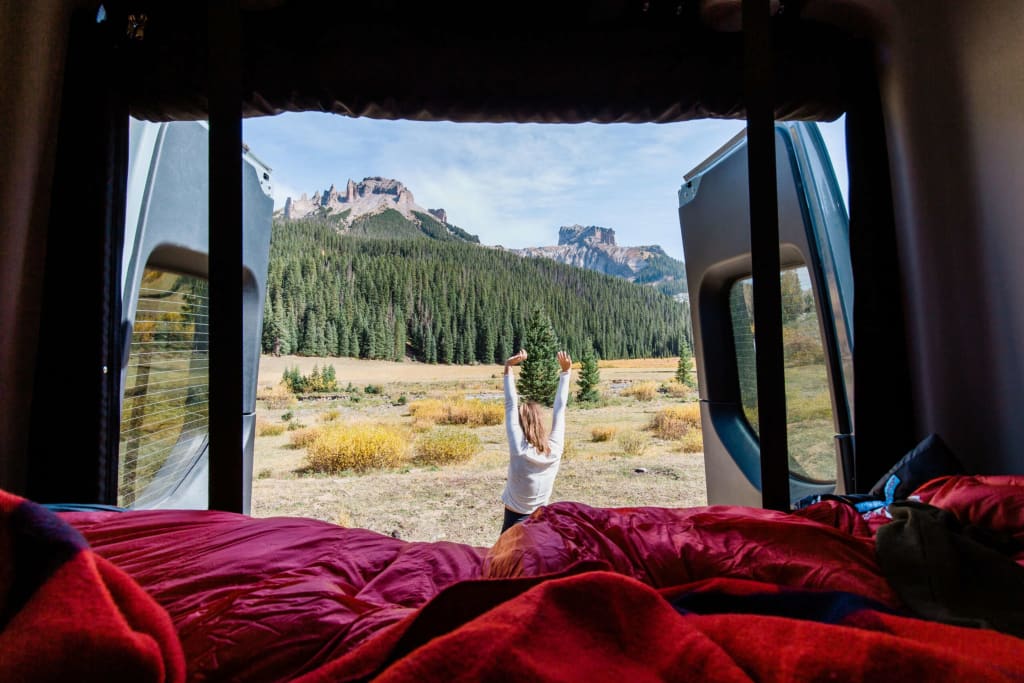 Photography: @helloamerica
GOT YOUR BACK
Take care of yourself and unwind after a driving day with this healing stretching routine. Focused on mobilizing and resetting the spine, this movement practice—while not an actual workout—will allow you to feel good enough to take on any workout or activity you can dream up. When embarking on a new exercise regime, it is easy to underestimate the importance of rest and recuperation. However, body aches and twinges from unfamiliar movements are one of the main reasons people quit new routines early. That's why it's so vital to listen to your body's needs and invest time in your overall wellness.
Difficulty Level: Easy
Duration: 32:17
Location: Outside the van
Whether you're looking to start a new exercise routine or you're aiming to supplement your existing routine, these videos can help. Pro tip—if you plan to travel and camp without cell service, try downloading the audio of workout videos with narration and sound cues in advance using a free online YouTube to MP3 converter. If you practice routines often, you might also start naturally memorizing the sequence of moves until you know them by heart. What is your favorite van life workout routine? Let us know in the comments!
At Rec Van, we provide van dwellers with the resources they need to make adventure a lifestyle. To explore our inventory of camper vans, visit Rec Van today.