Since its establishment in 2019, Storyteller Overland has quickly become a go-to favorite in the rec van community. "Live Free. Explore Endlessly. Tell Better Stories," is now a mantra for van dwellers who pursue unparalleled craftsmanship and that one-of-a-kind adventure experience. Renowned for its 4×4 freedom and flexible design features, Storyteller Overland provides the ultimate opportunity to explore any topography beyond the open road unlike ever before. If you're an adventurer by heart and looking for the perfect vehicle to truly take you wherever you desire, here are our top 10 reasons why Rec Van absolutely loves Storyteller Overland.
All photography: Storyteller Overland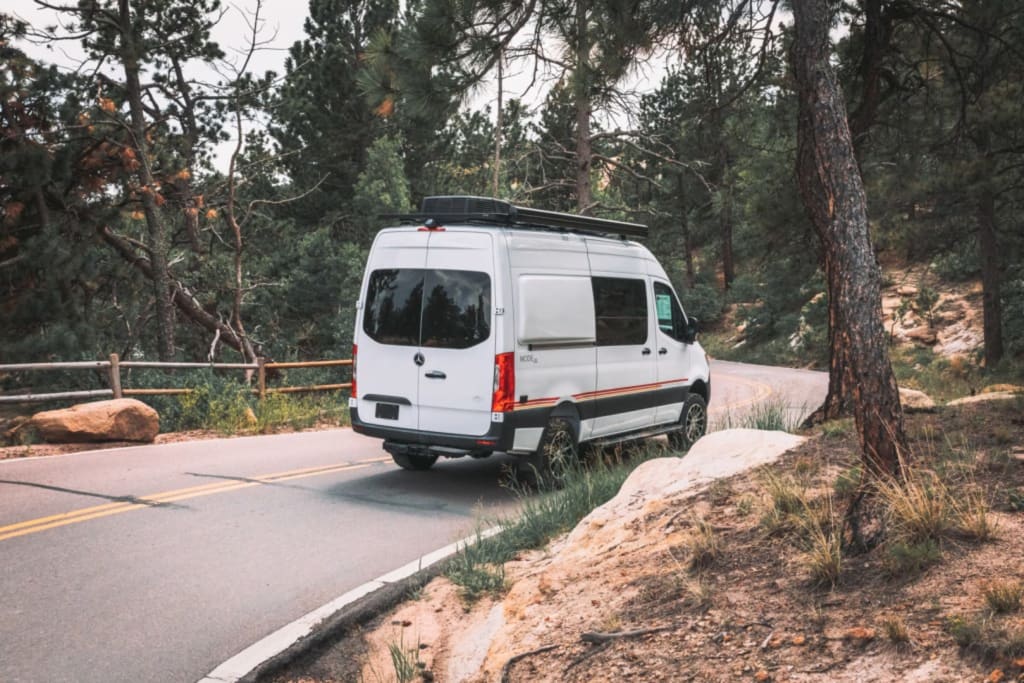 1. American-Made Craftsmanship
Storyteller Overland is headquartered in the beloved south in Birmingham, Alabama. This is a manufacturer that was founded on the spirit and craftsmanship signature to the land that we love. Storyteller Overland sources only the highest quality in materials and adventure van tech to create the most unique and versatile camper van experience. Whether your a weekend warrior or full-time traveler looking for a new horizon to discover and a bolder adventure story to share, Storyteller was created with you in mind.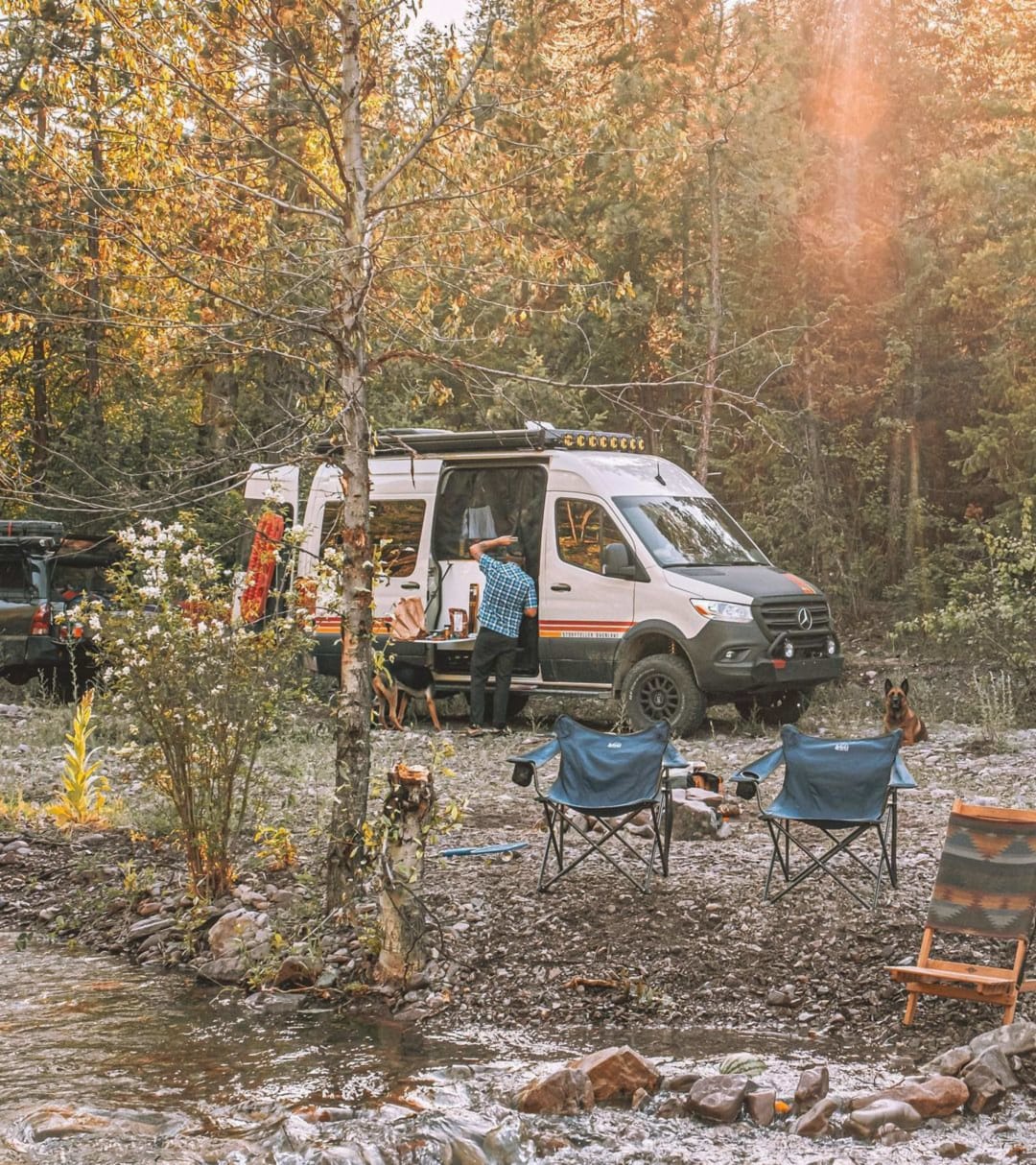 2. Founded by Masters of the Industry
Storyteller Overland was founder by multi-generation adventure travel enthusiasts with a savvy for designing, up-fitting, and customizing world-class overland vehicles. MODE lifers can rest assured by the continual support and commitment of fellow explorers that endeavor to provide the ultimate outdoorsy lifestyle with unprecedented gear, resources, and a sense of community from anywhere across the country. As stated by their company story, "We are custom car guys and gals, we are artists and artisans, experienced designers and engineers, craftsmen and makers, outdoor adventurers and daydreamers, poets and troubadours, spontaneous road trippers and committed weekend warriors, passionate innovators and driven business people… but through it all we are unified for the common cause of doing life together and equipping others with gear, info, and resources to… you guessed it… Live free. Explore endlessly. Tell better stories."

Click on Each Image to View:

3. Original Design Unlike Any Other
Whether the Beast, Stealth, Classic or newest LT, whichever mode of adventure you choose to go for, you'll be equipped with original tech and design only found in Storyteller Overland manufacturing. The HALO shower system easily collapses and expands to provide efficient interior space when not in use. When you're ready to refresh with water pressure and heat you're used to at home, the self-wicking antimicrobial curtain will keep the rest of your camper from mess or mildew. Utilize your rear garage space for the travel mode you envision, whether packing in your travel toys with the I-Track locking systems or folding down a desk to remotely catch up on work or creative projects. The multi-functional Groove Lounge easily converts between a seating, lounge, bedding, or recliner space for any type of outing you plan to have. No matter what your van excursion calls for, Storyteller Overland gears you with the tech and features to make every experience unforgettably seamless.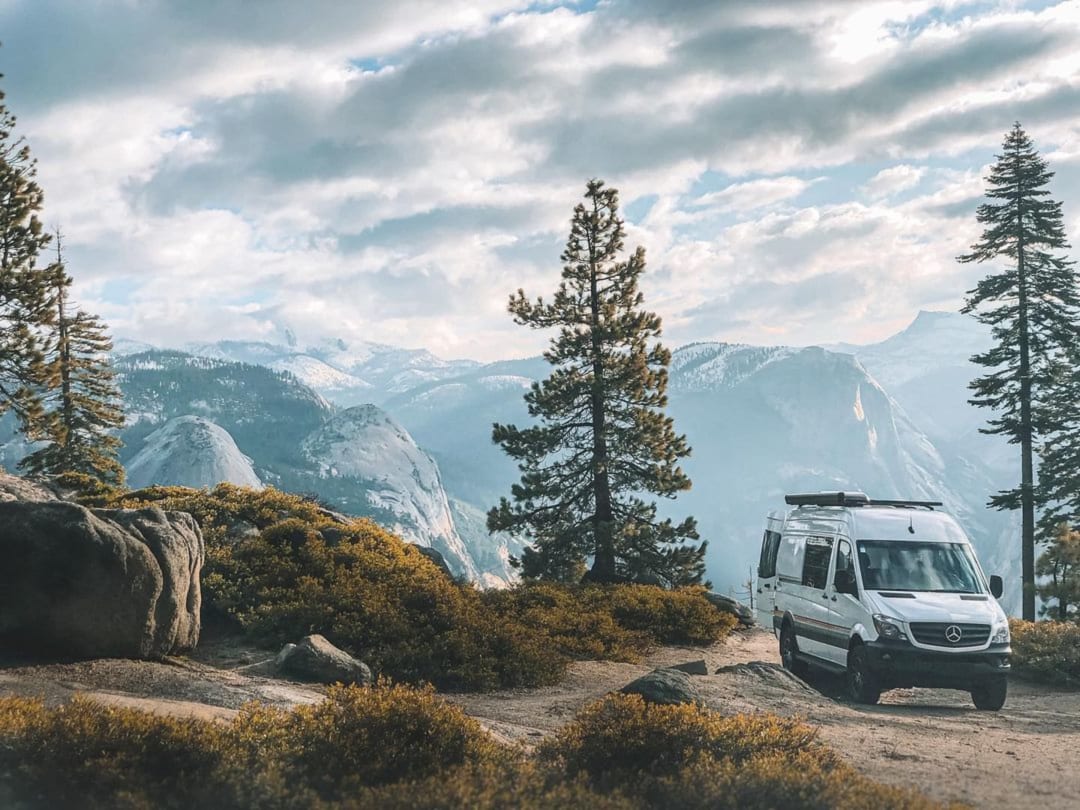 4. True 4×4 Off-the-Grid Freedom
If you've ever dreamed of wandering off-the-grid, keep in mind — Storyteller Overland is 100% boondocker friendly. The 90-watt solar system is expandable with a 500-watt plugin and the 600 lb. roof rack supports ample space for overhead storage whether you're packing kayaks, canoes, or camping gear. No matter where you may be, you no longer have to compromise the comforts of staying fresh with the outdoor shower set-up and detachable toilet system that can be used and dumped without the necessity of a shore-line plugin. Even when you're enjoying van life from outside your camper, the LED-lit full-size 10×8 ft. awning will provide shade as you prep your campfire meals on the water-resistant exterior bench. The refrigerator is just an arm's reach away from outside and can be extended by removing the freezer section. Should you take your travels away from your MODE van, the detachable speaker system that doubles as a flashlight can be taken along with you to stream music along your hiking or biking trips with Bluetooth tech.
5. Tailor-Made for Every Type of Explorer
How far do you want to take your off-road travels? With Storyteller Overland, you're in complete control of how far you wish to go.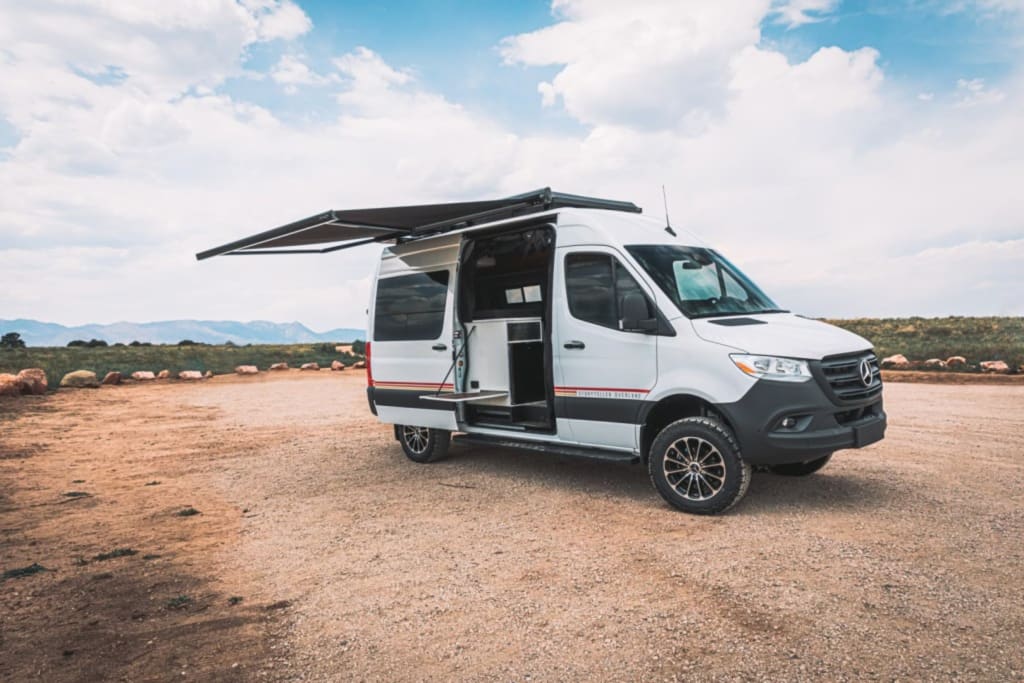 The Classic MODE 4×4 is the perfect outdoorsy vehicle for rec van enthusiasts of any kind. The Sprinter 4×4 144" wheelbase Mercedes chassis, 12kWh M-Power Energy Storage System, and signature HALO shower make it one of the best RVs for off-road and day-to-day adventures around town.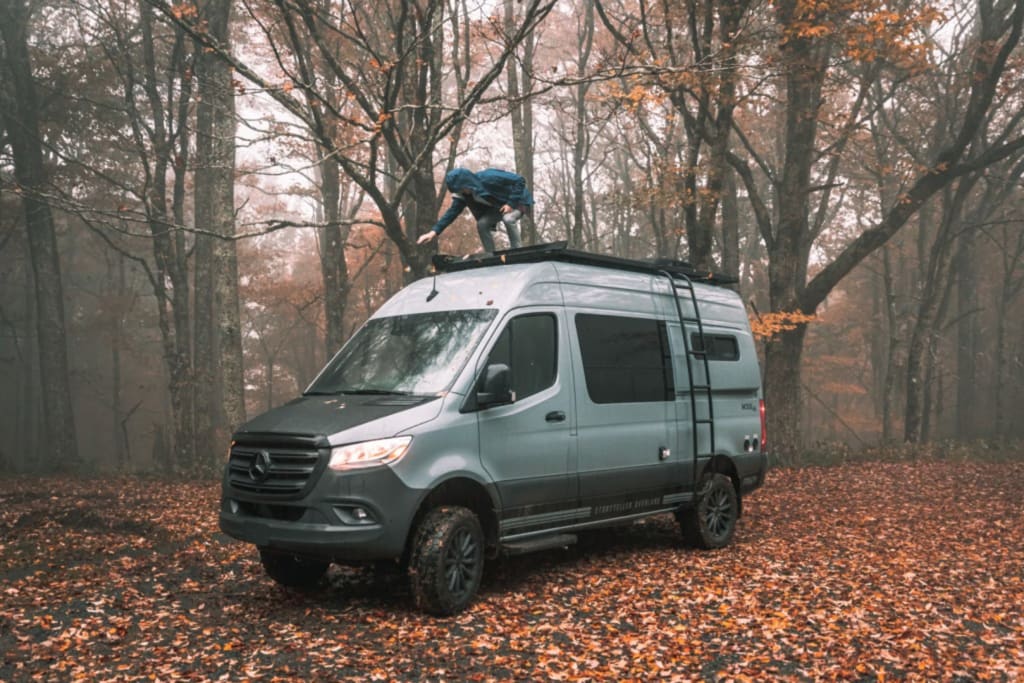 The Stealth MODE 4×4 is ideal for RVers wishing to blend into both urban and wild terrain travel. This model takes nature travel to the next level with greater storage space, extended charging power, and improved climate control. Matte black wheels, a hydro-dipped grill, and a premium Selenite grey metallic finish allow van lifers to blend into any travel setting whether in town or off the beaten path.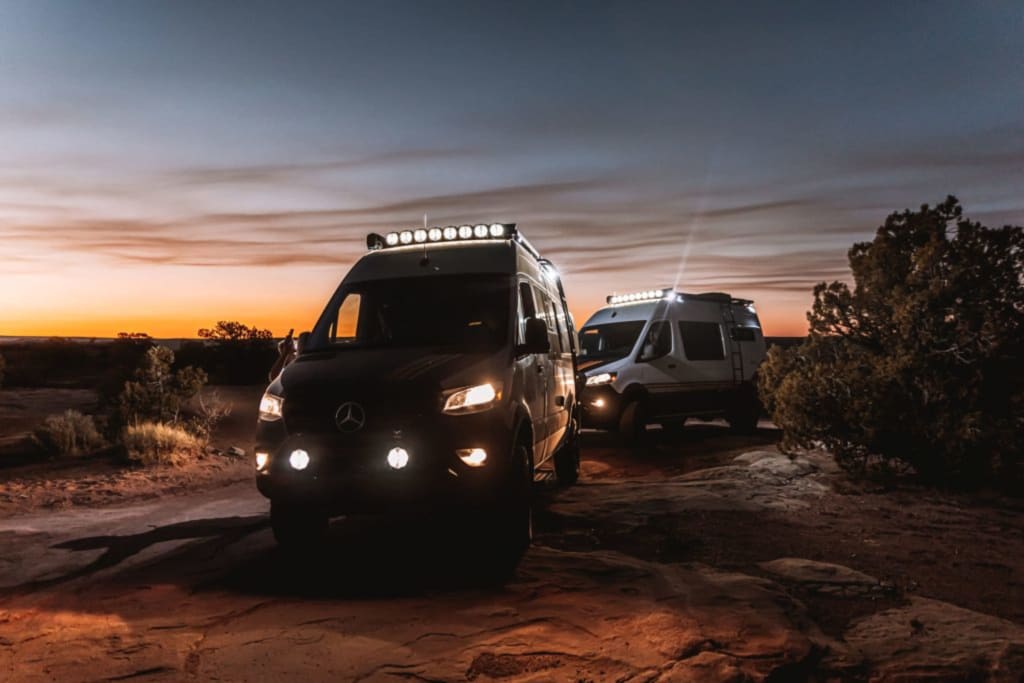 The Beast MODE 4×4 is today's ultimate camper van for rugged van travelers. Enhanced with off-road-ready wheels with Black Rhino Havasu rims, the BoostMODE M-Power Extender System, and KC highlights Extreme Lighting Package, this revolutionary camper van allows you to travel where no other explorer would dare. Ideal for the off-grid travel enthusiast, this Class B RV provides the storage space and safety capabilities for you to explore with comfort, convenience, and peace of mind.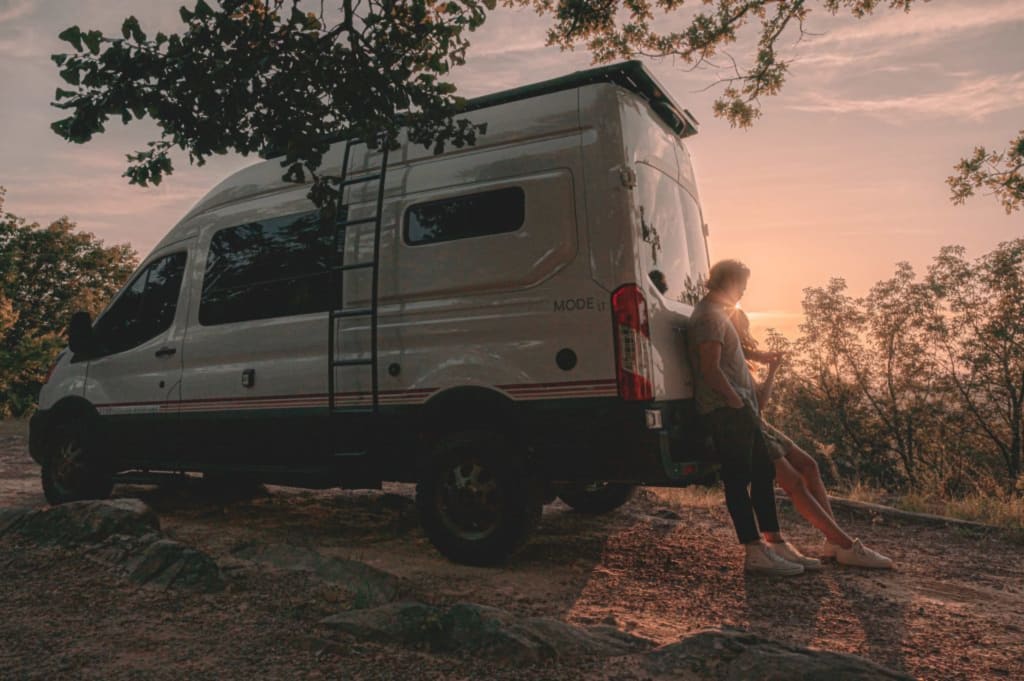 The MODE LT brings all of the customer-favorite elements of the Classic MODE 4×4 on the all-wheel-drive Ford Transit chassis. With Ford's recent introduction of the AWD system, it only made sense that the perfect marriage would be made with Storyteller Overland's adventure-oriented audience. The community's call for a different chassis option was answered with years worth of contemplation and collaboration for an all-new camper van that runs on a Ford 3.5L EcoBoost engine. This gas powered chassis comes with an enhanced range of service point availability that the Ford Transit brand is best known for.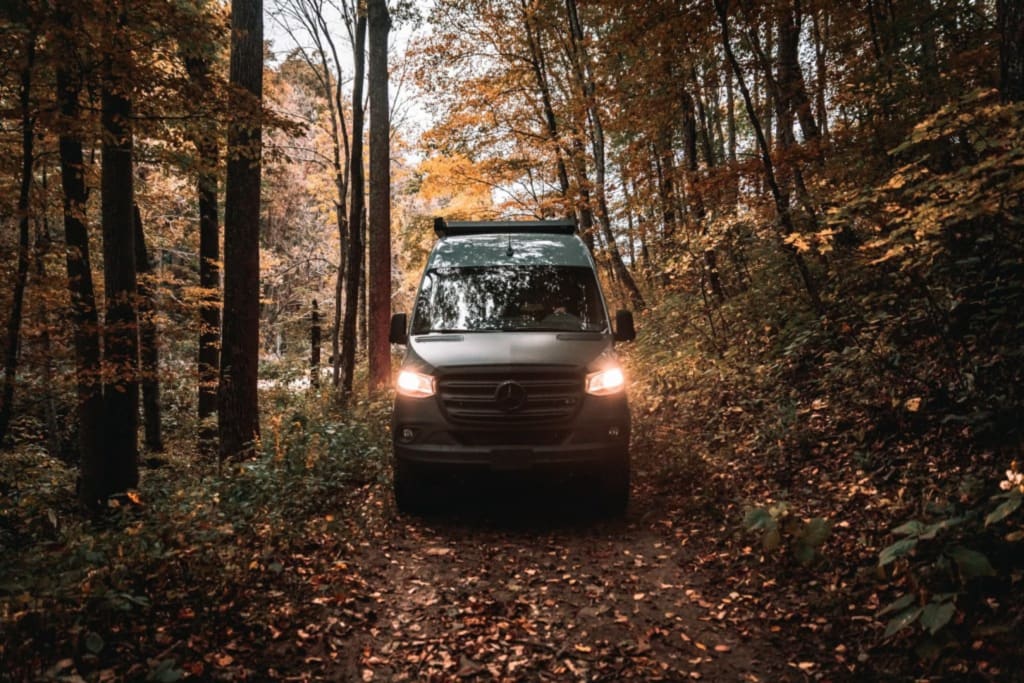 6. Exclusive Support Wherever You Roam
If you're ever in a bind between rock crawling or off-road camping in your MODE, you're always just a touch away from personalized support. Every customer is given access to the MODE Life app (available on Android, Apple and Google devices) for text and face-time customer support. If you're a do-it-yourselfer, the app is also loaded with how-to PDF files that will walk you though troubleshooting for any maintenance issue you run into with you adventure van. When you need specialized tech help, a helpful hand is never out of reach. Storyteller Overland is also partner with several mobile techs across the country, thus condensing a 6-12 week maintenance process into 6-12 hours.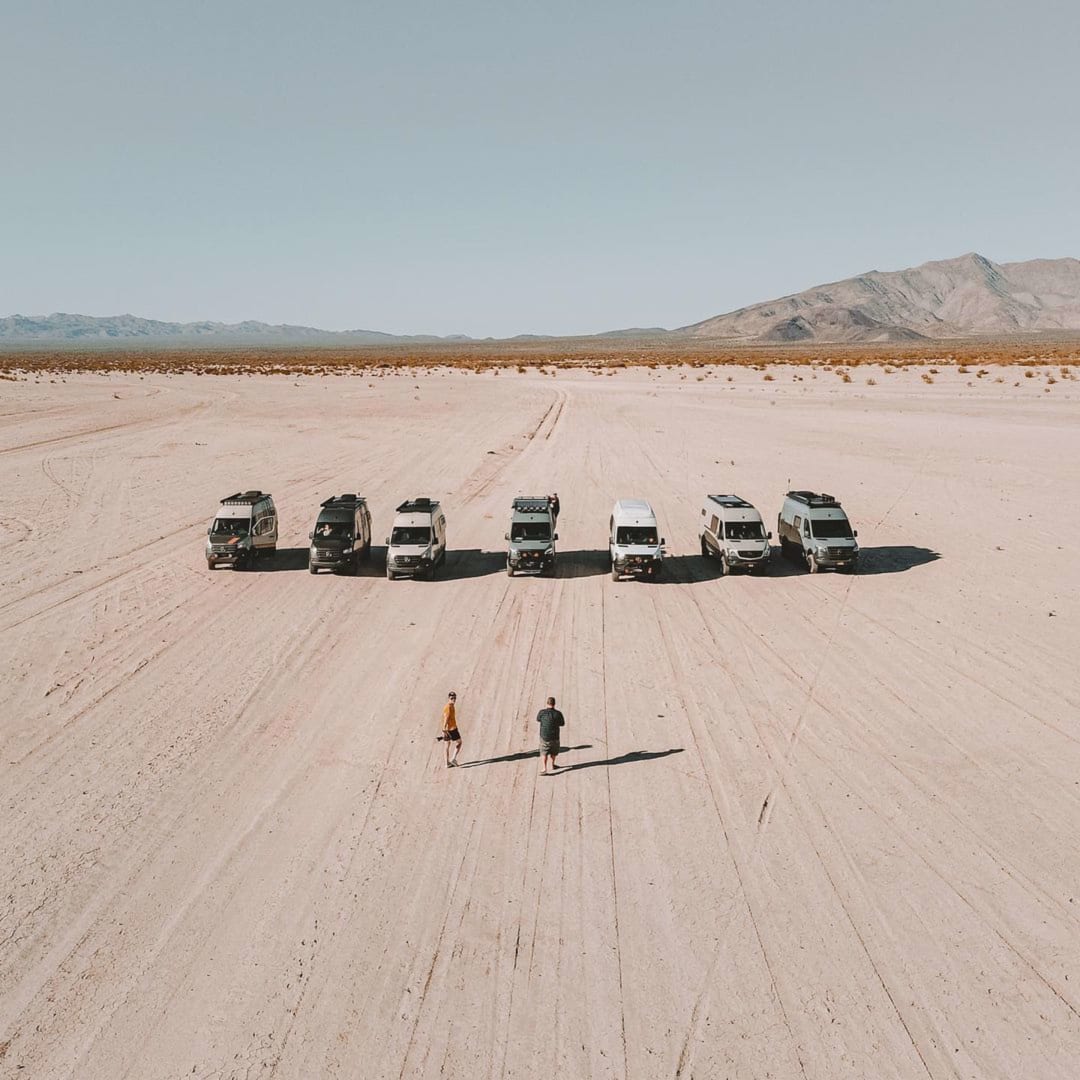 7. Comes With a Unique Sense of Community
When you become a MODE lifer, you're a part of the Storyteller Overland community for life. Connect with fellow travel enthusiasts across the country via social media and in-person at Overlander van rallies throughout the year. Friendships forged by the love to explore are for life. Learn creative new ways to make the most of your life on the road in your MODE and discover new destinations that are only reachable by the 4WD capability provided by Storyteller Overland.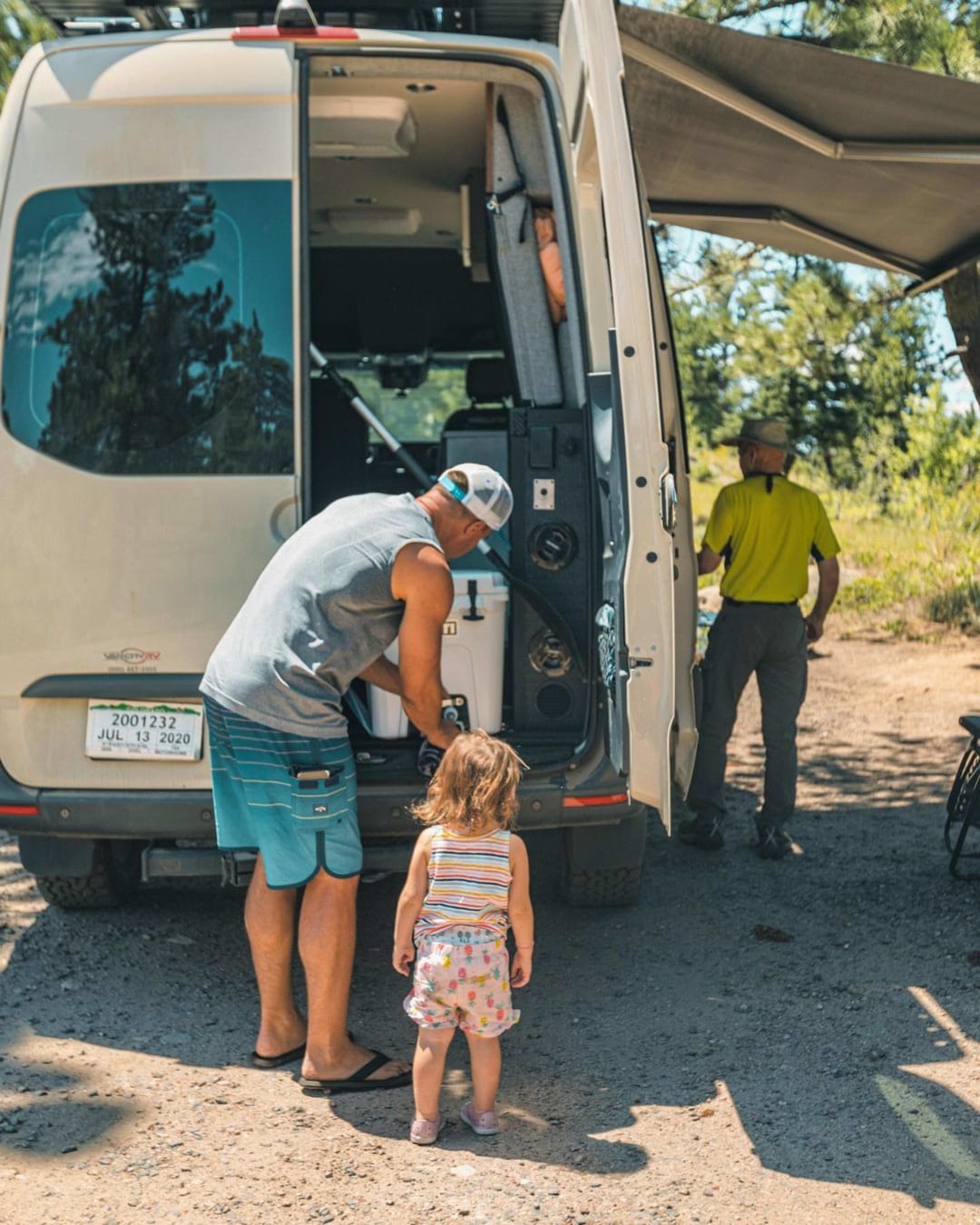 8. Family-Friendly Camper Experience
Are you traveling with your kids in tow? No problem. Though many may assume space is limited in a Class B camper van, the MODE creates an exceptionally versatile living space for adventurous families. Known as the "camper queen", the collapsible rear bedding space supports up to 800 lbs., providing plenty of sleeping space for up to two 6ft. tall adults. The Groove space also folds out into a 6 ft. tall sleeping space for two. When folded back up for road travel (Drive MODE), the safe seating area accommodates two full-size car seats for your little ones. You can also convert your Groove space into Lounge MODE to seat up to four people for when you're kicking back at the campground or on your next off-grid destination.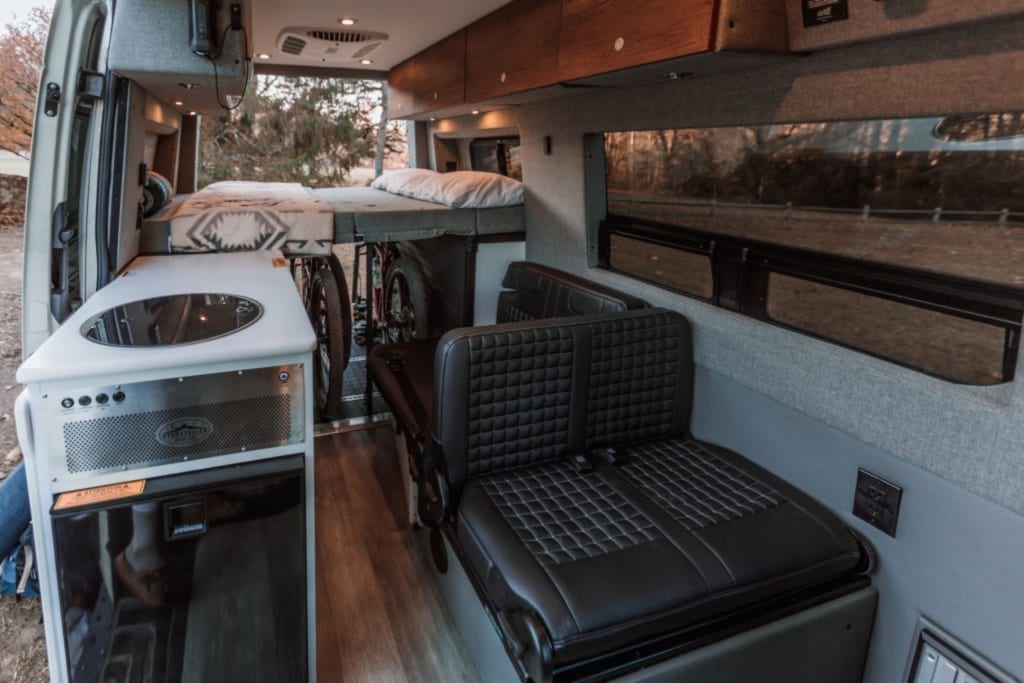 9. Empowers Remote Workers With An Adventurous Spirit
If you're the sort of explorer that needs to stay connected for work or creative project while out in the heart of the wild, Storyteller Overland has you set up for success. The MODE's rear garage space includes a fold-out work bench with access to four heavy duty 100-volt outlets. The Groove seating space also includes a detachable desk space for when you want easy access to the fridge for snacks and refreshments while you plug away at what you do best. When not in use, the table can easily be store behind the seating to optimize your camper van space for easy mobility.

10. Geared for Safe Travels in Any Terrain
Travel on with peace of mind using the 360-degree bird's eye view camera and rear back-up camera. Maneuver your MODE with ease, even in the tightest spots. You're free to dry camp in any season with true insulated flare-spaces, and steel-plate covering for your grey tank. The water-proof smart plug power cord ensures you're getting the most out of your shoreline connection through rain or snow. The full-size awning is also weather-automated so you don't have to worry about any serious wear and tear when heavy elements such as winds, rain or snow start to kick up when you're away from your van.
No matter where your travel goals take you, Storyteller Overland is geared to provide you the feeling of true van life freedom in any topography. Each of the four available models allow you to make the seamless transition from day-to-day urban excursions to outdoorsy getaway in the wildest of terrains. If you're looking to explore the open road and beyond in a matter unlike ever before, be sure to browse our current inventory here! 
Are your packing for your first summer adventure in your exploration van? To help you make the best choices on what to bring on the road, check out our recent guide — Van Road Trip Capsule Wardrobe: How to Pack Light This Summer. Here, we'll help you optimize your wardrobe for the ultimate van getaway!