Just in time for World Photography Day on August 19th, we're sharing our list (in no particular order) of the best photographers and videographers living and traveling in vans. Van life is ideal for creatives who want to live more inexpensively, easily carry their gear everywhere, and of course, travel constantly to meet clients and explore new places.
Whether you're a photographer yourself or simply an aficionado of all things beautiful, whether you're searching for someone to hire or simply be inspired by, you'll find what you're looking for right here.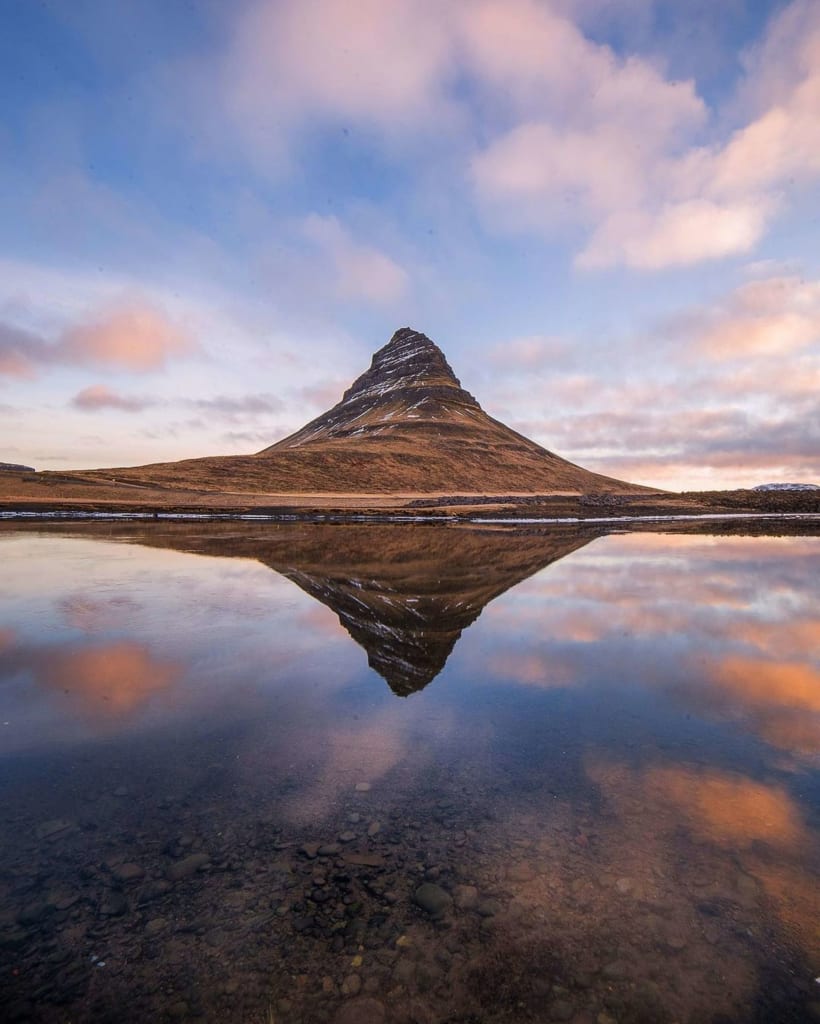 Nate Luebbe is at the top of the nature and travel photography game. Voted TIME Magazine Person of The Year in 2006 and loved by over 130K followers on Instagram, Nate is clearly recognized for his work. His specialty is colorful, crisp landscape photography that captures the expansive, sometimes human-dwarfing, feeling of mountain ranges, bodies of water, and starry skies. Because of the clean, sweeping lines and sharp details, Nate's landscape photographs would be equally at home on a postcard as they would be covering an entire wall, with different experiences of the photos at different sizes. For something in between, purchase a print on his website.
Nate is also known for capturing wildlife in action shots that are so close that you can see every bit of texture of the bear's fur or eagle's feathers. Follow Nate on Instagram for jaw-dropping photos as well as soothing timelapse videos released every Tuesday that will actually make you feel okay about scrolling on IG before bed.
Where to Follow:
Instagram: @nateinthewild
Website: www.nateluebbe.com
YouTube: Nateinthewild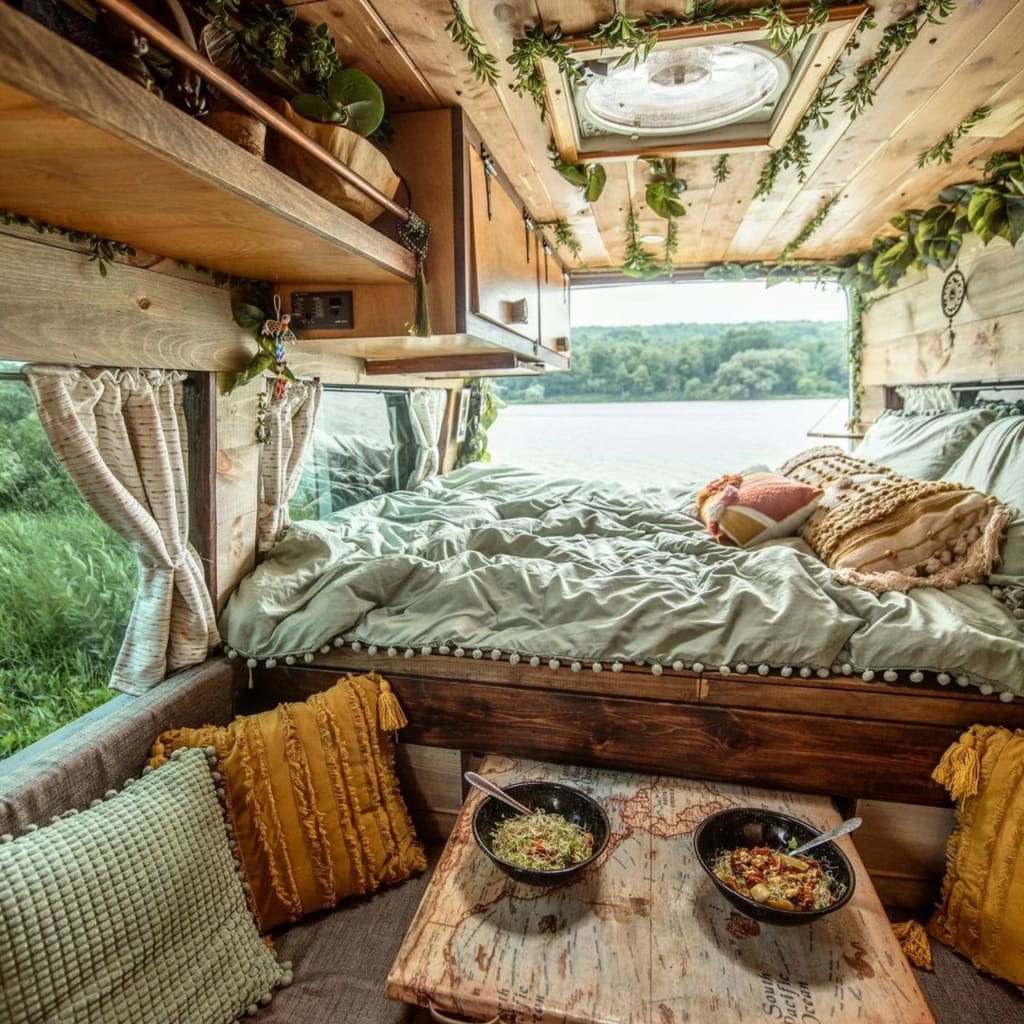 Natalie and Abigail Rodriguez are a married couple and founders of @vanlifepride, a thriving community for LGBTQ+ van lifers. Their Instagram account is bursting with lovely lifestyle photos, mostly of the couple, their van, and their beautiful travel destinations. While they certainly qualify as influencers with their aesthetic photos and brand partnerships, the wives also challenge the expectation of perfection by offering very authentic looks into their lives, like a recent humorous video that showed their van in a messy state.
Natalie and Abigail are true digital nomads with multiple hustles, including photography, private dinners, and a members-only cooking show. You can find Abigail's photography in REI stores (and everywhere books are sold) on the cover of The Falcon Guide to Van Life. You can also follow their adventures on their YouTube channel. Natalie and Abigail's journey might just inspire you to live a more intentional, simple life yourself.
Where to Follow:
Instagram: @letsplayrideandseek
Website: www.letsplayrideandseek.com
YouTube: Lets Play Ride and Seek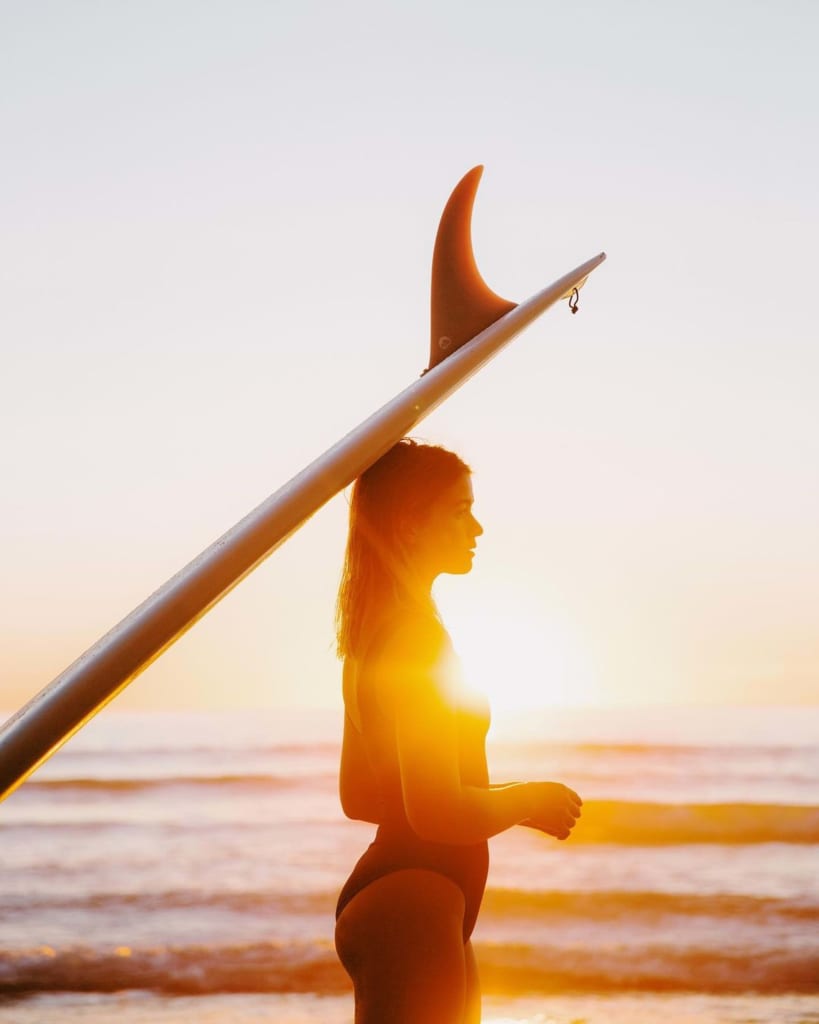 San Diego-based lifestyle and brand photographer Teagan Maddux is living the dream. She makes her living taking photos for clients, including kombucha companies and wetsuit brands, that are in line with her interests. This allows Teagan to have a unique overlap of "work" and "play" time. She prefers to spend her free time traveling, building out her new van with her boyfriend, surfing, and taking spectacular photos of the great outdoors. Teagan's philosophy of doing what she loves has paid off big time—she is a sought-after photographer that has found her niche in the industry.
Follow Teagan on Instagram for minimalist, fresh-feeling surf imagery served up almost daily. And if you fall in love with her work, you can take the photos from your screen to your wall by ordering prints.
Where to Follow:
Instagram: @teagan.maddux
Website: www.teaganmaddux.com
TikTok: @teagan.maddux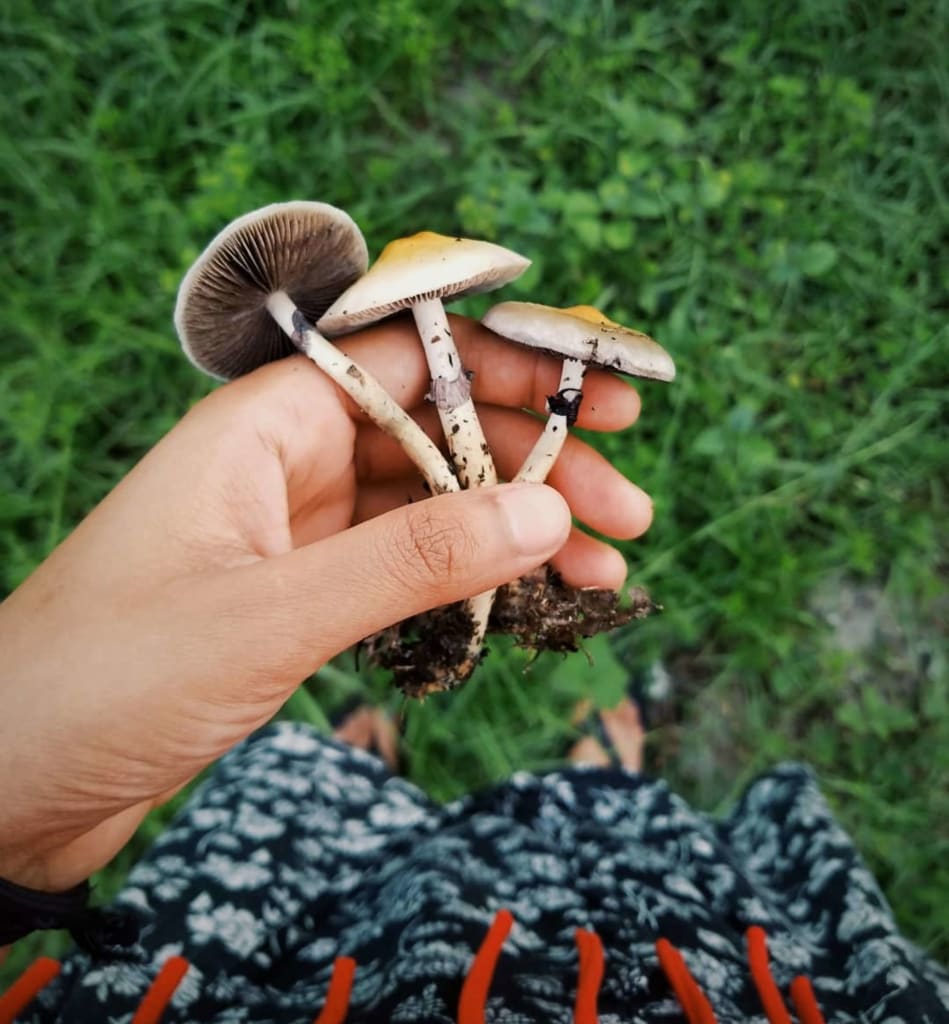 Faren Rajkumar is the definition of a multi-hyphenate. She is a social media manager and content creator for the Diversify Vanlife (@diversify.vanlife) platform, which seeks to amplify less-often heard voices in the nomadic community. She also crafts sustainable herbal teas, writes evocative poetry, and—you guessed it—takes beautiful photos.
Faren's photography work ranges from sun-drenched landscapes to powerful black and white portraits. What they have in common is the sense of a fleeting moment captured and preserved. From the intentional organizational schemes of her Instagram grid to the contemplative captions that accompany each post, Faren has created a thoughtful account that lands somewhere between a personal page and something meant to be shared with a larger audience. While many "inspiring" IG accounts stir up FOMO and comparison, Faren has one of those rare accounts that actually makes you feel more connected and grounded.
Where to Follow:
Instagram: @faren_wanderer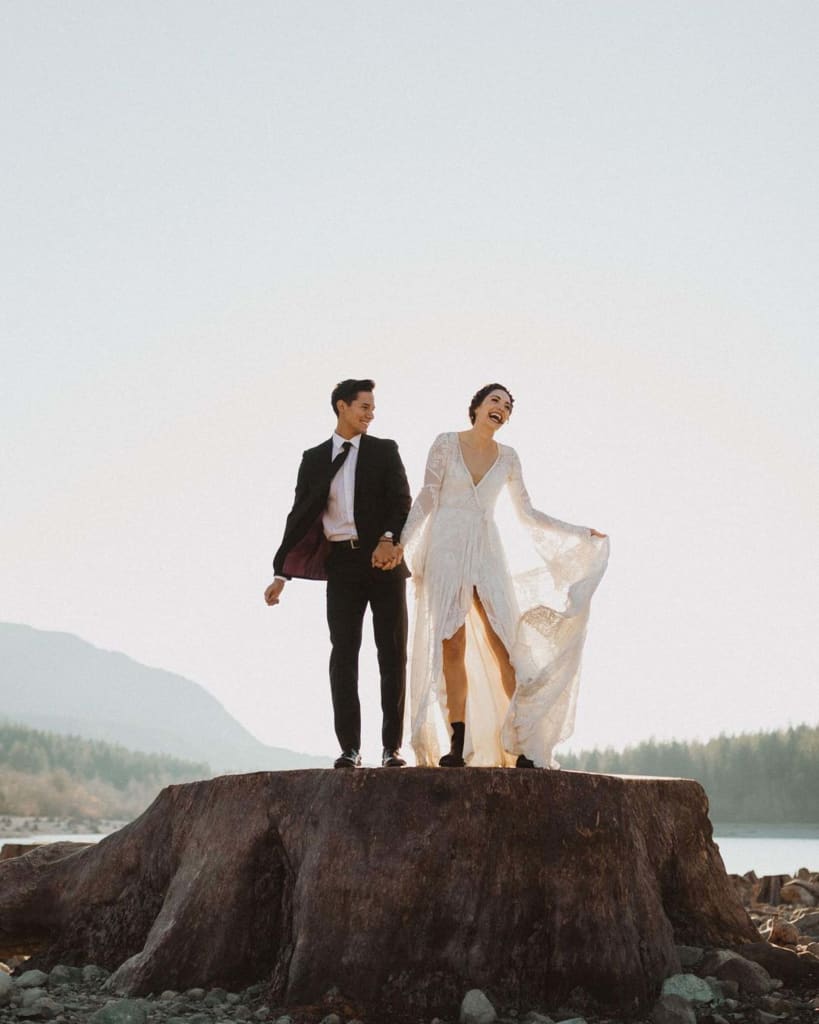 Nature-lovers and lover-lovers—look no further than Liv Hettinga. The Canadian photographer specializes in guiding and photographing elopements for adventure seekers and goofballs in love. While Liv is a pro at capturing tender and romantic moments, a sense of fun also permeates her work. The lightheartedness is clear in Liv's Instagram account. From a joy-filled video of Liv and her cousin jumping around in sleeping bags to informative yet playful IG reels, you can't not smile while perusing her feed.
If you're heading up north, consider booking a shoot with Liv (and check out our guide to van travel in Canada). Even if you're not getting married, you can take some sweet photos with someone you love. Liv points out, "you don't need to be engaged, married, or pregnant to get photos done. It's the everyday moments that truly matter…"
On the other hand, if you are planning an elopement, check out all of the helpful free resources on Liv's website and social media, including quizzes, planning checklists, and location tips.
Where to Follow:
Instagram:@livh.photos
Website: www.livhettingaphotography.com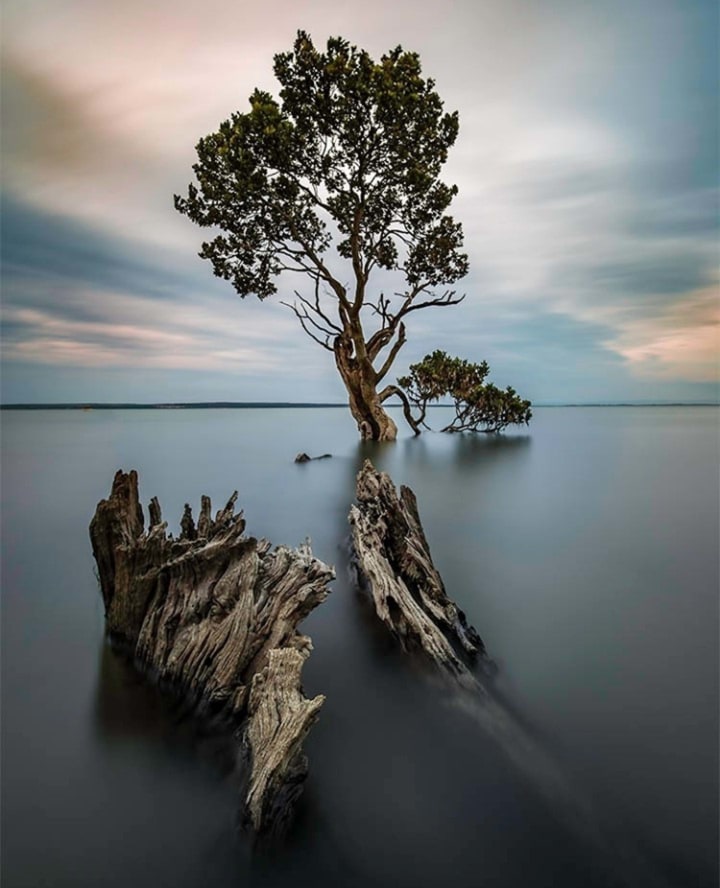 Adam Dyson's photography is what dreams are made of. The Australian photographer's mastery of in-camera and post-processing techniques, paired with creative framing, results in surreal landscape images that you can't stop looking at. From a giant moon rising behind a spindly tree to a mossy half-sunken ship, Adam's photos are always unique. Most recently, Adam has been on a waterfall kick, exploring little-known waterfalls and rendering them into dreamy white currents with his characteristic long exposure style.
Each of Adam's photos is like a painting, with a carefully thought-out composition and strong use of the foreground to create dimension. If you want to own one of these art pieces, you're in luck—Adam sells framed prints on his website. If you're trying to step up your own photography game, check out Adam's YouTube channel, where he shares his insider knowledge about cameras, editing, and more.
Where to Follow:
Instagram: @adam_dyson
Website: www.adamdyson.com
YouTube: Adam Dyson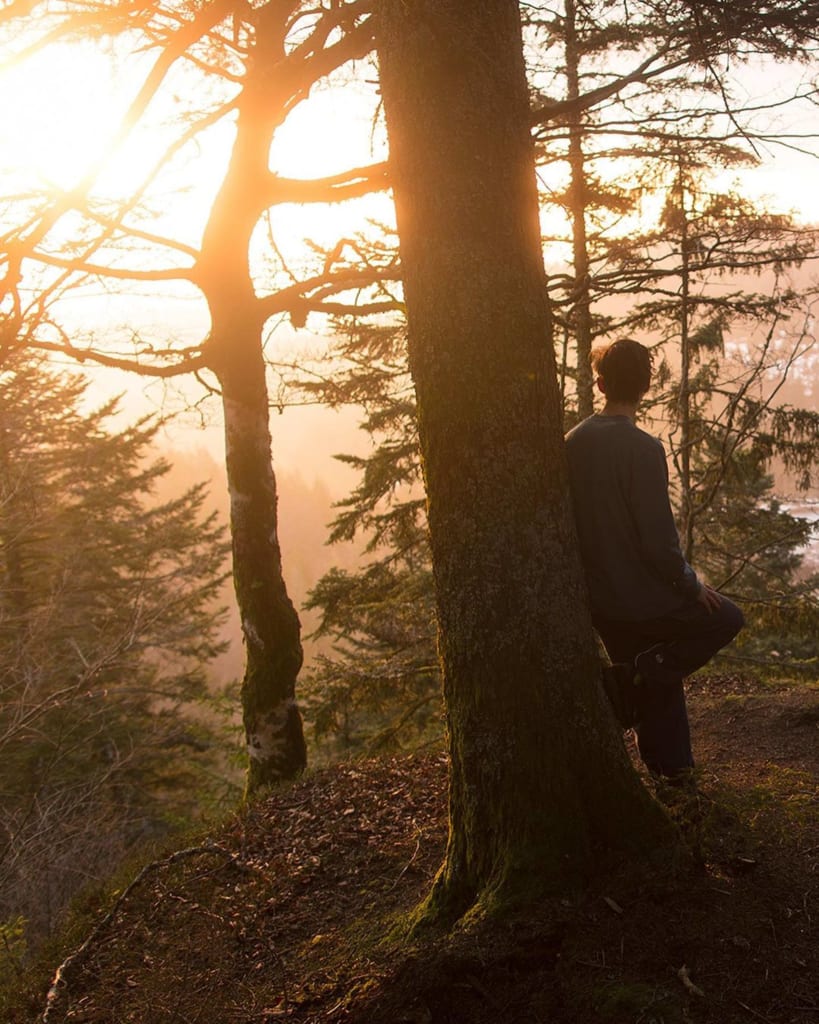 Gnarvana is a video production house (or rather, van) that makes documentaries and commercials with a focus on telling the unique stories of their subjects and clients. Leslie, the founder of Gnarvana, travels around Europe full-time in his van, chasing inspiration, connection, and, of course, epic stories.
Gnarvana's mini documentaries focus on everything from an ultra-marathon runner to street food wizards. Regardless of the subject, the team is always looking to reveal the human motivations behind actions. This allows the videos to speak to you on a fundamental level, whether or not you are particularly interested in the specific subjects.
Follow for a look into Leslie's van life adventures in Europe, behind-the-scenes footage of jobs, and previews of inspiring and dramatic videos created by the video production house.
Where to Follow:
Instagram: @gnarvana
Website: www.gnarvana.net
Miranda Rico is a multi-talented photographer who works in portraits, wedding photography, and our personal favorite, moody shots of nature in tones of dark green, black, and gold. Aside from the rich color palette, Miranda's landscape images are set apart by her creative edits and eye for layout design. Miranda often digitally collages two or more photos together in a graphic, geometric way. This modern approach juxtaposes the mysterious irregular lines made by nature and the pleasing order of man-made shapes.
You can own a piece of Miranda's creativity—she sells cool-kid style merch of her photos and graphics on T-shirts, hoodies, tote bags, tapestries, and more. The merch is dropped in collections based around regions of the U.S., like the Southwest or Pacific Northwest, after Miranda explores the areas on van road trips.
Where to Follow:
Instagram: @travels_in_technicolor
Husband and wife team Connor and Alix know a little something about love stories. After meeting in elementary school, they went on to get married after college and now travel across the Western U.S. full time in their van. Connor and Alix also work together, running both a travel blog and an elopement videography company. Their goal is to "document wild stories that remind us what really matters in life," which translates to some of the most candid, authentic wedding and elopement videos you've ever seen.
The personality of the couples in their videos truly shines through, making them tons of fun to watch even if you're not planning to get married anytime soon. Think of hitting the follow button as giving yourself the gift of a serotonin boost whenever you get to see random strangers on your feed celebrating one of the happiest days of their lives. The joy is contagious!
Where to Follow:
Instagram: @actsofadventure
Website: www.actsofadventure.com
German filmmaker and influencer Sebastian Schieren lets you live vicariously through his epic van life adventures. With 227K followers on Instagram and 2.1 million on TikTok, his content is clearly tapping into the zeitgeist of van life and outdoor adventures.
Sebastian's unique videography style is characterized by cinematic videos that are often one continuous shot. Come to his IG account for the eye-catching drone footage, stay for the GoPro POV videos of Sebastian heading straight from the van into an outdoor adventure activity. If you want more content, dive into Sebastian's YouTube channel, where he explains how he films his videos as well as vlogs about his trips and van life experiences.
Where to Follow:
Instagram: @sebastian_schieren
TikTok: @sebastian_schieren
YouTube: Sebastian Schieren
Inspired and looking to improve your travel photography skills? Check out our tips for beginners here. Want to join the nomadic lifestyle that fuels the work of these amazing photographers? Visit Rec Van to find your van today.