Calling all couples who are interested in joining the van life movement! Are you and your honey hearing the siren call of the open road? Maybe you've been seriously considering a dramatic lifestyle change for a while. 
If so, tune into our interview with a duo who exemplifies #vanlife #couplegoals, Jason and Emma Walsmith. We asked this easygoing and talented married couple to share the realistic ups and downs of van travel with a partner along with tips for other couples and favorite destinations. Read on for their answers.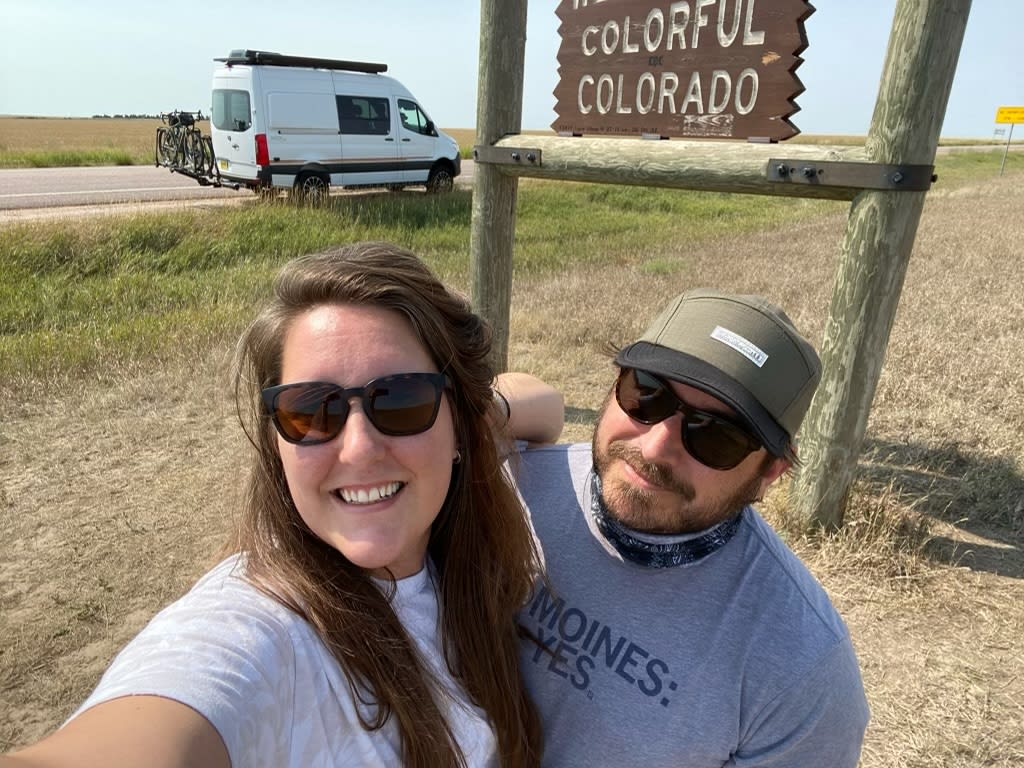 All Photos By @Theracontourists
Rec Van: Tell us a bit about yourselves! How did you get introduced to van life? What kind of van do you have and how did you choose it?
Jason and Emma: We are Jason and Emma Walsmith. We travel about 50% of the time in a Storyteller Overland; the other half of the time we call Central Iowa home. We bought our Storyteller Overland MODE 4×4 in July of 2020 so that we could travel self-contained and play socially distanced, outdoor shows throughout the US. Jason is a career musician and in March of 2020, his band, The Nadas, had over a year's worth of shows canceled so we rolled the dice on getting a camper van to get on the road and do our part to safely bring music to folks. Over the last two years, we have driven over 100,000 miles and been to 43 states. We've loved our MODE 4×4 so much that we ordered a MODE LT and hope to hit the road in our LT this summer.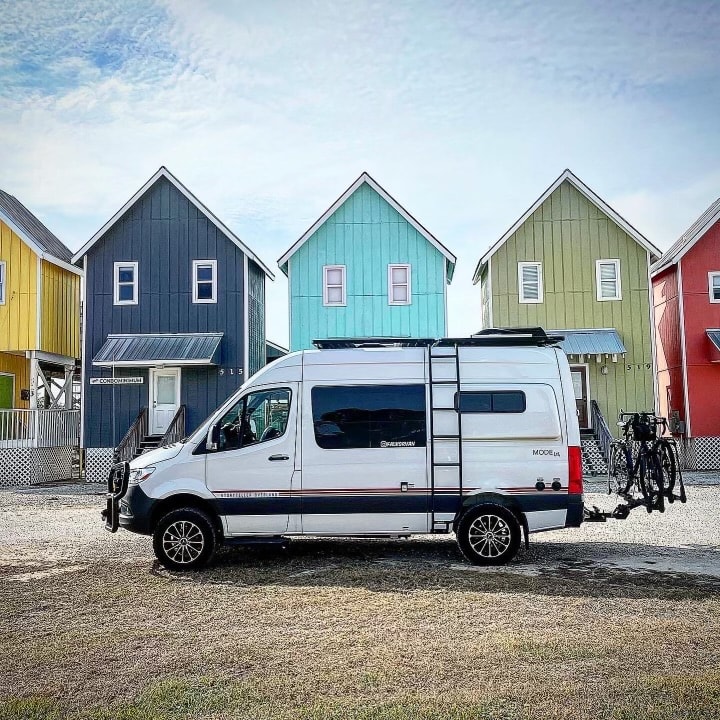 RV: Tell us more about the Storyteller Overland community.
J&E: The Storyteller Overland community is our favorite feature of our van that we had no idea we would be so lucky to receive when buying an STO. The STO community is a diverse, adventurous group of people who want to get out and experience life to the fullest. Sharing the journey with our fellow MODElifers continues to be rewarding in ways we could not have imagined.
RV: What is your favorite part of van life?
J&E: The freedom that comes with traveling with everything you need to anywhere you want to be. Our MODE has been the best adventure mobile to discover new places, people, and things through planned adventures and exciting last-minute whims. Like The Mamas & The Papas sing, "go where you wanna go, do what you wanna do."
RV: What is the most challenging part of living in a van?
J&E: Keeping it clean haha.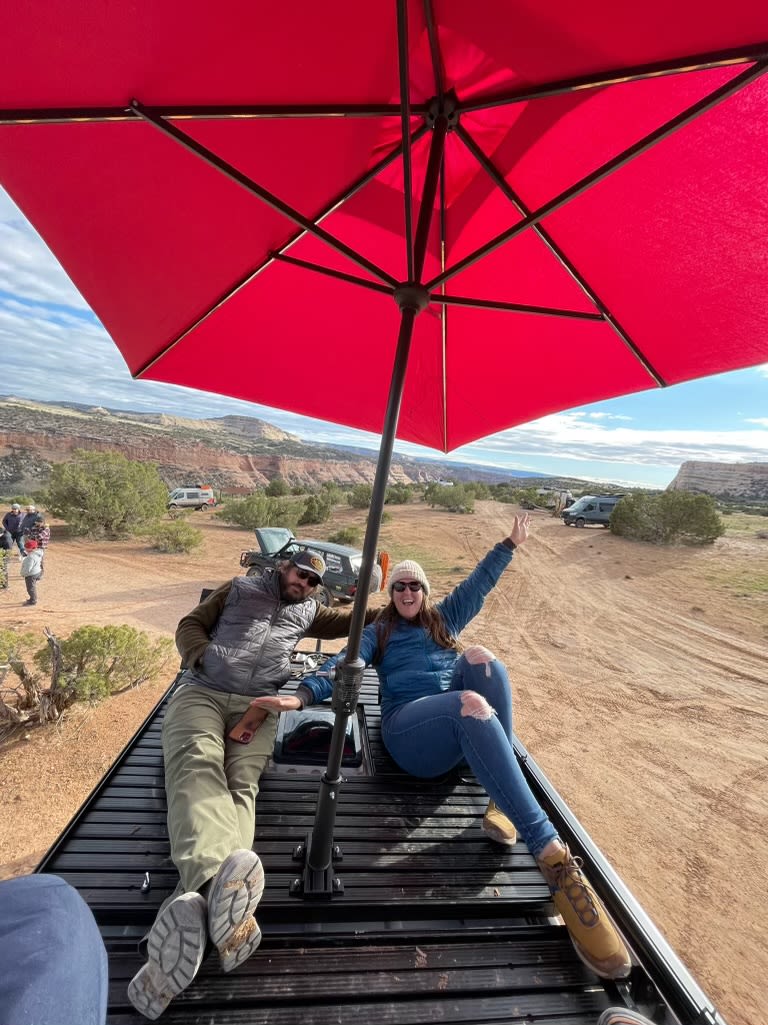 RV: What is it like being a married couple on the road in such a small space?
J&E: It's great! We really enjoy spending time together and experiencing the world as a team. We much prefer to be traveling together; when we are traveling separately it is just never as fun or easy. We also enjoy taking our dogs with us–of the last 100,000 miles we have traveled in our van, the dogs have traveled 94,000 of those miles.
RV: Do you have any relationship advice for other van life couples?
J&E: Appreciate every moment. Sometimes you will camp at amazing spots and other times you will camp in Walmart parking lots. Learn to appreciate and enjoy both and everything in between. If you're living the #vanlife, you're living a good life.
RV: What is something about vanning that most people don't know?
J&E: Owning a camper van means you'll be making friends at gas stations and grocery stores because folks cannot resist the urge to ask to see the inside of your rig! Luckily we enjoy those little moments and don't mind sharing our STO with people that want to know more about the brand, the build, and their availability.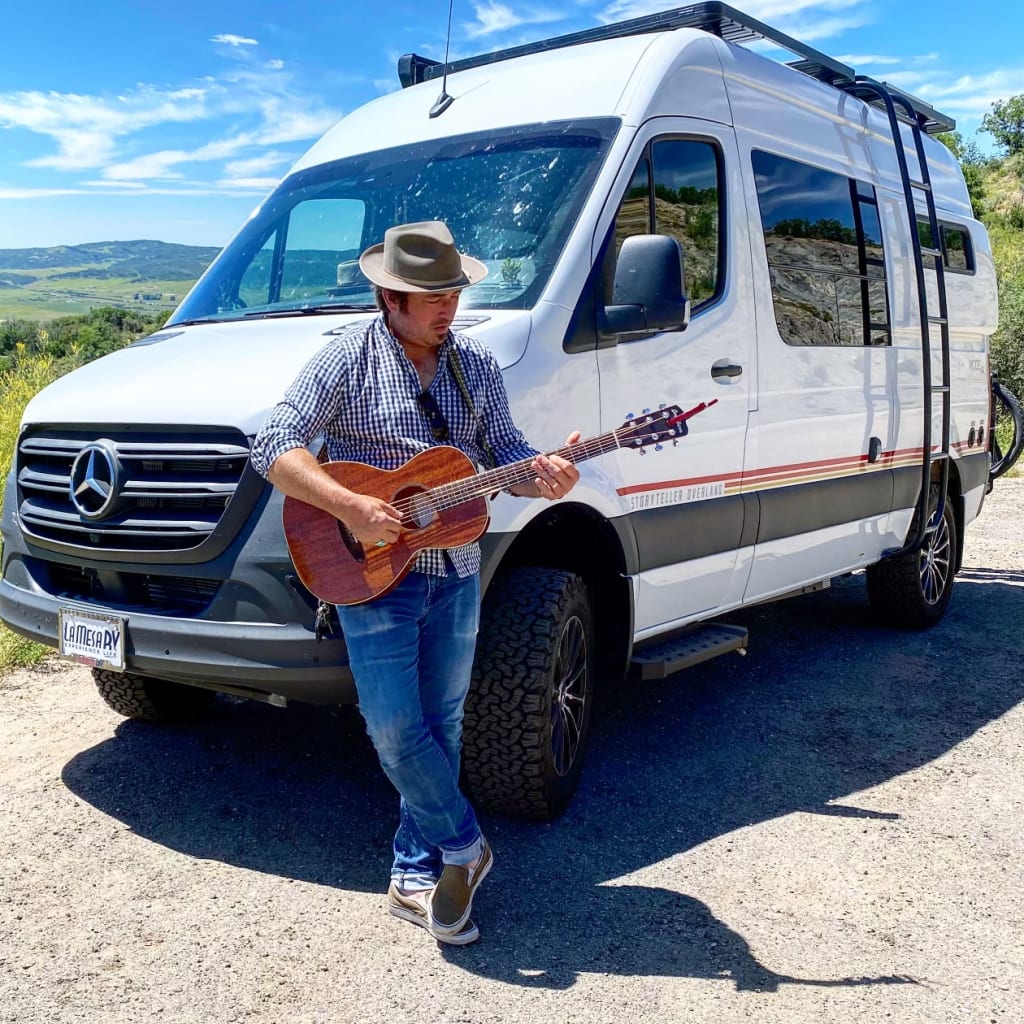 RV: What are three of your favorite destinations and why?
J&E: Just three? Hmmm… We were surprised to realize how much we enjoy Alabama and the Florida Panhandle. We visited the Storyteller Overland Intergalactic HQ in Birmingham, AL early on in our #vanlife and totally fell in love. The folks at STO encouraged us to take 30A along the coast into Florida and it was one of the most beautiful drives we've enjoyed so far. 
Spearfish, South Dakota remains top of our list of places we want to return to when our travels allow. The Spearfish City Campground is the best campground we have found in the last two years. 
We also love an adventure to the Southwest. Santa Fe and Taos, NM. Bisbee, Jerome, and Scottsdale, AZ are some of our very favorite places in the U.S. 
RV: What's next for you?
J&E: Our MODE LT! We are really looking forward to hitting the road in our 2022 MODE LT to play more shows and see more places. If you are interested in booking a Jason Walsmith Storyteller show, we'd love to connect. You can find us on Instagram at @theracontourists and on the world wide web at jasonwalsmithstoryteller.com. Jason says, "I'll play anywhere man."
Feeling inspired to take the leap into the van lifestyle with your significant other? Check out our wide selection of camper vans from leading companies, including Storyteller Overland, at Rec Van.