Let us introduce you to our newest explorer obsession, Chad and Paul. After years of doing the 9-5 thing, Chad and Paul decided to sell everything and move into a van full-time. The duo have been living on the road for nearly two years now and show no signs of stopping. They can be found boondocking in the mountains or stealth camping in major cities, and have been known to drive half-way across the country for delicious vegan food. They have dialed in the van lifestyle and are serious adventurers.
We got ahold of the road warriors to discuss everything (and we do mean everything) about van life. From RVing with their trusted sidekick Orlando, the ins and outs of boondocking as well as how they make a living on the road. Check out the inspiring interview below!

All photography by Chad and Paul 
Rec Van: Tell us about yourselves! What do you do for a living? How did you meet?
Chad and Paul: We met at a Buddhist monastery 10 years ago! Chad broke his vow of silence to introduce himself to Paul, and the rest is history. We've been married for six years now. Paul was working as an attorney and I (Chad) was working as a speech-language pathologist in Brooklyn, NY. We got tired of living from vacation to vacation, so we found ways to develop online businesses so we have the freedom to travel the country. Paul runs a successful e-commerce business and teaches others how to make money online (he has his own YouTube Channel- Paul J Lipsky), and Chad works as a remote speech-language pathology consultant.
RV: What got you interested in the RV lifestyle? How many years have you been on the road?
C&P: We've been living full-time on the road now for almost two years. Chad originally wanted to live on a sailboat, which Paul didn't want, so the van was actually a compromise! We love to travel and explore cities and mountains, and so the van was a perfect fit! Getting to wake up somewhere new every day but still feel at home wherever we go has been a truly amazing experience.
RV: Which RVs have you owned? Why did you choose the particular adventure mobile you have now?
C&P: We started with a Winnebago Travato KL National Park Foundation Edition, and have since moved into a Storyteller Overland MODE 4×4. We strictly boondock, and never plug in or stay at campsites. We also enjoy overnighting in cities as much as we enjoy exploring mountains and forests, so we needed a van with a power system to support our off-grid lifestyle and was also small enough to maneuver tight trailheads and parking spots. The Volta power system has been something we couldn't live without – we loved having it in our Travato and so moving into our current Storyteller Overland MODE, which also features the Volta power system, was a no brainer. We love the flexible living space of our MODE, along with its build quality and off-road capabilities, not to mention the amazing and adventurous community of fellow storytellers.
RV: Where are you currently and what destinations are on the horizon for 2021?
C&P: We're on the west coast right now, exploring California, Oregon and Washington. We are notoriously bad planners and after our first year of van life decided to stop making plans and itineraries – we've found that the beauty of van life happens when you take an unplanned turn and discover something magical. All of our fondest van life memories have happened spontaneously. We've found that planning too much takes the fun out of van life, so we take it day by day and live in the moment.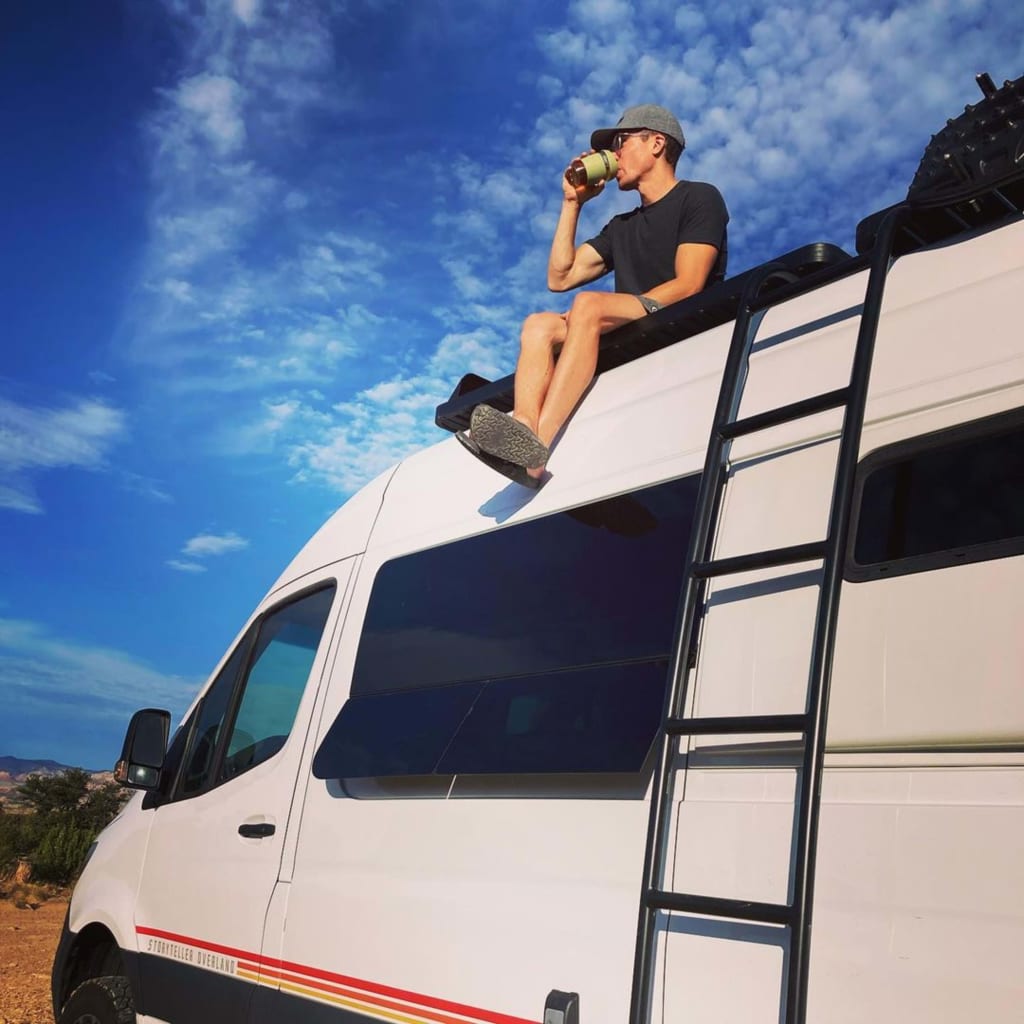 RV: Run us through your process of turning living on the road into a full-time job.
C&P: After watching van life videos on YouTube for a year, we decided it was how we wanted to live. We worked hard to build online businesses and transition to remote work in order to have the freedom to leave our sticks and bricks and enjoy full-time life on four wheels. Internet connection is integral for us to continue this lifestyle, and while we're always tweaking our setup, we've found systems that enable us to stay connected while we travel.
RV: Top 5 favorite things about your van?
1) We LOVE the flexible living space of the Storyteller Overland MODE. It allows us both to have separate work spaces (and even sleep separately if we want!) If you haven't experienced the Storyteller's groove lounge in person, it is a must see!
2) The Volta power system enables us to never have to worry about power. With 12,000 watt hours of power, a 3600 W inverter, and a huge second alternator, we feel like we have UNLIMITED POWER!
3) The Storyteller Overland is SO WELL BUILT. All components are extremely durable and built to withstand the wear and tear of full-time living. It is by far the quietest RV we've ever driven – the only things that rattle are the things you put in it!
4) The Storyteller Overland community is AMAZING! Everyone is so kind, supportive and fun. These vans aren't made to sit in a campground and it's incredible to see all of the adventurous things our fellow Storytellers are up to.
5) This van takes us to places we couldn't dream of going in our previous van. Having an extremely well-built, 4-season, 4×4 van enables us to go further in our endless search of our adventure. Pairing the van with components from Canyon Adventure Vans and Owl Vans gives us a durable off-road beast that doesn't sacrifice comfort and livability.
RV: How is traveling with your beloved dog, Orlando?
C&P: Orlando is our first mate and alarm system! Whenever a stranger gets near the van, he's sure to let us (and anyone within a 10 mile radius) know. We think he loves living in a van even more than we do – every day there are new scents and places to explore. He also loves hiking and is an expert rock scrambler.
RV: Any tips for RVers traveling with pets?
C&P: Pet safety is number 1! This is one of the main reasons why we just couldn't live without our Volta Power system. Having a huge power bank enables us to run the AC for extended periods of time if we need to, and the great insulation of the Storyteller (every nook and cranny is packed with Havelock wool) helps keep the van comfortable. We also have security cameras and temperature monitors within the van so we can monitor Orlando if he needs to stay in the van by himself. We also have a laminated sign that we post in the window to let people know that the van is climate controlled and our dog is happy and comfortable, and we include our phone number for someone to call in case there are issues.
RV: When did you start your very popular YouTube channel?
C&P: We've been YouTubing for a year now! It started off as a fun way to remember our adventures, but now it's become a way for us to feel connected with the van life community. Being on the road can sometimes get lonely, so hanging out with other van lifers during our YouTube lives or chatting with people in our comments section has been a great way to feel connected. We also see it as a way of giving back to the community. When we were thinking about van life, we watched as many YouTubers as we could to get informed and inspired, and hope we can provide the same support to others interested in living life on the road. Click here to enjoy Chad and Paul's Channel!
RV: Do you have any projects on the horizon?
C&P: Chad is still trying to convince Paul to add a boat into our nomadic lifestyle, but other than that our main goal is to enjoy every moment and catch as many sunsets as we can.
RV: What are your top 10 tips for newbie RVers?
1. Don't feel pressure to plan! Magical things can happen when you let go of your plans and take a turn towards the unknown.
2. Be prepared! Especially when boondocking in remote areas- have supplies and a plan in case things go wrong. A good medical kit (not just a box of Band-Aids!), bear spray, walkie talkies and water purifiers are all supplies you should consider.
3. If your RV has a black tank, take your time when first learning to dump! We've seen too many horror shows on the road of newbie vanners dumping without knowing how their system works- so do your research and take time getting to know your system!
4. Be responsible and respectful! We've seen too many trashed boondocking spots to count, and too many campers overstaying their welcome (it is never okay to barbecue in a Walmart parking lot!). More and more we're seeing boondocking spots shut down and parking lots turn away travelers. We're all in this together, so please don't ruin this lifestyle for the community.
5. Don't get stuck behind your phone! While a lot of experiences on the road are Instagramable, take some time to truly live your experience without a selfie stick. At the end of the day, it's your experiences (and not your selfies) that will live on.
6. Consider a more minimalist lifestyle. When you're living in a van or RV, you will likely need to downsize your possessions. Our rule is, if we haven't used it in a month (and it isn't emergency equipment), we don't need it.
7. You will encounter problems on the road. Houses weren't necessarily built to careen down the road at 65 miles per hour, and overtime your RV will require service. Plan for it, expect it, and budget for it.
8. Stay safe and do your research. If you're boondocking or camping somewhere new, check a crime map or ask locals to get an idea of how safe it is to overnight.
9. Learn to conserve your water. There are lot of hacks that can help in this. For example, doing your dishes with a spray bottle, rather than running the faucet, can be a big water saver.
10. Do you! Don't let others tell you how should you experience life on the road. Some people exclusively explore the wilderness, some people would rather explore cities, and others are happy to chill in a campground for weeks at a time. Don't let anyone judge the way you roll!
RV: Where can we follow along with your epic adventures?
C&P: You can follow us on YouTube by clicking here and on our Instagram @chadandpaul!