Let us introduce you to Jasmine W., a woman who truly does it all. You'll find her chasing thrilling outdoor sports and kicking back at some of the country's most beautiful wineries. Her work takes her everywhere from the laptop screen to the ski slopes. Visiting her adult children, Jasmine frequently travels from one coast to the other. And she's created this enviable lifestyle with the help of her trusty Winnebago Revel.
We got the chance to interview Jasmine about her vanning experiences and advice, including useful tips for solo female van lifers, wine lovers, and digital nomads. Want to learn how to stay at unique places like bee farms and olive orchards practically for free? Jasmine explains how she makes it happen. Looking for the right camper van to buy? You'll be interested to hear about the research and reasoning that helped this adventurer find her perfect fit.
All photography provided by Jasmine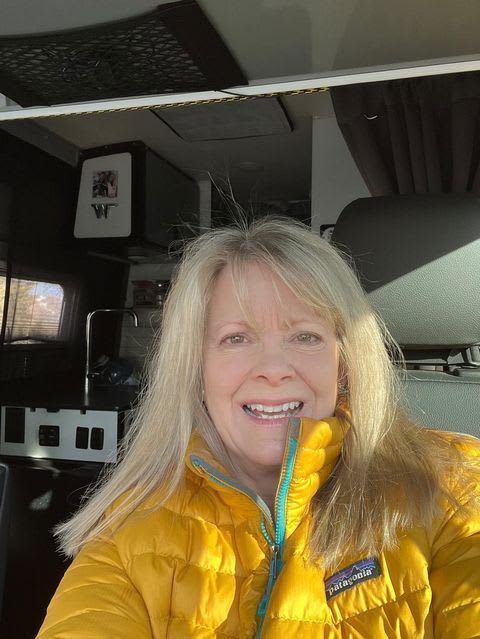 Rec Van: Tell us a bit about yourself!
Jasmine W: I started living in my van about a year ago, and before that, I lived in the Lake Tahoe area for the last 25 years. I'm an outdoor person–I love to ski, hike, kayak, and mountain bike–so Tahoe was the perfect place to raise my two kids. They're both out of the house now (one in college and the other a recent grad).
I have a remote technology job, with side jobs as an event EMT, volunteer ski patroller, and previously for Search and Rescue. I've worked remotely in data analytics for 15 of the last 20 years, so this made it relatively easy to transition to the van lifestyle.
RV: How did you get started in the vanning lifestyle? Are you full-time or part-time?
JW: When my two kids moved to opposite sides of North America for college, I started thinking about traveling between Vancouver and Baton Rouge to visit them. I had considered flying and staying in Airbnbs as one option and doing long road trips as another. With so much to explore between those two destinations, I decided I wanted a self-contained camping vehicle. I spent three months researching my options. I read posts on van forums daily and watched YouTube videos to see what camper vans were available and what other people were traveling in. I decided van travel was a great way to visit each of my kids while taking advantage of national parks and doing some skiing and mountain biking along the way.
I'm also a wine lover, and discovering the Harvest Hosts program really sealed the deal for me on van life. As a member, you can camp in an RV at over 2,000 wineries, breweries, and farms across the U.S. and Canada! I've had a really positive experience with this program so far, and have had the chance to stay at many nice wineries I wouldn't have normally visited. I've also camped on a cattle ranch, a bee farm, and an olive orchard.
I'm mostly full time, but I still own a home in Nevada where I rent out the rooms but keep things in the garage. This way I can, for example, head back to my house and swap my skis for my mountain bike, then get back on the road!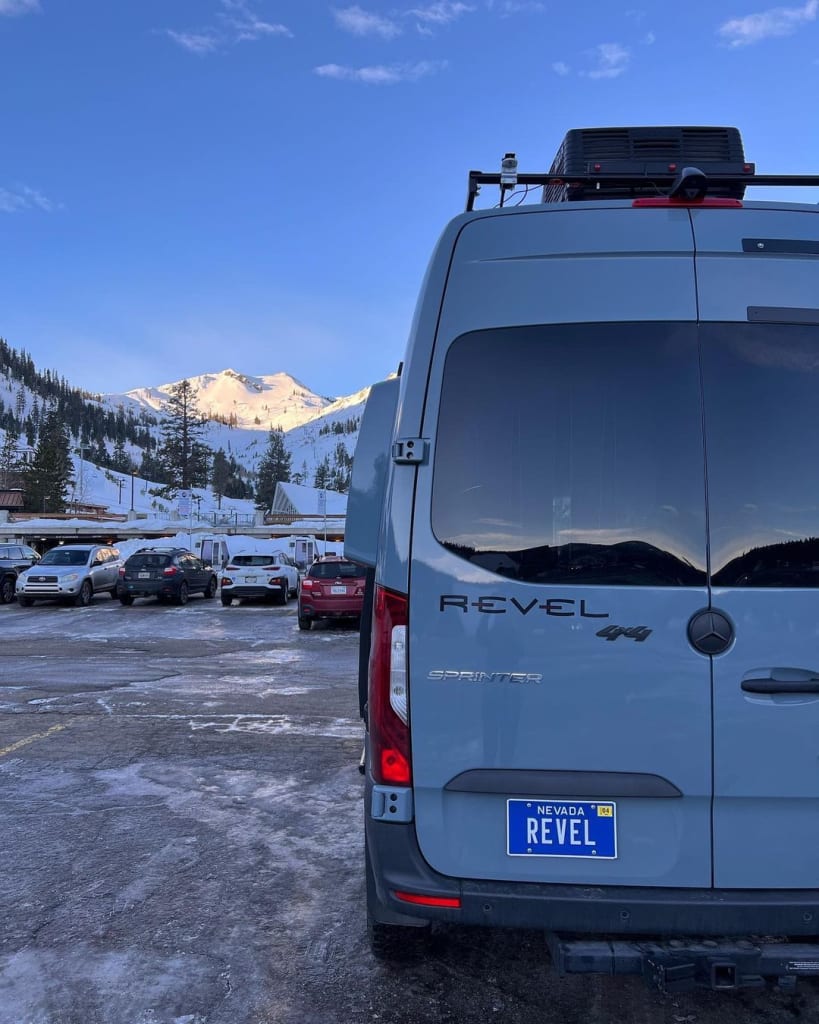 RV: What kind of van do you have, and how did you choose it?
JW: I have a 2021 Winnebago Revel. I knew I wanted a 4×4 rig since I travel to areas with snow and off-road BLM areas. I have previously owned two tent campers and a 5th wheel, so I knew I didn't want to tow anything! I wanted a 19ft van so I could easily pull into parking spaces as well as get to more remote places.
The only 4×4 rig I had heard of previously was the Sportsmobile, so I started my research there and then discovered a variety of 4×4 camper vans. I didn't want to have a custom van built if I could find something that already had everything I wanted. Also, a van classified as an RV has tax benefits, so buying a built-out van was my preference.
After having camped in different RVs for many years, I didn't want to be limited to RV parks and I wanted the freedom to boondock and be off-grid for days at a time. For that reason, I wanted solar and lithium batteries to support my power needs. I also like the convenience of a cassette toilet and a shower. Four-season capability and storage for my skis or mountain bike were also on my list of must-haves.
I stumbled upon the Winnebago Revel Facebook group and started researching that van, and I loved the Revel community.  I asked many questions, and also read every single post for months to see if this was something I wanted. The Revel checked all the boxes, and the deciding factor was the bathroom and shower layout. I liked the dedicated closet-style wet bathroom because it is more like a traditional bathroom. There is nothing to pull out or set up so it is very convenient. I can also put my snow-covered skis and boots in the shower until they dry.
RV: Tell us about your experience working remotely while on the road.
JW: I'm used to working remotely since this has been my setup for a while now, and all I need for my work is my laptop and a good internet connection. I got a Verizon JetPack hotspot, which gives me internet service anywhere I have a cell signal. I also got the WeBoost cell signal booster, which improves the quality of the signal. Once I got my remote internet setup, I field-tested it on a few car camping trips in my SUV before I got my van. 
So far, I've had a great experience working on the road. I can take a two-hour ski break while parked in a ski resort parking lot, or go mountain biking in Moab right out my door while boondocking on BLM land.
That being said, some boondocking spots have had poor or no cell service so I would have to drive to an area with a good cell signal in order to work. I'm looking forward to Starlink mobile so I don't have to worry about where I am to work.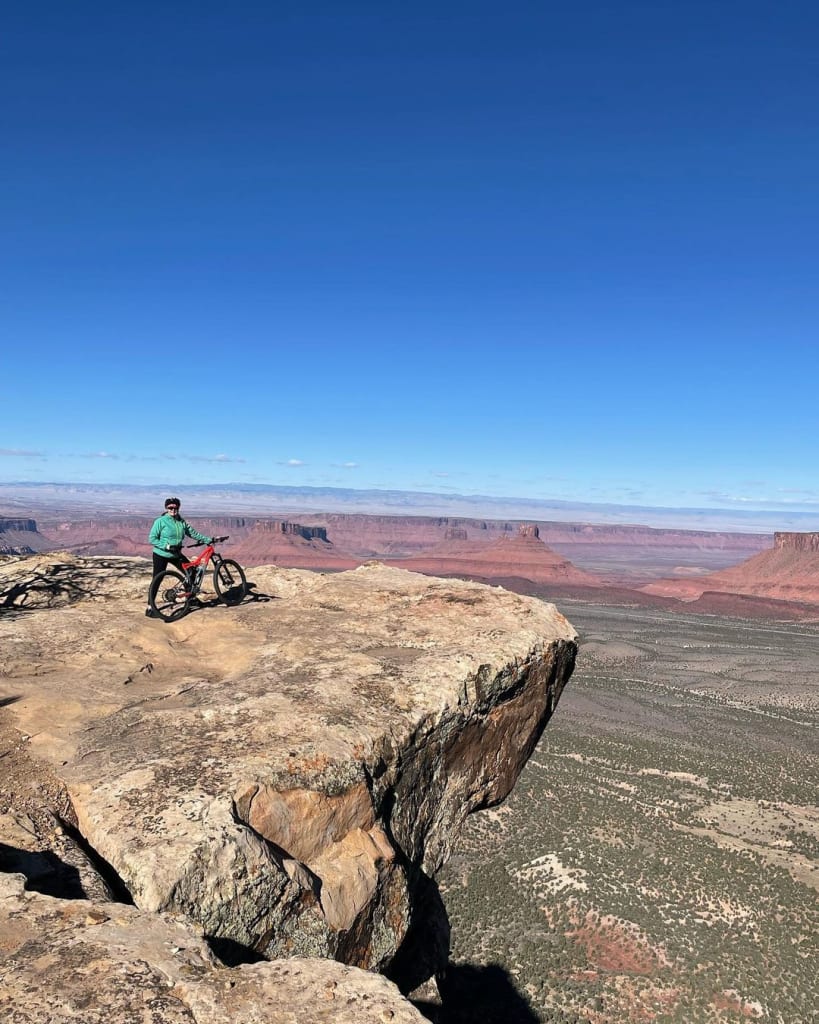 RV: What is it like being a solo female van traveler?
JW: I'm pretty independent, so traveling solo is not a big deal for me. I sometimes have guest co-pilots along for my adventures, which makes it more fun. I would like to get more involved with some caravan trips because I like the camaraderie.
Being solo, I like to get to a boondock location before dark for safety reasons. I read all the reviews of a location before I decide to camp there, and if anything seems remotely unsafe, I leave and find another spot. I usually identify one or two backup locations just in case. Also, I learned from other solo female van lifers to back into a spot which makes it easier to make a quick getaway if needed. The only thing that has ever really bothered me is traffic noise more than anything else.
RV: What is your favorite part of van life?
JW: I like having the freedom to explore and boondock anywhere, as well as meeting other van lifers. It is a welcoming community and van lifers are just happy people in general.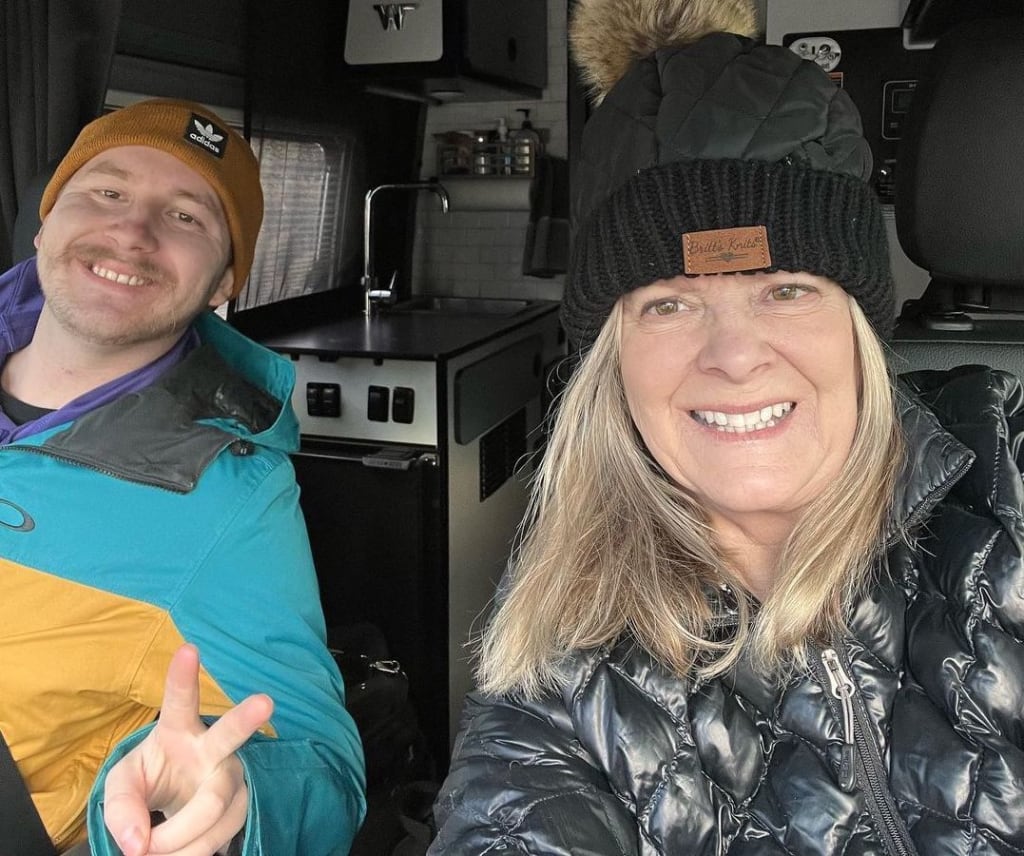 RV: What is the most challenging part of living in a van? 
JW: Sometimes decision overload is a bit taxing. Every day there is something I need to find, like getting water, emptying trash, finding good cell service, finding a dump station, finding a boondocking spot, finding an alternate boondocking spot, planning my arrival during daylight if it is a remote BLM location.
RV: What is something that most people don't know about the lifestyle?
JW: There are a lot of apps to find boondocking locations, if that is what you are interested in. I'm not a fan of RV parks, and only use them occasionally, so the different apps are essential to finding spots to camp.
Also, my spending habits have changed since living in a van. I make more careful buying decisions based on if it is something I can store in my van.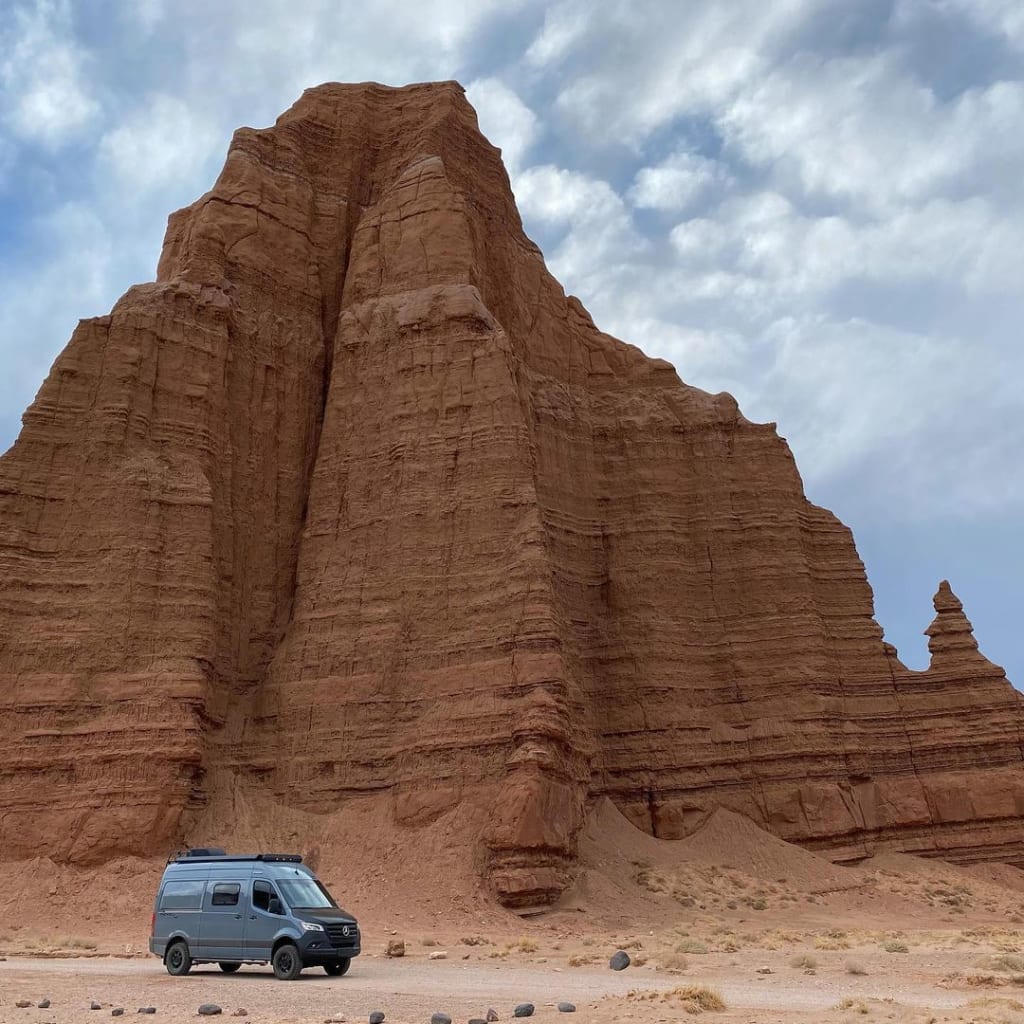 RV: Any advice or tips for new van dwellers?
JW: Do your research ahead of time. Rent a van and travel in it to be sure it is something that suits your lifestyle. Know what options are available and on your must-have list. I see many van life YouTubers freezing in their vans because they didn't get a heater, for example. If you have never had to find a dump station to empty gray water or a cassette toilet, then you need to experience this before making the plunge.
Once you buy a van, do a short shakedown trip to make sure you know how to use all the systems before going on a long trip. Even if you just camp in a driveway, it will give you a chance to shower and cook to make sure you understand the electrical and water systems.
RV: What are three of your favorite destinations in the U.S. and why?
JW: I'm partial to beaches and mountains! Morro Bay, Tahoe, and the PNW coast. Morro Bay is a cute seaside town in California, and it's a short drive to Paso Robles where there are some of my favorite wineries. Tahoe is my local playground where I ski, mountain bike, hike, and kayak. The Pacific Northwest coast beaches are a favorite because they provide some respite from the heat during the hot summer months.
RV: What's next for you? Any exciting plans for 2022?
JW: For 2022 I am starting out with some ski destinations in the west. I have a small Sprinter Overland trip planned, then either Alaska or the Maritimes during the spring/summer. I grew up in Toronto but have never been to any of the maritime provinces. Some are very van friendly so I'm looking forward to that!
Follow along on Jasmine's adventures on Instagram @lazyrevel. Curious about van travel in Canada? Check out our helpful guide. Looking for the van to take you there? Visit Rec Van.