It's well know that you don't have much room for excess when you're traveling in a van. In addition to a small kitchen, you won't have as many appliances or utensils as you would at home, so recipes need to be quite simple. You'll often want to make all-in-one meals that only need one pan, which minimizes the effort they require.
Simple doesn't mean you have to sacrifice flavor and best of all, campfire meals are great when you're traveling in your adventure rig. The following 10 delicious recipes will enhance your summer van travels. Check them out below.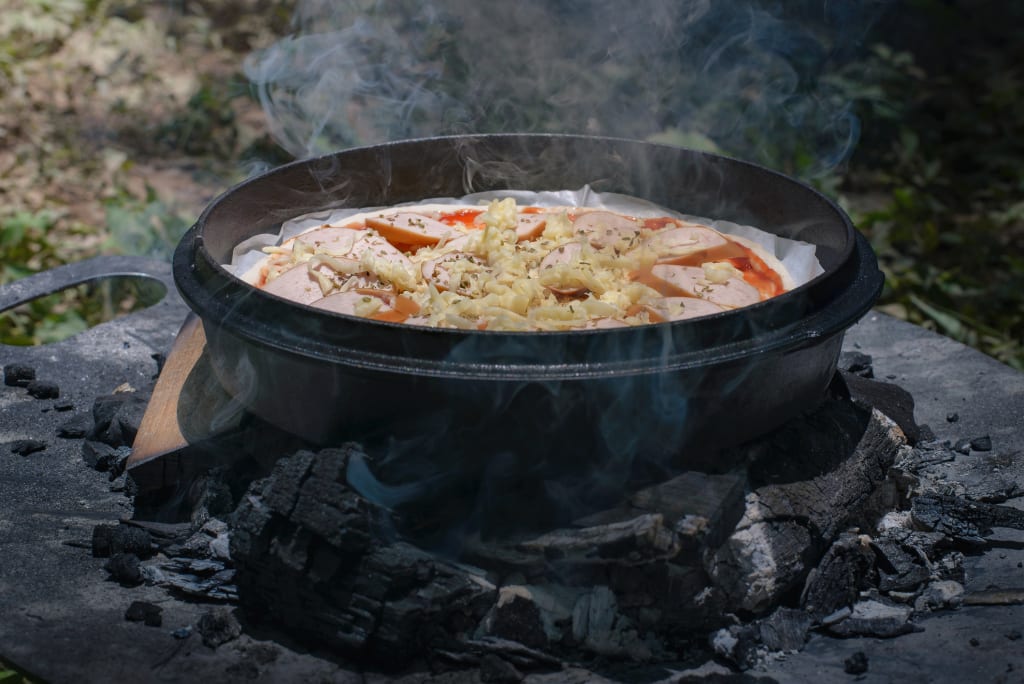 Pizza
Pizza is a classic for van life cooking because of its simplicity and flexibility. The main ingredients are dry-packaged mini pizza crusts, tomato paste, cheese and Italian seasoning. In addition to that, you can use any veggies and pre-cooked meat you have available. Typical veggies include mushrooms, bell peppers and olives. The meats can include sliced pepperoni, hot dogs or even bacon.
Spread the tomato paste on the crust, and add thinly sliced cheese. Place the toppings in layers without overlapping them. Elevate your flavor by adding your favorite toppings after the pizza is done. Bake the pizza over your campfire (or in your oven if you've got a camper van with baking capabilities).
Chicken and Rice
Chicken and rice is a standard all-in-one meal that only requires a fire safe dish and is also delicious and healthy. This recipe has a tomato base and feeds four. The main ingredients are four large chicken thighs and one cup of rice. The tomato base will require the following:
2 cups tomato sauce
2 cups diced tomatoes
1 3-oz can tomato paste
1 cup water
Add Italian seasoning and the chopped veggies of your choice, typically mushrooms, onions and zucchini. Mix the ingredients thoroughly and cook for at least 30 minutes over your campfire. You can cook it much longer by covering with aluminum foil and adding more water periodically.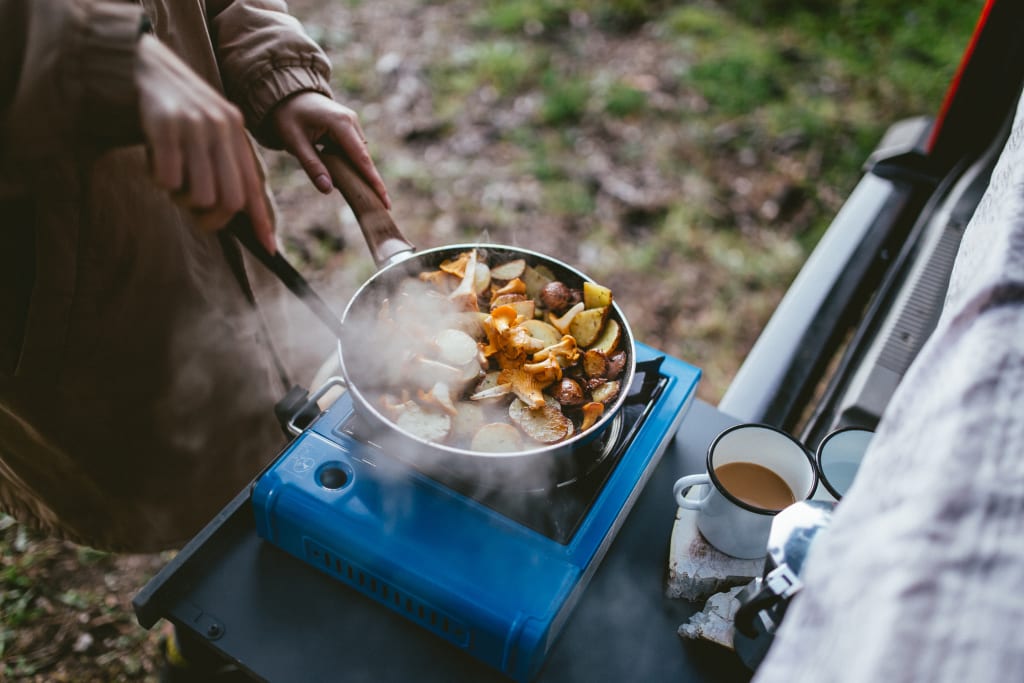 Breakfast Casserole
Breakfast in a van will often need to be heartier than you would make at home because you may not have time to cook a meal every few hours. An egg casserole only requires one pan, and you can easily make it for as many people as you need. The following ingredients will serve one person:
4-oz diced potatoes
1 sausage link
2 eggs
¼ diced onion
Add the potatoes and sausage to the baking dish, along with half the spices. Serve with salsa for an extra kick.
Chicken Ramen
Ramen is easy to make since it only requires boiling water, but it doesn't go very far by itself. However, you can fix this by adding chicken to make a heartier soup. Add a quart of water to a small soup pot, and raise it to a boil. Dice at least a half cup of cooked chicken, which you can purchase premade at the grocery store. Add the chicken to the boiling water, and continue boiling until the chicken is tender. Add the spice packet from the ramen to the boiling water, and stir thoroughly. Add the noodles and boil according to the instructions, usually about two minutes. Serve as soon as the noodles are ready.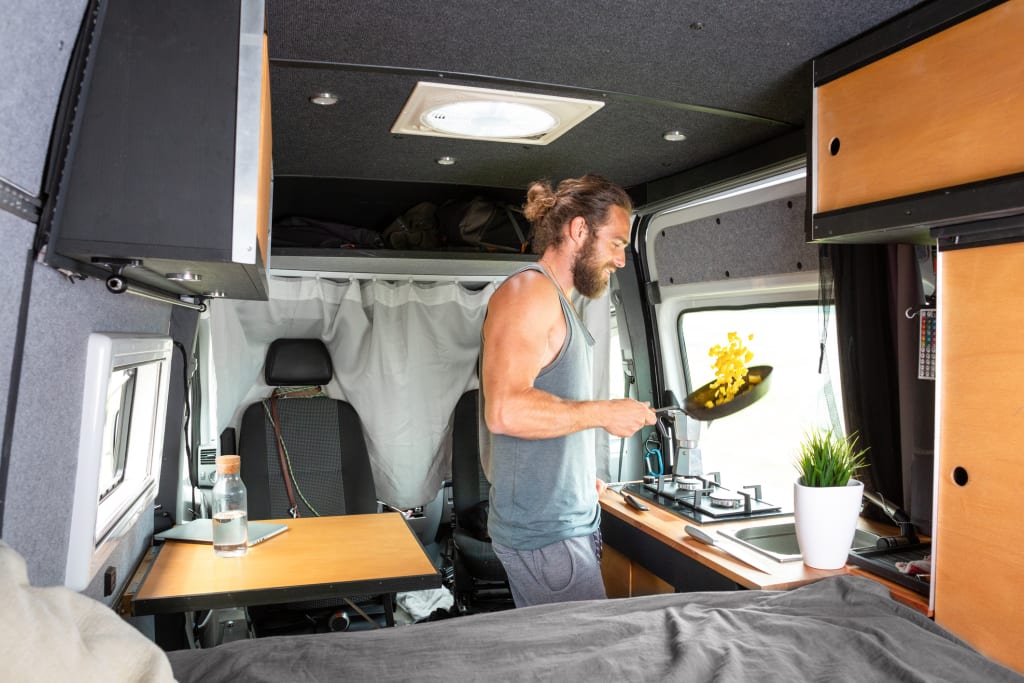 Tacos
Tacos are great for van travel because they're so easy to make. Anything on a soft tortilla also has easy clean-up because it serves as its own plate. The following ingredients will feed at least two people:
1 lb. ground meat
2 diced tomatoes
½ sliced purple onion
1 Mexican spice packet
Brown the meat under medium heat, and allow it to simmer. Add the spice packet, along with the amount of water indicated in its instructions. Allow this mixture to thicken, and drain the grease off if needed. Add the diced vegetables, and continue simmering for a few more minutes. Lay the tortillas on top of the mixture, and cover for two minutes to soften. Fill the tortillas with meat and garnish with your preferred toppings like cheese, cilantro, salsa and sour cream. Serve immediately.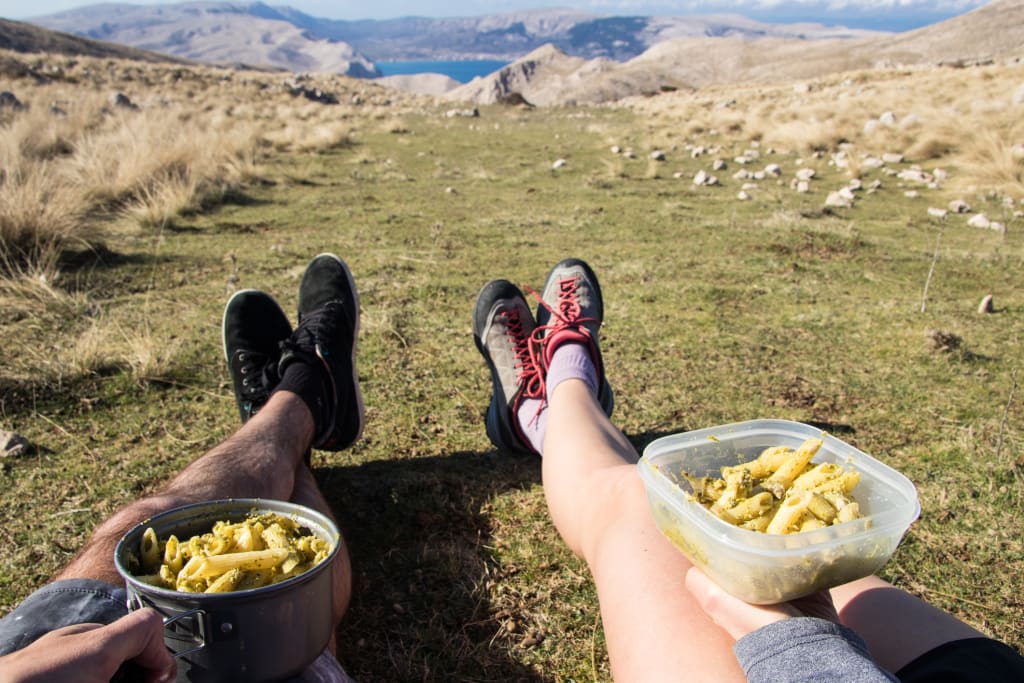 Simple Pasta
Pasta is a staple of van life because it's so easy to cook and is available in a variety of shapes and flavors. The general recipe is to bring water to a rolling boil and add a pinch of salt for each quart of water. Add the pasta and stir occasionally to prevent the pieces from sticking to each other. Boil for at least 10 minutes if you want it al dente, 12 minutes if you want your pasta softer. Drain off the water, and use the pasta in various dishes.
Pasta and Meat
Brown your favorite ground meat in a skillet, along with some oil if needed to prevent sticking. Turn the heat down and simmer for a few minutes, before adding a jar of pasta sauce. You can also make your own sauce with tomato sauce and Italian seasonings. Allow the sauce to simmer for a few more minutes, and add the pasta. Stir thoroughly to mix the ingredients and serve while hot.
Pasta and Vegetables
Cover a skillet with a thin layer of vegetable oil and place it over medium heat. While the skillet is heating, dice your favorite veggies like broccoli and mushrooms. Once the skillet is heated, add the veggies and stir-fry them for up to 10 minutes. Add seasonings like minced garlic towards the end. Turn the heat down and allow the veggies to simmer. Add the pasta, mixing it thoroughly with the veggies. Simmer until the mixture is hot and serve.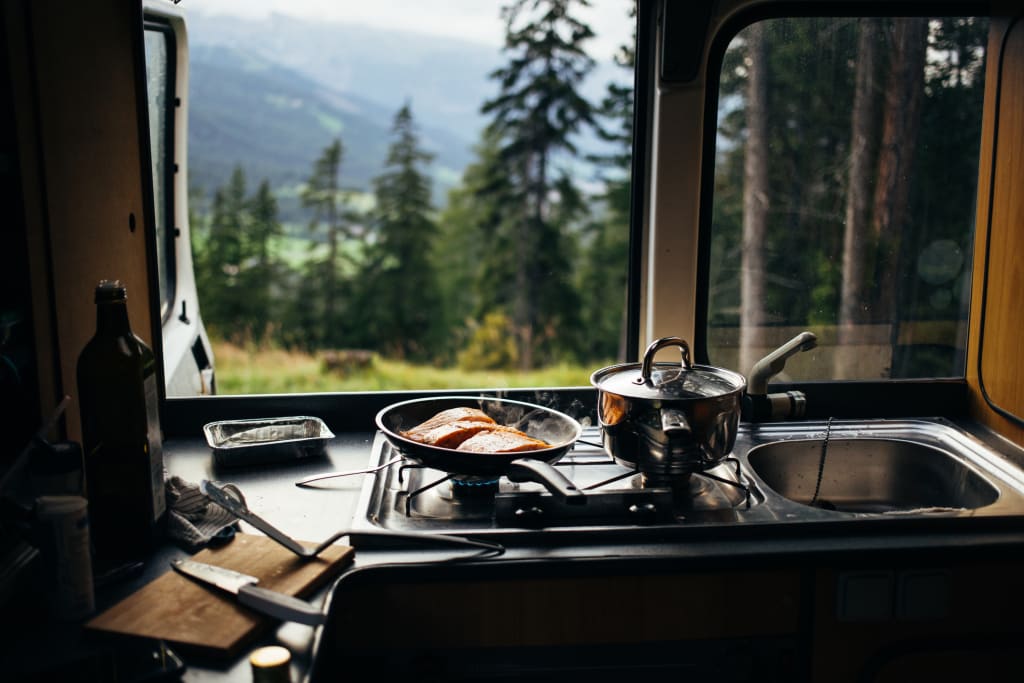 Salmon
Salmon is a healthy staple for those living and adventuring on the road. Multiply these ingredients by the number of people you're feeding:
1 8-oz salmon filet
Olive oil
salt and pepper to taste
Coat the filet with the olive oil, salt and pepper and place on frypan over medium heat. Place skin side down for 5 minutes, turn over and cook for another five or to your preference. Easy, healthy, and delicious. What more could you want?
Beef and Sweet Potatoes
Beef and sweet potatoes may seem an unlikely combination, but it provides a well-balanced meal with meat and starch. 
1 lb ground beef
2-4 sweet potatoes, depending on size
½ diced onion
1 6-oz can tomato paste
Slice the sweet potatoes into ¼ inch slices and roast them over the campfire 20 minutes or until crisp. Saute the diced onions in a skillet on medium heat until translucent. Add the ground beef, and brown it. Add the tomato paste, along the spices such as salt, pepper, paprika and chili powder. Place the sweet potato slices onto plates and cover with the meat mixture. Add cilantro and serve.
Many of these meals use the same basic ingredients, since you may not a ton of food storage space in your van. This approach allows you to buy a few staples in large quantities, which makes storage easier and saves money. These benefits are essential for enjoying your van travels!