Ready to get in the fall spirit? Camper vans offer intimate access to the American wilderness in all of its seasonal splendor. Take your nature appreciation to the next level and usher in cozier days with our list of ten ways to celebrate fall.  
Many cultures around the world and throughout history have developed their own versions of autumnal celebrations. These holidays and festivals often focus on harvests, community, and the balance between light and dark. Whatever it symbolizes for you, the start of a new season is certainly worth celebrating. 
Nomadic van dwellers are perfectly poised to celebrate fall because they can easily do activities inside (like cooking) and out in nature (like hiking) all in the same day. Ready to find out how you can commemorate this seasonal transition from sunup to sundown? Read on.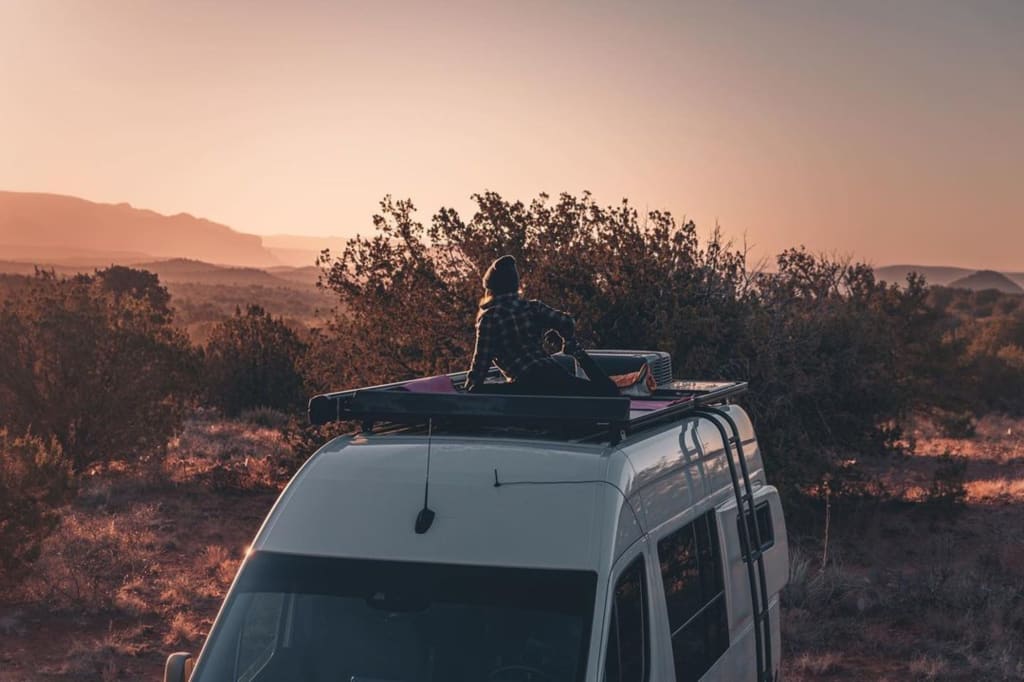 Photography: @storytelleroverland
SUNRISE YOGA
As the day and night achieve a perfect balance, so can you. Wake up early and get energized for the day ahead with some sun salutations under the peachy dawn sky. Set up your yoga mat on a flat patch of ground or even on top of your van if you have a deck. The most important thing is that you position the front of your mat to face the sun for a great view. Looking for other ways to get your body moving in the morning? Check out our list of exercise routines that are perfect for van dwellers.
LISTEN TO PODCASTS
Whether you tune in while you make your morning coffee and breakfast or during a walk, podcasts are a great way to get into a fresh frame of mind. We recommend Optimal Living Daily, which offers short episodes on subjects related to personal growth and development. If you have a little longer to listen, dive into The Happiness Lab, which explores the science of happiness and offers practical tips to help you live a happier life. Choose an episode with a topic that feels relevant to you, and let the sound waves provide inspiration for the months ahead. In fact, one of The Happiness Lab's episodes talks about how humans are statistically more likely to start new habits on significant dates. Ahem—a new season, anyone?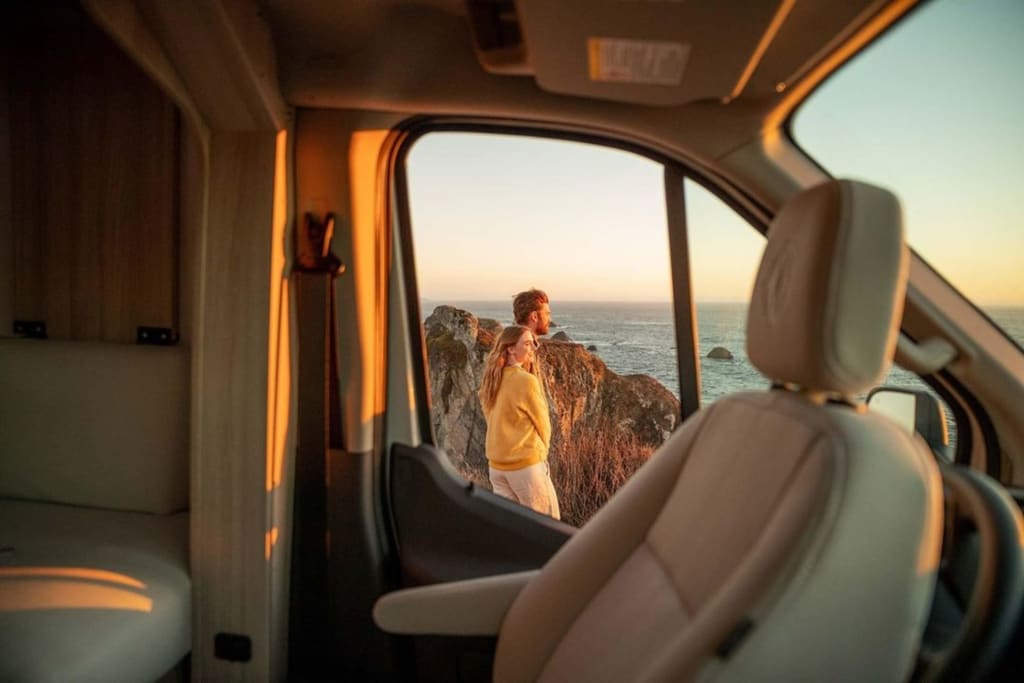 Photography: @leisurevans
JOURNAL AND REFLECT
Keep the self-care vibes going with a good journaling session. You can take some time to reflect on what's been working well for you and what you'd like to change going forward. Along with the autumn theme of harvest, reflect on how the seeds you've planted earlier this year have created the rewards that you are enjoying now. This is also a great time to jot down a gratitude list. Undertaking a focused journaling session at the start of each new season will allow you to reflect on how you've grown over the course of the year and encourage you to stay on track with your goals.
VISIT A FARM 
Another great way to experience the changing of the seasons is to get in touch with local and seasonal produce. There are many farms across the U.S. that you can visit to see how fruits and vegetables are grown and even pick your own food. At this time of year, apples, grapes, corn, and pumpkins—just to name a few—are ripe and ready for the picking. Some farms even extend the experience by teaching you how to cook with or preserve your new bounty. Check out pickyourown.org for tons of helpful information about farms to visit, the types of produce that are in season in each state, recipe ideas, and more.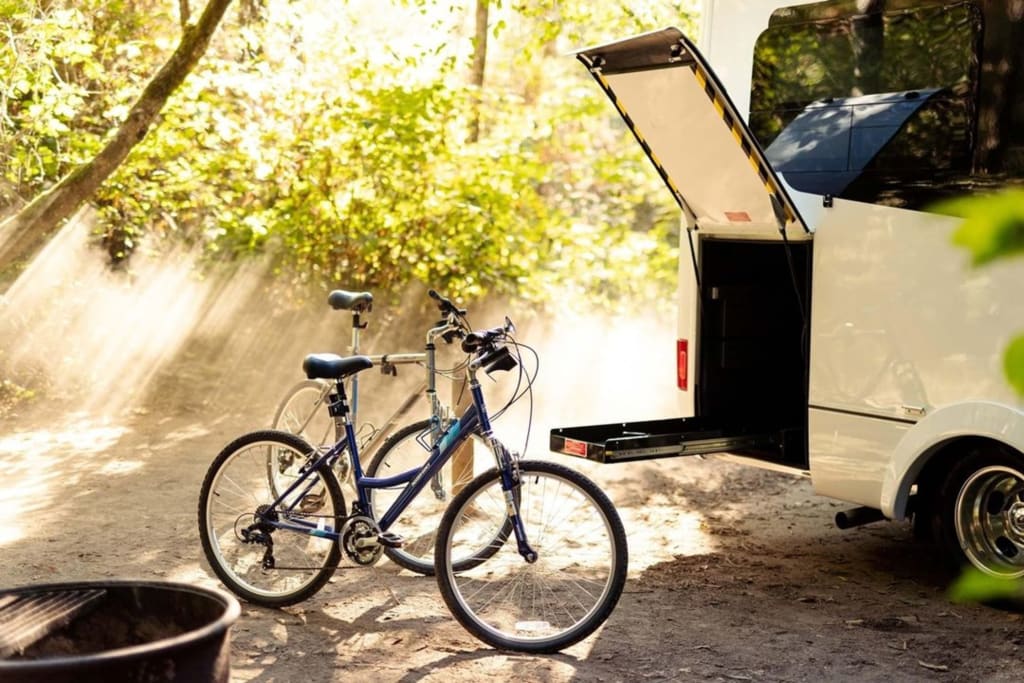 Photography: @leisurevans
NATURE HIKE OR BIKE RIDE
While our first three activities require turning inward, it is equally important to connect with the world around us. Strengthen your relationship with nature by going on a hiking or biking adventure in the crisp autumn weather. You can observe wildlife like birds, elk, and chipmunks that become more active as they get ready for winter. At the same time, you'll get to admire the changing colors of the surrounding vegetation. For some of the best places to marvel at fall foliage—and to celebrate autumn in general—check out our list.
NATURE ART
Decorate your van for the season with minimalist art that you can make yourself. Since vans have limited wall space, you might want to occasionally switch out the art in one frame or a small cluster of frames. For example, you can gather fall leaves and grasses and feature each in their own frames against nice paper backgrounds. In the springtime, use the same frames and papers to display wildflowers you collect and press beforehand. This simple idea allows you to bring the outdoors inside as well as take mementos of your travels with you. For more ways to be a van life artist, check out our tips. If you'd prefer to capture the autumn scenery with brushes and paint rather than framed flora, check out our guide to landscape painting for beginners. Either way, you'll enjoy taking some time out of your day to appreciate the beauty of the season.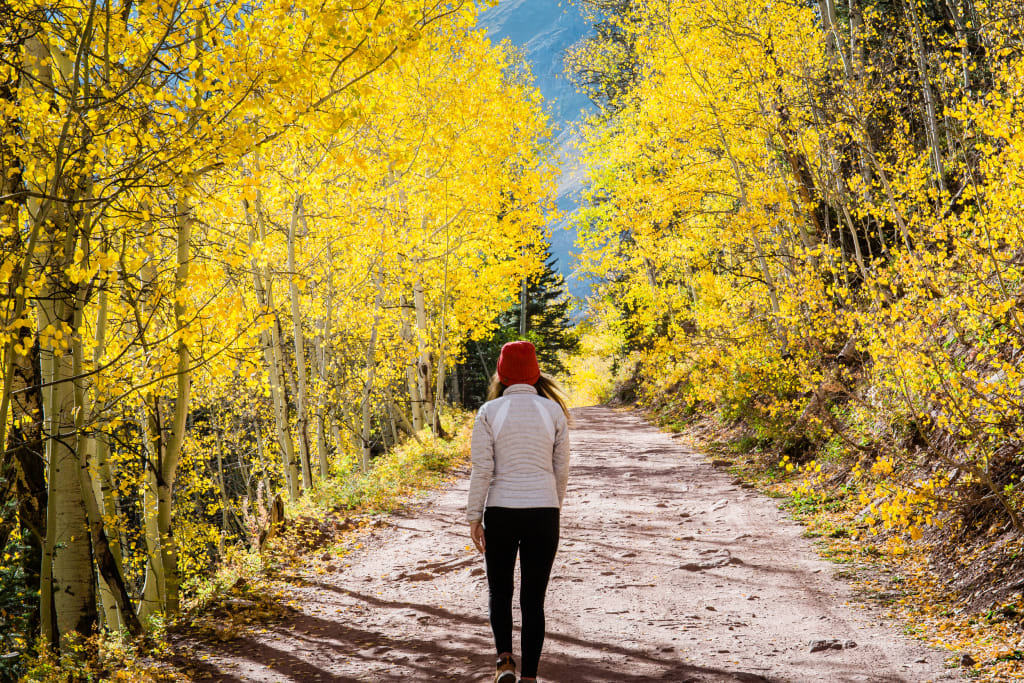 QUIET TIME IN NATURE
We often move so fast through life, keeping busy with responsibilities or even fun activities, that we forget to just be present in the moment. Grab a camp chair or picnic blanket and get comfortable in a beautiful location. You can do this by yourself or with your loved ones—the only rule is that you don't talk or do any other tangible activity. Instead, simply admire the pristine landscape and focus on taking in your surroundings with all of your senses. You might be surprised to find that even five minutes of this quiet time will make you feel much more connected to the world around you.
TRY SOMETHING NEW
Is there a hobby you've been dying to try or a project you've been procrastinating on starting? Whether you've been dreaming of road-tripping to Humboldt, California to bungee jump between two redwood trees or you want to start learning how to play the guitar, let autumn be the fuel you need to finally make it happen. Whether it is a one-time bucket list experience or a habit you hope to keep up forever, the start of a new season is a great time to refocus on your priorities and make sure you are living the life of your dreams.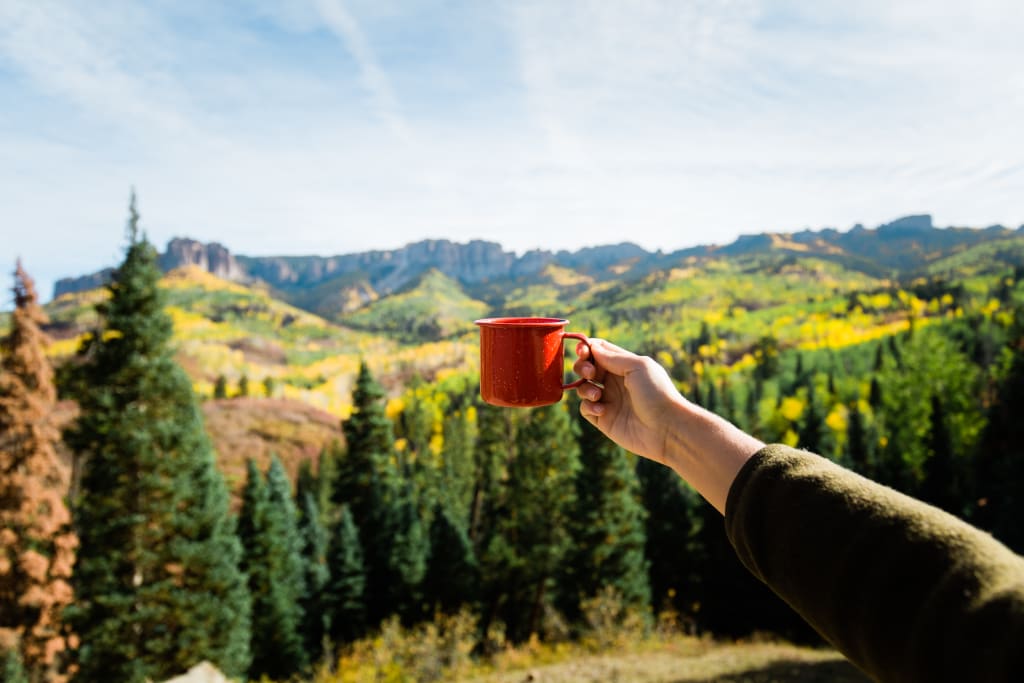 TOAST THE OCCASION
Nothing puts you in a holiday mood quite like special foods and beverages. For your autumn welcome, we suggest festive warm drinks that you can easily whip up in a van kitchen. For a non-alcoholic beverage that is sure to be loved by kids and grownups alike, go for a hot apple cider made from apple juice, spices, and orange zest. You can also spike the cider with brandy or bourbon for adult enjoyment. For another boozy treat, make a warm mulled wine with a dry red wine, spices, orange slices, and maple syrup. 
BONFIRE POTLUCK
To keep the celebration going after dark, invite some old or new friends over for a bonfire at your campsite. This staple of van life evenings is also an ancient tradition used to celebrate the start of autumn. Make it more special than your average camping bonfire by asking guests to bring dishes for a potluck. Similarly to tip #5, you can connect with food as a way of celebrating the harvest. This activity is especially rewarding because it fosters a sense of abundance and community. Even if you are on the road and don't know anyone in the area, you can still find like-minded people to hang out with. For the how-to, check out our tips for meeting other van dwellers.
Mix and match the ideas from this list to create a celebratory itinerary customized to you. With van life, you are always a stone's throw from beautiful nature and exciting new experiences. You have the freedom to reinvent your lifestyle as often as you want. 
If your autumn resolution happens to be joining the van life movement or switching to a new rig, visit Rec Van today to browse state-of-the-art camper vans.