So you've planned, packed, and hit the road in your camper van to pursue epic outdoor adventures. Now it's time to delve into the finer details. Specifically, what will you eat on your snack breaks? We're here to pitch a humble provision with exciting potential–trail mix.
In this post, we're sharing eight tasty and easy trail mix ideas. Whether you're looking for a decadent treat to motivate you up that mountain or something nutritious to supercharge your gains, you'll find it on this list. At its best, trail mix should be both delicious and healthy. We're aiming for both with these eight DIY trail mix recipes.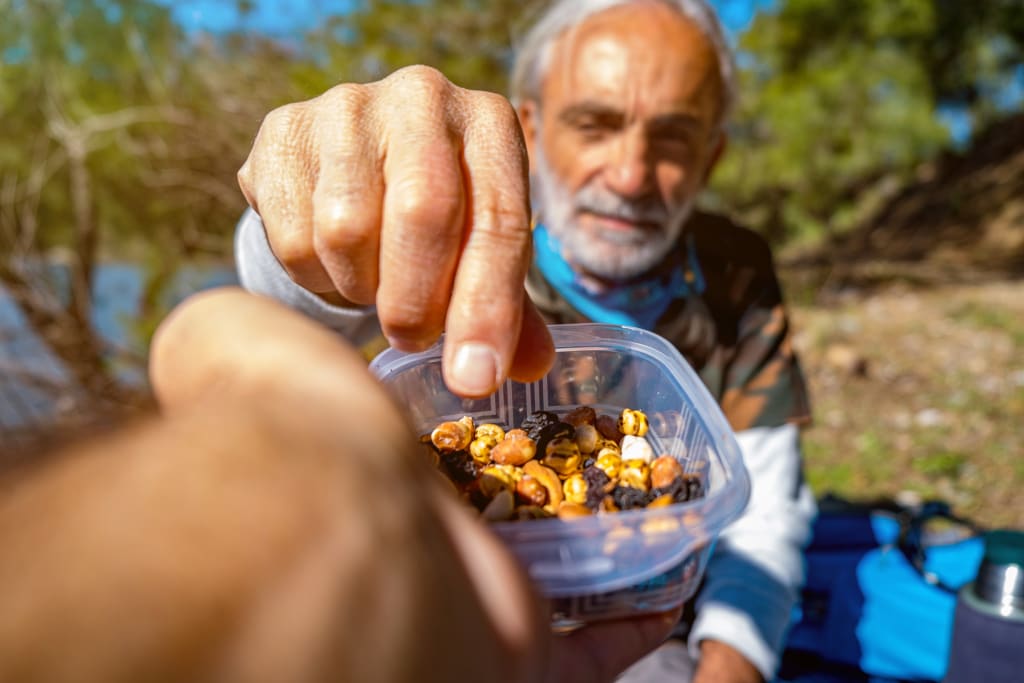 Why DIY Trail Mix?
Trail mix has been a favorite of adventurers for decades thanks to some impressive perks. With its balance of protein, heart-healthy fats, and sugar, this mixture packs a hefty punch of energy in a lightweight, portable snack. The nuts, seeds, and dried fruits also provide fiber and antioxidants. Aside from the occasional melted chocolate, trail mix keeps and travels well. 
Instead of reaching for a store-bought trail mix, why not make your own? There are an endless variety of flavors and combinations to try, from sweet and salty chocolate and nuts to spicy and savory wasabi peas and sesame sticks. You'll get to customize your mix to suit your preferences. If you always end up eating around the raisins in traditional trail mixes, simply leave them out. Nut allergy? No problem; sub in toasted sunflower or pumpkin seeds instead. 
Making trail mix is one of the simplest recipes imaginable. For all of the options on this list but one, just toss the ingredients together in a large bowl and store in an airtight container. You can adjust the ratios of ingredients based on your taste. Then parcel out servings in reusable food storage bags for snack breaks on your hiking, biking, and climbing outings. 
The Recipes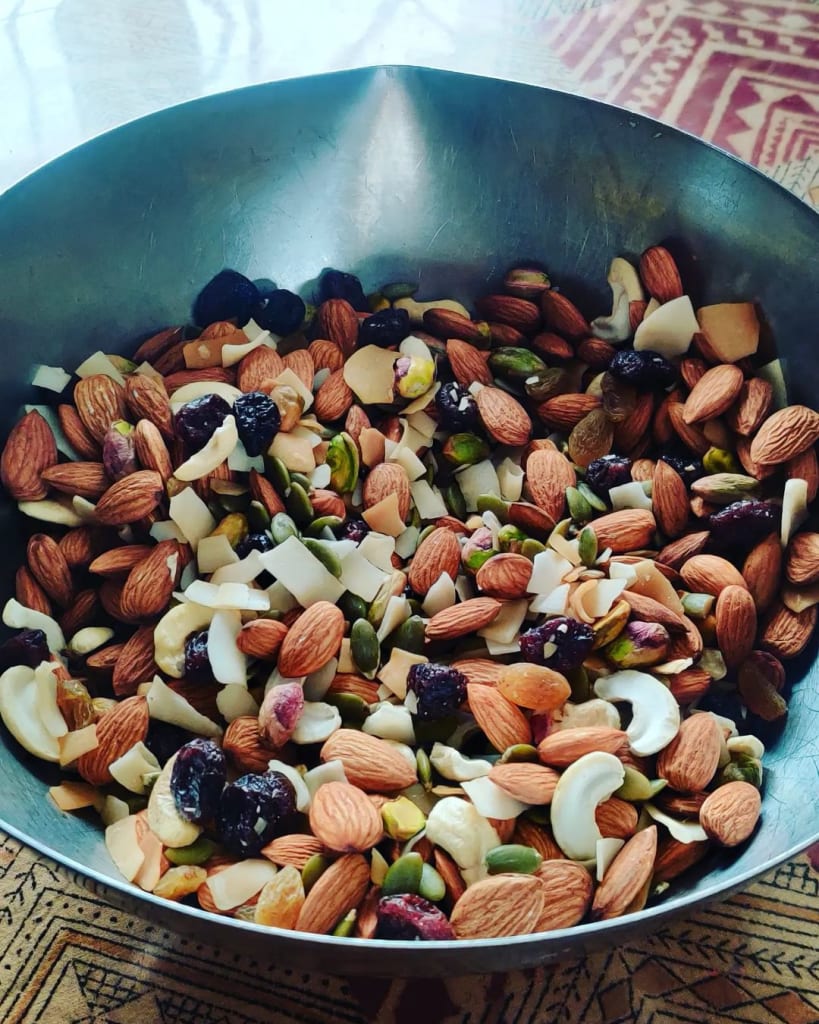 Photo By @nisha.rajagopala
Nisha's Trail Mix
Our first mix idea comes from @nisha.rajagopalan. Nisha's brainchild is a well-rounded and healthy blend of nuts, seeds, and dried fruit. She opted to leave the ingredients raw, but you can buy roasted versions of the nuts and seeds or toast them at home for a different flavor profile. Pro tip: if you choose to customize this recipe, be sure not to leave out the coconut flakes!
¾ cup raw almonds
½ cup raw pistachios
½ cup raw cashew halves
½ cup raw pumpkin seeds
½ cup toasted coconut flakes
¼ cup dried cherries
⅛ cup yellow raisins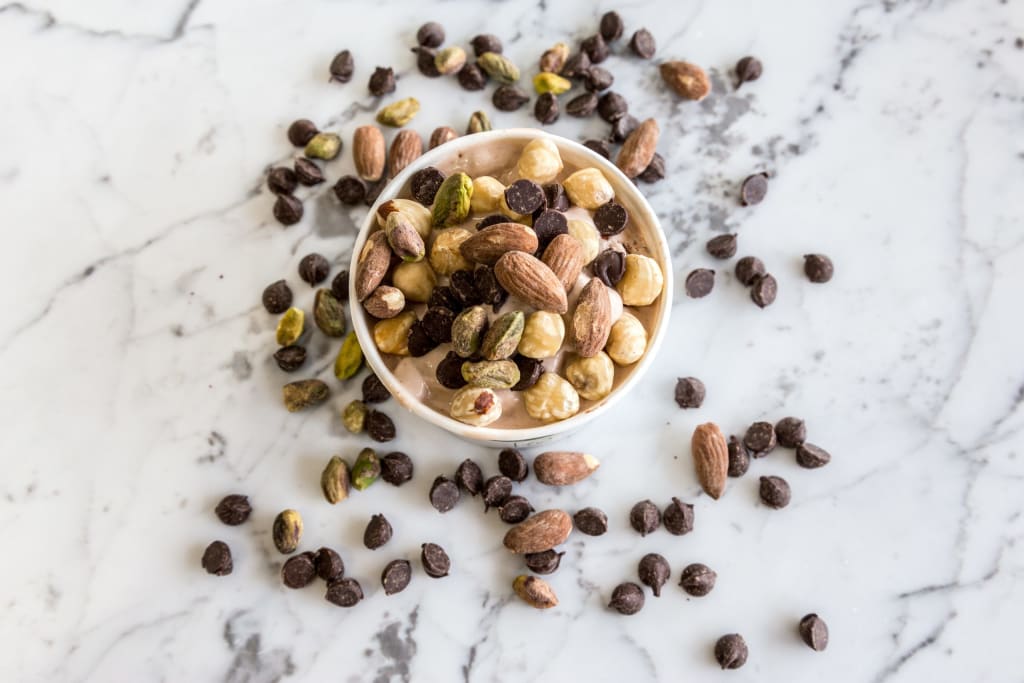 Decadent Italian Trail Mix
This rich treat will remind you of your favorite gelato flavors. In fact, it can do double duty as a topping for ice cream or your breakfast smoothie bowl. On the trail, consider saving it for the peak as a delicious reward. 
1 cup roasted salted almonds
1 cup roasted salted pistachios
1 cup hazelnuts
1 cup chocolate chips
Peanut Butter and Jelly Trail Mix
Create a deconstructed, ultra-portable version of your favorite childhood snack with this PB&J-inspired trail mix. If you're part of the grape jelly camp, opt for raisins. If strawberry jelly is more your speed, try freeze-dried strawberry pieces.
2 cups roasted salted peanuts
1½ cups yogurt-covered pretzels

 

¾ cup peanut butter chips
¼ cup raisins or 1 cup freeze-dried strawberries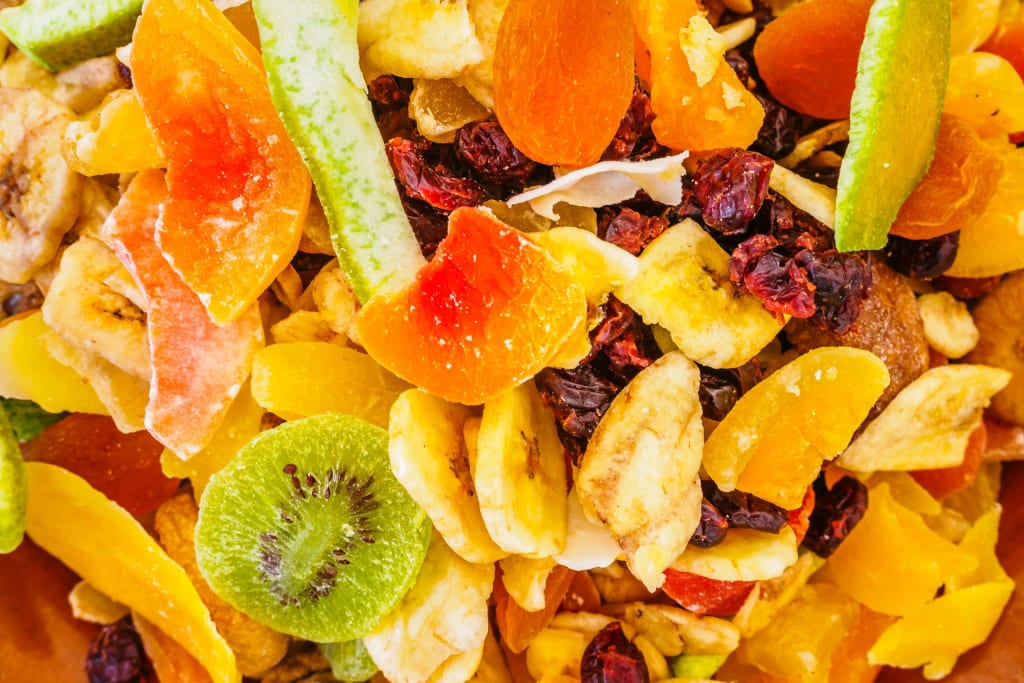 Tropical Fruit Trail Mix
If you can't eat nuts and seeds or just don't enjoy them, you can still get in on the trail mix goodness. Banana chips provide a satisfying crunchy texture to balance out the dried fruits. Just keep in mind that this mix is all sugar and no protein, so snack mindfully.
2 cups assorted tropical dried fruits

 

1½ cups banana chips

 
Savory Japanese Trail Mix
Another nut-free option is this spicy, umami-filled trail mix that draws inspiration from Japanese snack mixes. This version gets a dose of protein from wasabi peas and crunchy dry roasted edamame. 
1½ cup sesame stick crackers
1 cup dry roasted edamame

 

1 cup wasabi peas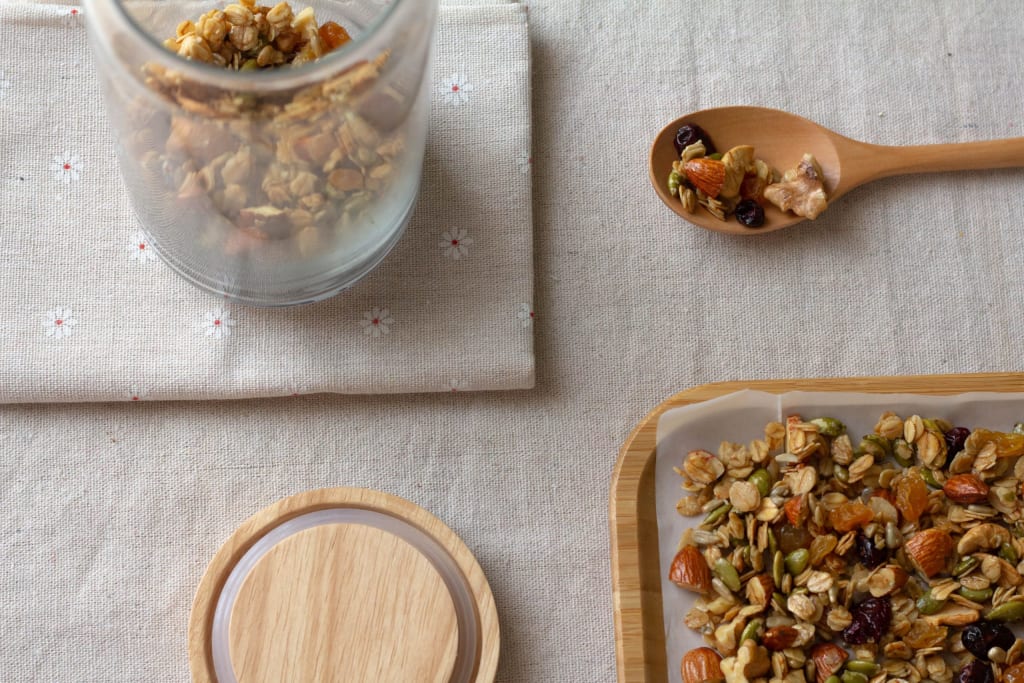 Honey Granola Trail Mix
Granola and trail mix are sisters in the food world, so why not combine them into one sweet and satisfying snack? You'll include more add-ins than you might with a typical granola recipe, but the mixture will be coated in honey and toasted in the oven. Enjoy it with milk the morning of your day trip, then snack on the mix by itself when you're out in nature. 
1 cup oats
1 cup almond slivers or pieces
½ cup walnut halves
½ cup pumpkin seeds
¼ cup honey
⅛ cup canola oil
¼ cup dried cranberries
¼ cup chopped dried apricots
Optional: ⅛ cup flax, chia, or hemp seeds

 
Preheat the oven to 300 degrees Fahrenheit. Stir the oats, nuts, and pumpkin seeds with honey and canola oil, then spread on an ungreased baking sheet. Bake for ten minutes. Remove and stir. Return to the oven for ten minutes or until golden brown. Let the mixture cool, then add in dried fruit and the optional seeds. 
Sweet and Spicy Mango Trail Mix
Enjoy a summery flavor explosion with this trail mix inspired by the popular Mexican combination of mangoes and chili. Opt for red chili powder for a kick of heat or Tajin, the chili lime salt seasoning, for a more complex zing of flavor. Feel free to experiment with the levels of spice to find your optimum level.
1 cup sunflower seeds
1 cup pumpkin seeds
1½ cup dried mango
¼ cup raisins

 

Red chili powder or Tajin to taste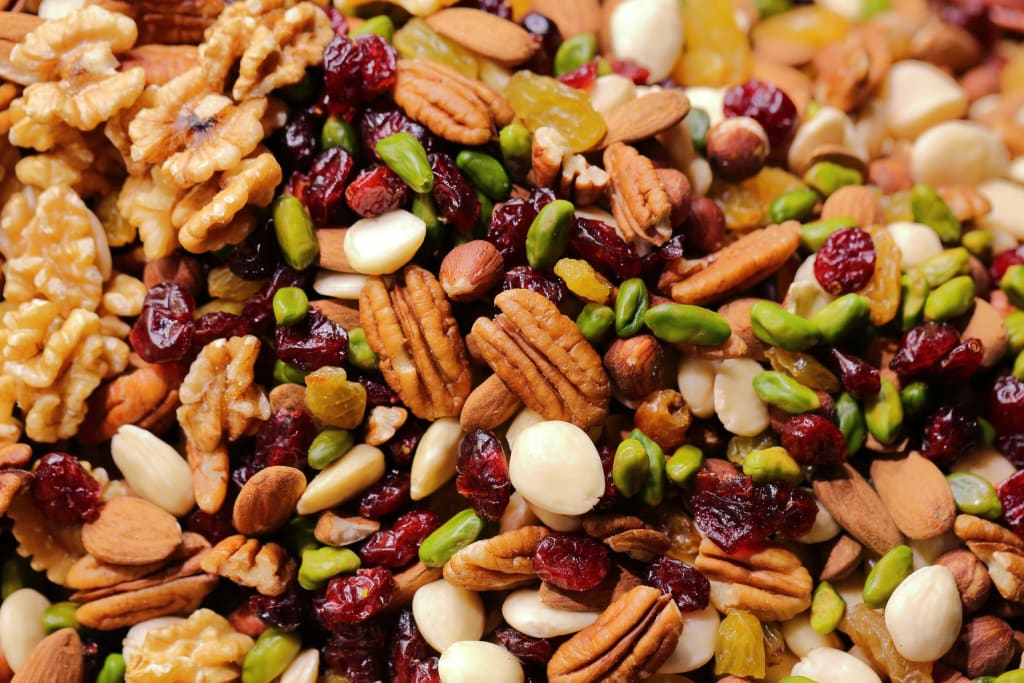 Harvest Trail Mix
This classic nut and fruit trail mix gets a classy makeover with macadamia nuts and yellow raisins. We think the comforting taste of holiday foods is a perfect pick for upcoming autumnal hikes and camping trips. 
½ cup pecan halves
½ cup walnut halves
½ cup almonds
½ cup hazelnuts
½ cup macadamia nuts
½ cup dried cranberries
½ cup yellow raisins
All About Trailmix
Homemade trail mix lasts for about a month on average when stored properly. When in doubt, check the expiration dates of the ingredients you're using. Most ingredients for these recipes can be found in the bulk section of grocery stores, making DIY trail mix ideal for those looking to cut back on the amount of packaging waste they produce. 
For healthier recipes, check dried fruit and nuts for added sugars and oils. Most dried fruits are perfectly tasty without added sweeteners, but dried cranberries typically need sugar in the ingredient list to be palatable. Some people prefer raw, unsalted nuts and seeds, but roasted nuts are easier to digest. Roasted nuts often include salt, which is actually necessary to replenish electrolytes when you're exercising. 
Whichever recipe strikes your fancy, you'll have the ideal snack to power all your outings and expeditions. For the perfect van to enhance your adventurous lifestyle, visit Rec Van. We're proud to carry a wide range of new and used camper vans from industry-leading brands.