Whether you're an experienced van dweller or looking to join the lifestyle, knowledge is power. Specifically, knowing how to outfit your van properly will afford you endless adventures in complete comfort. That's why we've compiled ten practical products that make van life easier and more enjoyable. These genius accessories range from the absolute essentials for safety to little luxuries that make all the difference. From your morning coffee to the comfy bed you fall into at night, your days on the road are sure to be brightened by these must-have products. Looking to embark on epic travels but not a fan of "roughing it"? This post is for you!

Photo by @StorytellerOverland
If your van doesn't come with screen doors, you'll probably realize fairly quickly that you need to invest in some. Mesh screens for your van's back and side doors allow you to enjoy the fresh air of your remote campsite without any pesky bugs taking up residence in the van. The Bug Wall makes custom insect screens for Class B RVs of every model, shape, and size. If you're feeling crafty, you can also buy generic mesh screens online and modify them yourself. Either way, you'll be grateful for the extra protection as you enjoy the best of indoor/outdoor living in your van.
Life feels like a vacation when you're swinging in a hammock. Luckily, you can bring that feeling with you everywhere your van takes you. Fold-up fabric hammocks that you hang between two trees are inexpensive and popular with van lifers. If you want to level up your relaxation game, check out this hammock stand that attaches to your vehicle's hitch. It allows you to set up a hammock anywhere you can park your van, including locations without trees. The Hammaka Hitch Stand comes with a hefty price tag, but can you really put a price on the enjoyment you'll get from limitless lounging?

Photo by @StorytellerOverland
Whether you're working from the van or going on a day-long hike, nothing starts the day off right like a hot, flavorful cup of coffee. Enter a portable coffee-making setup. Van life caffeine fiends should opt for a press that doesn't take up much space, won't break while driving on bumpy roads, and can be taken with you on your adventures. That's why we love the Espro Coffee Travel Press. This durable stainless steel French press slash thermos makes a full-bodied cup of coffee and keeps your beverage warm for hours. Best of all, it's extremely portable–you can even bring it backpacking.
Van lifers should take notes from the boy scout motto- "be prepared." A good car emergency kit will help you out in the event of vehicle trouble, accidents, injuries, or getting caught in extreme weather. It's not fun to think about the things that can go wrong on the road, but responsibly stocking up on a safety kit means you can set your worries aside. We recommend this comprehensive kit because it includes high-quality, long-lasting mechanical tools and a 48-piece first aid kit to help you out in almost any tricky road-tripping and van camping situation.

Photo by @LeisureTravelVans
If we didn't know better, we'd think that wheat straw plastic was invented specifically for van life. Made from a byproduct of wheat production, this innovative bioplastic is durable, lightweight, and eco-friendly. Dishes made of the stuff are unbreakable, no matter how much they might rattle around while you drive. They're also non-toxic and easy to clean. To maximize space in your cabinets, opt for modular square designs that stack and sit next to each other neatly. The minimalist plates linked above are an elevated and fresh version of yesterday's cheap plastic dishes.
Van dwellers swear by handheld vacuums as a must-have item to tidy up living spaces. Stray crumbs or tracked-in dirt are no match for a small yet powerful vacuum. We favor this cordless model for its streamlined and user-friendly design. The unit also features a crevice tool to help you clean out those hard-to-reach nooks and crannies. With floor space in vans at a premium, the wall-mounted charger–where you both store and charge the vacuum–is a bonus. Looking for more tips on keeping your van squeaky clean? Check out our post.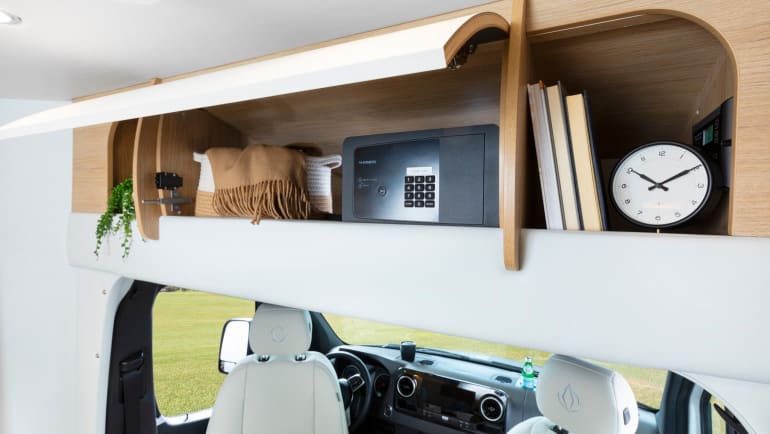 Photo by @LeisureTravelVans
A quality safe means you can leave your van for day trips into the city or backpacking expeditions in the wilderness without worrying about your valuables. Important documents, passports, cash, or jewelry can be stowed in a smaller safe; a larger version might be necessary if you have expensive camera gear or other technology. Make sure to mount your safe to the wall or floor, preferably in a hidden area like inside a cabinet, so would-be thieves can't remove it from the van. The safe linked above features pre-drilled holes for easy installation along with a combination of electronic and key locks that will keep your valuables well-protected.
Speaking of cleaning, washing clothes while living in a van can be a challenge. Hitting laundromats and making use of RV resort amenities work great for larger, less-frequent loads of laundry, but sometimes you just need to wash a few articles of clothing while camping. Socks, underwear, thermals, and your favorite athletic gear can be deftly handled by this portable "washing machine" in a bag. Thanks to this product's smart engineering, it only takes a gallon of water, some soap, and a few minutes of manual labor to get a machine-quality wash. The bag folds down into a pocket-sized packet when not in use. Besides being so compact itself, this wash bag will allow you to own fewer articles of clothing because you can wash the ones you have more often.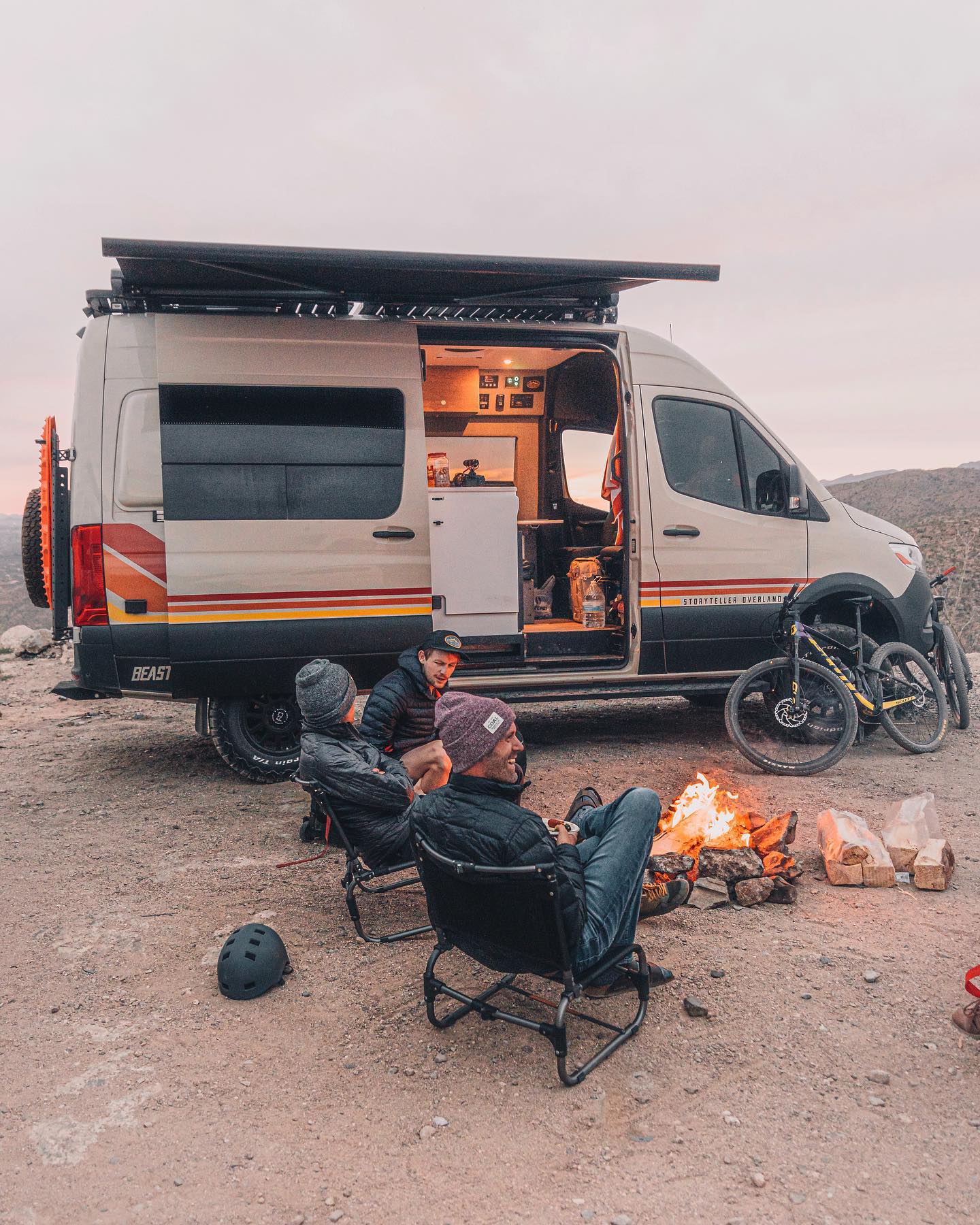 Photo by @StorytellerOverland
Take advantage of spectacular camping spots by making the great outdoors your living room. There are plenty of great folding camp chairs on the market, but we like this chair from REI because it ticks all the boxes for van life. Lightweight? Check. Takes up minimal space when folded? Check. Comfortable? Check. The ripstop material has a waterproof coating that keeps chairs free of dampness and stains. The materials are also more environmentally friendly than your typical camp chair. If all this wasn't enough, this model is also one of the more affordable camp chairs on the market, so you need not hesitate about buying one for everyone around your campfire.
Photo by @LeisureTravelVans
Get your best night's sleep ever when you customize your bed with a memory foam mattress topper. Many van manufacturers already offer great bed set-ups–here's looking at you, Winnebago Deluxe FROLI Sleep System. However, if you're finding your van mattress too firm (or you're just a fan of memory foam), you'll be pleased with this gel memory foam topper. The three-inch layer of extra comfort is optimized to regulate your body temperature. Because van mattresses often differ from traditional mattress sizes, we suggest sizing up a bit and trimming the topper to fit your bed's exact dimensions. Sweet dreams!
When living and traveling in a van, everything you own should be made to last and optimized for efficient storage. Most importantly, you should only buy things you'll use often. With all this in mind, we highly recommend the products on this list if they fit into your lifestyle.
Do you have any favorite van life accessories we didn't mention? Share your essentials and wish list items in the comments below! Looking for the perfect camper van? Visit Rec Vanto browse a wide variety of new and used adventure vans from top manufacturers.