Best Photography Spots In Florida
Looking to relax in your van with the salty ocean breeze at your disposal? Anxious to leave the cold weather behind and find solace in the delicious Florida sun? Last February, right before Covid-19 halted all travel, Rec Van photographer and explorer Kristen Jozwiak, along with her husband Matt, embarked on a week-long road trip throughout Florida in their favorite Class B, the Winnebago Travato. Together they kayaked through mangroves, explored the halls of the most exotic museum in Florida, and caught sunsets that perhaps no one is actually worthy of.
Today, we share their Florida findings with you. From where to van camp (if you've ever wanted to stay directly on the beach, we've got the best possible campground) to which cities to explore, eat through, and activities to enjoy while zig-zagging your way from the gulf coast to the east coast, check out our Florida road trip guide below.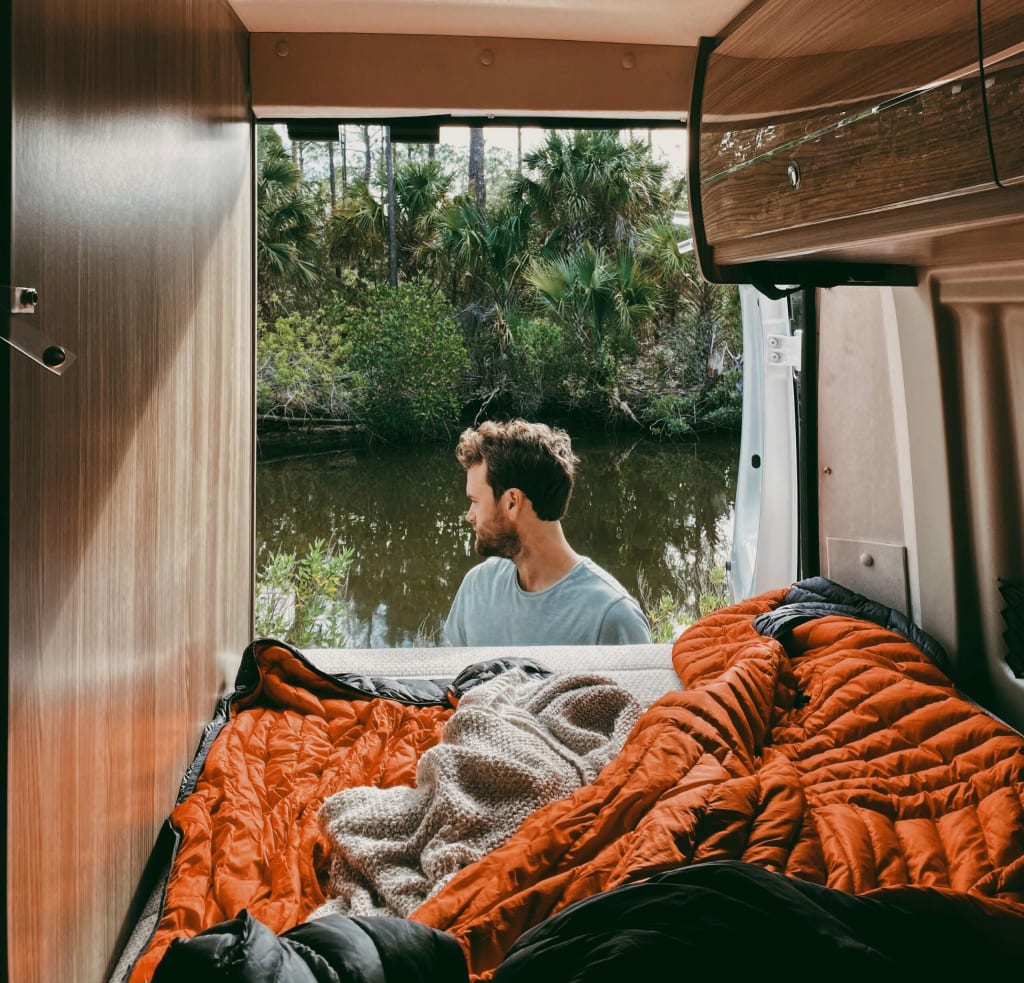 WHERE TO VAN CAMP IN FLORIDA 
This is perhaps the most important part of any road trip – finding an epic campground. If you're anything like us, you manically search the internet in pursuit of the coolest, most beautiful campground at your desired destination. We also care about affordability, utilities, and space of course, but our number one goal is to always obtain the best possible view. Florida is good for that, with its white sand and emerald waters. Below are the Jozwiak's favorite campgrounds in Florida.
Photography Spots In Florida
Beverly Beach Camptown 
Location: Flagler Beach
Address: 2815 N Ocean Shore Blvd | 32136
The Perks: An uninterrupted view of the Atlantic Ocean. Pet friendly, with 1,500 linear feet of beachfront for your personal enjoyment, situated directly on the beach… what more could a van lifer or anyone for that matter, want?
Pricing: Click here for daily rates.
Rose Bay Resort 
Location: Port Orange
Address: 5200 S Nova Road | 32127
The Perks: Camp right on Rose Bay and open your van to a beautiful Florida, waterfront view. The recreation area is perfect to launch your boat or go fishing.
Pricing: Click here for daily rates.
Bryn Mawr Ocean Resort
Location: St. Augustine
Address: 4850 A1A South St. | 32080
The Perks: Beachfront, pet friendly, spacious campsites. Best off all, this campground won't break the bank.
Pricing: Click here for daily rates.
Madeira Beach KOA Holiday
Location: St. Petersburg
Address: 5400 95th St North | 33708
The Perks: An ideal place to relax, this KOA borders a mangrove bayou and offers tons of amenities for those looking to hang at the campground. The location is ideal too – you'll find yourself minutes away from the hip and ever evolving city of St. Pete.
Pricing: Click here for daily rates.
More Photography Spots In Florida
FAVORITE RESTAURANTS
Da Kine Poke NSB
Location: New Smyrna Beach
Address: 216 Flagler Ave | 32169
What to Order: Get the signature Hawaiian Poke Bowl. Packed with Maui onions, ginger, roasted sesame oil, seaweed salad, avocado, and of course raw tuna, you'll be fresh-fish heaven!
Dairy Queen of New Smyrna Beach
Location: New Smyrna Beach
Address: 729 North Dixie Freeway | 32168
What to Order: This DQ has been in service since 1953. Take a step back in time and enjoy this historic Dairy Queen with you guessed it, a Blizzard. They also serve food, if you're looking for a cheap, Americana meal.
BANDIT Coffee Co.
Location: Saint Petersburg
Address: 2662 Central Ave | 33712
What to Order: Literally, everything. This coffee/breakfast spot is so stinking good, we came back multiple times. From daily specials that include grain bowls and breakfast tacos (Chorizo? Check. A vegan option, you bet,) to insanely tasty sweet treats, and a classic egg and cheese sandwich, you actually can't order wrong. Not to mention, their coffee is to die for.
Your Van Kitchen
Location: Wherever you park your van.
What to Make: We love cooking out of our van. On this road trip, we made our favorite chicken tacos. The recipe is simple, cheap, and delicious and you can view it for yourself by clicking here.
FLORIDA ACTIVITIES
Kayak Mangroves
Location: Saint Petersburg
Address: Gandy Beach Mangroves
Why We Love It: It's like kayaking into another world. Going through tiny mangrove holes and opening up to water-trails in your kayak or on your paddleboard is the ultimate Florida vibe for any active van lifer.
Smyrna Dunes Park
Location: New Smyrna
Address: 2995 N Peninsula Ave | 32169
Why We Love It: Endless trails, beach access, and stunning views. A great place to stretch your legs after a long drive in the van. Best of all, it's pet-friendly.
Rainbow Springs State Park 
Location: Dunnellon
Address: 19158 S.W. 81st Place | 34432
Why We Love It: Crystal clear water, kayak rentals, swimming holes, and nature trails… this Florida State Park has everything an RVer could possibly want out of an old Florida experience. Stay for the entire day for a mere $4 fee and enjoy every activity the area has to offer. With tons of open space, you'll be able to bring a picnic, relax in the sun or shade and explore the underwater world of Rainbow Springs.
Flagler Beach
Location: Flagler Beach Fishing Pier
Address: 105 S. 2nd Street | 32136
Why We Love It: Flagler beach is considered to be one of Florida's most pristine beaches, and by looking at the photo above, it's easy to see why. Beautiful sand, calm, clear waters, and endless miles of uncrowded waterfront, we fell in love immediately and didn't want to leave.
FLORIDA MUSEUMS WORTH VISITING
Salvador Dali Museum
Location: St. Petersburg
Address: One Dali Blvd. | 33701
Why We Love It: This incredible museum is stunning from the outside in. The building, designed by architect Yann Weymouth combines, "the rational with the fantastical" and sits waterfront on Tampa Bay. Dali's work is on full display throughout the stunning building and features a timeline of the masters' life and works. Best of all, Dali's Van Gogh Alive exhibit will be running now through June 13, 2021.
The Ringling Museum
Location: Sarasota
Address: 5401 Bay Shore Road | 34243
Why We Love It: The Ringling Museum of Art is a masterpiece. This legitimate compound is a 66-acre museum featuring the State Art Museum of Florida, Circus Museum, Ca'd'Zan Mansion (our personal favorite), and Bayfront Gardens. You can spend all day on this property and still not see everything. If you're in Sarasota for a few days, give yourself ample time to explore the grounds of the best treasure Florida has to offer.
Is there a city in Florida you love traveling to? We want to hear from you. What are your favorite photography spots in Florida? Leave a comment in the section below sharing your favorite Florida spots (including cities, campgrounds, and activities) for a chance to be featured on our Rec Van blog.