As more and more companies shift to make remote work possible, van life enthusiasts are presented with an awesome opportunity to take their office space to the great outdoors. Whether you're a freelancer or have a full-time job that can be done with the common essentials (phone, computer, printer, etc.) with data range and wi-fi, why wouldn't you want to consider making your van your mobile workspace?
If your rec van has been parked on your driveway for quite a while, creating a roving office is a begging chance to make the most out of your investment. To help you get started on a refreshing new work life, we're going over some simple ways you can arrange the ultimate RV office for peak productivity.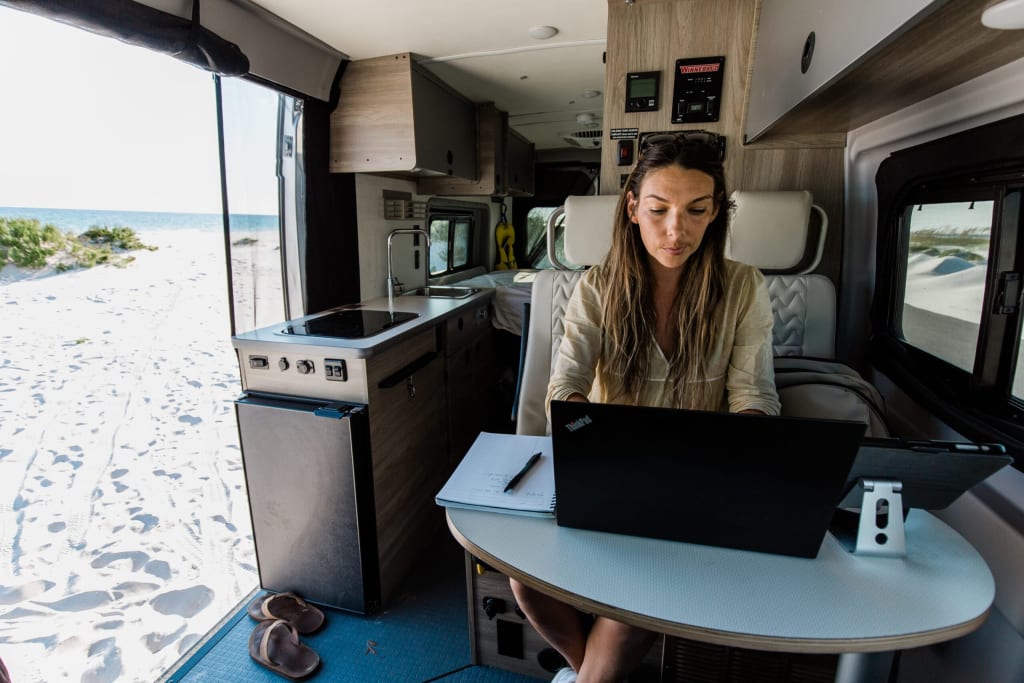 Invest in a Mobile Hotspot
When you're working on the road, dependable internet access is everything. While you do have the option to rely on free wi-fi in select parks and campgrounds, we highly recommend having a hot spot on hand for internet reliability. You don't want to put yourself in the position of awkwardly dropping out of video conferences due to slow or spotty public internet service. Be sure to do some research on your current mobile provider before making your final selection whether looking for unlimited data or a pay-as-you-use plan may better suit your needs. Check your rec van to see if it's already rigged with an onboard hotspot and wi-fi extender – that will help cut down on the cost of renting or purchasing equipment from your mobile provider.
Establish a Dedicated Desk Space
No matter what your work style looks like, it's important to have an area dedicated to your productivity. If you'd like the flexibility of taking your work out in the fresh air beneath your patio awning, a portable fold-out chair and table will do the trick. You can easily store them under your bed when you're offline. The dinette is a commonly used area that yields easy access with storage cabinetry overhead for your tech and files. If you're working with portable tech, you can always convert this space for moments of leisure. Camper vans with a power lift bed create the perfect office space within a repurposed gear garage, whether you'd like to invest in a permanent or collapsible desk space. Remember – wherever you wish to establish your mobile office, keeping your work separate from 'play' will help you stay on task and away from distraction.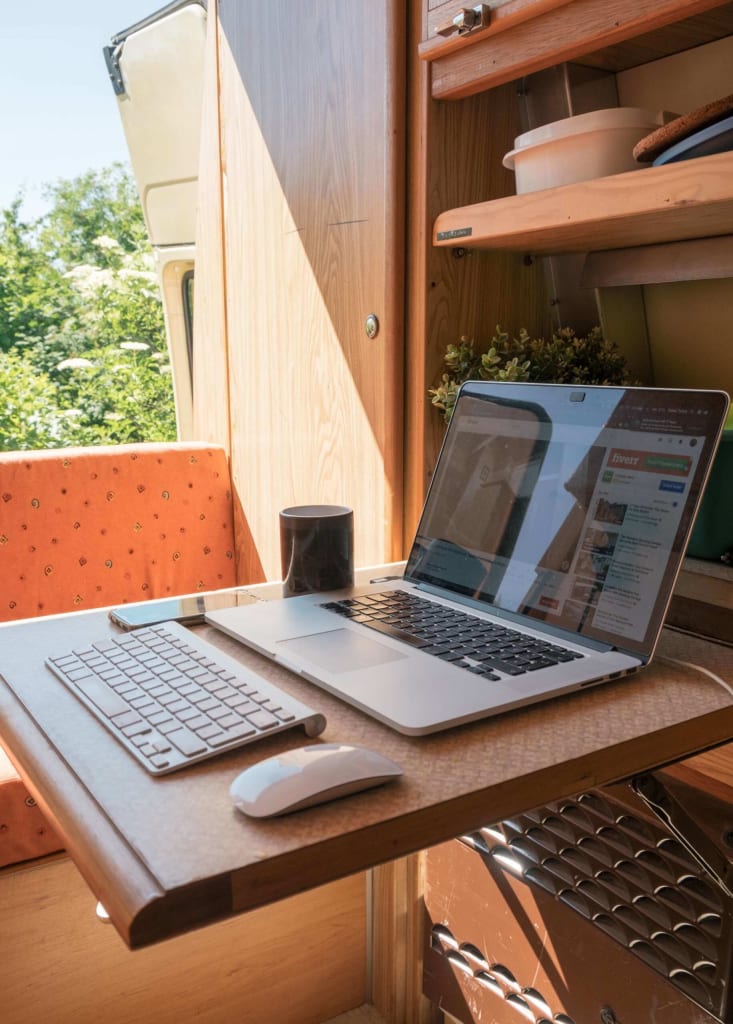 Keep Your Work Items Secure and Organized

While working within the limited space of a Class B may feel like a challenge, there are plenty of ways to get creative with your If you have a sizable stack of files you need to keep close by and protected, we recommend investing in plastic storage bins. You can keep folders and documents further with file organizers inside. This keeps everything effortlessly portable and packable for whenever you wish to go on vacation mode. If you have wall space to spare near your desk, you can mount a wall file organizer with damage-free hanging strips. This allows you to keep high-use documents close at hand without compromising desk space.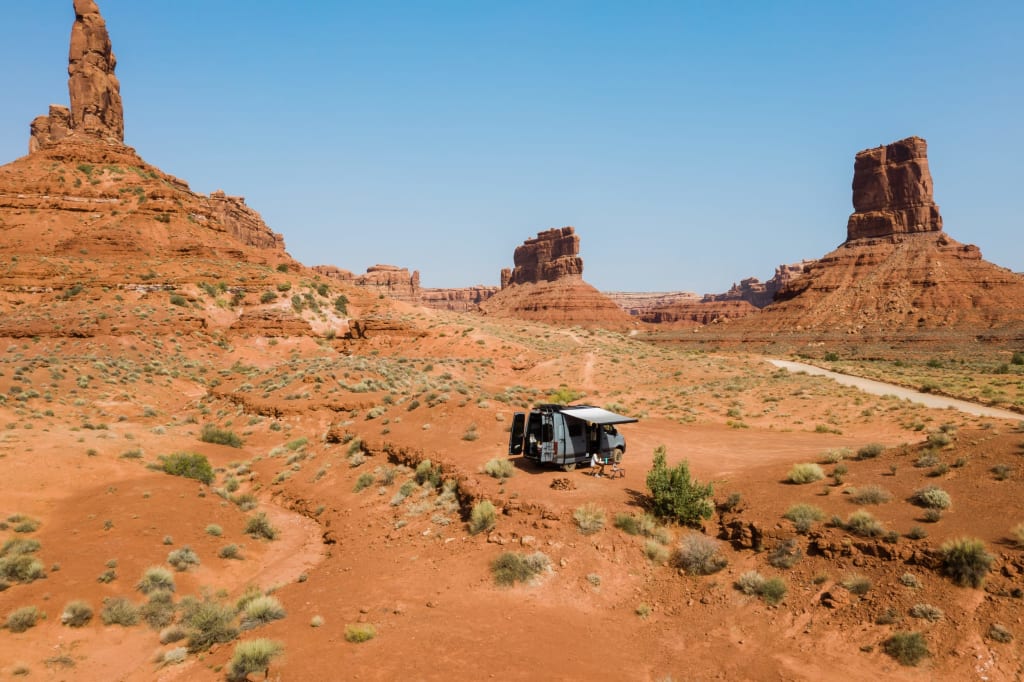 Create A Consistent Routine
Do you like to start your day off with a cup of joe or an energizing yoga session? Use the backdrop of nature as your muse rather than a distraction from your daily tasks by developing a regimen you can stick to. A timed coffee maker will serve as your best friend if you need to caffeinate before you get productive. You can greet the sunrise by taking your yoga mat outside for a session in the fresh air with perfect scenery. Set a specific time for your breaks and get back out in the wild with a revitalizing nature picnic and stroll. Plan your meals at least a day in advance to allow yourself to take in the most of working in surrounding nature. Whatever helps you get through the day, set a schedule that you can comfortably stick through so that your time isn't whisked away before you've completed your tasks and goals.
Take Note Of What's Not Working
Do you ever have a day ended with a list of items you didn't get to? Adjusting from the typical timetable of driving to work, working in a regular office space, and clocking out by five to keeping yourself accountable can be overwhelming for some. If you're not used to the new work lifestyle, give yourself some grace by making small adjustments as you work towards your own end goal. Instead of diving head-first into full-time remote work, take your work out on select days of the week for some healthy trial and error. This way, you won't feel so down, leading yourself to believe the adjustment is just impossible. Simply making a list of what doesn't work when you working out of your camper will save you from the headache of repeat mistakes and bad habits. You can track your productivity, prioritize your tasks and stay on top of deadlines with Todoist if you want to go the extra mile. After all, we are the adventurous type, so it may be easy to get carried away with the excitement of unlimited freedom.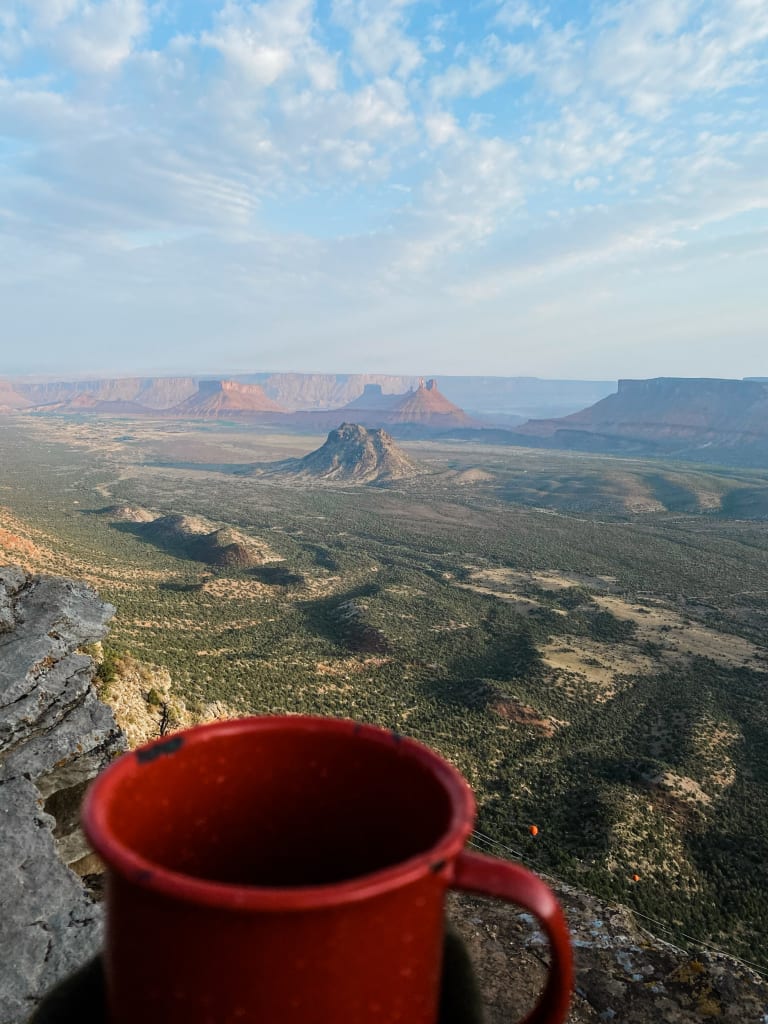 Get Creative With What You Have
Speaking of our restless spirits, embracing the adaptability that comes with camper life can empower your work ethic. Trim down on your need for surface space to work with easy-to-move tools such as a lightweight laptop and an HDMI cord. If you have a TV set up in your rec van, you can invest in a wireless HDMI display system for additional screen space. If your work requires scanned documents and quick signatures, go for a PDF scanning app instead of cluttering your camper with a printer/scanner. Tiny Scanner (Android and iOS) is free and easily converts your smartphone into a scanner for PDF conversion. You can e-mail documents directly from the app and save your items in organized folders for later reference.
If you're in the market for the perfect rec van for your mobile work goals, check out our collection of 8 Great Camper Vans for Working Remotely. From straightforward functionality to thoughtful flexibility, this list of adventure vans is made for a variety of mobile workstyles.