Picturesque hikes in some of the most beautiful scenery in nature. Warming, natural hot springs. Clothing… optional? This Valentine's Day, why not skip the romantic dinner for two at the nicest restaurant in town and instead get behind the wheel of your recreational van for a different type of celebration of your love.
With so many hot springs throughout the United States and many off the beaten path (especially in the non-busy winter months), you can hike to your own private natural hot tub for a holiday unlike any other. So where should you park your van this February 14th? In this post, we've put together a list of the dreamiest, steamiest and most romantic off the beaten path hot springs. Here's a look:
Chena Hot Springs (Alaska)
We know America's final frontier might not be the most convenient place for you to drive your van, but if you want to take more of an ambitious adventure this Valentine's Day, the Chena Hot Springs in Alaska are not likely to disappoint. Located just outside of Fairbanks, the hot springs are highlighted by a large, 165-degree Fahrenheit outdoor wading pool that lets couples relax while also taking in the awesome Alaska scenery. At night, the hot springs provide a prime viewing place for the Northern Lights when the conditions are right.
As an added bonus, the area has other things to do, such as the nearby Aurora Ice Museum. And if you really want to get romantic, consider booking a couples escape or getaway package at the Chena Hot Springs Resort.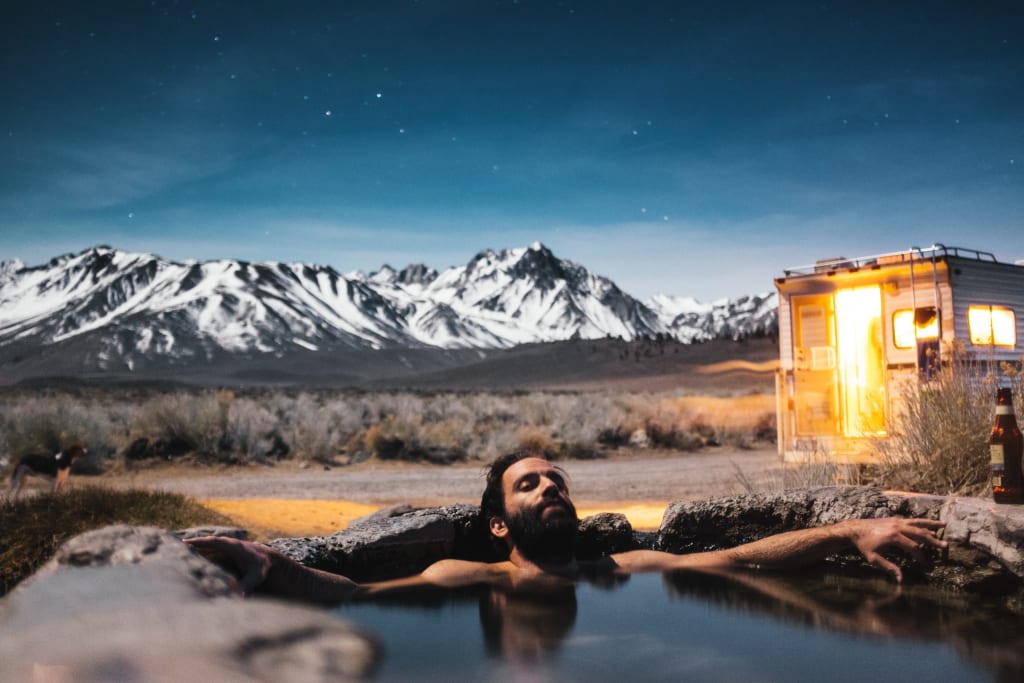 Wild WIlly's Hot Springs (California)
Smack dab in the California sagebrush and surrounded by mountains in every direction, the two hot spring pools that make up Wild Willly's – also known as Crowley Hot Springs – are great for a relaxing and convenient dip. Located in the Lony Valley Caldera near Mammoth Lakes, these hot springs are fairly easily accessible by following a boardwalk for about 200 yards from an adjacent parking area.
If you happen to live near Northern California or just want to take a fun road trip in your rec van this Valentine's Day, consider putting Wild Willy's on your list.
Rocky Canyon Hot Springs (Idaho)
The American west is full of fantastic hot springs, and Rocky Canyon Hot Springs in Idaho is no exception. Located in the Boise National Forest along the Middle Fork Payette River, it's a bit more of a trek to get to – but absolutely worth the adventure. Park your van on Middlefork Road in Valley County and then prepare for a brief hike with your Valentine into the forest to access the hot springs. Note that you'll have to forge the Middle Fork Payette River to get there, so wear appropriate clothing and you might even consider bringing a change of clothes in case you get too cold or wet. The hot springs are rustic pools that have been built up with rocks. While the pools vary in temperature, the top one tends to always be the warmest at around 100 degrees Fahrenheit, and they get cooler the further you get to the main river. If you really want to make it an adventure, you can set up camp near the hot springs and enjoy it for several days.
These hot springs can get quite crowded during the busy tourist summer months, but you're likely to have them all to yourself in the winter.
San Antonio Hot Springs (New Mexico)
Tucked away in the Jemez Mountains with valley views, San Antonio Hot Springs is one of the dreamiest locations in the American Southwest. Located off Forest Service Road 376 North, you can either attempt to drive your rec van to the springs on an off-road trail or just park in a small visitors' lot and take a 5-mile hike to get to them. Whichever adventure you choose, you're not likely to be disappointed. Since you're somewhat off the beaten path (literally), you're more likely to have the hot springs all to yourself this Valentine's Day.
Just imagine relaxing in one of four natural hot spring pools as you take in the picturesque New Mexico scenery. It beats the heck out of dinner at a crowded restaurant.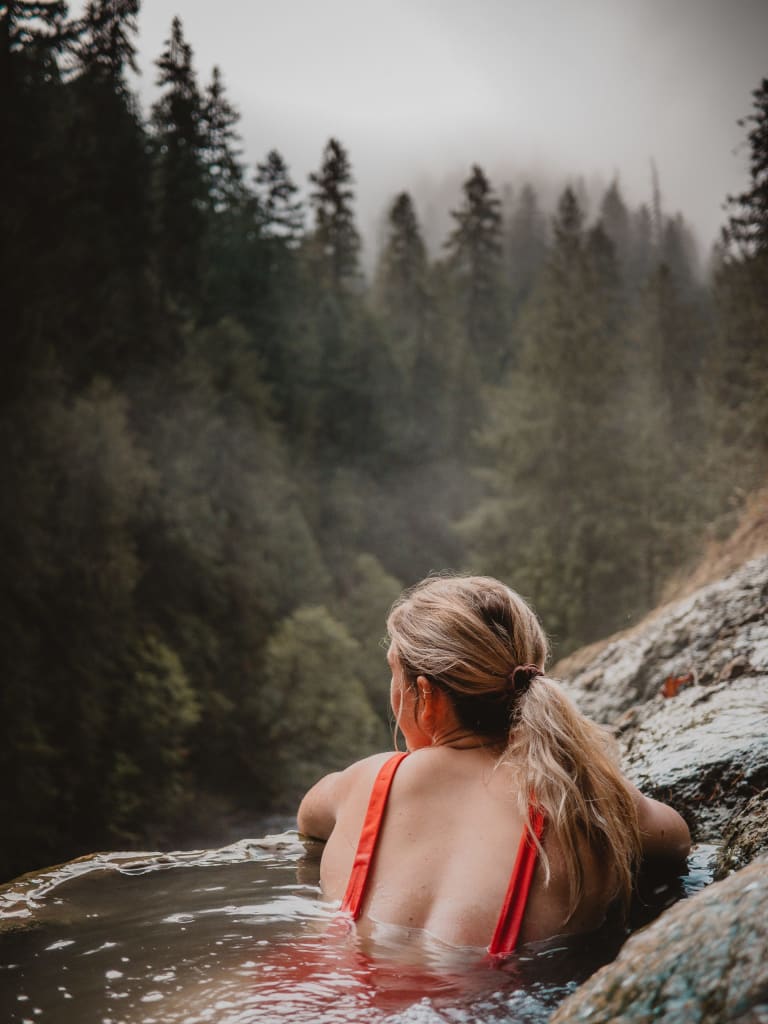 Umpqua Hot Springs (Oregon)
Cascade Mountain views. Close proximity to the Toketee Falls. No rules. Connect with your partner this Valentine's Day by taking a rewarding dip in the Umpqua Hot Springs in southern Oregon. Located off Highway 138, you should prepare for a 2-mile hike during the winter months. But once you get there, you can relax and bathe in the 108-degree Farenhiet pools that are perched on a rock face over the North Umpqua River with views of the Cascade Mountains.
With so many waterfalls nearby, consider adding time to visit many of the nearby falls as part of your trip.
Fifth Water Hot Springs (Utah)
Fifth Water Hot Springs is notable for a few reasons. One, the waters are a bright blue, looking like something out of a science fiction movie. Two, a dip in the springs offers fantastic Diamond Fork Canyon views. And three, the springs are swimming holes along Fifth Water Creek. While it's not likely to be busy during the winter months so you can get some critical 1:1 time with your Valentine, if there are other adventurers that have the same idea as you and your spouse, just head further down the river, where it tends to be far less popular.
With waterfalls, hiking trails and so much more to do in the Canyon, consider taking a few days to explore and connect with nature.
Conundruum Hot Springs (Colorado)
Aspen is synonymous with skiing and hot springs, and if you're willing to put in a 17-mile round trip hike, you'll be greatly rewarded with a dip in Conundrum Hot Springs. Located in the heart of the Maroon Bells-Snowmass Wilderness and settled in the Rocky Mountains, the springs can reach temperatures of 120-degrees Fahrenheit and allow couples to take in breathtaking views. Like we said, it's a little bit more of a challenging hike, but you'll be rewarded with terrific scenic views and a hot spring to soothe your muscles.
What's more is that the adventure of getting there is more likely to keep crowds away, especially during the winter season.
There is nothing better than being on the road with your loved one on this day of love.