Looking for a camping recipe the entire family will love? Insert pasta. There are very few who don't love this delicious and hearty meal. Dress it up or down, you can do a lot with our one pot pasta wonder. Check out our recipe below!
This recipe is part of RecVan's YouTube cooking series: Get Cookin' RV Style. Each road recipe in this series has a short cooking video hosted by an engaging guest chef, who gives you a deeper look at how to make the recipe. Be sure to subscribe to our YouTube channel for notifications when each new recipe is released.
Disclaimer: RecVan has no connection to any of the companies, brands or products listed in this recipe, blog post and video, and does not receive any financial consideration from the companies, brands, and products mentioned. No endorsement of RecVan by the companies, brands and products mentioned should be assumed.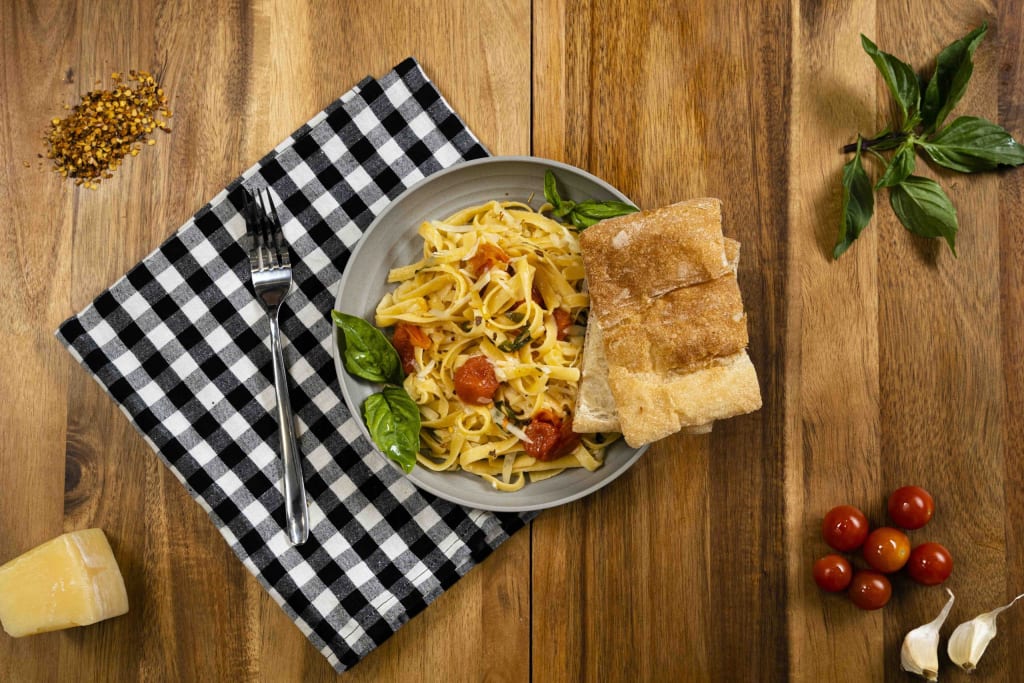 One Pot Wonder Pasta Dinner
Ingredients:
• 1 (1-pound box, or 16 oz) spaghetti or thin linguine
• 12 oz (1 pint) cherry or grape tomatoes
• 1 large sweet onion, cut in half and then sliced thin
• 4 cloves garlic, thinly sliced or minced
• 1/2 teaspoon red pepper flakes
• 2 large sprigs basil, chopped (about ¼ cup)
• 2 tablespoons extra virgin olive oil plus more for drizzling
• 4 cups chicken broth
• 1 teaspoon sea salt
• 1 teaspoon pepper
• Grated Parmesan cheese for topping
Instructions:
1. In a large stock pot, place pasta, tomatoes, onion, garlic, red pepper flakes, basil, olive oil, chicken broth, salt and pepper. 
2. Cover pot and bring to a boil. Reduce to a simmer and turn mixture frequently until pasta is al dente and liquid has almost evaporated. Pasta should be done in 9-12 minutes, depending on the size of your pasta. 
3. If desired, when plated drizzle a little extra virgin olive over pasta and garnished with fresh grated parmesan cheese and basil leaf.
Serves 4-6 entrée-size portions
Notes:
If you prefer the taste of sautéed onions over raw, sauté the onions and garlic first and then add them to the rest of the ingredients in the pot. You can also add a pinch of fresh oregano along with the basil if you have it on hand.
Looking for more Get Cookin' recipe videos to change up what you eat while RVing? Click here for our YouTube playlist.