Are you a van camper ready to answer the call to overland beyond the beaten path? Do you dream of camping in uncharted terrain, beneath unpolluted starlight and away from the sound of civilization? Have you ever yearned to take a trip to higher peaks or deeper woods? If you answered yes to any or especially all of the above, then the following step to your next great escape is finding an adventure van equipped to meet your travel goals and more.
To help you find the camper of your dreams, we've rounded up the very best explorer vans that you'll want to keep on your radar for off-road and off-grid getaways. From key elements including 4×4 freedom to solar efficiency and all of the finest features in between, these adventure vans are tailor-made for rugged boondockers and intrepid overlanders just like you.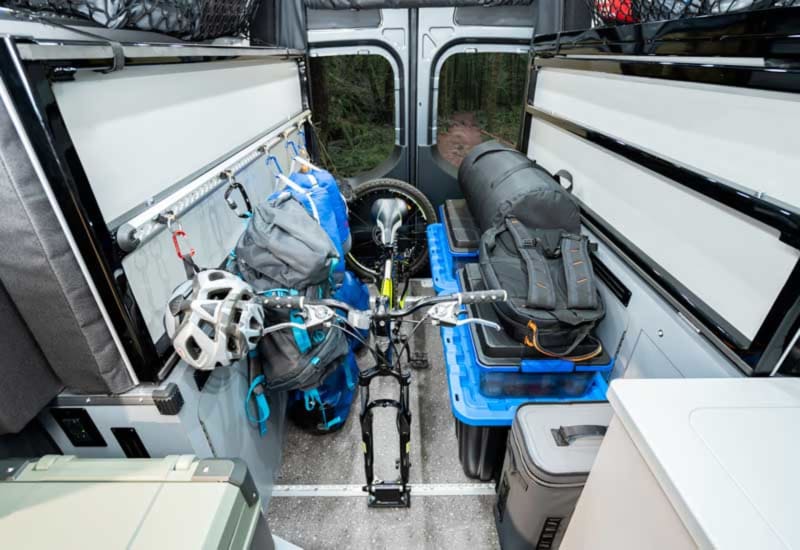 2022 Pleasure-Way RECON – Click Here for Inventory 
The innovative minds of Pleasure-Way just brought a whole new way to explore every corner of the great outdoors with the unveiling of the all-new 2022 RECON adventure van. Take on any topography on the all-powerful 4×4 Mercedes Benz 2500 sprinter chassis. The RECON provides absolute boondocking and overlanding freedom with complete four-season insulation, roof-mounted convertible solar power, and 40-gallon freshwater capacity. All tanks, water lines, and valves are built away from the undercarriage of the sprinter van to provide 11-inch ground clearance for any off-road excursion. There is no weather condition or terrain that can stop you in your tracks.
The interior of the RECON sprinter van is an outdoor enthusiast's dream come true, furnishing 124 cubic feet of storage space, including a rear garage with cargo netting and L-track tie-down systems to house all of your gear. Pack in your adventure wardrobe, hiking backpack, climbing equipment, mountain bike, and plenty more with endless organizational opportunities. The 70″ x 72″ bed is the largest you'll find in any sprinter van in the industry, complete with 54 cubic feet of storage space beneath. Traveling alone? Simply remove one side of the bedding to extend your living area. If you sport a slew of outdoorsy accessories and have an ambition for self-sustainable tough terrain travel, this highly convertible and capable 4×4 camper is a hands-down must-have.
KEY FEATURES:
3M Thinsulate insulation and weather seal

Self-sustaining 400Ah lithium battery bank, 400-watt roof-mounted solar, and 2000-watt Pure-sine wave inverter for longer boondocking and overlanding adventures

Real-time power monitoring with dual 10-inch touchscreen control

Estimate remaining DC power consumption minute-by-minute with precise level gauging

Convertible rear workstation and galley extension

Dual-function wet bath and gear locker with cassette toilet, handheld showerhead, and removable shelf and closet rod

Stay warm through winter travels with the Truma VarioHeat furnace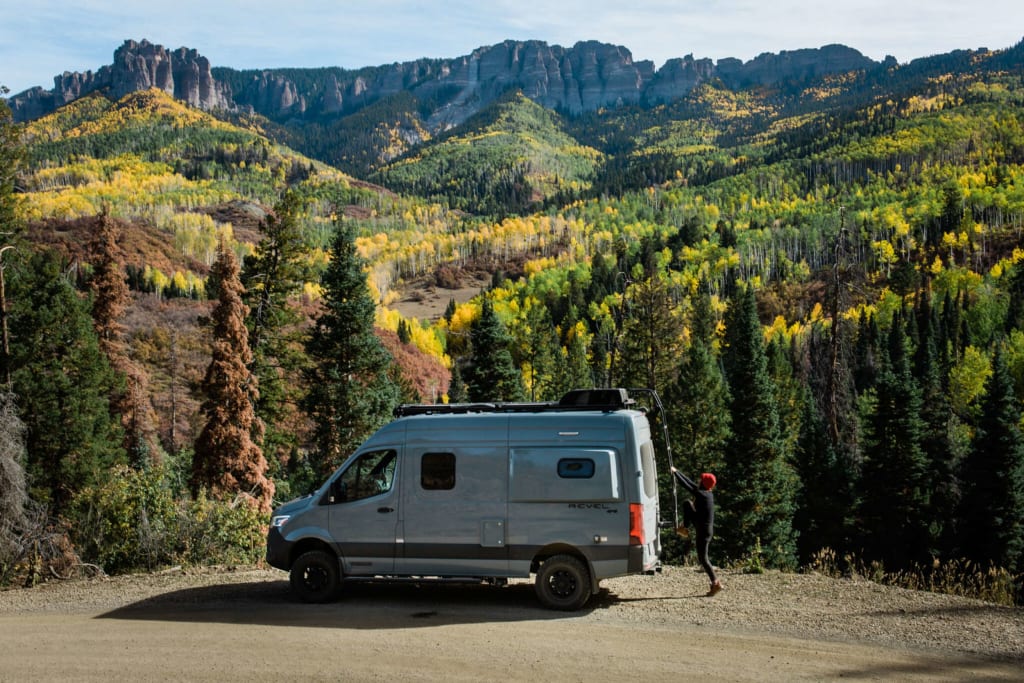 2022 Winnebago Revel – Click Here for Inventory 
Style meets comfort in all of the best ways in the most popular rec van by Winnebago. Built on a 4×4 Mercedes Benz sprinter chassis with 8-inch clearance and traction control, this nimble adventure machine has all of the power to make your off-road goals a reality. Extend your dry camping getaway as you monitor the power levels of two LiFePO batteries via Bluetooth. If you want more self-sustainability, this model also comes with solar panel options. The interior provides plenty of flexibility for rest and activity, featuring a power lift bed that converts your rear space into a gear garage.
Does your off-grid road trip call for more equipment? Easily transform your wet bath into a gear closet to organize your outdoor play accessories. The Revel's versatility extends through the galley with a removable counter extension, storable induction cooktop, and a refrigerator that can easily be accessed from inside and outside the adventure van. Should you want to prep your meals beneath some sunshine or under the shade of your awning, an exterior table will allow you to do so. With clever features such as these and more, it's no wonder why this Winnebago van has become a customer favorite. If you seek an off-road-ready camper that can easily adapt between your long-haul and weekend travel plans without compromise on comfort, the Revel won't let you down.
KEY FEATURES: 
3-liter Turbo Diesel Engine to power through rough terrain

Keeping your space clean is a breeze with heavy-duty vinyl flooring

Removable pedestal dinette table for flexible seating arrangement

Keep warm in peace and quiet with the Hydronic Heating System and continuous water heater capacity

21-gallon fresh water and holding tank capacities

5-gallon cassette toilet for easy pit stops wherever you are                                 

Removable roof ladder provides unique vista viewing and easy solar panel access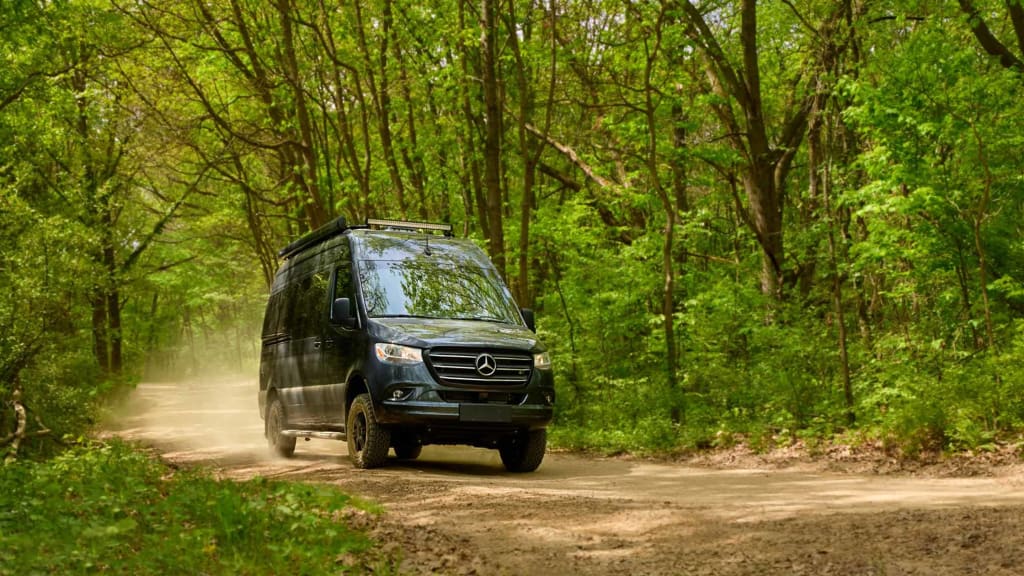 2022 Thor Motor Coach Sanctuary – Click Here for Inventory
Wander off the trail in 4×4 luxury with the everyday comforts found on the 2022 Sanctuary. The 2500 Mercedes Benz sprinter chassis will spirit you away to your happy place as the back alloy wheels (and optional off-road tires) provide a smooth ride through rock, sand, and snow.  Telescoping steering, leather seating, and hands-free mobile device control (Apple CarPlay® and Android Auto™) make for easy and enjoyable navigation, no matter how far your travels take you. If you're traveling with additional outdoorsy toys such as an ATV, small boat, or a set of kayaks, a 3,500-pound trailer hitch has you covered. 
When you're ready to wind down in your Sanctuary, screen door coverage at the rear and side doors offer plenty of airflow for a refreshing stay inside. You're also free to enjoy the fresh air as you prep your meals outside with the fold-out exterior table. Whether you plan to adventure along with your partner or in company with friends and family, two available floorplans allow you to choose between spacious rear bedding (19L) and ample bench seating (19P). Both style choices include a wet bath featuring a dry-camper-friendly cassette toilet, curtained shower, and sink. The 190-watt solar charging system will keep you powered while you're unplugged, and when paired with Winegard ConnecT, will create the perfect setup for staying connected with work and friends. If you're looking for an adventure that sets a remarkable standard for both remote work and off-road play, the Sanctuary is a solid choice.
KEY FEATURES:
Re(Li)able® lithium battery system rechargeable with 190-watt solar power

Compact size provides easy navigation in city settings

Cruise control for easy long-distance driving

Enjoy warm showers with the Truma Combi water heating system 

Easy-to-clean linoleum flooring and TecnoForm cabinetry

Winegard ConnecT 2.0 all-in-one WiFi extender, 4G hotspot, and TV antenna

Travel to your favorite tunes with the JBL FLIP speaker and wall mount system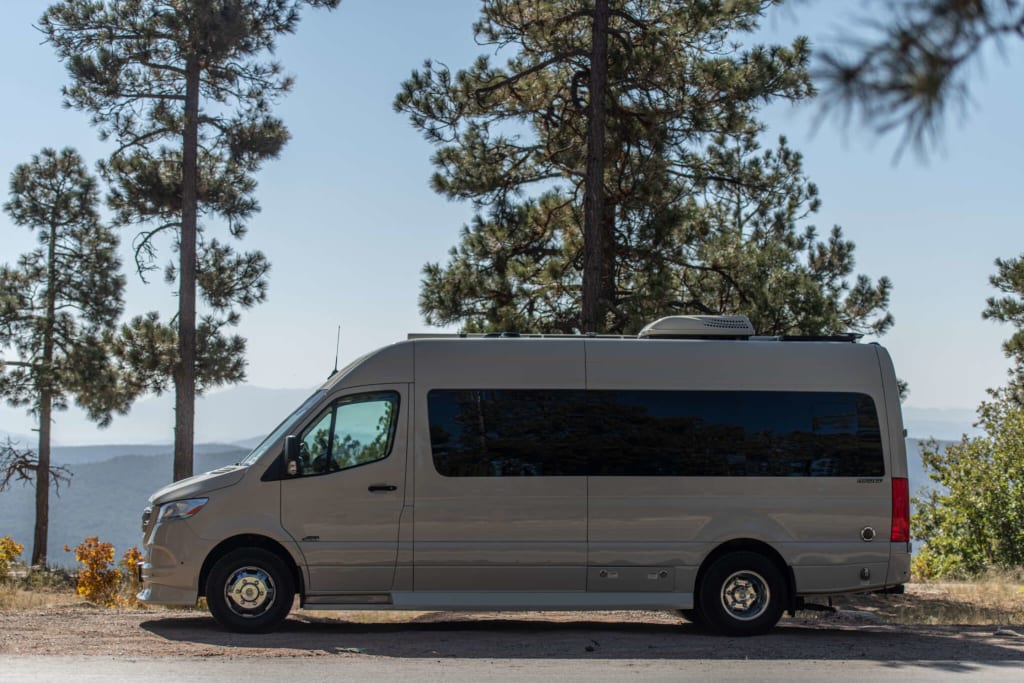 2022 Midwest Automotive Designs Passage – Click Here for Inventory
Midwest Automotive Designs brings a world of choices for van campers looking to go off the grid. The Passage is available in three unique options: Lounge (170 EXT), Loft (170 STD), and 144. Customize the layout of your luxury camper to fit your travel goals. Whether you choose the rear lounge layout for weekend trips off the trail or the spacious loft bedding for an extended boondocking escape, enjoy ample overhead storage space in exquisite wood veneer cabinetry with a stunning polished finish. Both floorplans include a removable dinette/table, creating the perfect area for working on the road, along with a 100-watt solar system to power you through your off-grid stays. While you can freshen up in the comfort of your camper, you also have the convenience of washing off after a sandy beach trip with the exterior shower.
The 144 comes with bolder features for serious off-roaders including larger 18″ Barabus wheel and tire upgrades and easy-access black/grey tank gravity dump gates. Outfit your adventure van with your favorite gear using the rear hitch and rooftop rack. Staying true to the standard of leisure, this model is complete with most features found in the original Passage model, along with two comparable floor plan styles to choose from. Four-wheel drive is also available as an upgrade for each of the three available styles. The only question left is which path you choose to take in your personalized Passage.
KEY DETAILS
Passage (Lounge)
Passage (Loft)
Passage 144
2.5 KW LPG Generator

X

X

X

2000 Watt Inverter / Charger / Transfer Switch

X

X

X

Digital Touch Screen MultiPlex Coach Controls

X

X

X

30 Amp 110 Volt Shore Line Power Hookup with Cord

X

X

X

Dual Battery Charging System with Monitor

X

X

X

LP Remote Fill 15.1 gal Capacity

X

X

X

Custom Workstation Behind Driver Seat

X

X

100 Watt Rooftop Solar Charging System

X

X

X

Lifeline AMG Deep Cycle 225 Amp Hour Battery System

X

X

Conetic Deep Cycle 90 Amp Hour Battery

X

Macerator Pump with Power Gates and Power Hose Reel

X

X

Easy Access Black & Grey Tank Gravity Dump Gates

X

Fresh Water Holding Tank

32 Gal.

32 Gal.

28 Gal.

Grey Water Holding Tank

27 Gal.

27 Gal.

18 Gal.

Black Water Holding Tank

15 Gal.

15 Gal.

15 Gal.

Power Drop Down Bed
(Optional)

X

X

X

300 Amp Hr Lithium Batteries w/ BMS & Chassis Battery Boost
(Optional)

X

X

600 Amp HR Lithium Eco-Freedom Package W/BMS & Battery Boost
(Optional)

X

X

X

4×4 Chassis Upgrade
(Optional)

X

X

X

18″ Barabus Wheel & Tire Upgrade
(Optional)

X

All Terrain Off Road Tires
(Optional)

16″ Black Rims

16″ Black Rims

17″ Black Rims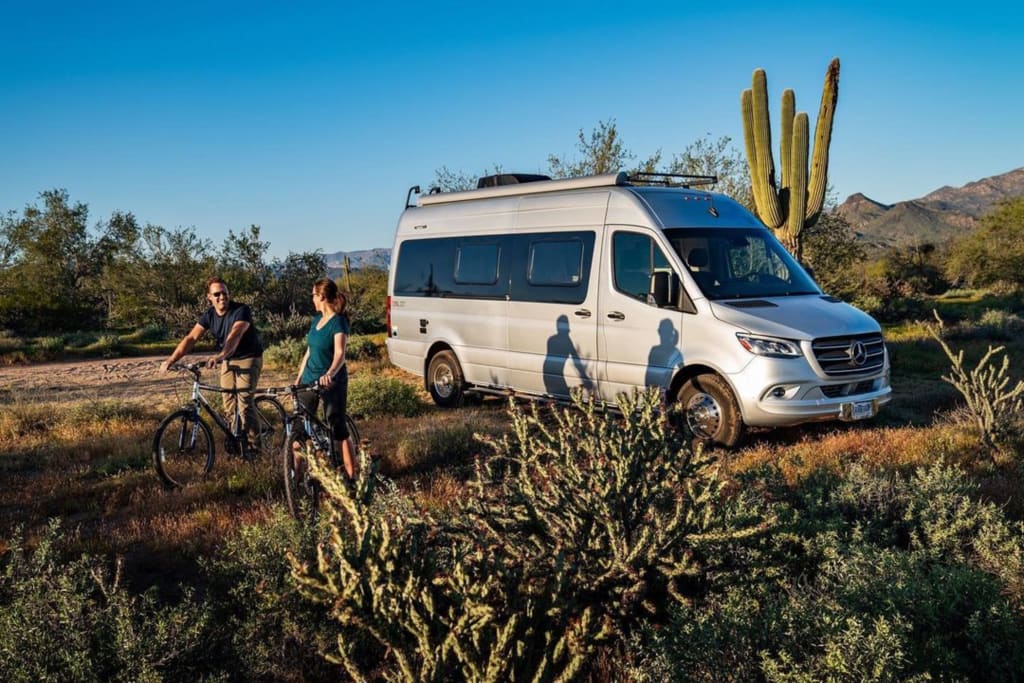 2022 Winnebago Boldt – Click Here for Inventory
If you're looking for earth-conscious energy efficiency and innovative tech, look no further than the one-of-a-kind Boldt. This impressive solar-ready rec van is something from the future with its lithium-based Pure3 Advanced Energy System, accessible and trackable through a unique myVolta smartphone app. Charging status, estimated run time, pack temperature, and power usage are all available at your fingertips as you run on 12,800 watt-hours of eco-friendly power. Travel season is yours year-round with complete state-of-the-art insulation and Truma Combi® Eco Plus heating. Built on a Mercedes-Benz sprinter chassis, the Boldt is also upgradable to include 4×4 and solar capabilities. If you're looking to truly feel one with nature, the quiet power system will seamlessly blend you into your surrounding environment as you stay powered without a shoreline. No matter where your travels take you, surrounding safety sensors will keep you from collisions both on the road and in thick woodland. Simply pull up and park yourself in the destination of your dreams and make camp beneath the powered roof awning.
The Boldt's interior is as stunning as it is easy to keep clean with vinyl flooring and the choice between high-gloss or walnut cabinetry. Storage and organization are yours to personalize with adjustable tough-track mounts and slidable baskets. This modern camper comes in two floorplan options, allowing the freedom for you to choose the location of your wet bath and lounge space. If your travel style leans towards contemporary tech and luxury, this boundless Class B was built for you.  
KEY FEATURES:
Upgrade your energy efficiency with two 115-watt solar panels

In-coach water lines keep your water warm in frigid climates

10.25″ MBUX infotainment system with an interactive voice interface for effortless navigation

Easy conversion between your bedroom (two twins or a single queen) into a benched living room space with the Flex Bed System

LED headlights for optimum driving visibility in the dark

Optional aluminum wheel, roof rack, and roof ladder upgrades are available

Tow along your adventure gear with the 5,000 lb. hitch upgrade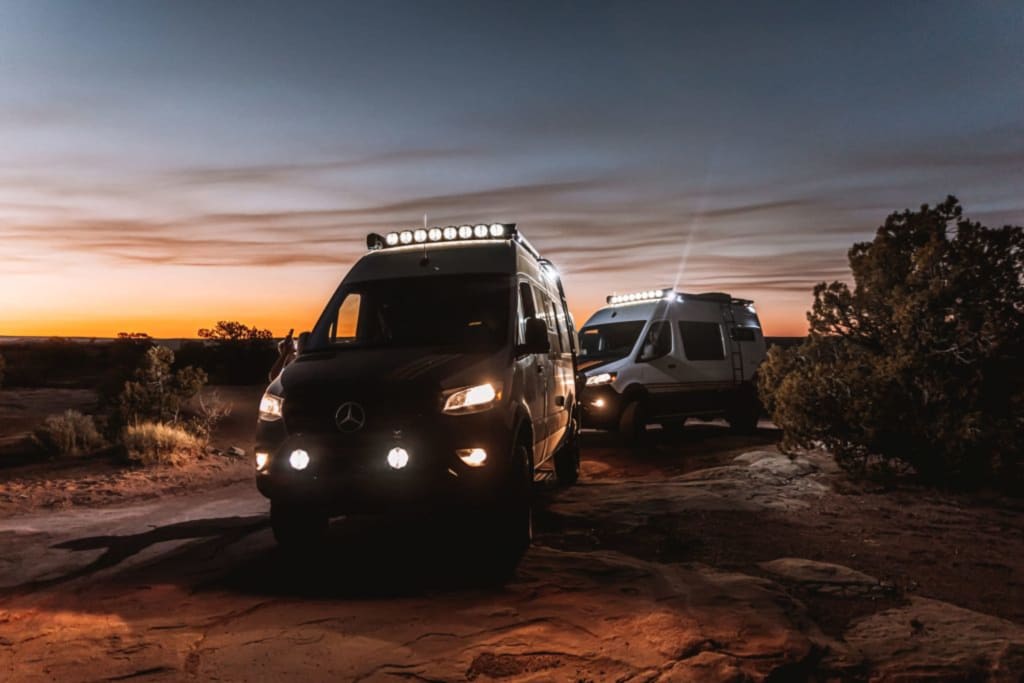 Storyteller Overland Beast Mode – Click Here for Inventory
Unleash your inner beast with the most rugged rec van on the market. Storyteller Overland specializes in developing the most unique 4×4 sprinters for boondockers and off-road ramblers in the market. Yet out of their four available models available, the Beast MODE is by far the best choice for van dwellers looking to travel where no other explorer would dare. Enhanced with off-road-ready wheels and Black Rhino Havasu rims, BoostMODE M-Power Extender System, LED high-performance headlights, and an overhead roof rack, this revolutionary camper van not only dons the ultimate look of adventure but delivers the safest and greatest journey along the way. Incredibly seamless by design, the Beast is outfitted with other overlander unique interior features including a multi-functional Groove Lounge (all-in-one seating, lounge, bedding, and recliner space), collapsible anti-microbial HALO shower, rear garage space with I-Track locking systems, fold-down desk, and custom soft storage solutions. 
If you're ever in a bind between rock crawling or off-road camping in your Beast MODE, you're always just a touch away from personalized support via the MODE Life app for text and face-time customer support. If you're a do-it-yourselfer, the app is also loaded with how-to PDF files that will walk you through troubleshooting for any maintenance issue you may run into. From its infinite modes of adaptability to its unforgettable touch of personality, this one-of-a-kind adventure van is the perfect fit for overlanders looking to live out the best travel tales off the beaten trail.
KEY FEATURES:
360-degree bird's eye view camera for an exceptionally safe driving experience

12kWh M-Power Energy Storage System with high output alternator and 3200W inverter

Expandable 90-watt solar system for further efficiency

Storyteller Tenzing bushguard for thick and tall grass trails

ARB On-Board air with front & fear chucks for tire pressure adjustment any time and anywhere

12kWh M-Power Energy Storage System with high output alternator and 3200W inverter

Answer nature's call wherever you are with the convenience of a portable toilet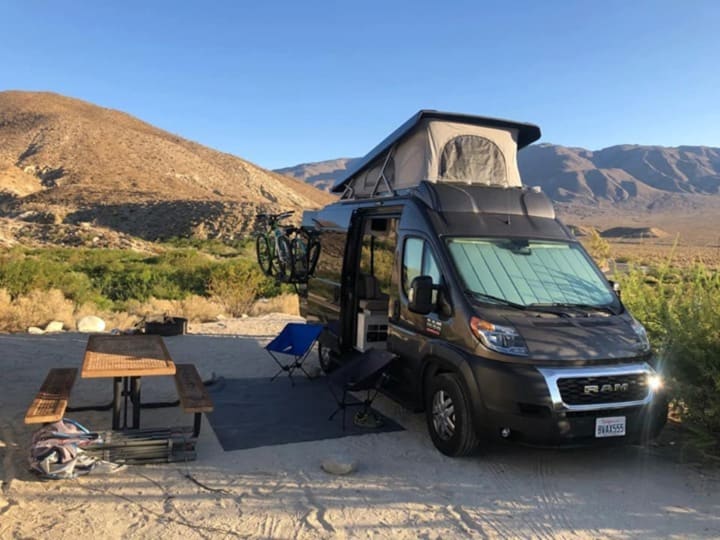 2022 Thor Motor Coach Rize – Click Here for Inventory
Looking for the classic boho camper vibes? What better way is there to experience nature than to begin and end your days in a pop-up loft? The Rize functions on a RAM Promaster® 1500XT chassis, Onan® gas generator, and a 190-watt solar system for extended energy efficiency. Available in two floorplan options, both types feature a pull-out bed design to create greater foot-path space for when you're on the go. Should you choose the pop-up loft floorplan (18T), you'll also enjoy a magnetic rear screen door, providing a picture-perfect view of surrounding vistas. Otherwise, you have the option to a rear wet-bath (cassette toilet included) along with additional storage space (18M) conveniently located at the rear of the camper van. 
The Rize is outfitted to provide plenty of camper memories just outside your keyless entry doors. Both floorplans include a heavy-duty Thule® bike rack and exterior LP connection for an outdoor grill beneath the cover of your Thule® power-awning. This is the perfect pick for van dwellers that are ready to have a go at the peaceful (and did we mention cost-effective) perks of boondocking without concern for the wild side of rough-terrain travel.
KEY FEATURES:
Easy-to-clean residential vinyl flooring and euro-style TecnoForm® cabinets

Nimble height ( 9'6″) and width (81″) for easy day-to-day town travel

Enjoy fresh air with an entryway screen door in every floorplan

Tow along your toys with the 3,500-lb. trailer hitch and 4-pin connector

Winegard ConnecT 2.0 all-in-one Wi-Fi extender, 4G hit spot, and TV antenna (18M)

Holding tank with heat pad and gravity water fill

Truma Combi furnace and water heating system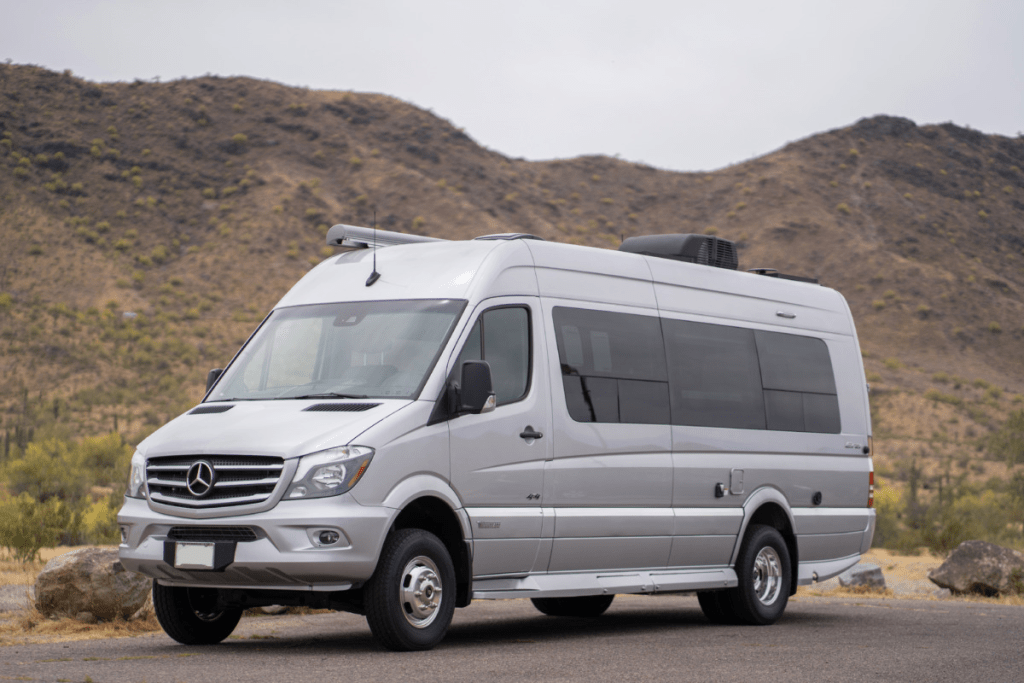 2022 Winnebago Era – Click Here for Inventory
Ready for a new age of adventure? Tour through the finer corners of nature in modern luxury and press on for greater distances with fuel-efficient reliability. Navigate new roads with ease and peace of mind with integrated active brake assist, blind-spot monitoring, and a wiper activation rain sensor. Should you wish to enjoy your modern camper comforts in the backcountry, the Mercedes-Benz sprinter chassis comes with the option of a 4×4 capability upgrade. If you're ever in the need to charge up or fuel up, the Truma Combi Eco Plus heating system allows you to easily adjust between gas and electric power modes throughout your travels.
Whether in the cockpit or in the living area lounge, you'll be sinking in sumptuous ultra-leather comfort. Enjoy fine dining off the grid with exquisite galley features including Corian® countertops, a two/three-burner cooktop with glass cover, microwave (or microwave-convection oven), stainless steel sink, and compressor refrigerator. Available in three floorplans, your Era can feature dual twin beds (70A) or a rear lounge that converts into a queen-size bed (70B/70X). Opt for more lounge space with a fourth removable companion seat (70X) or greater refrigeration space for your mobile meals (70B). If you're looking to go off-grid in comfort and luxury tailored to your travel tastes, Winnebago's Era is the five-star ride for you. 
KEY FEATURES:
Extend your boondocking trip with the eco-friendly 200-watt solar panel battery charge system

Monitor and control light, awning, generator, tank, and battery functions with Precision Plex app accessibility

Navigate new roads with ease using the 10.25″ MBUX infotainment system and integrated voice interface

Keep cool in the quiet of nature with the super-silent Coleman Mach 10 NDQ A/C system

Powered patio awning with LED porch light and exterior speaker system for late-night campground kick-backs

Keep your flooring clean from boot tracks with the mud-track step system and enjoy fresh air with a view through the side door screen

Tow along your toys with the 5,000 lb trailer hitch and 7-pin wiring connector
Looking for the perfect place to go for an autumn adventure? Check out our list of Top 10 Van Destinations You'll Want to Visit This Fall for a round-up of the very best spots to catch the changing colors of the season! From spots to explore along the way to affordable campgrounds to enjoy your stay, this guide will help you get set up for your next rec van escape!