We all know how tricky it is to find a gift for the person who has everything, but what about shopping for someone who has almost nothing–intentionally? Most van lifers drastically cut down on their possessions to keep their van and lifestyle as streamlined as possible. This means that bulky, rarely-used presents are more likely to spark stress than smiles for the van dwellers on your gift list.
But have no fear; there are still many gifts that a van fan will appreciate! From stocking stuffers to pricier presents, we have ideas for every adventurer in our list of 12 of the best gifts for van lifers. Looking for practical, thoughtful, and space-saving presents? Read on for the details.

Photography: @storytelleroverland
FOR THE OUTDOOR ADVENTURER
Cozy Beanie
Price: $$
Why they'll love it: A soft beanie makes the perfect topper for outfits from fall to spring and will keep your van-dwelling friend warm on the chilliest hikes and nights around the campfire. It's a small, useful, and stylish gift that will prompt the recipient to think of you whenever they wear it. We like this heather gray wool beanie from Tentree, which sells sustainable essentials and plants ten trees for every purchase. At $35, the price is comparable to beanies from many of the major outdoors brands, but you'll get an extra eco-conscious benefit when you purchase this one.
FOR THE NIGHT OWL
BioLite Solar Light
Price: $
Why they'll love it: Give the gift of light this holiday season with the coolest little solar lamp from BioLite. Your traveling friend or family member will be able to add some atmospheric light to their campsite or van interior without relying on batteries or electricity. This product ticks the boxes for both function and novelty; it powers itself with a high-tech integrated solar panel but also features fun adjustable colored lighting. Snag one for $20 or buy four for around $70.
FOR THE LOUNGER
Portable Hammock
Price: $$$
Why they'll love it: Van dwellers are always looking for opportunities to extend their living space into the great outdoors. Help your giftee lounge in style at parks and campsites with a portable hammock that folds into a small bag. Many brands make these types of hammocks but we're partial to this retro mushroom design from Parks Project, where every purchase supports the National Park Conservation Association.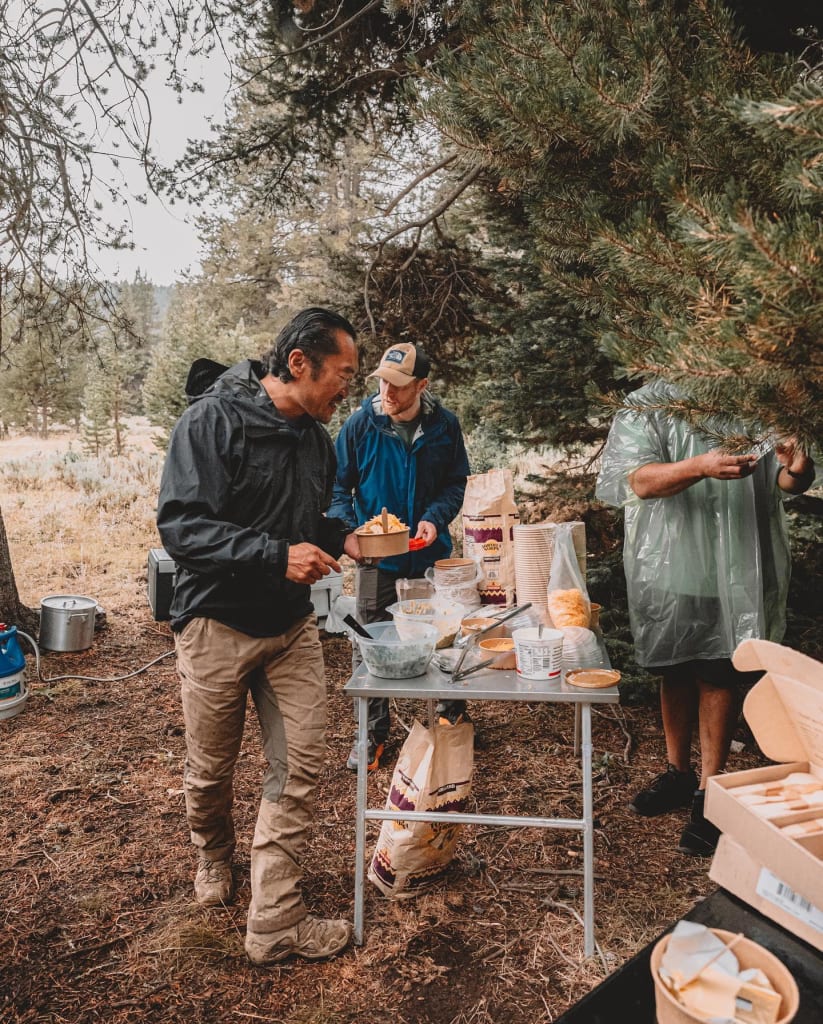 Photography: @storytelleroverland
FOR THE CAMP CHEF
Lightweight Foldable Table
Price: $$
Why they'll love it: Another great option for nomads to extend their living space outside the van is a lightweight foldable camp table. This multi-functional object serves as an extra food prep surface, a dining table, a place to play cards, or even a desk for getting some work done in the fresh air. If you're feeling particularly generous, you could also throw in some foldable camp chairs for a full outdoor room set-up.
FOR THE READER
Kindle and/or Kindle Gift Card
Price: $-$$$$
Why they'll love it: If your favorite van lifer is a bookworm and doesn't have a Kindle yet, they just might be thrilled to switch to paperless reading. A Kindle means that they can access an unlimited amount of books and magazines on one slim device that doesn't contribute to van clutter. If they already own a Kindle, consider a gift card so they can pick out some new reads.
FOR THE ADVENTURE SPORTS LOVER
REI Gift Card
Price: $-$$$$
Why they'll love it: If you're not sure exactly what your van-dwelling friend needs, you can't go wrong with a gift card for the most respected outdoors store in the game. Whether they stock up on quickdraws for climbing or goggles for skiing, they'll be sure to find a gift they can really use. For the less sporty van dwellers, REI still carries plenty of camping and travel essentials. Conveniently, you can also get a gift card emailed to a pal who is on the road.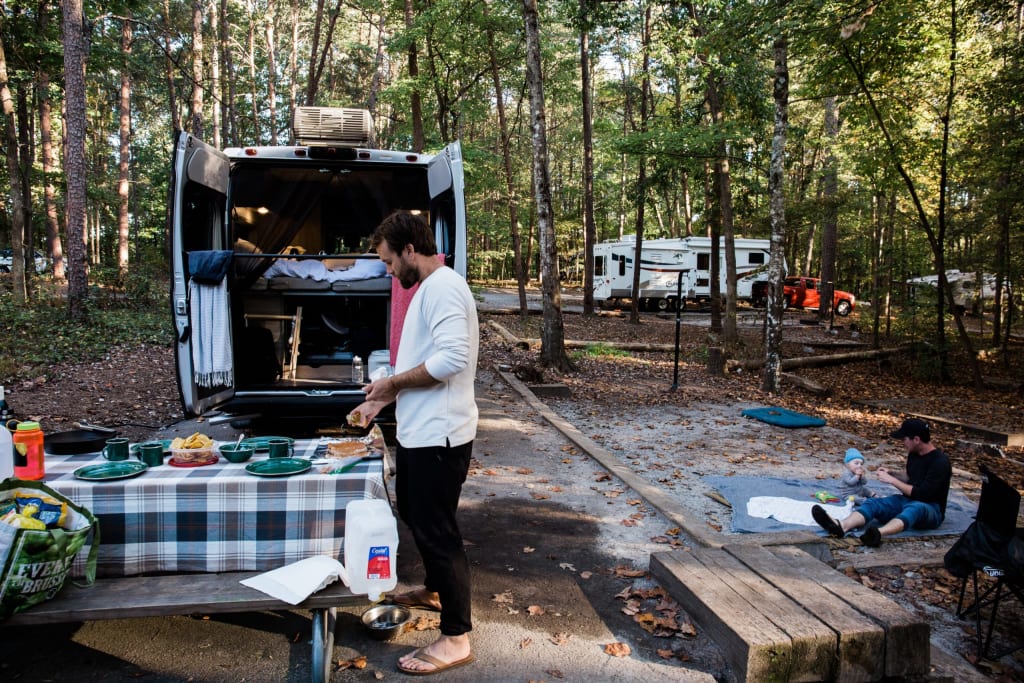 FOR THE FOODIE
Fancy Pantry Staples
Price: $$
Why they'll love it: Help your loved one spice up their home-cooked meals with a few high-quality ingredients that they're sure to use. Think artisanal olive oil, pesto, jams, chocolate, granola, or coffee. You can peruse grocery stores for local treats or order from online retailers like the ethical company linked above, The Little Market. Skip presenting your culinary treasures in a gift basket (they likely won't have the space to keep it) and opt for a reusable, foldable grocery bag instead.
FOR THE SHOWERLESS VAN LIFER
Gym Membership
Price: $$$$
Why they'll love it: For van dwellers that don't have a shower on board, a gym membership can be an invaluable resource. Of course, the ability to work out and stay healthy while on the road is pretty great too. There are several national gym franchises, but Anytime Fitness is a top pick for travelers because it is open 24/7, has many locations across the country (and the world), and allows members to easily use their key fob to access any location.
FOR THE PHOTOGRAPHER
FujiFilm Instax Camera
Price: $$-$$$
Why they'll love it: Van life is all about making memories, so choose a gift that will let your loved one capture all of their travel experiences and special moments. With an instant camera that produces iconic white-framed images in a matter of seconds, they can skip the hassle of getting their photos printed. Then your giftee can decorate their van with the mini pics, put them in a photo album or journal, or even send some home to you in the mail.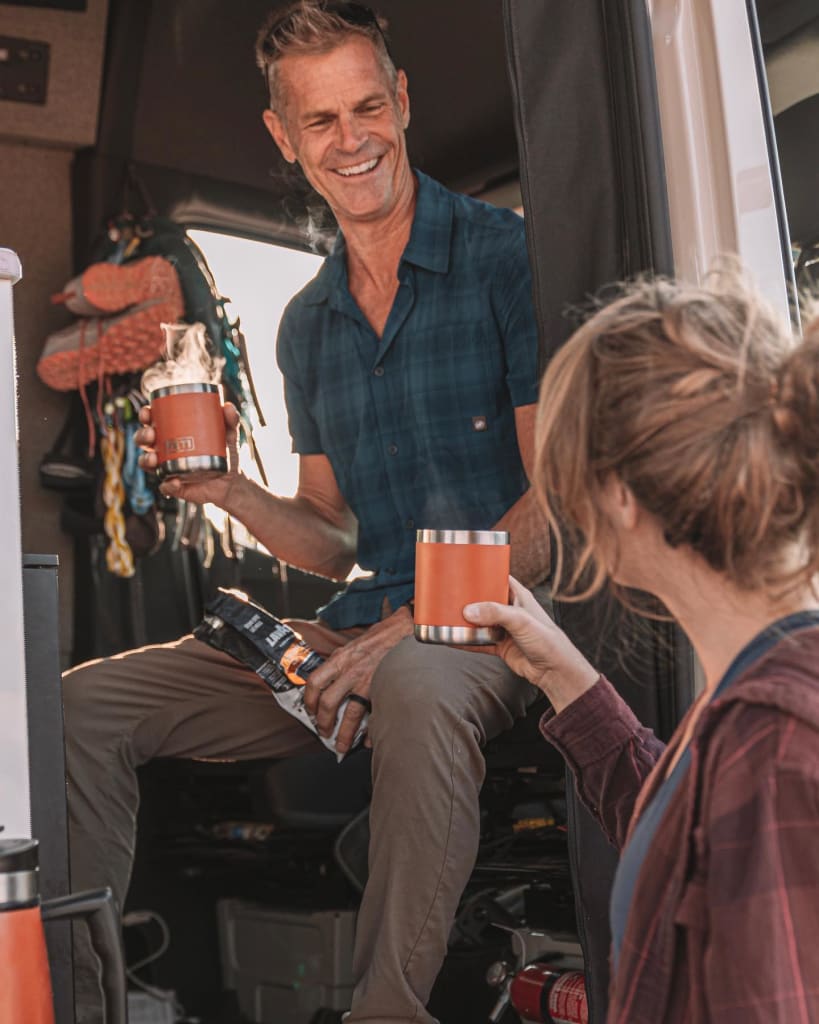 Photography: @storytelleroverland
FOR THE COFFEE AFICIONADO
Yeti Rambler Mug
Price: $
Why they'll love it: Whether your loved one is a caffeine fiend or prefers to relax with a cozy cup of herbal tea, they're sure to appreciate this gift. Yeti's products aren't your everyday mugs–they feature double-wall vacuum insulation technology to keep warm beverages piping hot and cool drinks perfectly chilled. They are also stackable, durable, and come in a variety of pretty colors.
FOR THE VAN LIFE ACQUAINTANCE
Van Life Leather Keychain
Price: $
Why they'll love it: Maybe you're looking for a smaller gift for a van-dwelling coworker, acquaintance, or friend you met traveling. At less than $15, these handmade keychains are a winner. You can choose from a variety of van life-themed designs to be stamped onto numerous colors of reclaimed leather. These bespoke keychains also make perfect stocking stuffers.
THE TAKEAWAY
The possibilities are endless once you understand the basic principles of gift-giving for van dwellers. To summarize, look for practical gifts that will serve a designated purpose on the road. If you plan on buying something larger like a camp table, make sure that your giftee doesn't already have one. When in doubt, go for smaller gifts that will bring a smile to your friend's face without taking up too much space. Gift cards for museums, spas, and restaurants are always a nice treat for van lifers who tend to prefer having memorable experiences over physical objects. Similarly, think about purchasing your loved one a subscription for an app they might enjoy.
If you want to surprise someone special with the ultimate gift, keys to a new adventure van, we can help. Visit Rec Van today to browse state-of-the-art camper vans from the most trusted brands.