VanLife Artist A Studio On Wheels
The saying goes: "Find three hobbies you love: one to make you money, one to keep you in shape, and one to be creative." Van life can be conducive to all three categories. Many adventurers blog or vlog about their experiences for extra income. Seeking out new terrain for outdoor sports is also popular within the van life movement. Today, we're addressing the third category: how to stay creative on the road.
Specifically, these eight tips will give you ideas for incorporating the visual arts into your traveling lifestyle. While you can't store endless boxes of materials in a small camper van, other factors make van life ideal for artists. You can easily road trip across the country to art shows and markets without having to worry about where you'll sleep. You can lower your living costs and spend more time doing what you're passionate about. Most importantly, nothing sparks creativity like being exposed to new things. When you live the van life, inspiration is everywhere.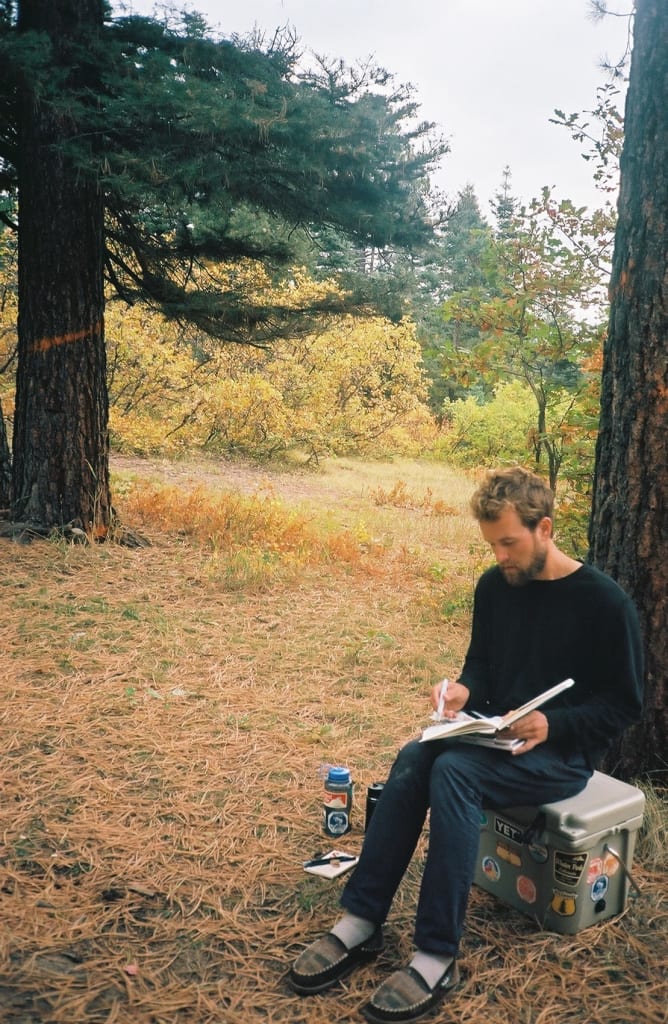 Photography: @helloamerica
1. START A SKETCHBOOK
Embark on your creative journey with a small sketchbook that fits in your bag and a few nice felt-tipped pens (or whatever drawing implements you prefer). Sketch every location you visit, from cute neighborhood cafes to majestic redwood forests. Even if you don't pride yourself on your ability to capture scenes realistically, sketching helps you notice and engage with your surroundings differently. Check out our tips for beginner landscape painting to take it to the next level.
2. DIY POSTCARDS
For the ultimate #vanlife art hack, buy some stamps and a set of blank postcards to decorate based on the places you visit. Your designs can be abstract or realistic; all that matters is that they are personalized and customized to your travels. Send the finished postcards to family and friends as a fun way of keeping in touch and sharing your experiences on the road. If you have a home address, you can also send postcards to yourself to enjoy all over again when you get back from your trip.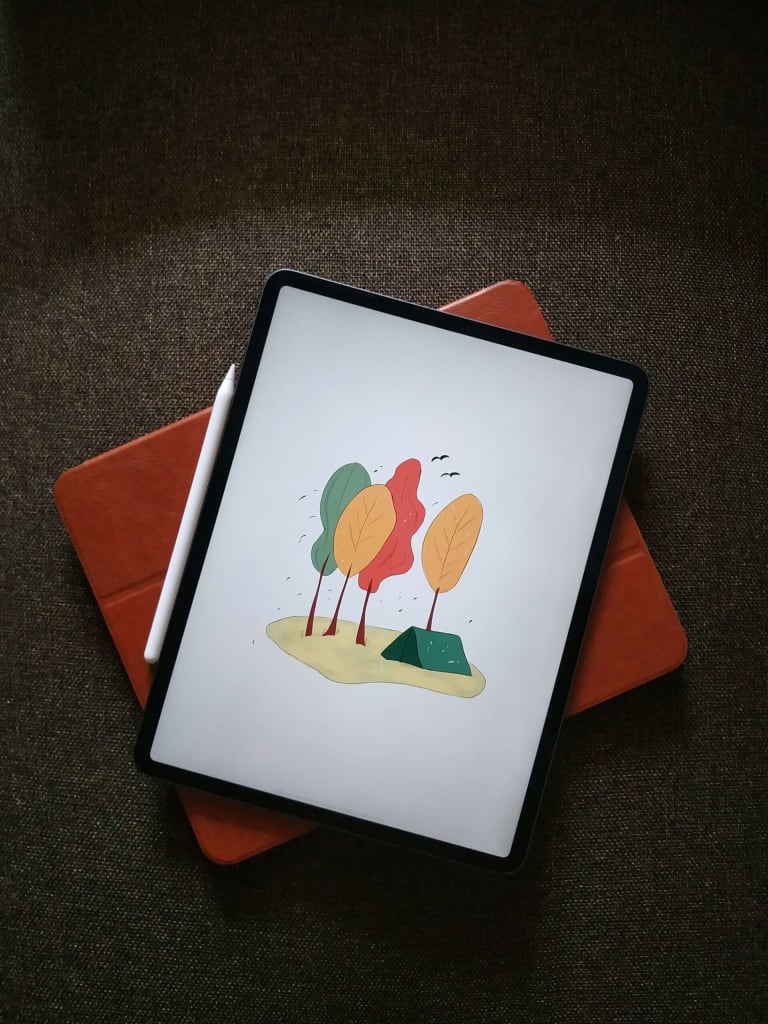 3. GO DIGITAL
Digital drawing on a tablet may take some getting used to, but it is a practical way to try out different styles and techniques. For example, you can experiment with the effects of charcoal, watercolor, and even spray paint without ever having to buy and, more importantly, store the analog materials. Getting started is easy with free digital art apps for both Android and Apple devices.
4. SMALL STUDIO
Some materials lend themselves more to van life because they are small and portable. However, there are ways of adapting almost any artform to suit van life. For example, while it's not feasible to run a full pottery studio in your van, you can bring along a bucket of air dry clay to make smaller sculptures. Don't get discouraged if your favorite projects don't initially seem to fit into the lifestyle—you can most likely size them down enough for your miniature traveling studio.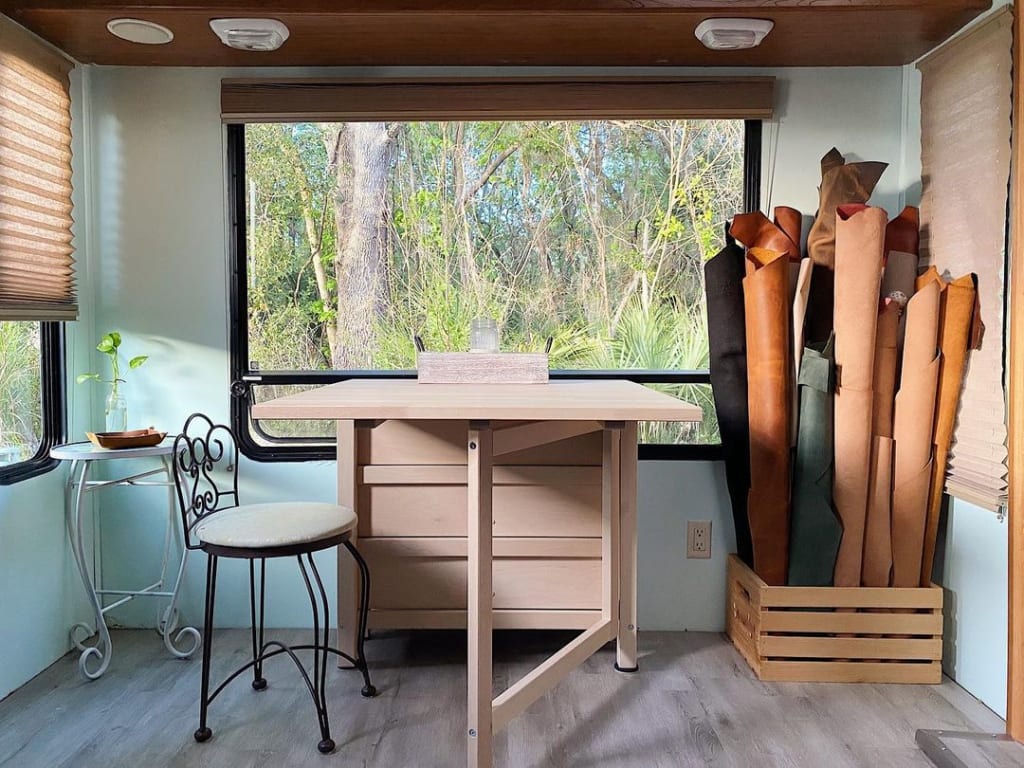 Photography:@wanderingashtree
5. ARTS AND CRAFTS
There's no need to stick to two-dimensional art forms. Take up relaxing crafts like knitting and crocheting and make yourself a scarf or hat. With embroidery, you can create custom patches for all the places you've visited. You can even spend evenings making products to sell like leathersmith Ashlee Potter. Click here to read our interview with Ashlee and hear more about her experience as a nomadic artisan.
6. SURREAL COLLAGE
Give the spirit of scrapbooking a modern revamp by creating dreamlike collages using things you find on your travels. If you're not familiar with the surrealism movement, a quick Google search for "surreal collage" is sure to inspire. All you'll need to keep on hand is paper, scissors, and a glue stick. Other materials can be gathered at every stop—dried wildflowers, pretty labels from local foods, business cards, and graphics from free newspapers, magazines, and brochures. You can also incorporate Polaroids or printed photos if you have them.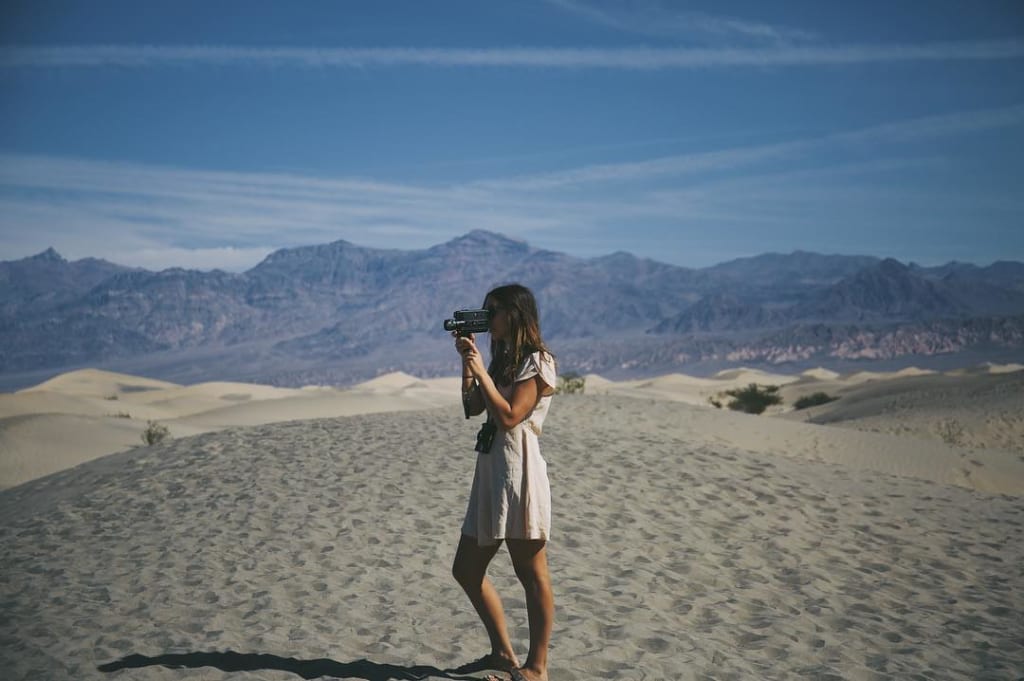 Photography: @helloamerica
7. CAPTURE AND CREATE
The most popular art form among van lifers is probably photography. To turn a fleeting moment into a lasting piece of art, all you need is a camera and the beauty that nature provides. You can dip your toes in the water with newer smartphones that take decent pictures. To elevate your photos from travel snapshots to masterpieces, though, invest in a quality digital camera. Then check out services like Blurb to design and print glossy coffee table books of your work.
8. TRY NEW THINGS
If you still can't find a way to fit your preferred mediums into a van, embrace the challenge as an opportunity to explore different types of art. Studies show that constraints and limitations can actually heighten creativity, so branching out might be just what you need to create your best work yet!
Whether you are a professional artist or just looking to add a little more creativity to your daily life, we hope this list helped illuminate all of the possibilities for making art on the move. Are you ready to hit the road in search of never-ending inspiration? Rec Van can take you there. Browse our huge selection of camper van styles by clicking here.