The prospect of living in a roughly 100-200 square foot space might make you nervous. What if you feel claustrophobic? What if the tight living quarters cause tension between you and your traveling partner? When considering the transition to van life, it's important to acknowledge that you will be occupying a smaller space than you're likely accustomed to. 
On the other hand, one of the greatest parts of van life is all of the new and exciting places you can go. Between adventuring in breathtaking natural landscapes and exploring different cities and towns, you'll be in the van less than you might think. And with all of that newness, returning to a cozy and familiar space every evening can be quite enjoyable. Plus, the limited square footage will help you simplify and focus on what's truly important–experiences over things.  
Although claustrophobia can rear its ugly head, particularly when you're getting used to your new setup, we have some tried-and-true solutions. Our suggestions are a combination of how to design your physical space and how to structure your lifestyle. With these hacks, you'll feel like you're living large in no time!
Claustrophobia-Busting Van Interior Hacks
Master Minimalism
Make your traveling home feel roomy by limiting your number of possessions and embracing a simple, clean aesthetic. Opt for light and calming colors like white, neutrals, and muted pastels for van surfaces and decor. These hues make your space seem larger and will feel like a breath of fresh air.  
Out of Sight
In addition to avoiding loud colors and patterns, try to minimize other visual distractions. Store the majority of your belongings out of sight in closed cabinets and opaque storage containers. Why? A simple cabinet door retreats visually while an open shelf filled with stuff seems to jump out at you. Most importantly, keep your line of sight from anywhere you'll relax in the van as clear as possible.
Clean and Tidy
Little messes and everyday clutter have a larger effect in a smaller space, so make a habit of tidying up throughout the day. Take care of dishes and any other spots in need of TLC every evening so you can wake up to a home you love each morning.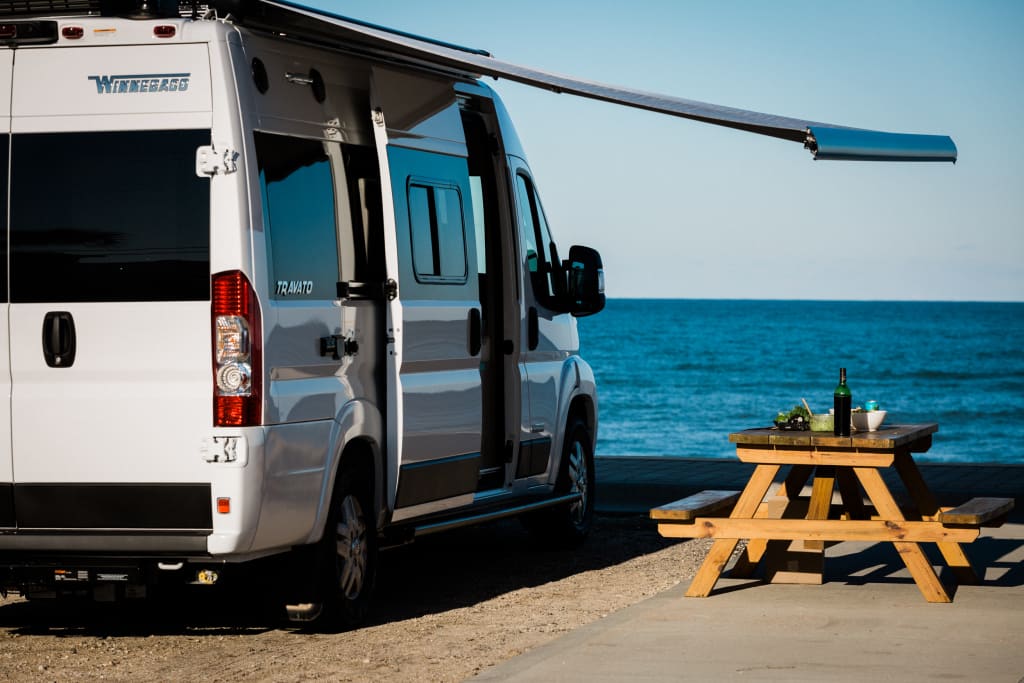 Mirror, Mirror
Interior designers have long been using mirrors to reflect light and make rooms feel more spacious. Instead of hanging a piece of art on your van wall, consider installing an attractive mirror. This will create a similar effect to having another window. Closet and bathroom doors are also prime real estate for this reflective trick.
Layout Experiments
If you're converting a van, test out interior layouts to pinpoint the most optimal use of the square footage. Allot the biggest space for the area you will spend the most time in, even if that means tightly grouping elements of the layout elsewhere in the van. If you're purchasing a built-out camper van, you can still customize the layout to some extent. Experiment with the direction you sleep in, for example, to determine what feels the most freeing. 
Seeing Double
Maximize your living space by extending it into the great outdoors. Many vans come with an awning to protect against the elements. Pair this with a durable mat and some multifunctional furniture and you've nearly doubled your living space. If you're doing #vanlife with a partner, one of you can chill inside while the other hangs out in your new outdoor room. You can also dine alfresco to enjoy your natural surroundings.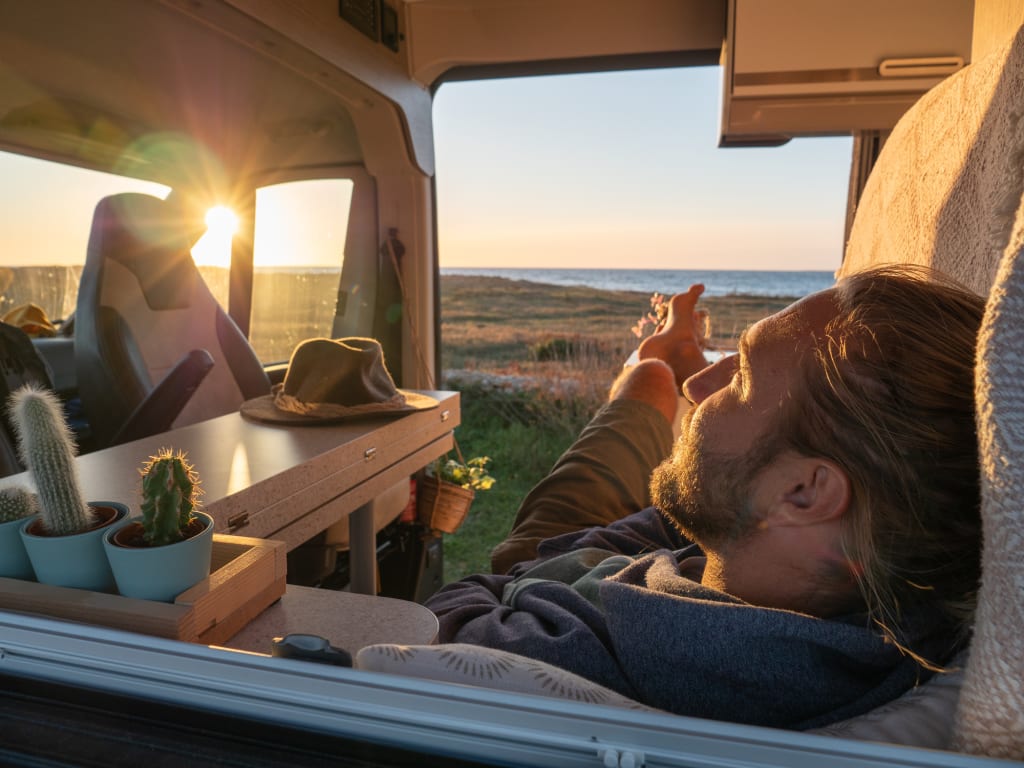 Anti-Claustrophobia Van Lifestyle Tricks
Serotonin Strolls
As we mentioned above, you'll probably be spending much of your time adventuring outside your van. However, some days will be filled up with driving to your next campsite or working remotely. On these lackluster days, make it a priority to get outside for a walk in the morning or evening. The fresh air and exercise will stave off any cooped-up feelings. 
Flexible Office
Speaking of remote work, sometimes you need a break from WFV (Work From Van). Consider joining a coworking space with national locations like WeWork. If you just want to change up your scenery occasionally, coffee shops and libraries are your best friends. You'll enjoy returning to your van after a productive work session. 
Working Out
Many gyms also have a network of locations across the U.S. Even if you're getting tons of outdoor exercise by hiking, biking, or rock climbing on your travels, hitting the gym can be a nice activity on hot days, rainy days, or evenings after dark. Perks like pools, hot showers, and saunas give you a reason to relax there longer before heading back to your cozy home on wheels. 
Resort Life
If you're craving a temporary dose of extra space, an RV resort might be the answer. Unlike campgrounds and more basic RV parks, RV resorts usually have a whole host of attractive amenities. Spend lazy summer days barbequing by the pool or challenging your companions to a heated rematch in the game room. These resorts can give you a break from your regular living space for a fraction of the cost of staying at a similarly-appointed hotel.
Smart Timing
Even if you adore your van life partner, everyone needs time to themselves occasionally. This can be achieved easily by planning separate activities. In particular, arrange for one person to do errands or something fun out and about while the other soaks up some rest time in the van alone.  
With these tips, you can ensure an expansive and flexible experience of full-time van life. Ready to venture wherever your imagination takes you with the comfort of a traveling home? Visit Rec Van today to browse our wide range of beautifully-designed, innovative adventure vans.
Want to delve deeper into the lifestyle? Check out "Van Life Minimalism: A Match Made in Heaven."