Picking out the perfect tree, covering your house in lights, hanging each family member's stockings carefully from the fireplace… If you celebrate Christmas, these moments are probably some of your most treasured memories from childhood. That's because the anticipation of a holiday is just as enjoyable as the special day itself. The annual ritual of decorating our homes is a tantalizing first sign of the celebrations to come.
Cruising across the U.S. in a van this holiday season? You don't have to miss out on the joys of decorating. Whether you celebrate Christmas, Hanukkah, or Kwanzaa, you can use a few clever tricks to transform your van into a festive winter wonderland. Read on for our list of inexpensive decorating ideas perfectly suited to van life.
Cover Imagery Jael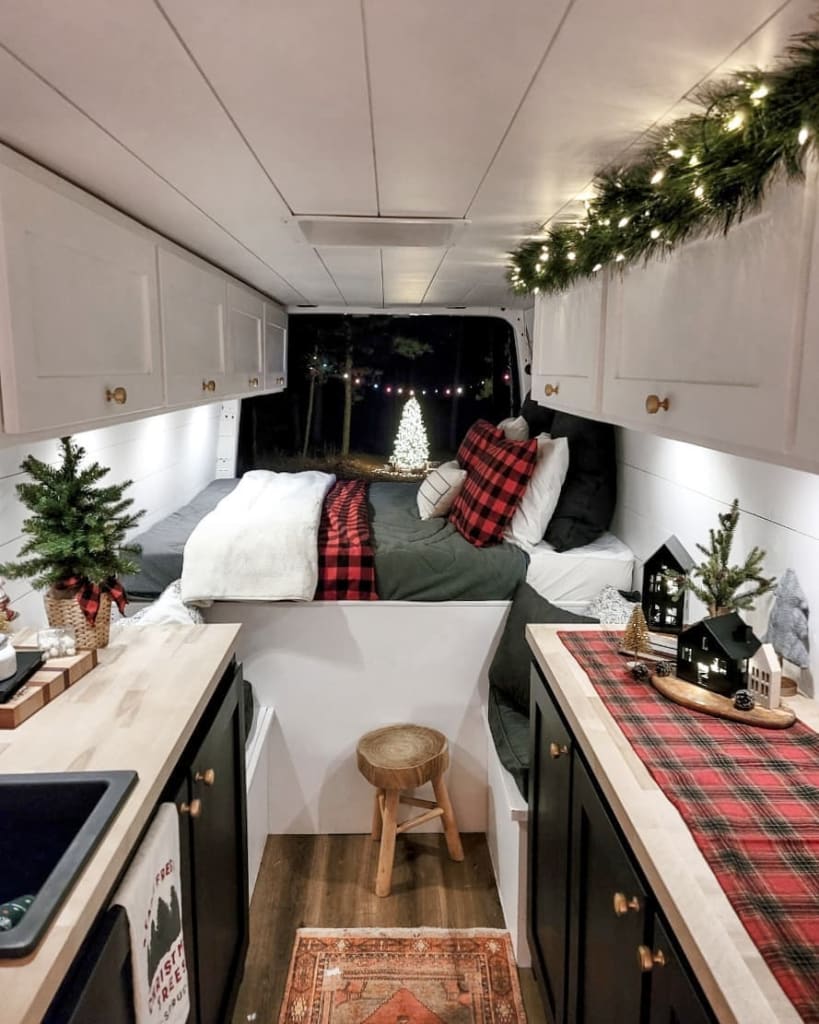 Photography: @rambleandrevive
SPACE-SAVING GREENERY
Deck the ceilings with boughs of holly–or pine garlands–instead of a tree. This trick utilizes empty space in the van to give you the iconic look of evergreen foliage without requiring you to navigate around a clunky Christmas tree.
Your options include real and artificial garlands, but real branches are optimal if you're a full-time van dweller because you won't need to store them year-round. You can find a variety of greenery at Trader Joe's, or try your luck at a lot that sells real Christmas trees–they're often willing to give away pruned pine branches for free.
If a tree is non-negotiable, go for a small tabletop tree. We like rosemary bushes pruned into the classic pointy shape because you can harvest the herb for flavorful holiday cooking.

Photography:@for_the_love_of_winnie_
SCANDINAVIAN MODERN
Decorations can quickly feel overwhelming in a small space. Keep your van interior uncomplicated yet cheery with minimalistic decorations that nod to the winter holidays. Keep an eye out for natural materials, light colors, and simple forms to achieve this Scandinavian-inspired modern look.
Craft stores like Michael's are a great place to find affordable wooden shapes like cones to suggest Christmas trees or beads to make a minimalistic wreath. They also sell unfinished wooden nutcrackers and birdhouses. These items are sold with the intention that customers will paint them, but a little restraint goes a long way in creating a modern natural look. Because this decor is more subtle than your typical Christmas decorations, you'll probably want to keep it up all winter long.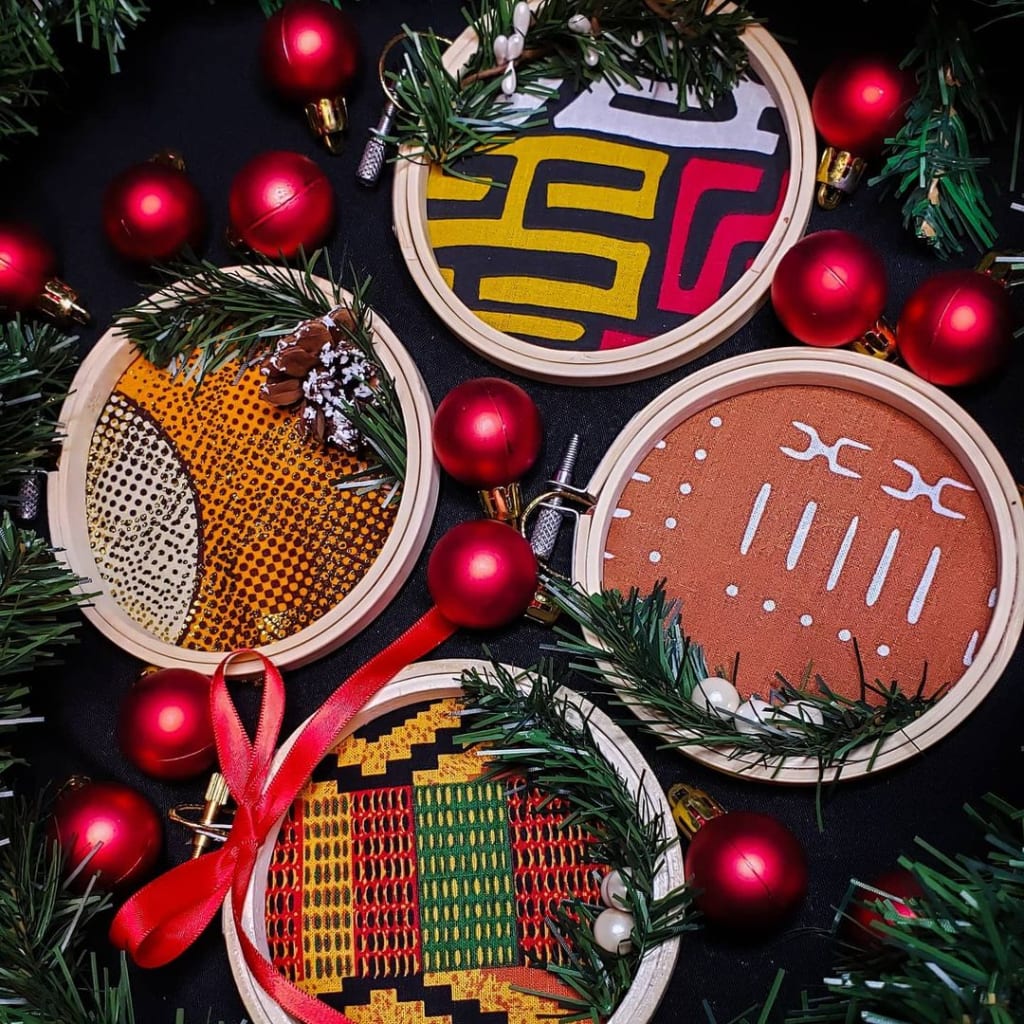 Photography:@kaymanmzel
TEXTILE TREATS
Whether it's a cozy Christmas blanket in red and green tartan or Kwanzaa decorations made with colorful African textiles (like these beautiful handmade ornaments available on @kaymanmzel's Etsy), you can easily spruce up your space with fabrics in iconic patterns.
Looking to add a touch of holiday color to your van without breaking the bank or overstuffing your storage compartments? Browse thrift stores for seasonal napkins and dish towels. They're usually under $5, serve a functional purpose, and can be donated again if you don't want to hold onto them year-round.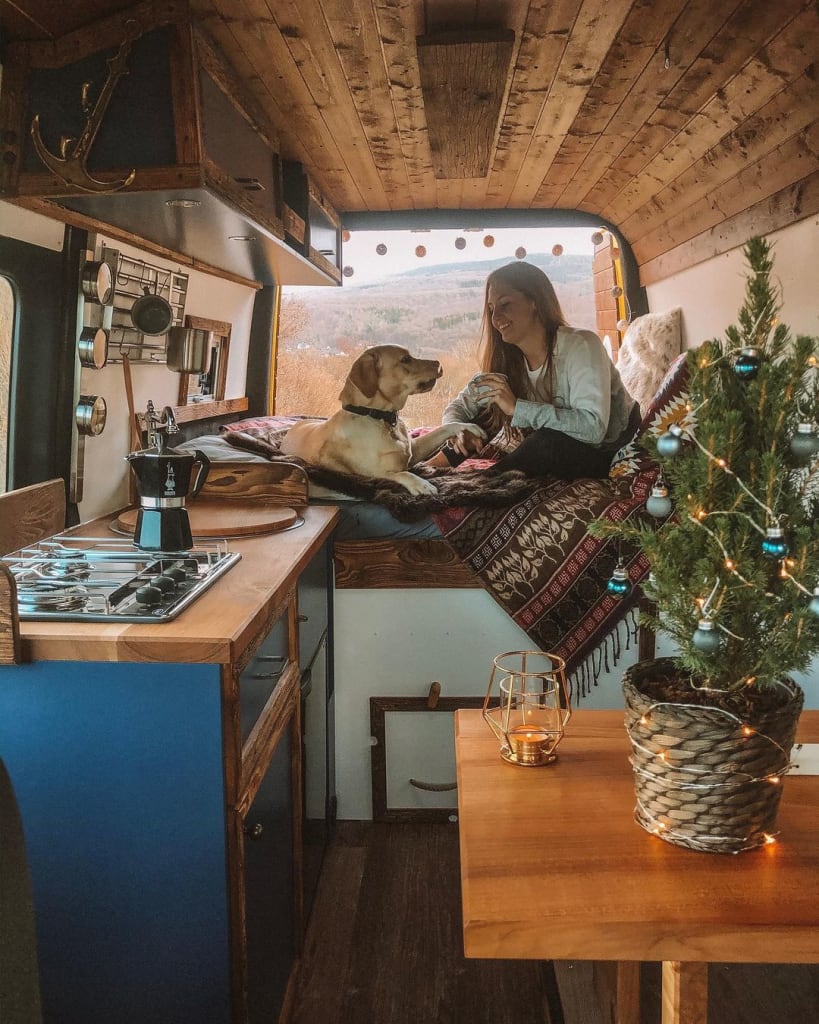 Photography: @jael.me
ALL THAT GLITTERS
Nothing says "the holidays" quite like shiny baubles and trinkets. Opt for a set of mini ornaments to deck out a small tree. If you're not buying a tree, you can still attach ornaments to ribbons or twine to hang across your back door and windows.
Other fun garlands include colorful threaded pom poms or lengths of sparkly tinsel. Go for a rustic look–and enjoy a relaxing holiday activity–by stringing popcorn and cranberries. Candles in pretty gold votives add to the holiday feel but can also be enjoyed throughout the year. In this decorating approach, more is more!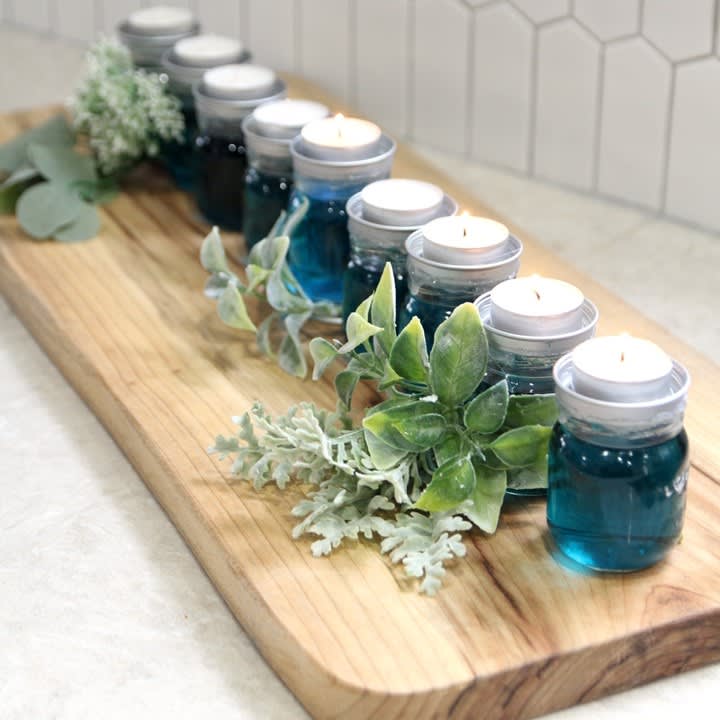 Photography: @momsandcrafters 
DO IT YOURSELF
If decorating brings people joy in the form of anticipation and creative expression, crafting our own decorations provides an even bigger serotonin boost. DIY projects also tend to utilize affordable materials and recycled goods you might already have on hand, making them an inexpensive and eco-friendly way to create a big impact.
Case in point–this genius glass jar Hanukkah menorah made by @momsandcrafters. Ready to make your own? You can find the full instructions here. A huge variety of DIY decoration ideas exist for every holiday. Get inspired with a quick Pinterest search.
LET THERE BE LIGHT
If you only choose one idea from this list, make it this one. Hanging up string lights gives your van an instant holiday makeover. Light is a powerful positive symbol in many cultures and religions, plus it adds a warm glow that reminds us of the magic of childhood. Try fastening strings of lights along the bottom of your bed platform or across the ceiling like @serena_chiav. We also love Serena's use of a glowing ornament as a hanging centerpiece.
For ease and maximum glow even while boondocking, choose battery-powered light fixtures. Delicate fairy lights on metal wires have become so popular in recent years that you can now find them for less than $5 at stores like World Market, Walmart, and Target.
Whether you go for Scandinavian minimalism or glittery eclectic maximalism, we hope these tips help you create a cozy and cheery van interior this holiday season. At the end of a long day of adventuring, nothing beats the feeling of returning to a warm, welcoming space designed exactly how you like it. For more tips on how to make your van feel like home, check out our post. Looking for presents to put under (more like around) your tiny Christmas tree? You might like our post on gifts for road warriors.
Van life allows you to comfortably spend your holiday season wherever you like, whether that means visiting extended family or chasing warm weather and beaches. Craving the freedom of the open road and looking for the van to take you there? Visit Rec Van to browse our selection of top-of-the-line camper vans.