Any parent who has traveled with little ones knows that challenges are bound to come up. Factor in the limited space of a van and nonstop time together, and van travel with children could seem like a recipe for disaster. Well, we're here to tell you that van life with kids is both totally doable and immensely rewarding. After all, who wouldn't want to experience the adventure of a lifetime with their loved ones? Plus, kids' natural curiosity and love of quality time with family members makes them well-suited for van life. 
Thinking about embarking on a rec van road trip or transitioning to full-time van life with your family? We've got you covered. Read on for our top tips for van travel with kiddos and stories from real-life van families.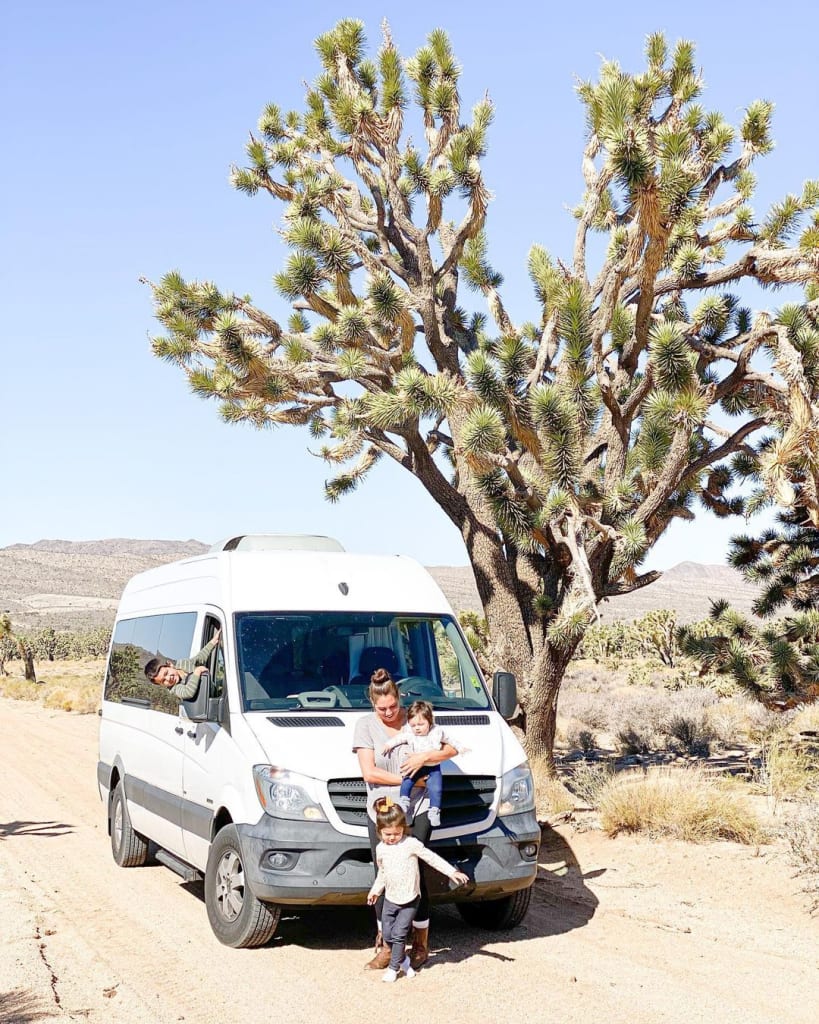 Photo By @writtenritmos
HAVE REALISTIC EXPECTATIONS
"It's been an incredible ride. It isn't always easy and it definitely isn't as glamorous as social media can make it out to be, but the highs definitely outweigh the lows and our book of stories to one day tell the grandkids is getting gigantic." -Ash Fite (@thefites)
To start strong on your van travels, it's important that all family members have realistic expectations of what your journey will entail. Sit everyone down before your trip or move in and encourage each person to voice what they hope the experience will be like. Then, talk about possible areas of conflict and brainstorm guidelines for how you will approach any issues that come up. Setting a strong foundation will allow your family to build a healthy, happy lifestyle on the road. 

Photo By @the.adhoc.advanture
DO A TRIAL RUN
No matter how much research you do, you might still feel a little apprehensive about diving into full-time van life. Luckily, there is an easy way to circumnavigate this fear. 
"If you feel the pull to try out van life, give yourself an end date. Allow yourself to try it for a summer or for a year. If it feels scary or like something too big to envision, let yourself envision something believable for you. For me, a year was believable, but once we hit a year mark, I felt like we were only just beginning, and boy, was I right!" -Ash Fite (@thefites)
Whether you end up extending your journey indefinitely like the Fites or go back to living in a house after your set period of time, you and your loved ones will have been treated to a rare and unforgettable experience. 
Kids may also feel resistant to big changes until they understand what they have to look forward to. If you have the opportunity, let your little ones check out the van of a friend or family member before you decide to get your own. 
"They absolutely loved the van, we visited them on our journey from Ireland to Switzerland and when it was time for us to go, they asked if we could leave the van in their driveway and just fly to Switzerland instead." -Róisín, older sister (@the.adhoc.advanture)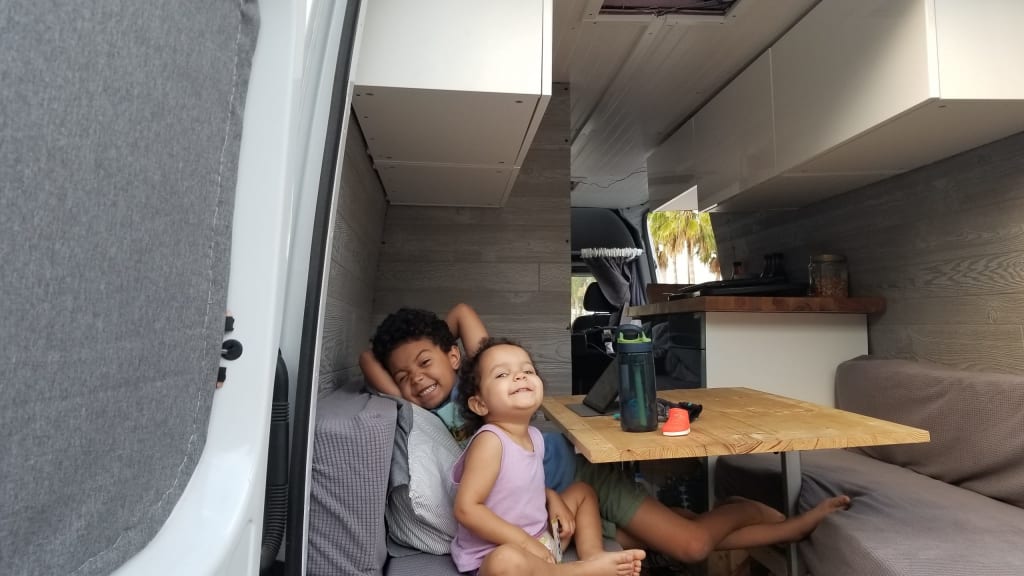 Photo By @usalongtheway
EMBRACE FLEXIBILITY
"When people ask us for tips on how to travel or go on outings with young kids, I always tell them to make a plan and plan on not being able to stick to it. You have to be so flexible with littles. In some ways, it's nice because they help you slow down and really focus on the moment and not worry too much about the destination. When you're more focused on the end goal you tend to be more stressed. Remember to bring snacks and a positive attitude!" -Amanda Quintana (@writtenritmos)
Kids are unpredictable–they might be bouncing off the walls with energy one minute and desperately in need of a nap the next. Fortunately, van life is one of the most flexible types of travel available. You can carry everything you need onboard, from nourishing foods to comfy beds. 
With van life, you are also the master of your itinerary. Kids can't get enough of the beach? You can stay longer. Overwhelmed by the bustle of the city? Head to the nearest state park for some relaxation in nature.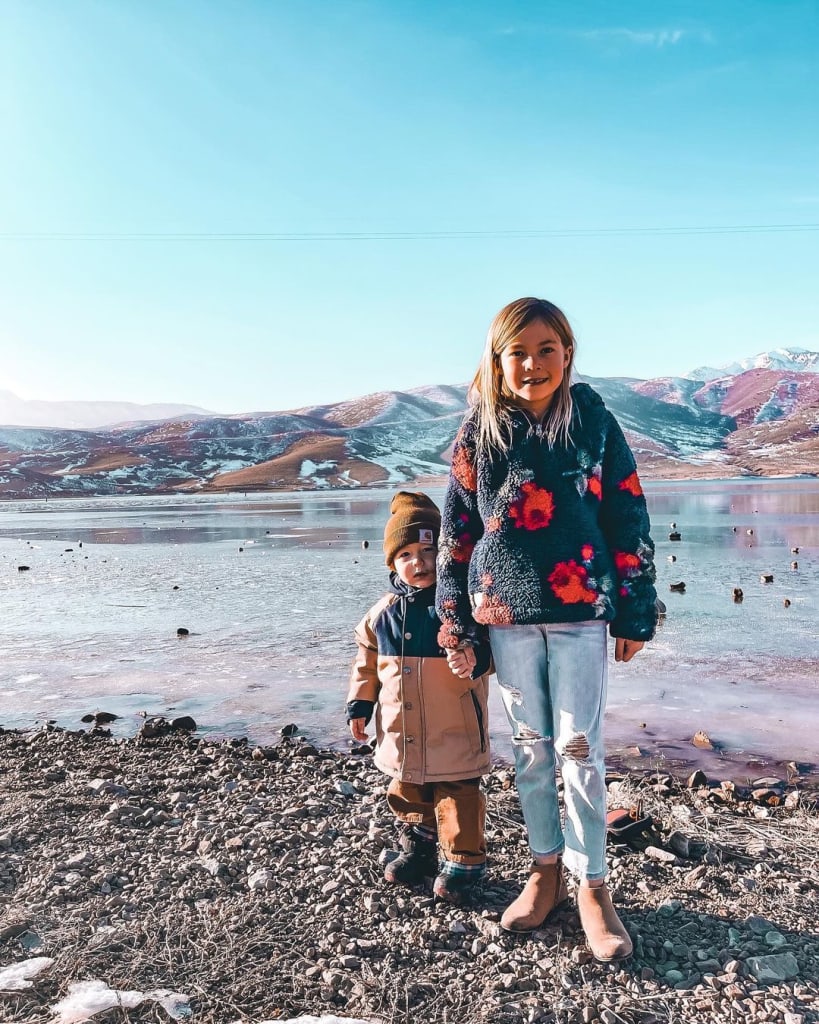 Photo By @thefites
FOCUS ON EXPERIENCES, NOT THINGS
"Kids are super adaptable and actually I think crave a simpler and more minimal existence with more experience with their families." -Hollee Alvarez @alvarezgrandtour
In our fast-paced world, many parents feel like they are working too much and don't have enough time to spend with those they care about. Van life is becoming hugely popular among people looking for more work-life balance. To put it simply, fewer bills = less work = more quality time with your kids. Add in exploring beautiful places and trying out new activities on the road, and your family is bound to bond on a new level. When you say yes to van life, you're also saying yes to trading physical possessions for exciting experiences.
"Realize less is more. Kids will make anything into a toy. So, toys galore are not necessary and will take up precious real estate in your tiny home on wheels. Be very mindful of what you choose." -Tiana Kubik (@usalongtheway)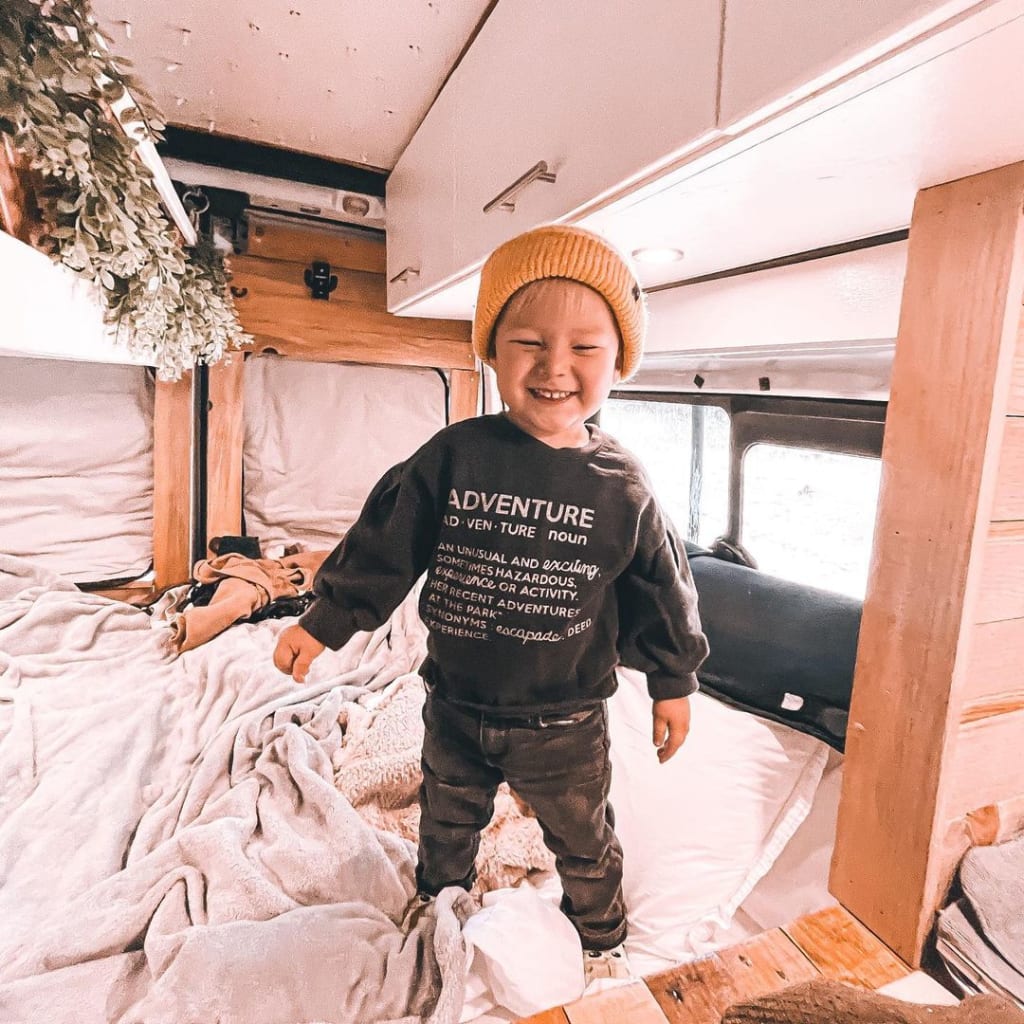 Photo By @thefites
MUST-HAVES
Speaking of possessions, there are still some products that will make your life easier when van traveling with kids. As Tiana pointed out above, you probably need fewer toys than you think. Focus on several open-ended toys, games, and activities like building blocks, playing cards, and art supplies, along with a few items that will let your kiddo interact with the outside world, like a bucket and shovel. 
Of course, modify these selections based on the ages and interests of your kids. All ages can enjoy books and audiobooks, which help pass the time while driving or parked without taking up too much space in the van. 
A patio awning and a plastic outdoor rug will expand your living room into the great outdoors and ensure everyone has enough space to play, cook, work, and relax at campsites.
"It was super easy to go from house life to life on the road. We just tried to pack by function. Everything needed to be multifunction and compact. I have quite a bit on my Amazon page in my bio with my favorite things. Turkish towels or microfiber towels are an absolute must-have. Having the bathroom in the van with little potty training kids was a lifesaver." -Hollee Alvarez @alvarezgrandtour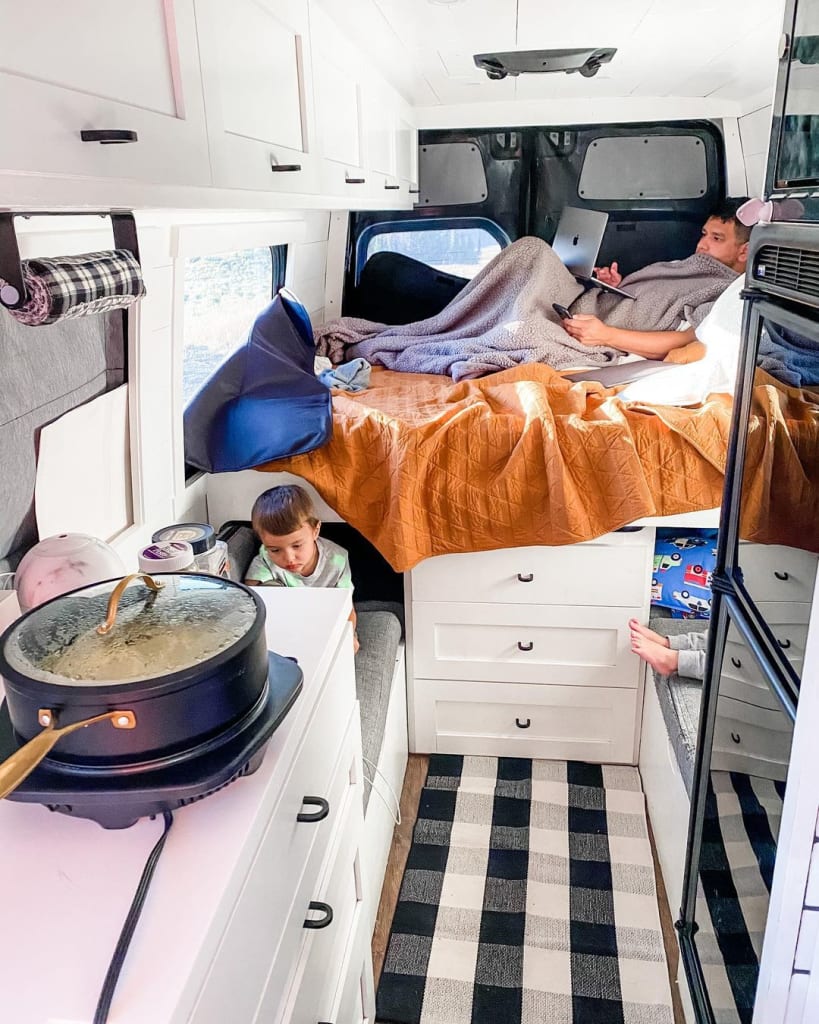 Photo By @alvarezgrandtour
FAMILY-FRIENDLY ACTIVITIES
Make the most of your travels with kid-friendly destinations and experiences. Trekaroo is a great place to get started–their website and app offer a wealth of guides for family-friendly travel around the world. 
You can also plan adventures at national parks across the U.S. at Find Your Park. Simply select your desired states and activities and the site populates relevant national parks and monuments. One of the filter options is "Children's Programs," which includes Junior Ranger activities and more family-friendly fun. 
TAKE THE LEAP!
If you've been curious about transitioning your family to a lifestyle with more freedom, connection, and adventure, van life might be the answer. 
"Simply saying yes changed our course. We didn't fully realize how the experiences of van life would shape us, just as I'm sure I don't fully know now how it is continually shaping me and how I view the world. I do know that it is for the better. No lesson is ever wasted, and every season serves a purpose. I'm so thankful for this season of life. I get to explore the country with my little family and make any backdrop our backyard. It doesn't get much better than that." -Ash Fite (@thefites)
"Adventuring with littles is no small feat but the memories, impressions, and experiences are truly priceless. Our van has been an amazing adventure mobile, delivering us to and from crazy times and shuttling us through the therapies of nature. And for that we are so grateful." -Amanda Quintana (@writtenritmos)
For more on creating healthy relationships with your traveling companions, check out "Tips for Cohabitating with your Partner in a Van." Ready to find your dream van? Check out the wide selection of new and used camper vans at Rec Van.