Now that you've had an opportunity to check out some of the amazing van camping ski resorts around the U.S., it's time to start planning your trip. But before you go, there are a few things you should know about what you should – and shouldn't – do while van camping at some of these outstanding ski resorts while chasing the pow.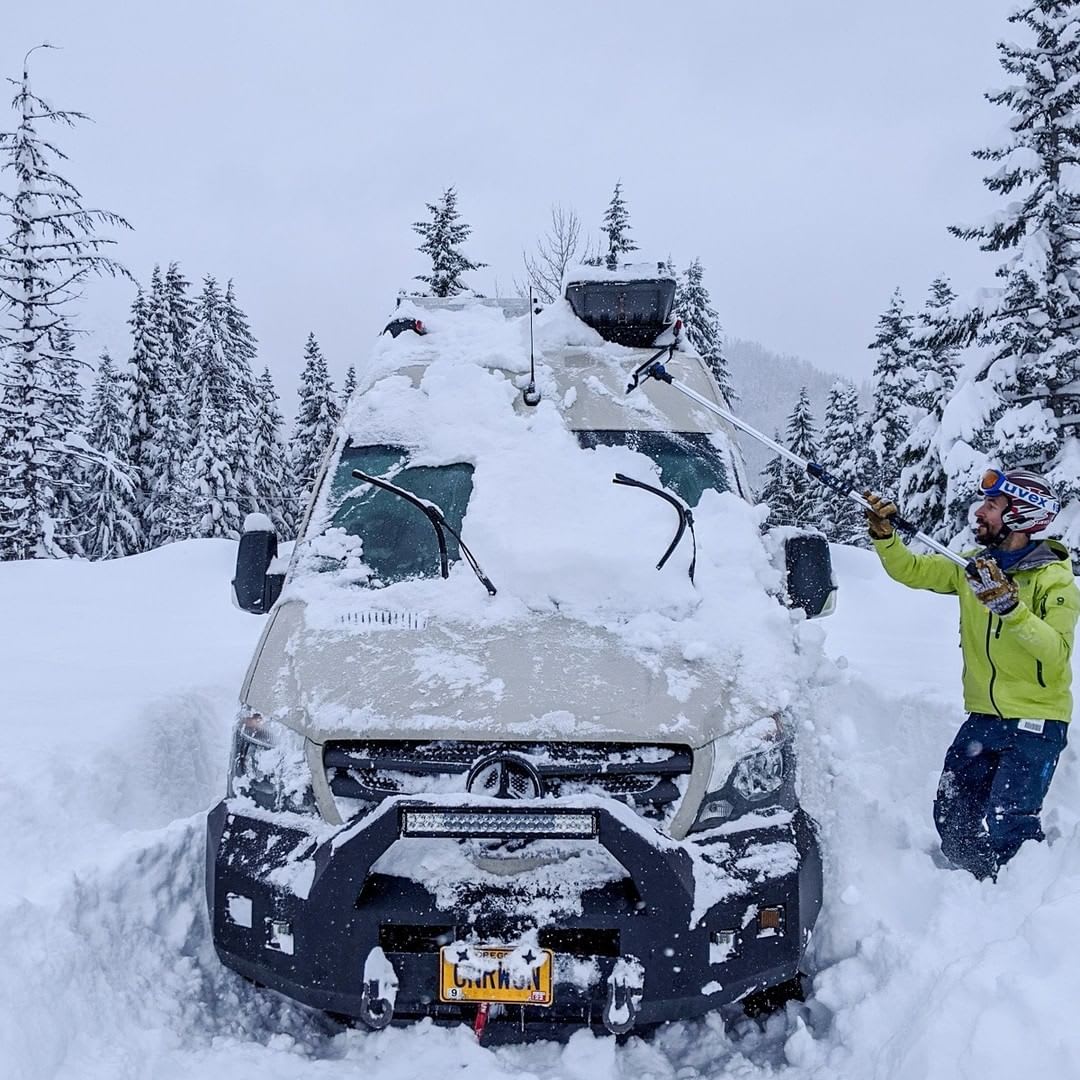 Photography: @winnebagorvs
DO
Tip #1 – Move your van for the plow.
Not only is it a good idea to help keep the resort operators happy with you, but it also helps prevent damage to your vehicle if a plow has to try to carefully move past it. It can also keep you from having to shovel your van out of a snowbank or having accidental damage from someone hitting it because they didn't realize it was there. We are talking resorts that get dozens of feet of snow every year, after all.
Tip #2 – Plan extra time for the travel part of the trip.
Whether it's the potential for bad weather that can slow you down or just taking the time to enjoy the journey, having extra travel time in your plans is a great way to be able to unwind even as you're making the trip.
Tip #3 – Pick up trash if you see it on the ground and throw it away or recycle it.
Part of van camping is leaving no trace of your presence, but unfortunately not everyone does that or the wind catches something. Try to leave each location better than you found it.
Tip #4 – Pack snow chains.
If you're chasing the pow, you're going to find it – sometimes unexpectedly and on the road. Snow chains are pretty easy to put on, so just spend a couple of minutes glancing at the manual when you pack them, so you've got the basics down.
Tip #5 – Take a paper map or download your route.
Though data coverage is improving drastically, especially around major ski areas, parts of your route may not have solid coverage yet. Either grab an atlas to tuck behind the seat or download your entire route onto your phone or mobile device. Bear in mind that your vehicle's navigation may not be up to date on all the roads in the area.
Tip #6 – That being said, take a chance at getting a little lost.
If you've got a good map of the area and the roads look relatively clear, drive down that beautiful road. You might find a natural treasure you would have otherwise missed.
Tip #7 – Boondock it on the way there on federal lands.
In addition to being free in many situations, you'll also find a range of beautiful surroundings to enjoy. That way you can save a few bucks for that outstanding microbrew the resort offers.
Tip #8 – Pack some cleaning basics, both for yourself and for your van.
There's nothing worse than waking up to the beautiful sound of birdsong just to drop your feet into last night's boot-tread snow melt.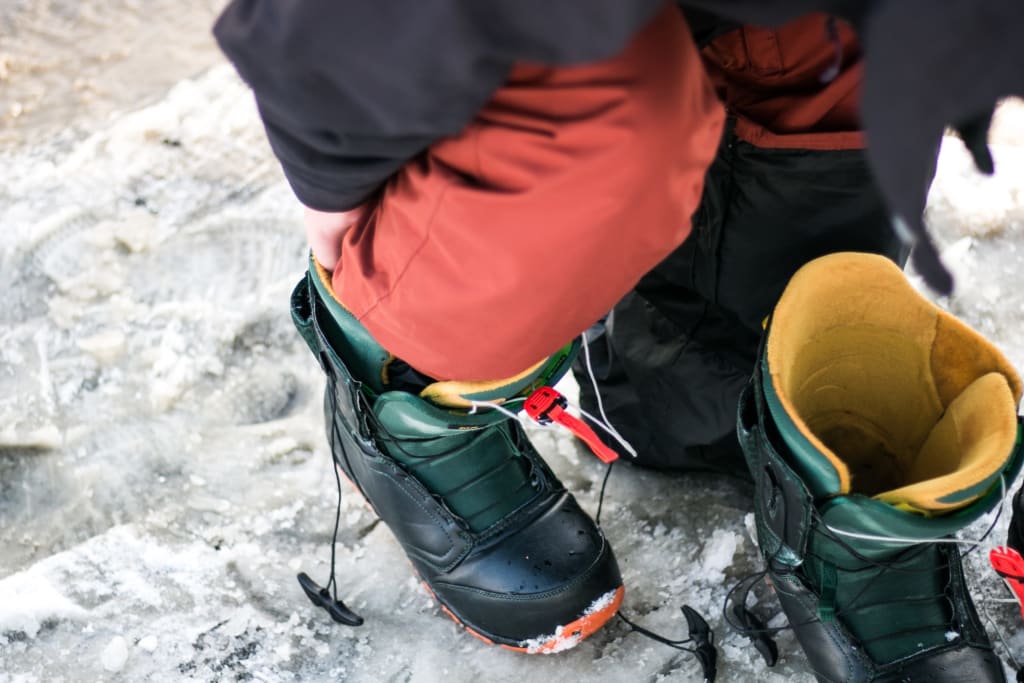 DON'T
Tip #1 – Don't crank up your music or TV all hours of the night.
Be respectful of your neighbor's quiet times, and they'll be more likely to help you out if it's needed. It's also just basic human politeness.
Tip #2 – Don't litter.
Many of these resorts are in some of the most amazing natural areas of the world, so do your part to keep it that way. If the area you're visiting doesn't offer recycling, hold onto your recyclables until you leave.
Tip #3 – Don't run the generator all night.
Battery costs are coming down, especially for the lightweight lithium batteries, so invest in one or two so that you can run a few gadgets at night. Also, they're loud and can disturb your neighbors.
Tip #4 – Don't light up the outside of your van like it's a search area all night.
A little outside light is great, especially for under an awning or day shade, but keep it reasonable and make sure to turn off any lights you're not using when you decide to call it a night.
Tip #5 – Don't use a propane heater intended for venting in a sealed space.
Propane heaters that require venting can build up carbon monoxide, which can kill silently with no scent or other sign that something is wrong, you'll just get a bit sleepy and develop a headache. Know how to use your heater before you head out on your epic ski trip to avoid any hiccups.
Tip #6 – Don't take a vehicle that isn't going to be able to handle the roads.
Some of the roads headed to more remote ski areas should be handled by a four-wheel-drive, especially when it has snowed recently or is slippery. If you're looking for a 4×4 van, you can check out our inventory here.
Tip #7 – Don't pack too much stuff.
Vacation is about getting away from it all, not taking it all with you. Minimize the excess, pack in soft-sided bags to give you more room inside and consider hitch or roof racks if there's something bulky that just won't fit otherwise – hello skis and snowboards!
Tip #8 – Don't wear your boots inside the van.
It goes without saying that you'll avoid the unpleasant snow melt on the floor if it can't get there in the first place. Grab a rubber floor mat to stick your boots just inside, then keep a pair of slippers handy to protect your feet form cold floorboards.
By keeping these tips in mind, you'll have a much better time with your van camping experience. Can you think of any others? Leave them in the comments below to share with the community!