Van life with a dog
Dogs are wonderful companions for van life—they motivate you to get outside every day, provide unconditional love and a sense of security, and even serve as conversation starters to meet new people on your travels. Similarly, van life is well-suited to dogs—they get to constantly see and smell new things, spend tons of time bonding with their owners, and enjoy a large percentage of that time running around outdoors. Van life with a dog is a big commitment, but it can also be a dream come true for both dogs and their owners.
Whether you've adopted a dog or a van first, this guide will help you understand the realities of traveling with a four-legged friend. Read on for some questions to help you determine if this way of life is right for you. Then, check out our pro tips and a list of products you'll need to keep your pup comfortable in the van.
Cover Photo @_girlgonenomad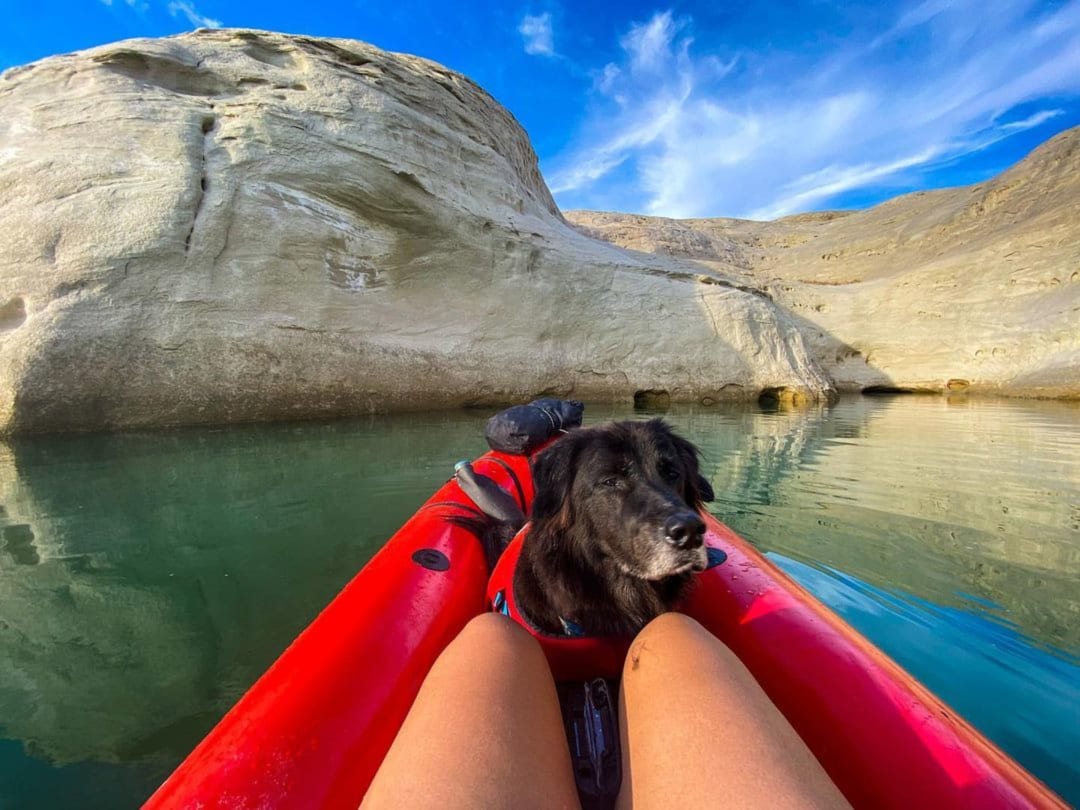 "Dogs show us that playing is a big component of life. They aren't meant to live their days chained up or always in a cage. So why do we do that to ourselves? My goal to give my dog Peter his best life in turn gave me mine. Living minimally with my dog in our van has taught me to always live in the moment and enjoy little things I once overlooked or undervalued." -Melissa McCall (@naturemccalls)
Is van life with a dog for you?
Answering these three questions will help you decide whether bringing a dog on your adventures makes sense for your lifestyle.
1. Do you prefer visiting cities or getting off the beaten track in nature?
Traveling with a dog limits where you can go and the types of activities you can do. If you intend to visit urban attractions often, having a pet will pose some challenges. You can pay for dog-sitting services while you explore museums and restaurants, but the costs can quickly add up. If you love exploring the remote wilderness, on the other hand, traveling with a dog is a perfect fit.
2. Do you have the time and energy to take care of another living creature?
This point may seem obvious, but you will have to think not only about your own needs but also those of your pet. Expect more frequent stops for bathroom breaks and short walks for canine companions. Ideally, you should put energy into training your dog well if they are not already properly trained. Dogs also behave best in the small space of a van if they are getting plenty of outdoor exercise time. If any of these factors feel overwhelming, you might not be ready for van life with a dog.
3. Are you looking for the company and joy that a pup brings?
If you're a dog person, you can probably answer this question easily with a resounding "yes!" While acknowledging the challenges that make van life with a dog inconvenient at times, it's also important to factor in the almost inexplicable joy that comes from sharing adventures with your best friend. Seeing a pet happy and fulfilled in a lifestyle that is perfectly suited to them is also a big pull for many dog-owning van dwellers.
As you can see, making this decision is all about weighing the pros and cons of your individual situation. If you are intrigued and want to know more, read on for some tangible tips and considerations for van life with a dog.
Van life with a dog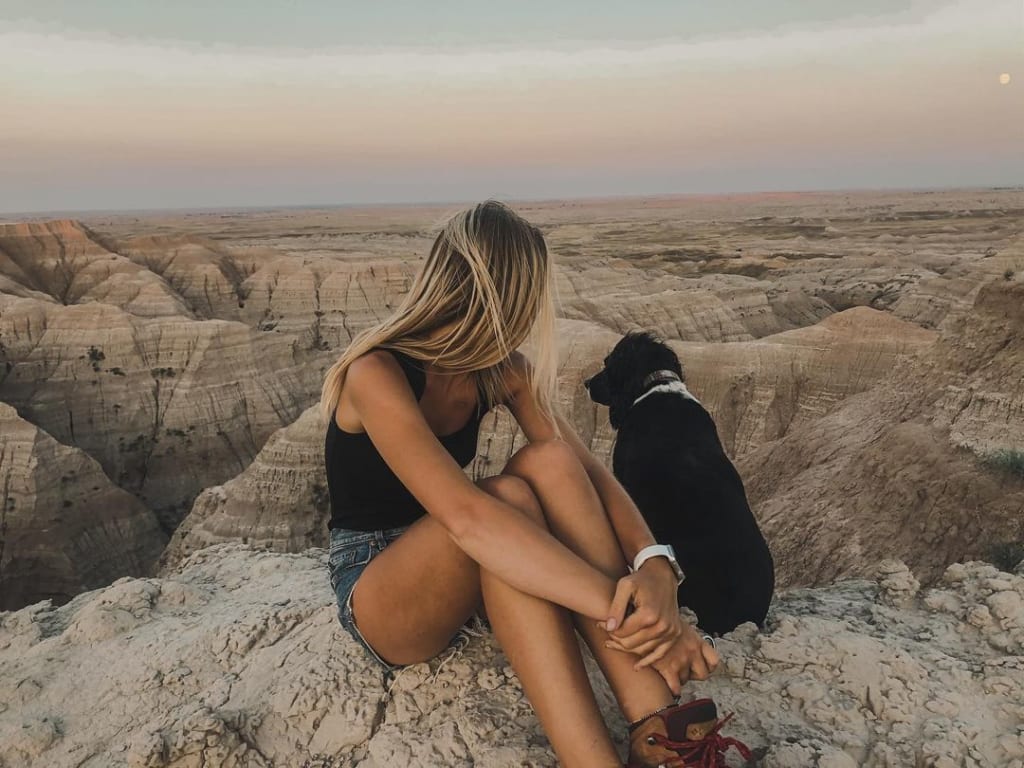 Photography: @_girlgonenomad
SAFETY FIRST
– Never leave your dog alone in the van, as the indoor temperatures can quickly rise to levels that are dangerous for pets.
– In general, make sure the temperature in your van is comfortable at all times – not too hot, not too cold.
– Keep dogs up to date on their shots and store vaccination records in the van.
– Outfit your pup with an LED light collar to keep track of them while they roam around remote campsites at night.
– Consider investing in a GPS pet tracker so you'll never worry about losing your pup in unfamiliar territory.
– Make sure dogs have adequate access to water. Allow them to hydrate at stops and always keep their bowl full when the van is parked.
COMFORT CONTROL
– Stop for regular bathroom and walk breaks while on the road.
– Get your dog used to traveling in a vehicle on shorter drives before subjecting them to a cross-country road trip.
– Set up a comfy dog bed so your pal always has a place of their own to curl up.
PLAN AROUND YOUR PUP
– Your itinerary should be planned with your dog in mind.
– Visit warmer places in winter and cooler places in summer to avoid extreme temperatures.
– There are many restaurants and cafes with dog-friendly patios. Call businesses in advance if you're unsure about their pet policies.
– You can spend hours reading or doing work on a laptop at dog parks while your little ball of energy gets to run around and socialize.
– Visit BringFido for detailed information about fun places to take your dog.
– Many RV parks and campsites allow dogs, but the rules and amenities can vary drastically between them. Research each place you plan to stop at.
– Most national parks allow dogs at their campgrounds and on paved roads, but not on trails, which limits the areas you and your pup can explore together.
– Forest Service and BLM land are ideal for hiking and camping with a dog.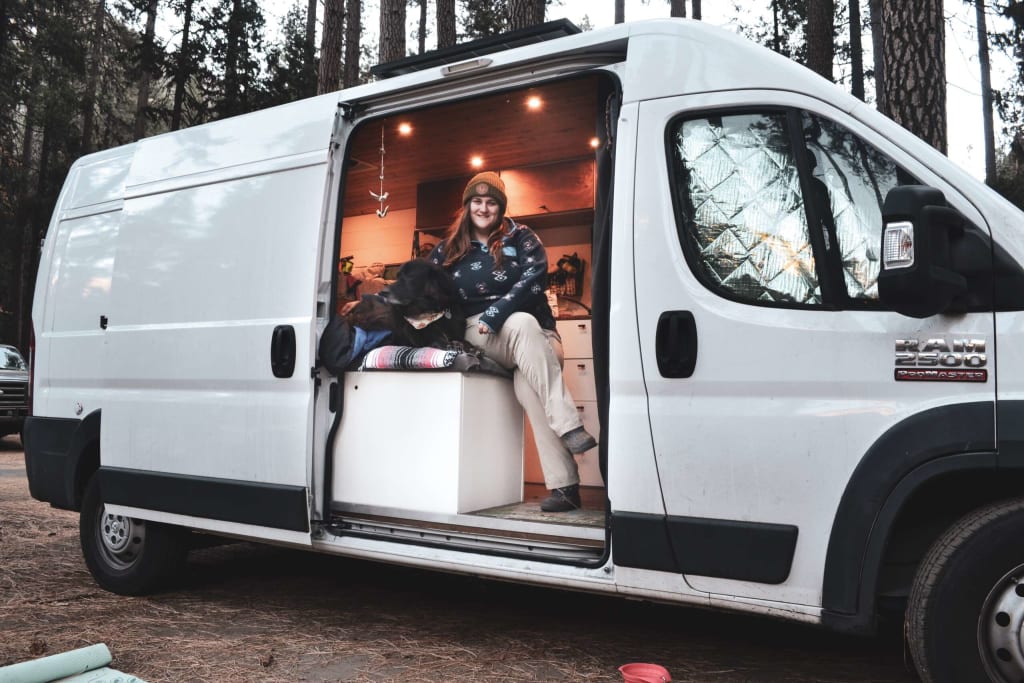 Photography: @naturemccalls
WHEN YOU HAVE TO LEAVE THEM
– Whether you need to shop for groceries or you're dying to check out a special restaurant, there are several options for ensuring your dog is well cared for.
– Rover, also known as the Airbnb of pet sitting, is the most popular service among van dwellers because it is simple and flexible.
– You can also drop your dog off at Petsmart in many cities for their Doggie Day Camp program.
– If you're visiting family and friends, ask if they'd be willing to watch your pet for a day while you explore some sights.
– If you want to hike national park trails where dogs aren't allowed, check whether the park has a kennel.
TRAINING AND ROUTINE
– Train your dog with basic commands as well as van life specific habits like waiting for permission to leave the van.
– Although dogs are only allowed to roam off-leash in certain places, it's still worthwhile to teach them to stay close and behave well off-leash so they can experience nature more freely.
– Try to keep factors like feeding times and the dog's special spot in the van consistent since so much around them will be new.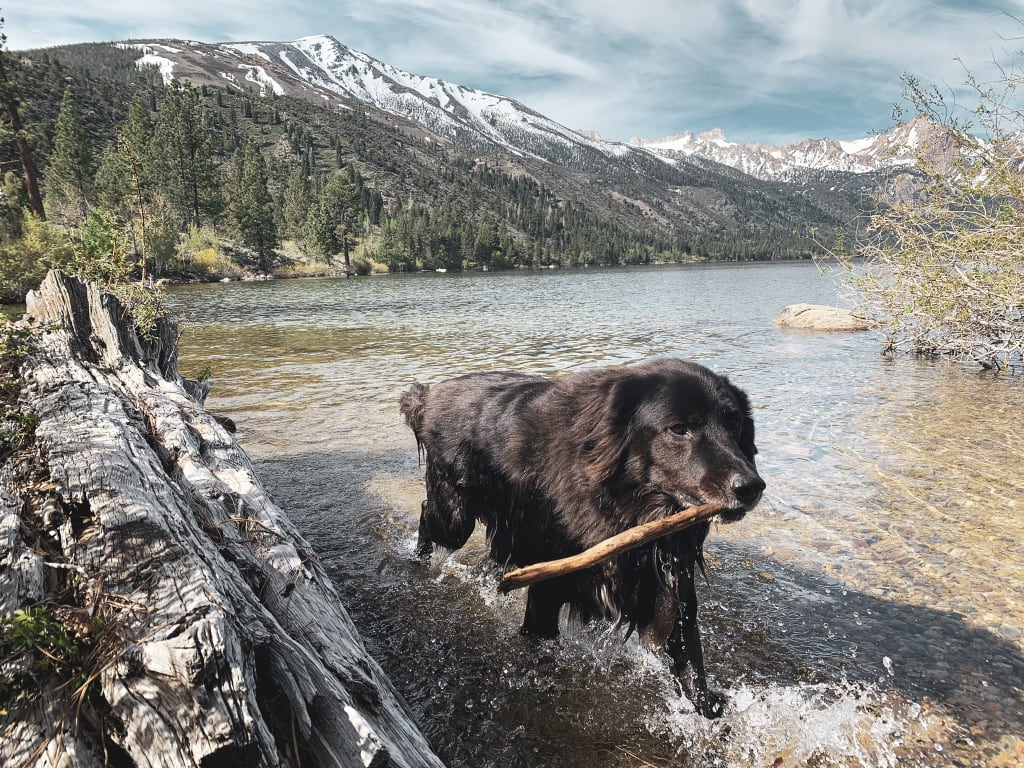 Photography: @naturemccalls
What supplies do you need for van life with a dog?
– Harness
– Short leash for walks
– Longer leash/tether for campgrounds
– Washable travel dog bed that can be used inside and outside
– LED light collar
– GPS pet tracker (optional)
– Dog waste bags
– Collapsible dog bowls for water and food
– Airtight dog food container
– Dog hairbrush (optional depending on breed)
– Small towel for cleaning muddy paws
– Medications (flea and tick, heartworm, etc.)
– Tick repellant (depending on location)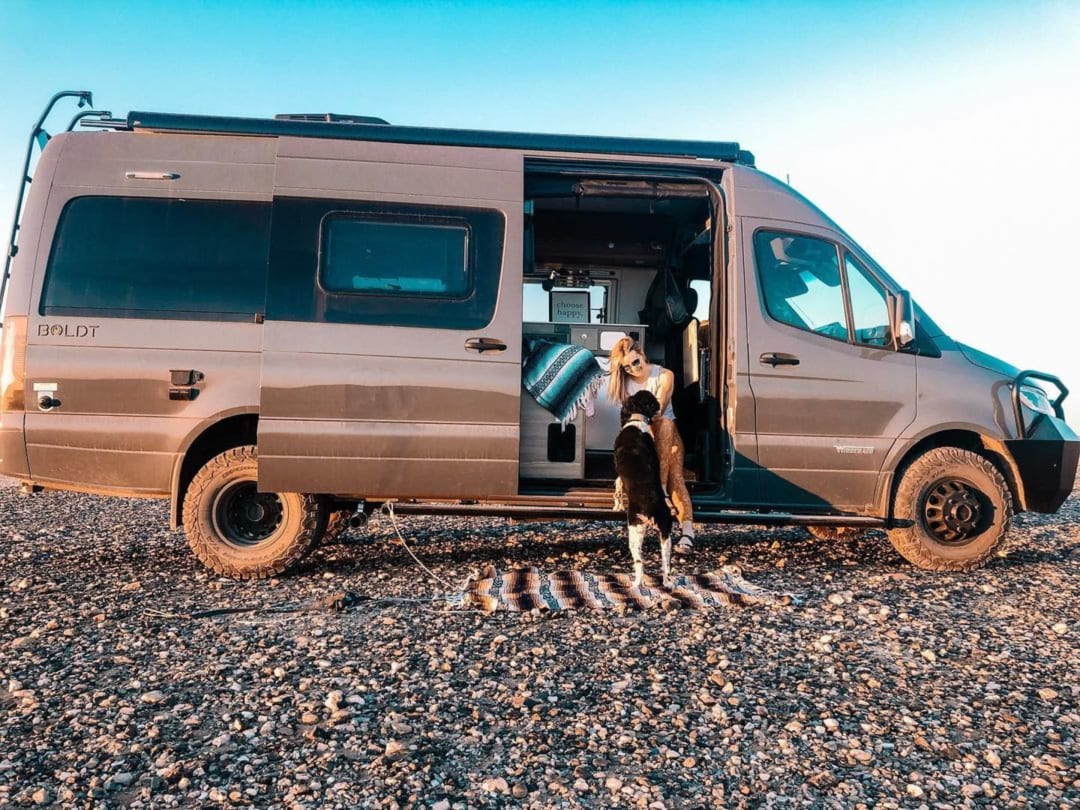 "Being a solo female van dweller, my pup gives me that extra sense of security knowing that she'll bark the moment someone comes near the van. The best part is I never feel alone and she's always down to go on an adventure! Dogs truly make everything better—I can't imagine traveling without my best friend." -Merrisa Petersen (@_girlgonenomad)
Are you ready to treat yourself and your canine companion to a lifestyle full of adventure? You can hit the open road in search of new sights (and smells) in one of our top-of-the-line camper vans. Find the perfect Rec Van for your needs here.