Shakshouka for Breakfast
We have a very serious question for you van lifers – who among us doesn't enjoy brunch? It was Guy Beringer who wrote, "Brunch is cheerful, sociale and inticity. It is talk-compelling. It puts you in good temper, it makes you satisfied with yourself and your fellow beings, it sweeps away the worries and cobwebs of the week…" and we have to agree. Afterall, it's the little things that often bring us the most pleasure.
Brunch falls under the category of activities we love, but who really wants to pay for overpriced eggs, especially when on a travel budget? To indulge in this communal ritual without breaking the bank, invite your fellow van buddies over for brunch and surprise them with a seemingly fancy but utterly easy (not to mention absurdly delicious) meal. We recommend cooking Shakshouka.
This very simple dish of poached eggs in tomato sauce has disputed origins. Some believe the dish originated in Turkey while others claim its roots are in Morocco. A third theory offers Yemen as the first rendering. Regardless of where it came from, we know one thing is for certain – this dish is one that pleases even the pickiest of eaters. While there are many variations of Shakshouka (and you should try them all) today, we're bringing you our own van-friendly version. For the full recipe continue reading. Also try saying Shakshouka three times fast.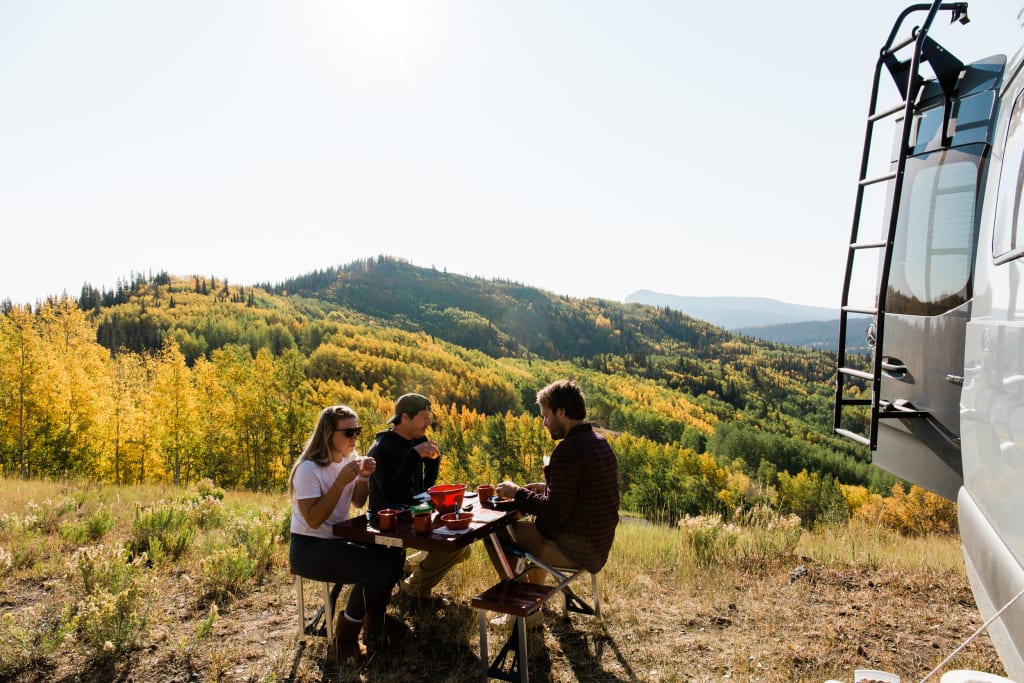 Shakshouka Recipe
What You'll Need:
– Van stove or camp stove
– Pan
– Spatula
– Can opener
– Bowl
Ingredients: 
– 2 tablespoons of olive oil
– 4 eggs
– 2 garlic cloves thinly sliced or fresh garlic paste
– 1 red pepper seeded and thinly sliced
– 1 white onion thinly sliced
– 1 can crushed tomato
– 1 teaspoon ground cumin
– 1 teaspoon paprika
– Cayenne pepper to taste
– 1 French baguette
Optional Toppings (not actually optional in our opinion):
– Avocado
– Feta
– Cilantro
Shakshouka for Breakfast
Recipe Directions: 
1. Cut the onion and bell pepper (seeded) into thin slices.
2. Heat oil in pan over medium heat. Add in onion and bell pepper. Cook down until veggies are soft.
3. Add in a generous amount of garlic. Cook for 3 – 4 minutes.
4. Stir in spices (cumin, paprika and cayenne) and let simmer for 1 minute.
5. Pour in can of crushed tomato.
6. Let dish cook until tomatoes are thick. Depending on what stove you're cooking on, this can be anywhere from 10 – 15 minutes.
7. With your spatula, make four holes in the tomato sauce for your eggs.
8. Crack each egg into its own separate hole.
9. Cover entire dish with foil and let cook for 10 to 15 minutes (again, length depends on your camp stove).
10. While your main dish is cooking, slice avocado and bread into dipping pieces.
11. Once eggs are fully cooked, remove foil and serve each person with one egg, sauce and veggies. Top with your favorite garnishes (we chose feta and avocado) and dip your bread into the dish to fully enjoy!
More Rec Van recipes will be coming soon! Subscribe to our blog to stay in the know on delicious taco recipes and so much more.