We all know about spring cleaning. It's a time dedicated to getting rid of things we don't need anymore, swapping out seasonal clothes in our closets, and generally hitting the refresh button to prepare for the upcoming months. Well, this post is our public service announcement that fall cleaning is just as important as its spring counterpart!
Doing a big cleaning at the start of each season will help keep your camper van looking and feeling new for years to come. Because vans are constantly exposed to the elements, there are various types of maintenance that need to be done at least biannually, if not seasonally.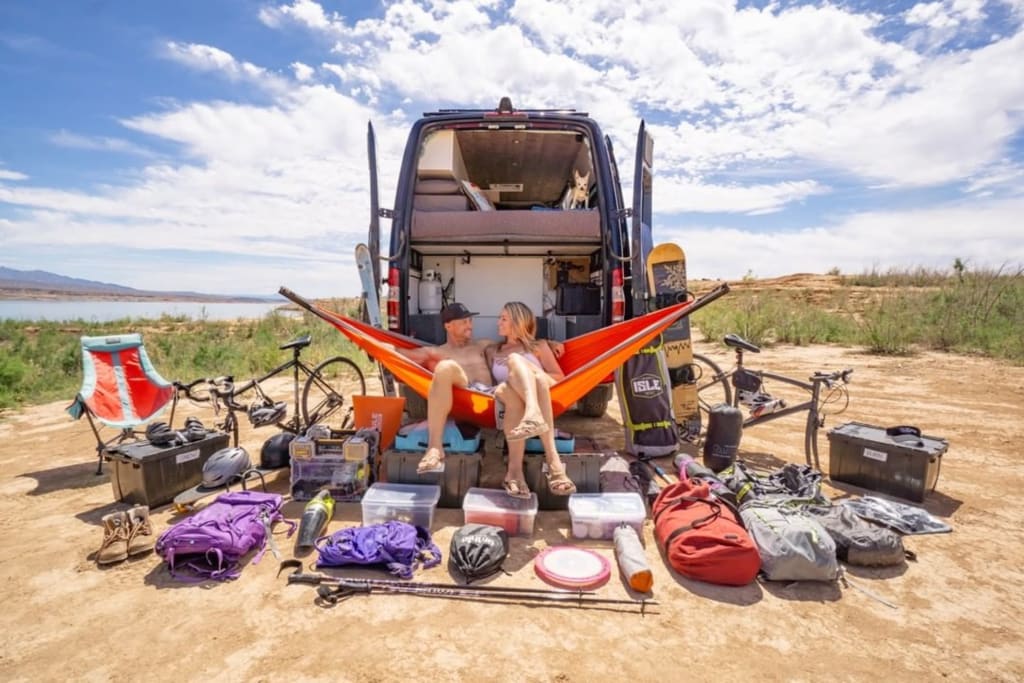 Photography: @van.there
Also, the small footprints of adventure vans mean your space can start to feel cramped as extra bits and bobs pile up. Have your minimalism ideals faded into more of a hide-everything-in-the-junk-drawer philosophy over the months? The start of a new season is the perfect time for renewed minimalist motivation. 
As we begin the transition into colder weather, you likely won't want to leave your van windows and doors open as often, meaning your living space should be set up to feel clean and cozy, rather than stuffy or dusty. To prepare for these colder months, take advantage of the moderate temperatures of early fall to air out the space, move things around outside, and clean your van exterior without your fingers going numb.
Ready to get started? Read on for everything you need to know about fall cleaning your van, from important maintenance considerations to little tips for getting in the festive fall spirit. But first, a quote from van dweller Shaandiin Cedar that will inspire you to actually appreciate the act of cleaning your trusty van.
"Often, van chores—including the less sexy moments in van life—are overlooked, but they are equally important. Van life can be messy, wild, and a constant cleanup project, but these moments force us to slow down and appreciate the things we have and how much (or little) we really need. In a life with many unpredictable moments, cleaning up is one of the few moments that are controllable and leave you feeling fresh and satisfied. Clean van life is happy van life." -Shaandiin Cedar, writer, climber, Indigenous climate activist (@shaandiiin)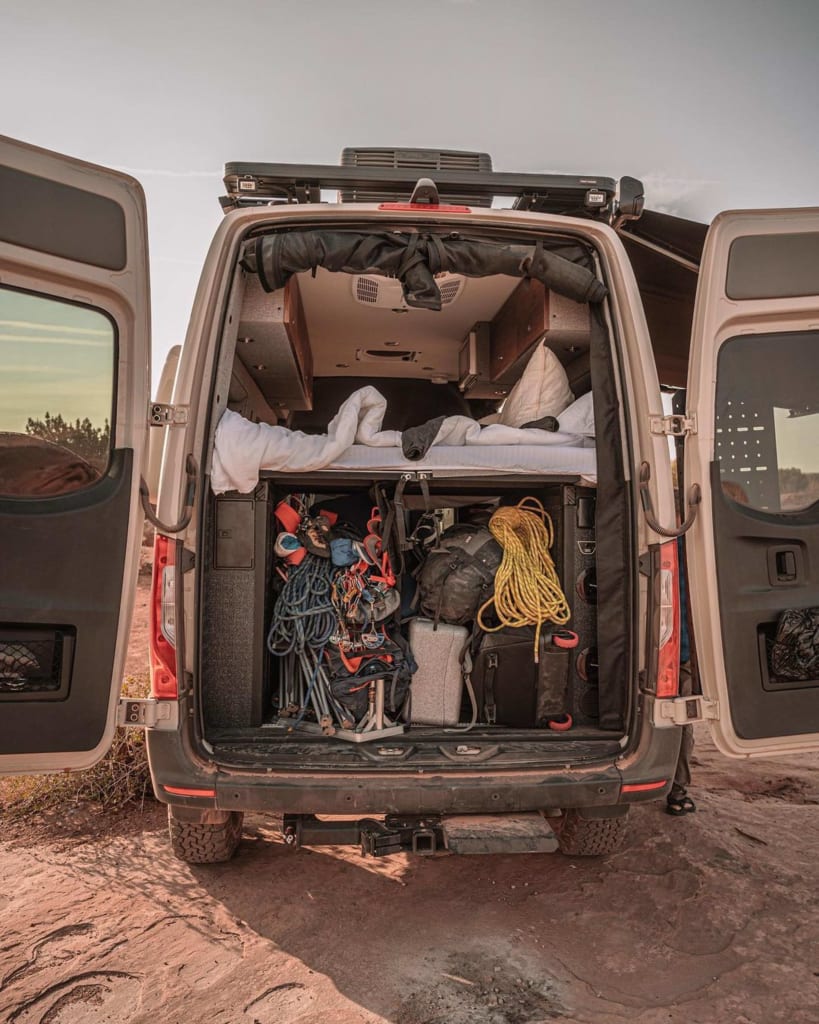 Photography: @storytelleroverland
SEASONAL GEAR SWITCH
Get ready for the season ahead by stowing away summer-specific clothing and recreational gear and bringing out all of your fall essentials. If you have a home base, you can swap out things like bedding and clothing so you don't have to store everything on board. Even if you don't have a home base, consider asking a nearby friend or family member if you can leave a bin of seasonal supplies in their garage. 
If you don't have the option of offsite storage, you can at least rotate your belongings in the van so the items you won't need for a while are stowed in the hardest-to-reach places. Can't decide which clothes to have in your closet for the fall season? Check out our post about creating a van life capsule wardrobe.
DEEP CLEAN
Sure, you may clean your van interior every week. But we're willing to bet that there are some cleaning jobs you rarely tackle. For fall cleaning, you'll want to go a step beyond your regular tidying up to create a clean slate for the season ahead. 
First, take everything out of your refrigerator and wipe down the interior with a mixture of two tablespoons of baking soda to one quart of hot water. Take the same approach with all of your cabinets and drawers, subbing cleaning wipes or a cloth dampened with a mild detergent for the baking soda solution. Tackle the other kitchen appliances, then move to the bathroom. There, you should scrub the toilet, sink, and shower to remove built-up grime and hard water deposits. 
Next, polish the rest of the space to perfection by removing any smudge marks on the walls, wiping down leatherette seats and other furniture, and cleaning windows. Vacuum or sweep your floors, then mop, paying special attention to often-forgotten areas where dirt can build up. Removing crumbs and other debris will help deter household pests that tend to seek shelter inside as the weather gets colder. For more tips on beating the bugs, visit our post. 
While this van-wide deep clean may sound daunting, we recommend focusing on one area at a time. One of the perks of a smaller space is that the job will get done more quickly than you might expect. Lastly, treat the exterior of your van to a spa day by getting it cleaned and detailed professionally or doing it yourself.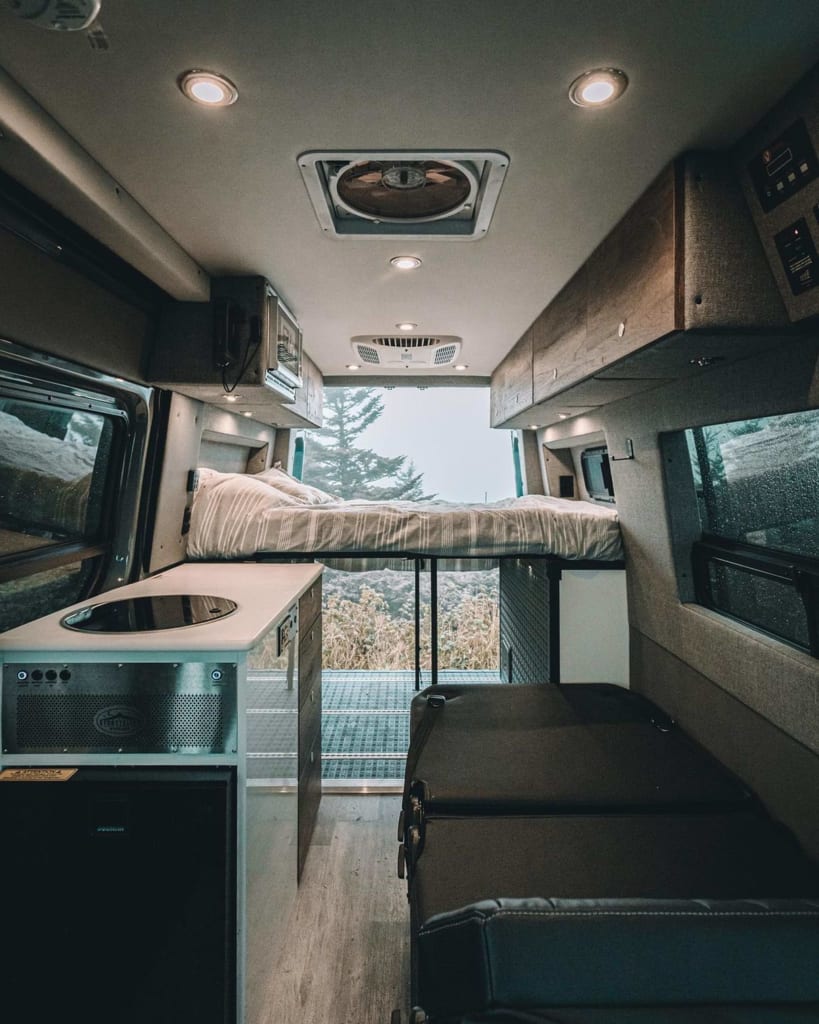 Photography: @storytelleroverland
DOWNSIZE AND REORGANIZE
Taking everything out of your cabinets, drawers, and closet creates the perfect opportunity for a hallmark of fall cleaning—downsizing. Nonperishable edible products can be donated to local food pantries, while home goods and clothes can be donated to thrift stores. If you have some special pieces of clothing that just aren't your style anymore, you can also sell them to resale clothing stores like Buffalo Exchange, which has locations across the U.S. Letting go of things that don't "spark joy," as organizing expert Marie Kondo advises, will bring more joy—in the form of simplicity—to your vanning adventures. 
The fact that you'll be taking everything out of the cabinets means fall cleaning is also an ideal time to reorganize. Take stock of whether the placement of items in your van makes sense for your current lifestyle. For example, if you keep all of your teas on the top shelf but know for a fact that you'll be craving more warm beverages very soon, you might want to move the tea box to a lower shelf. Looking to become an organization pro? Check out our tips for van life storage and organization.
VAN MAINTENANCE
Every van owner knows that their rig will require some TLC to stay in peak condition. Tasks like changing fluids and filters, caring for tires, and regularly flushing and sterilizing septic tanks will help prevent unpleasant surprises while you're on the road. Although you should be doing this essential maintenance fairly often, you can take your fall cleaning session as an opportunity to get on top of many of these jobs at once. 
There are also some seasonal maintenance tasks. For example, you should get your brakes inspected twice a year. Falling leaves, while beautiful, can build up on van roofs and cause damage, so check your roof periodically and remove leaves if they start to pile up. Before it gets cold, test out your system for heating your van. This will allow you to go on autumn adventures without any worries.
A fall cleaning is also an excellent time to fix anything that is broken or worn out in the van interior. Whether you need to mend a hole in a cushion or replace cracking rubber seals, taking care of tasks you've been putting off will be a relief—not to mention a nice upgrade to your van.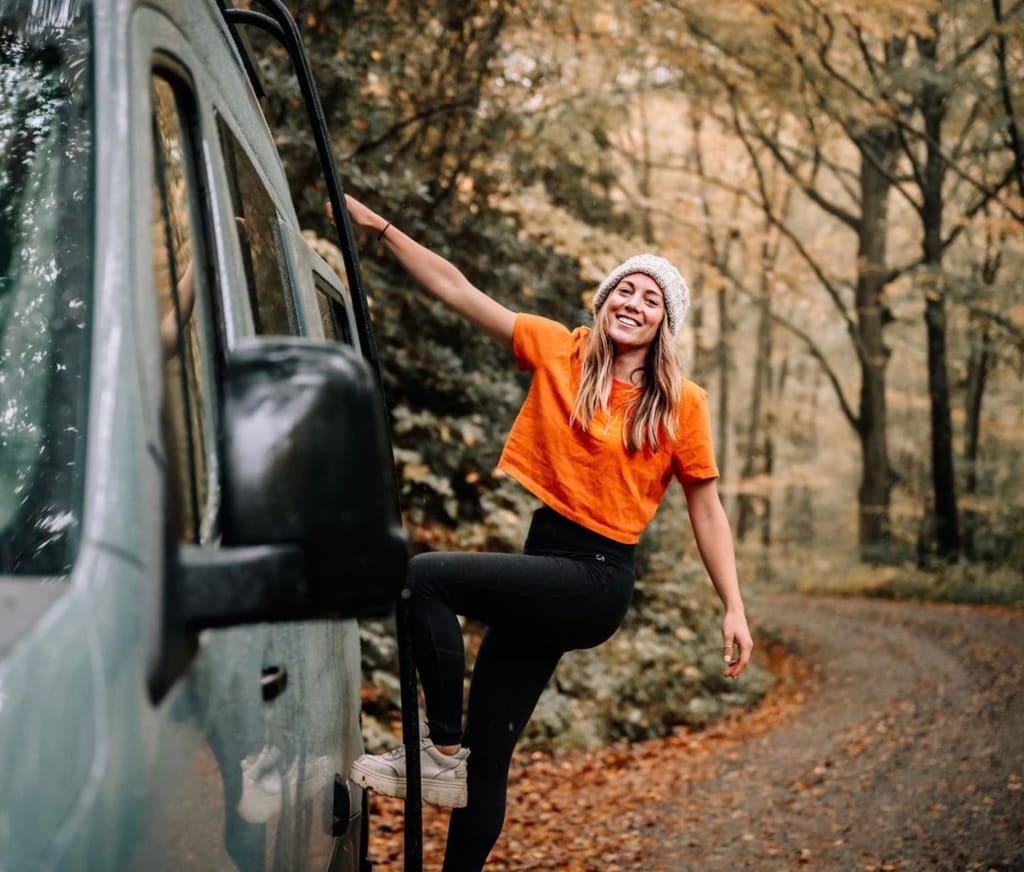 Photography: @storytelleroverland
COZY CAMPER
Reward yourself for all the hard work you've put into your fall cleaning with some special touches. Wash all of your linens for that crisp hotel-fresh feeling. Drape a cozy accent blanket across the arm of your sofa or the bottom third of your bed to signify the change in seasons. 
Heck, go further and do a bit of autumnal decorating. You can purchase mini pumpkins in a variety of colors from most grocery stores. The great thing about these little gourds is that they are inexpensive, can last on your counter for up to three months, and can be thrown away at the end of the season without guilt (unlike traditional decorations). 
Although cleaning can be satisfying in its own right, now you get to really enjoy your sparkling new space. Make yourself a cup of tea, put your feet up, and start envisioning all of the adventures you're going to embark on in your beautiful van this fall.
Note: When undertaking a fall cleaning, give yourself a reasonable amount of time. One week is a good rule of thumb. We also highly recommend tackling only one project at a time to avoid feeling overwhelmed. Completing each project will also give you a feeling of accomplishment and the boost of motivation needed to take on the next step.
Looking for your next destination? Learn about eight of the best national parks to see the changing fall foliage. Ready to join the van life revolution? Visit Rec Van today to shop a wide variety of top-of-the-line adventure vans.