For those thinking about hitting the road, one of the best options is a pop-top camper van. With that pop-top, you gain a lot more space in the camper van providing your family with more room to spread out once you reach your destination. There's also a lot of storage in these vans, which is great for those who plan to take them on a long trip and want to take all your gear from recreational toys and tools to just about anything else. Not to mention, pop-top campers just just look so cool.
As you consider these options, there are a lot of manufacturers out there, and sometimes it is hard to know which are truly the best solutions for your home and your budget. Depending on the way you RV and the features most important to your lifestyle, we recommend the following options. Check out the details below.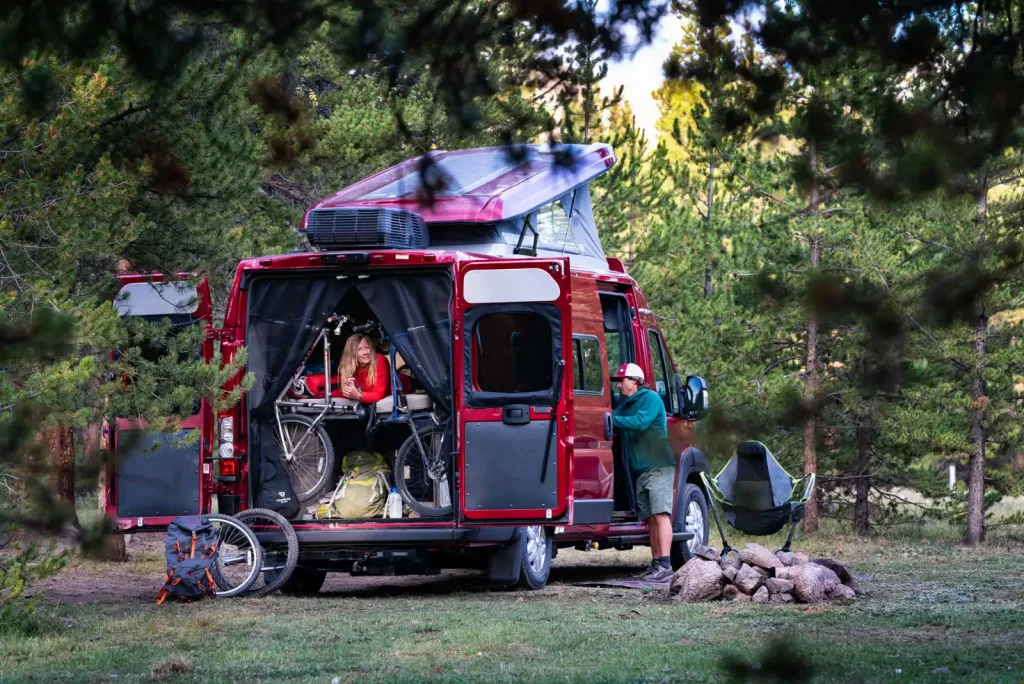 There's a lot to love about the Winnebago Solis. This Class B camper van offers lots of room to help you to travel in style but also with affordability in mind. One of the core features is the Ram Promaster chassis that's in the camper van, as it's super fuel efficient, which is so important to many of today's buyers. This is the gas-powered mini-motorhome that you've been dreaming about when you want a classic pop-top loft that's cozy enough for two people but has lots of seating for the group on the road.
The Winnebago Solis has a solar panel system as well, which helps you to stay powered up even when you are off the grid. It also stays nice and warm thanks to the added, all-season premium insulation it has. This model features a Murphy bed with storage below it, too. There's a two-burner range top with a glass cover, and if you like, you can add in an optional soft bed.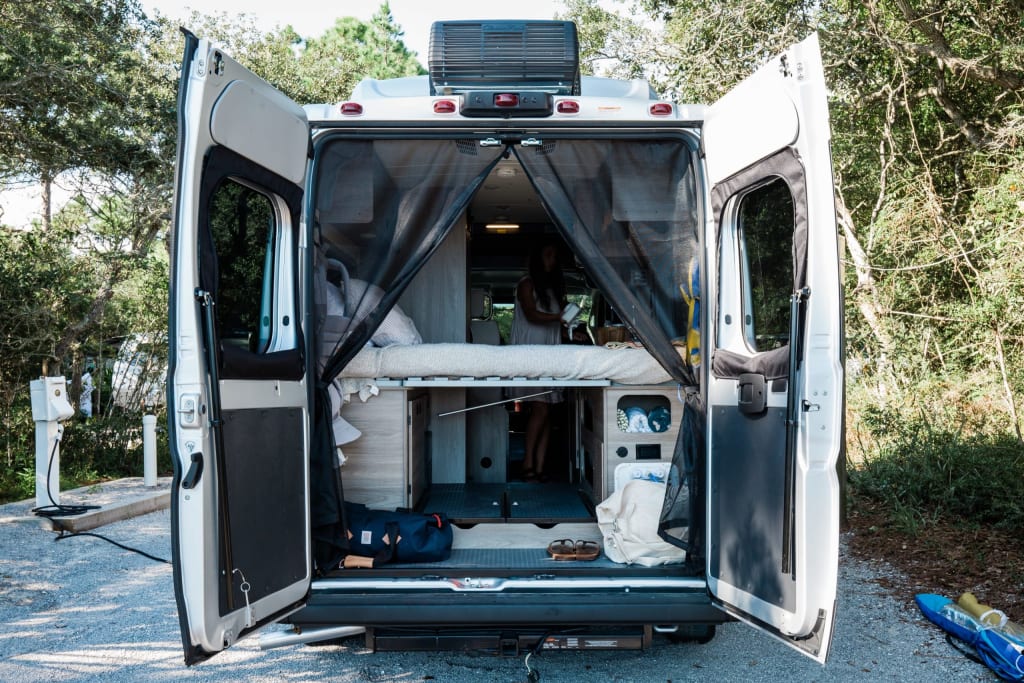 More Highlight Features:
3,500 pound trailer hitch to bring the other vehicle or your gear with you
Comfortable cab seats that swivel, recline and become your favorite seat in the house
LED Lighting throughout
12 volt powerpoints at various locations
Stainless steel sink for easy cleanup
Nice storage that's below the floor for just about any need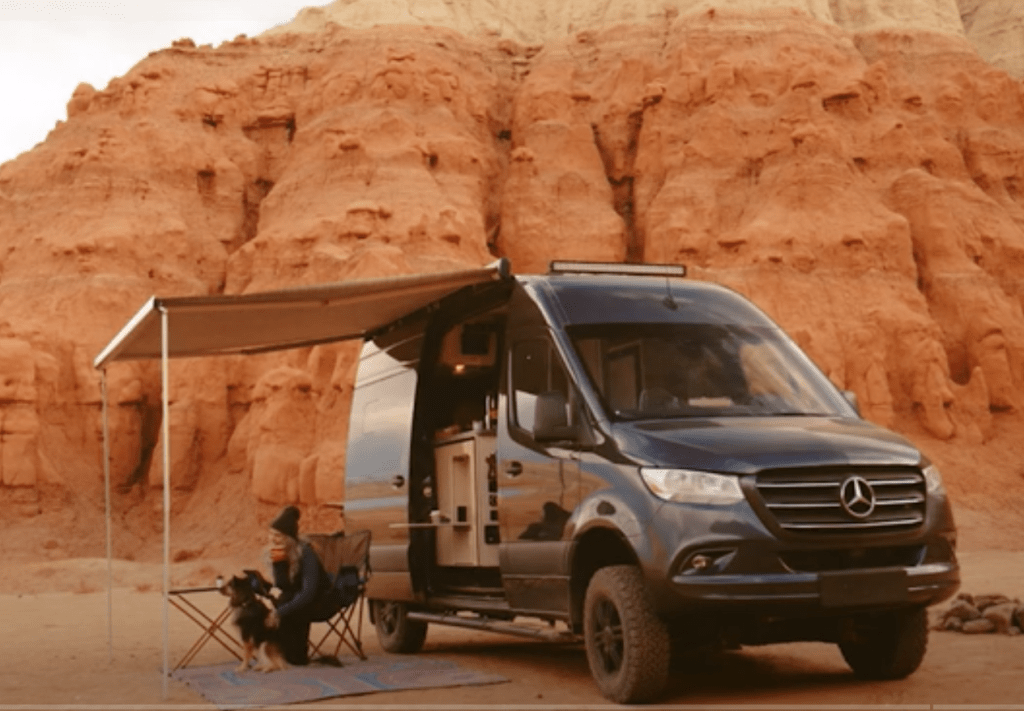 For those looking for a 20-foot, Class B camper van that keeps you on your toes (and on the road), the Thor Motor Coach Tranquility is the route to take. There is lots to love here in that it has a 4×4 chassis that has a 188HP diesel engine which is sure to be enough to get you up and over those rough mountain trails, especially since some models feature a 3.5L V6 gas engine to put the power behind the wheel.
One of the nice features about it is that it's an easy drive, not something that needs to be hard to maneuver or difficult to care for either. That engine is built on the Ford Transit chassis, which is noted for its durability and overall space efficient design. There's more to it as well, including a Thule rack system and bike rack available for the back door. The chairs are captain's chairs that swivel, and some that feature leather.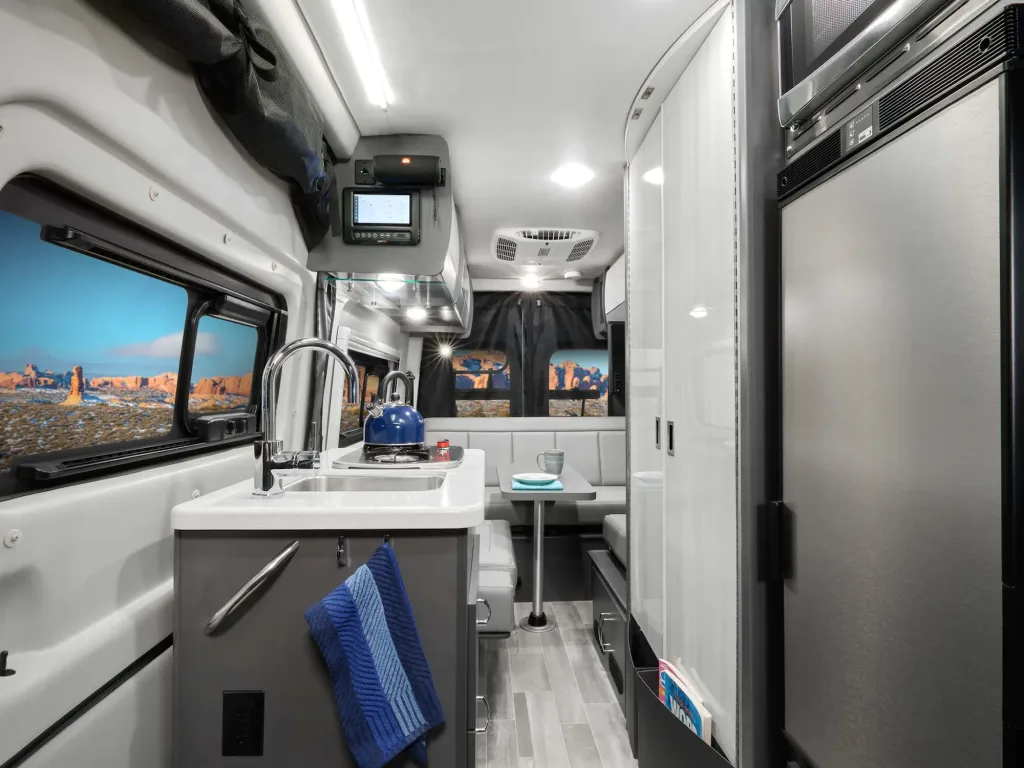 More Highlight Features:
4 Wheel Drive model
Fold-out electric rear sleeping area
Top mounted LED light bar that has a cover on it
3,500 pound trailer hitch for hauling almost anything
Thule Power patio awning system on some models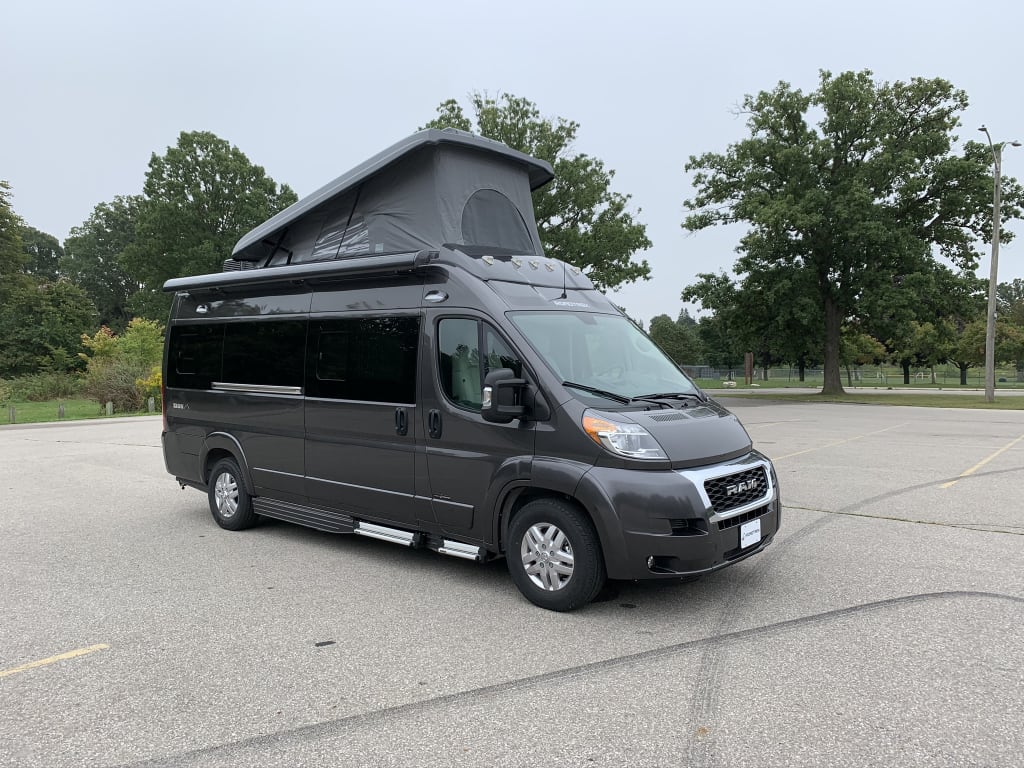 The Roadtrek Zion Slumber is a 20-foot, 9-inch pop top camper van that will impress with its overall features and designs. The pop-top roof creates a nice sleeping area, perfect for watching the stars at night. This also adds some added living space to the entire vehicle, which means more people on your trip.
The modern Roadtrek Zion Slumber is a high-tech RV that offers some nice amenities. Depending on the model purchased, you'll find it's built on the Ram ProMaster chassis, which gives you lots of power and performance for long road trips. There's a fully enclosed wet bath provided, a slide out pantry for easy organization, and an outdoor shower feature. In addition to this, it features the Firefly coach control system and a power patio awning. For those looking for everything they need, including a fridge, a 2-burner stove, and a microwave, this is the route to take.
More Highlight Features:
Pop top sleeping area is a must
Lots of storage in the system
Charging stations for personal items are built in
Some models are solar ready
Kitchen galley offers lots of space
Power sofa in the rear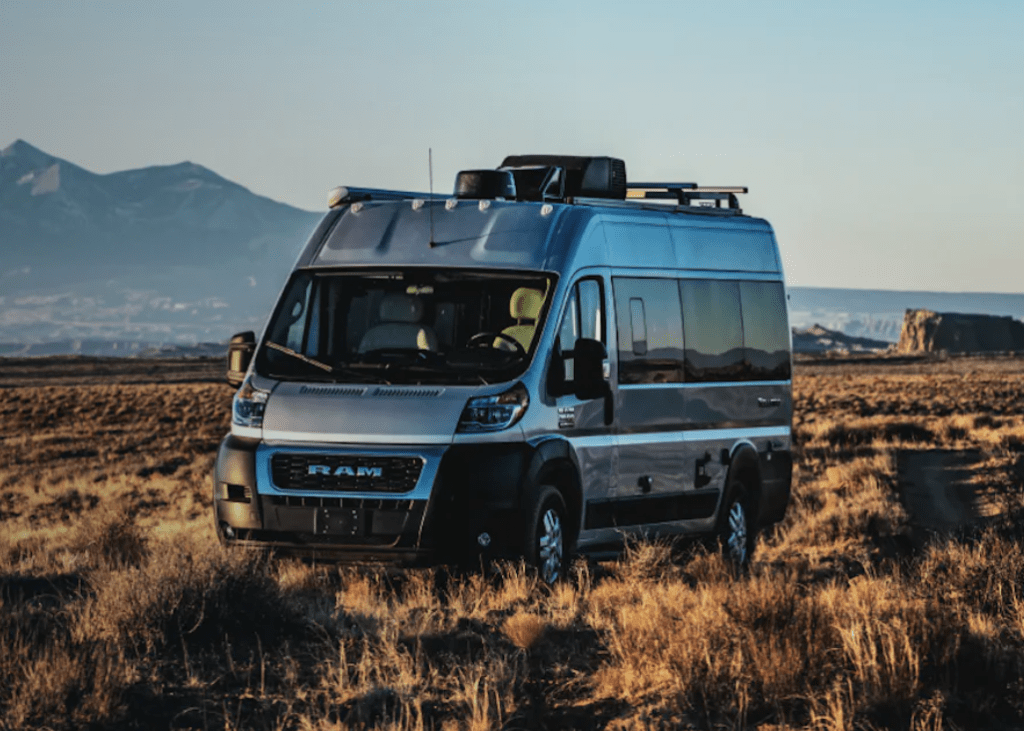 Start the adventure with the Thor Motor Coach Tellaro. This Class B gas motorhome is built on the Ram ProMaster 3500 XT chassis and gives you a V6 engine to power through the toughest of areas. It also features front-wheel drive to help improve overall handling in less-than-ideal circumstances. Depending on the model selected, you'll find nice features like a Thule bike rack and Thule lateral arm power patio awning with LED lights integrated into it. There's also a 7″ inch touchscreen dash system if you get the latest models.
This mini-motorhome is everything you need and then some. It has large windows along the sides that open for good ventilation. There's a booth dinette area, a large skylight in the living space to open up that area, and a foldable rear king bed. There are also twin beds that feature a Froli sleep system with adjustable headrests available.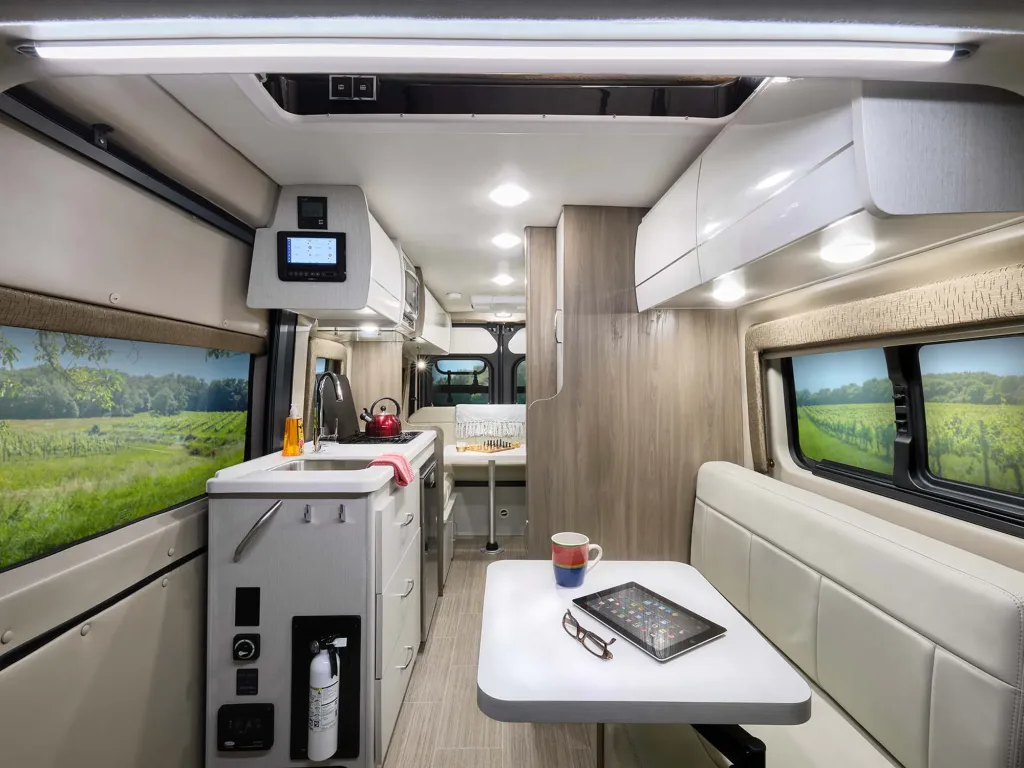 More Highlight Features:
Fully enclosed wet bathroom
1000 watt inverter
Sliding door with a window that opens
Sliding screen entryway
2 burner gas cooktop
Solar ready design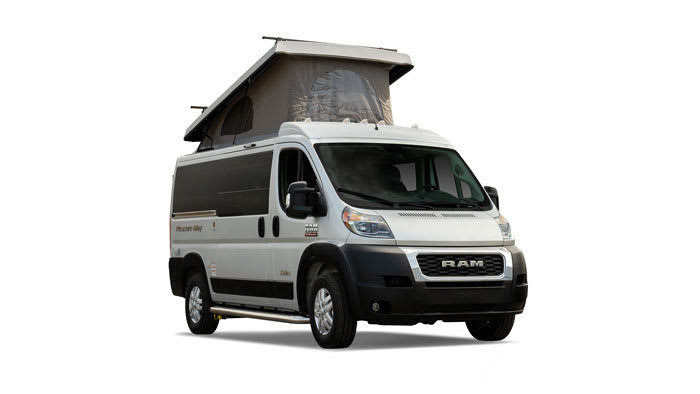 The Pleasure Way Tofino is an excellent choice for its minimalistic design and easy driving quality. Depending on the model selected, there are some outstanding sporty features here, including that this is a 17-foot, 9-inch chassis, which keeps fuel costs down while making the most of space. It offers a manual pop-top feature that opens up into a 49-inch by 72-inch overhead bunk that adds a second story of sleeping space.
This high-tech model features a 2000 watt inverter, a touchscreen control panel system with a remote, two 100Ah lithium coach batteries to keep it on the road, and a real time amperage meter. Though it's smaller than others, it is still one of the most comfortable experiences you'll have. Key features include the exterior spray port, the solar package (that's additional), as well as the side and rear door roll-up screens.
More Highlight Features:
LP BBQ quick connect
Galley kitchen with a sink along with an induction cooktop and a fridge
USB charging ports
Hardwood maple cabinet doors
Two separate sleeping areas
Sunbrella roof tenting
Which one is the best for your needs? To find out, you'll need to determine what you need for your next adventure. You can count on any of these pop-top camper vans to make your next adventure that much more enjoyable overall. Don't feel limited, but feel empowered.