Looking for a fresh, delicious, and clean meal to whip up while on the road? Today we invite you to explore our easy to assemble-go to healthy lunch recipe, arugula salad with berries. Check out the recipe details below!
This recipe is part of RecVan's YouTube cooking series: Get Cookin' RV Style. Each road recipe in this series has a short cooking video hosted by an engaging guest chef, who gives you a deeper look at how to make the recipe. Be sure to subscribe to our YouTube channel for notifications when each new recipe is released.
Disclaimer: RecVan has no connection to any of the companies, brands or products listed in this recipe, blog post and video, and does not receive any financial consideration from the companies, brands, and products mentioned. No endorsement of RecVan by the companies, brands and products mentioned should be assumed.
Ingredients (4-6 servings):
• 5 oz. Baby Arugula
• 4 oz. Goat Cheese
• 8 oz. Strawberries
• 6 oz. Blueberries
• 2 Tbsp. Balsamic Glaze  (made from scratch or purchased)
Balsamic Glaze (Made from Scratch):
• 1 cup Balsamic Vinegar
• ½ Tbsp. Honey  (optional)
Optional Add-ins:
• 4 – 6 oz. Chicken, fully cooked
• 2-3 oz. Red Onion, thin strips (about ¼ of a small to medium red onion)
• 1/3 cup Walnut pieces
Instructions (step-by-step):
1. If possible, make the Balsamic Glaze the day before or several hours before making the salad so that it thickens. Add the balsamic vinegar and honey (if using) to a small saucepan and bring it to a low-boil on medium-high heat.
2. Once the vinegar starts to boil, reduce the heat to medium or medium-low, and simmer for about 15-20 minutes until it's reduced to about 1/3 and lightly coats the back of a spoon. It will thicken more as it cools. NOTE: Reduction time depends on the surface area of your pan, your ground elevation, and other factors. A larger/shallower saucepan will reduce quicker due to more surface area.
3. Transfer the glaze to a mason jar or container and let it cool to room temperature. Leftover glaze can be stored in an airtight container for up to 3 to 4 weeks.
4. At the start of preparing the salad, rinse the strawberries and blueberries separately to remove any dirt, and let them air dry.
5. In a large salad bowl, place the entire amount of baby arugula.
6. If adding shredded chicken, place it on top of the arugula in the bowl.
7. Then sprinkle the optional red onion strips and walnut pieces on top of the salad.
8. Next, crumble the goat cheese over the salad using your fingers and/or a spoon.
9. Hull and slice the strawberries lengthwise.
10. Top the salad with the strawberries.
11. Then top the salad with the blueberries.
12. Drizzle the top with the 2 tablespoons of balsamic glaze, or to taste. Do not toss this salad…it serves beautifully just drizzled and left as is.
Storage:  Leftover salad can be stored for several days in the refrigerator.
Start-to-Finish Time:  30 minutes for the balsamic glaze & 15-20 minutes for the salad
Cooking Tools Needed:
• Saucepan
• Liquid measuring cup
• Measuring spoon set
• Whisk or cooking spoon (for stirring the balsamic glaze)
• Mason jar or airtight container (for storing balsamic glaze)
• Hand strainer or colander (for rinsing berries)
• Large salad bowl
• Cutting Board
• Kitchen knife set
• Measuring cup set (for adding nuts)
Nutrition Facts: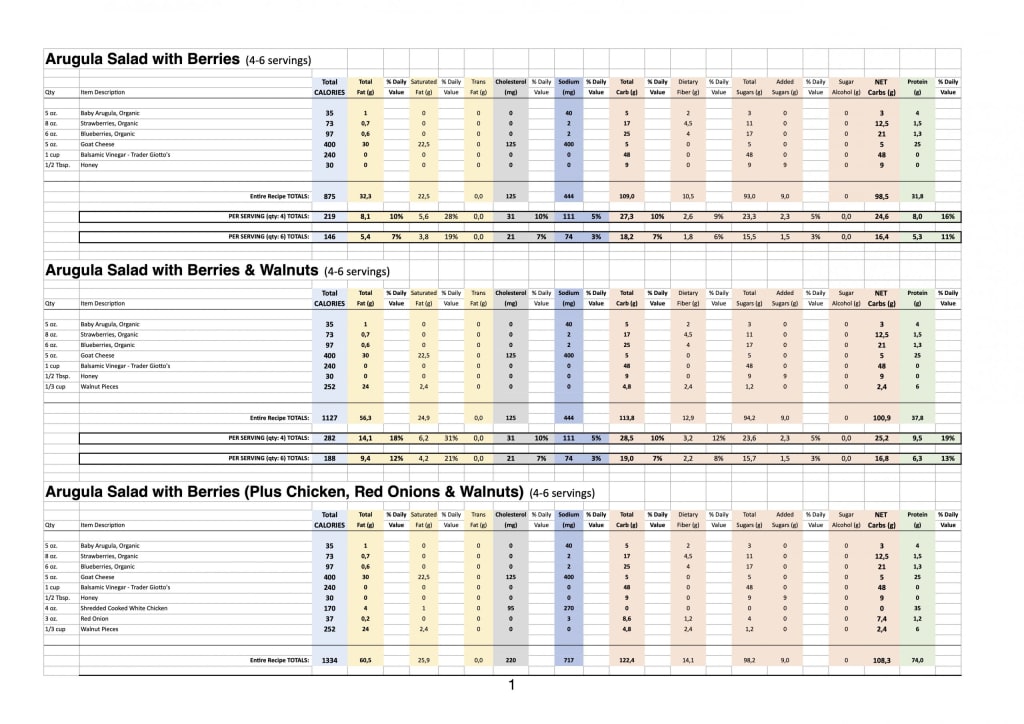 Looking for more Get Cookin' recipe videos to change up what you eat while RVing? Click here for our YouTube playlist.