Looking for a van that provides comfortable, luxurious living, yet can still handle rugged off-roading adventures? How about a van that deftly deals with year-round weather conditions and protects you and yours with state-of-the-art safety features? The 2022 Entegra Coach Launch ticks all these boxes and more.
The Launch exemplifies the type of adventure van that customers are seeking out today. It not only fits into modern, minimalist, and nomadic lifestyles but enhances them with innovative technology and beautiful amenities you probably haven't seen before in a camper van.
Want to learn more about what sets this van apart from the competition? Keep reading for all of the factors that make the Launch the van of the future.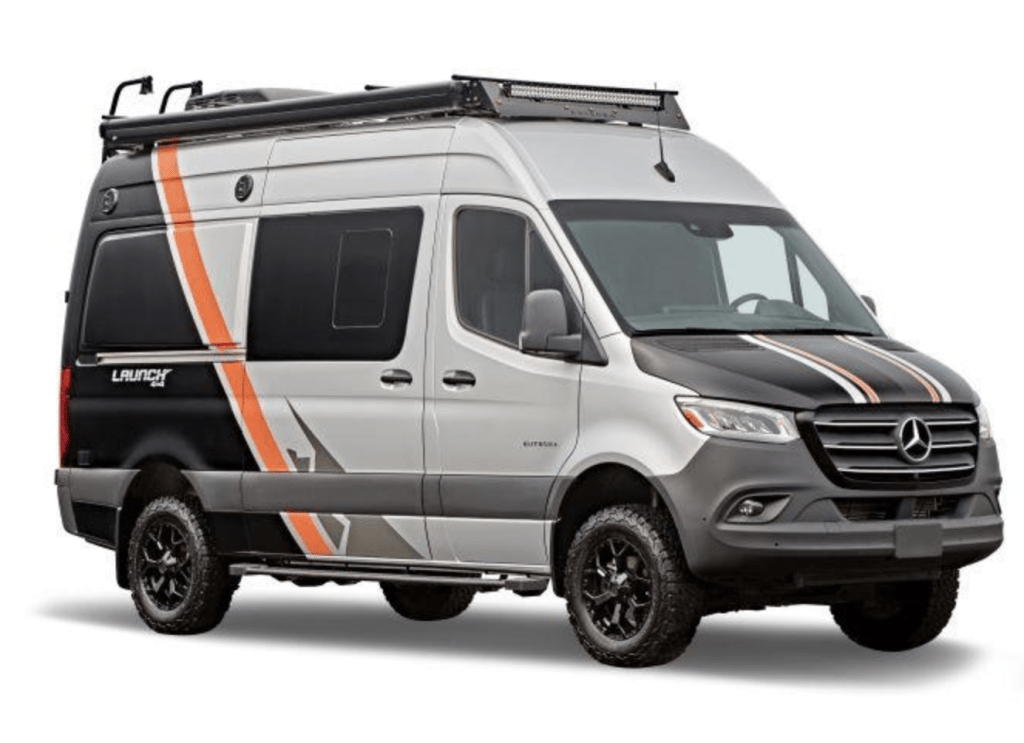 Why Entegra Coach?
Entegra Coach's motto, "adventure in comfort," says it all. This company has over 50 years of history under its belt as an industry leader in luxury motorhomes. More recently, Entegra Coach has branched out into Class B RVs, applying their trademark combination of off-road capabilities and luxury amenities to a smaller, more nimble vehicle.
What we Love About the Entegra Coach Launch
With the 4×4 Launch, you can easily access remote locations that other travelers just can't reach. Ramble through a wide variety of terrains and weather conditions for year-round and country-wide traveling. Camp in comfort along the way in a well-appointed interior with plenty of storage and style. Last but not least, the Launch's high-tech safety features will protect you on the road.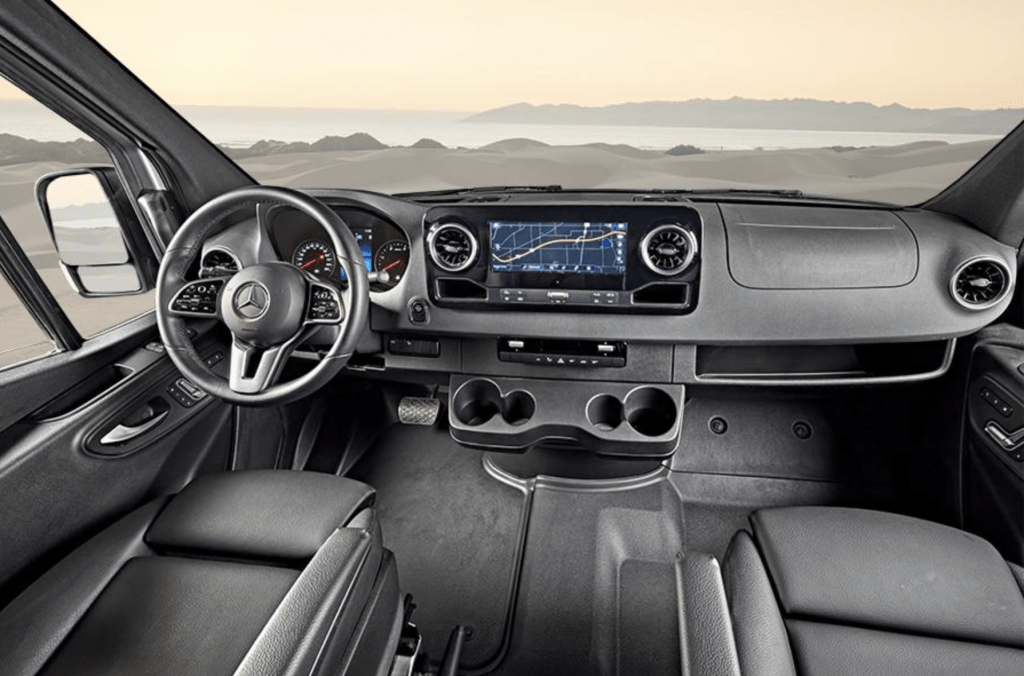 Off-Road and Off-Grid Adventures
Thanks to four-wheel drive and rugged all-terrain tires, the Entegra Coach Launch can take you just about anywhere on your wish list. The van also has a 3,500-pound rear hitch receiver, which means you can bring along a small boat for a lake vacation or even tow another vehicle for day trips in big cities.
The van's off-grid technology, including a 48V lithium power system and 200 watts of solar power, offer self-sufficiency while boondocking. With its durable rubber flooring, the Launch doesn't mind if you track in some dirt or water after a long day of exploring.
All-Weather Comfort
Speaking of the elements, this van is well-equipped for whatever mother nature throws at it. Travel safely on cloudy days with a rain-sensing wiper system. The convenient armless patio awning is also equipped with a wind sensor that prevents damage. Winter sports fanatics will appreciate the van's winterization drain system.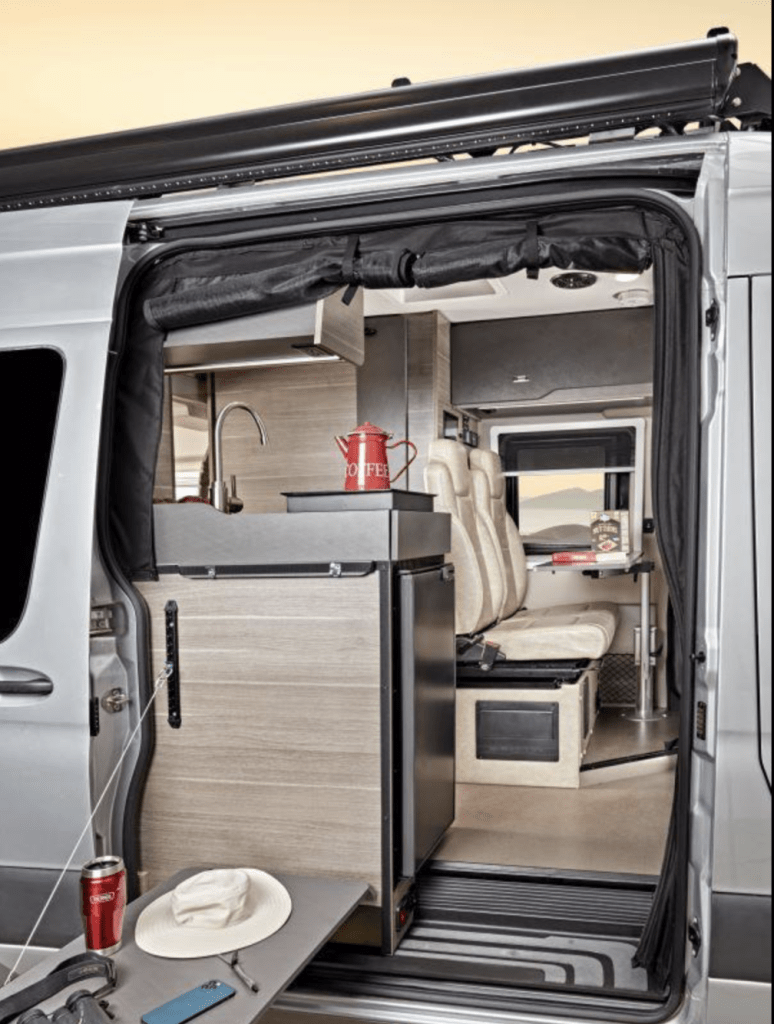 Luxurious Details
Some say that the joy of life is all in the contrasts. A hot shower feels wonderful after a walk in brisk weather. A homemade meal tastes better after an adrenaline-filled day of outdoor sports. With the right camper van, you can enjoy a comfortable mini home that, unlike tent camping, allows you to recharge for endless adventures.
In this way, the thoughtful design details of the Launch make van life more enjoyable and sustainable. These details include heated swivel passenger and driver seats, a smartphone tray with wireless charging, the user-friendly Firefly Multiplex command center, and a fold-down exterior table.
The list goes on–get the best of indoor/outdoor living with adjustable screen doors for both the side and rear doors of the van. Feel like a chef with the Launch's sleek stainless steel sink and portable induction cooktop, not to mention pull-out extensions for the countertop and pantry.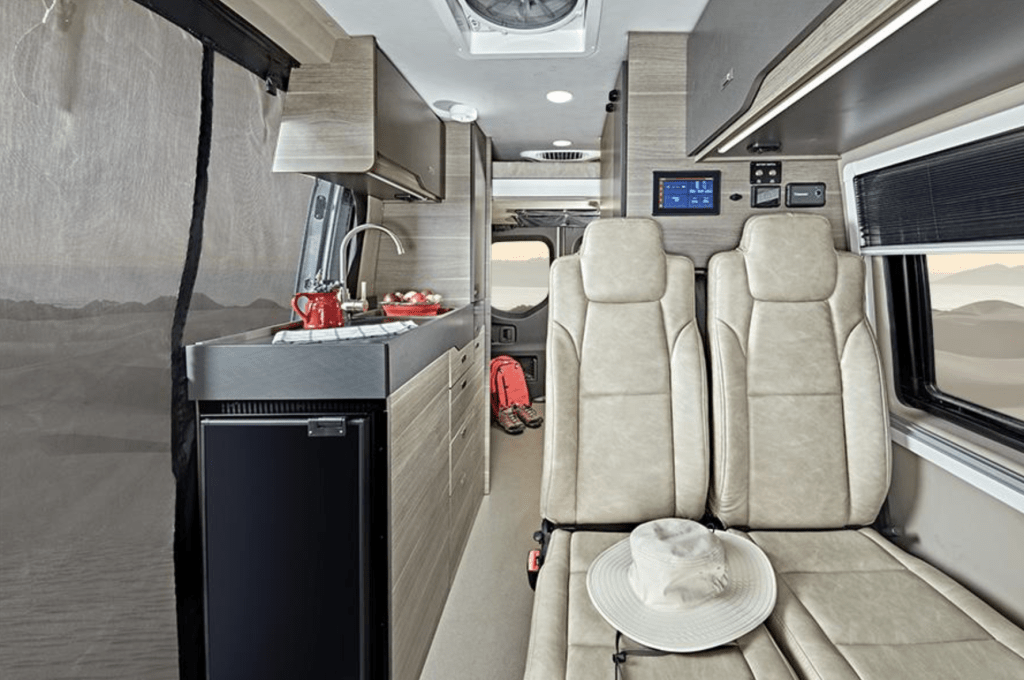 Smart Storage
Good storage is a must-have in any camper van, and the Entegra Coach Launch does not disappoint. In fact, Entegra Coach is leading the pack with some features that are rarely–if ever–seen in vans made by other companies.
You may have seen dropdown overhead beds with storage underneath, but you probably haven't heard of this bed's other defining feature–fiberglass pods carved out of the van's walls on either side of the bed to provide more room for getting a great night's sleep. Likewise, you may have seen something like the removable bamboo shelves that turn the bathroom into a storage closet when not in use, but you'll be pleasantly surprised by the retractable clothesline in the shower. The Entegra Coach team has truly thought of everything when it comes to keeping all of your belongings on board.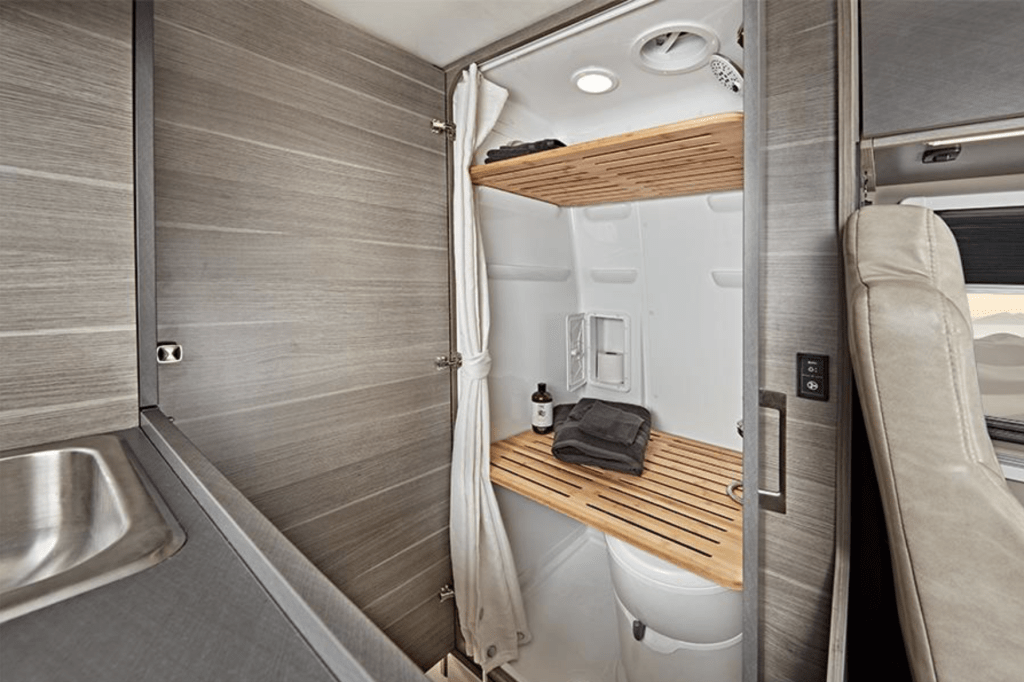 Streamlined Aesthetics
Despite its ability to hold plenty of clothes, gear, food, and cooking utensils, the Launch won't feel cluttered thanks to a modern and streamlined interior design. Technoform European-style cabinets stow your stuff, while the "Serenity" decor style adds all of the calm its name suggests. One of the Launch's best features when it comes to design is that the minimalist interior puts all of the focus on the picturesque landscapes outside your windows.
The fresh design continues on the exterior of the van. Opt for the classic standard option or show some personality with partial paint in two colorways. The partial paint design is made up of diagonal swatches of color that nod to the retro early days of vanning in a decidedly modern way.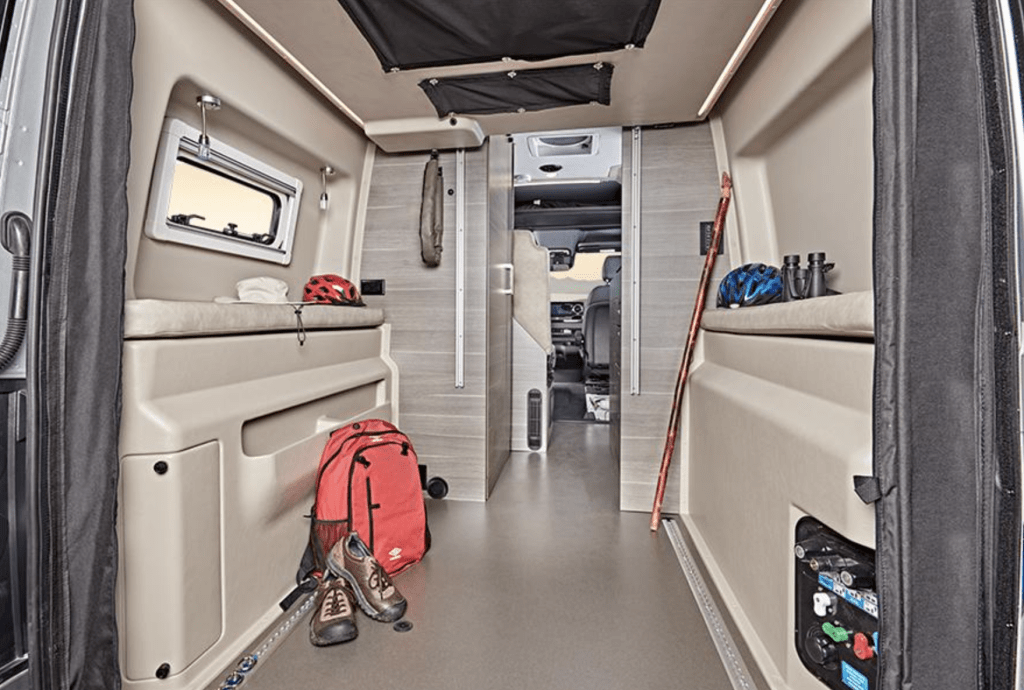 Top-Notch Safety
Whether you're on the road for summer vacations or full-time van life, the safety features of your rig are key. The Launch makes defensive driving easy with technology like the lane-keeping assist, blind spot assist, and traffic sign assist. Plus, you can safely travel with up to four people thanks to the van's two additional cab seats with seat belts (which double as extra seating for the collapsible dinette table).
The best camper vans combine creature comforts with powerful outdoor capabilities. It is this perfect blend that allows van dwellers to happily venture further afield, for longer periods of time, and with more freedom and flexibility than other types of travelers can dream of. With all of the features discussed above–along with many others that we simply don't have room to list–it's easy to see that the Entegra Coach Launch embodies this "best of both worlds" approach.
Ready to get the keys to your own Launch? Visit Rec Van for our inventory.