From magical waterfalls to breathtaking hikes, Asheville, North Carolina is an outdoor paradise. If you're looking to escape the hustle and bustle and enjoy some fresh mountain air, this area has what you need. While it may sound surprising, Asheville is one of the most ecologically diverse places in the nation.
While you can find 5-star hotels in the region, nothing beats setting up camp in your van! And luckily, the area provides several campgrounds to make this dream a reality. Keep reading to learn more about Asheville, including where to stop along the way, what outdoor activities to enjoy, and how to experience this area to the fullest!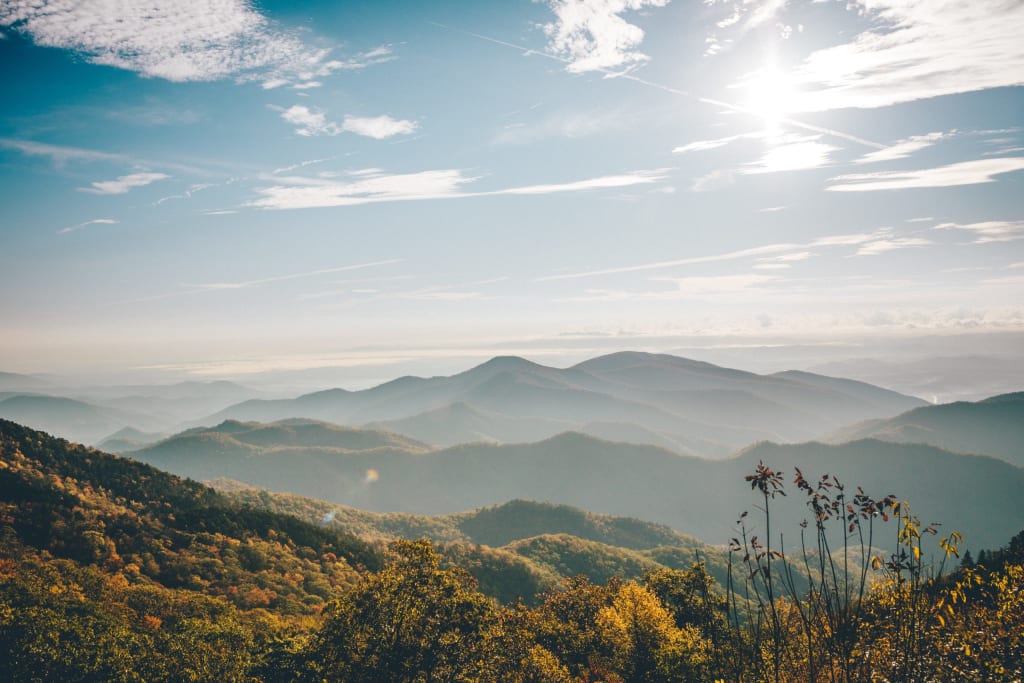 About Asheville, North Carolina
Surrounded by the majestic Blue Ridge Mountains and the Great Smoky Mountains, Asheville is one of the most beautiful places in the country. While the metropolitan area consists of 360,000 people, you can find tons of seclusion within the mountains. With more than a million acres of protected land, this wilderness offers plenty of hiking, biking, camping, and more! No matter what time of year you visit, Asheville can provide memories to last a lifetime.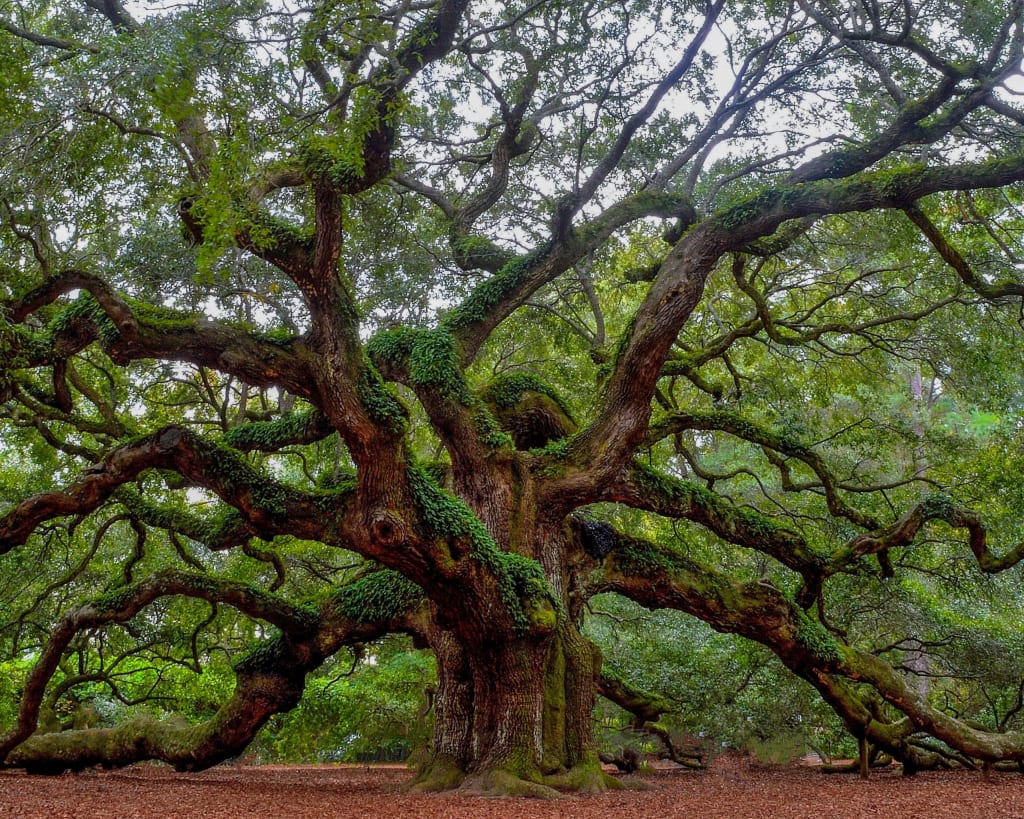 Where to Stop Along the Way
Before you arrive in Asheville, we recommend making these stops along the way.
Driving North
You'll find tons of adventure to the south of Asheville. In South Carolina, consider making a stop in Johns Island to see the Angel Oak. This giant tree is said to be 1500 years old! Also, make a stop at Falls Park on the Reedy in Greenville. Here you can see a beautiful waterfall. If you're driving through Georgia, here are some awesome places to check out:
• Driftwood Beach on Jekyll Island
• Hiking at Arabia Mountain
• Camping on Cumberland Island
Heading West
From Asheville to the coast, adventure can be found all around. If you like stunning beaches, you're in for a treat. In South Carolina, consider stopping at Hilton Head, Kiawah Island, or Sullivan's Island. These are rated as the top beaches in the area! Just hours east of Asheville, you can find several astonishing beaches to relax and unwind. This list includes Emerald Isle, Bald Head Island, and Wrightsville Beach.
Driving South
If you're driving south towards Asheville, be sure to save some time to explore. In Ohio, Hocking Hills State Park is a fantastic place to check out. This area features gorgeous rock formations, scenic hiking trails, and even a few waterfalls! If you're cruising through West Virginia, consider stopping at Coopers Rock State Forest, New River Gorge, and a portion of the Appalachian Trail. Come during the autumn months to see some fabulous fall foliage!
Heading East
When headed east towards Asheville, consider stopping by Mark Twain National Forest just outside St. Louis, Missouri. Here are the most popular areas to check out:
• Onondaga Cave State Park
• Dogwood Canyon Nature Park
• Taum Sauk Mountain
These destinations feature waterfalls, caves, and remarkable views. If you're cruising by Arkansas, you have to check out the hot springs in Hot Springs National Park. This is the perfect place for some soothing relaxation. Another top attraction in the state is Garvan Woodland Gardens.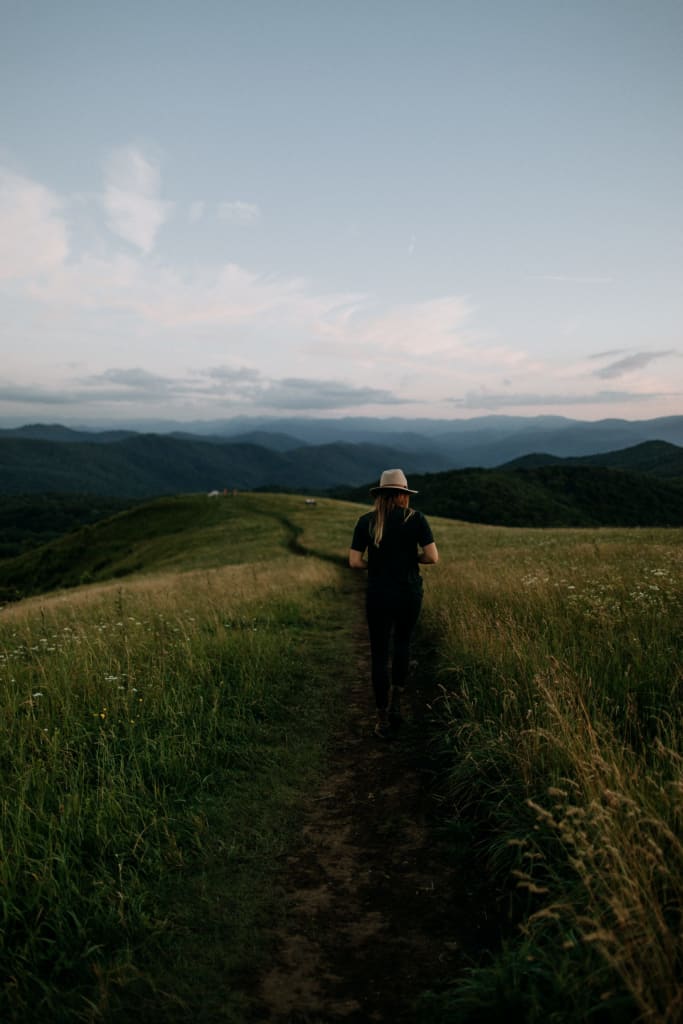 Find a Plethora of Outdoor Adventure in Asheville!
Asheville is a must-see adventure destination. Whether you enjoy heart-pounding hikes or relaxing by the water, this area has something for everyone. Here are Asheville's top outdoor attractions:
Hiking
Hiking is one of the most popular activities in the Asheville area. There are short trails to waterfalls, long multi-day backpacking excursions, and peaceful strolls through the meadow. If you're searching for wonderful views, head over to Deep Gap Trail, Max Patch Hike, Mount Pisgah Trail, or Sam Knob Trail. If you prefer staying close to the city, consider these routes: Hard Times Loop Trail, Lunch Rocks Trail, or Wildcat Rock Trail. These are located just minutes from Asheville and close to many campgrounds!
Biking
If biking is on the agenda, Asheville is the place for you. Whether you're a beginner or advanced biker, this area has several options for all ability levels. While the fall months provide pleasant temperatures with beautiful fall colors, biking around Asheville can be enjoyed at any time of the year.
Check out these top biking areas around Asheville:
• Bent Creek Experimental Forest
• Carrier & French Broad River Park
• Daniel Ridge Loop & Falls
• Beech Mountain
• Tsali Recreation Area
Asheville is the perfect place for hopping on a bike and exploring the diverse landscapes!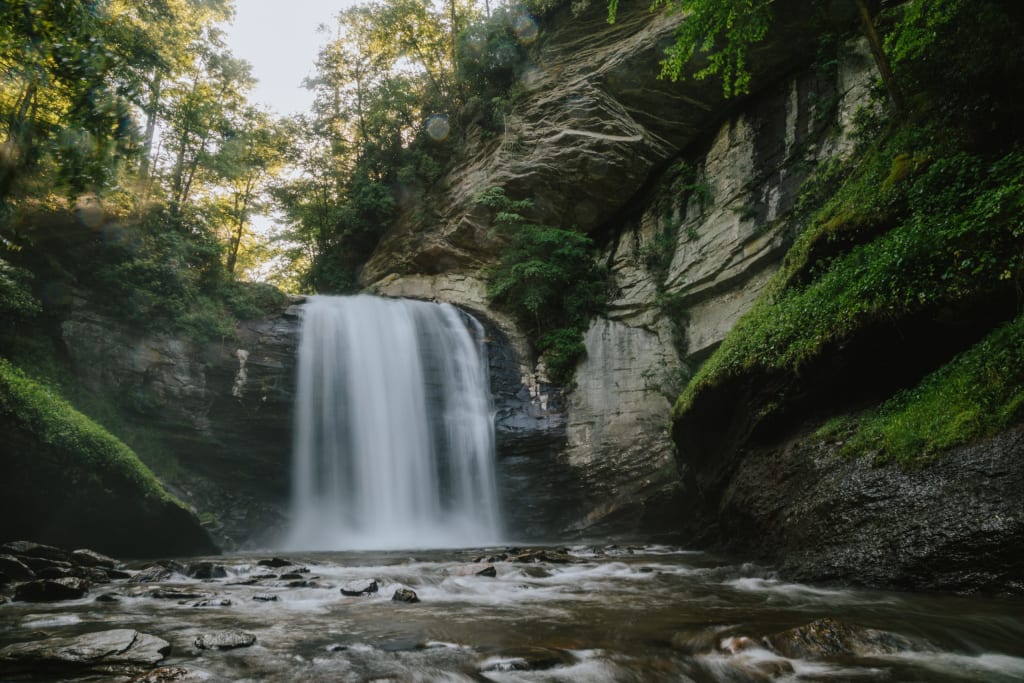 Scenic Drives
Asheville has some of the best scenic drives in the country. From waterfalls to fall colors, epic views are found everywhere. If you take a drive to Pisgah National Forest, you can see the magical Looking Glass Falls right outside your window! Another famous scenic drive in the area is along the Blue Ridge Parkway. Look for Looking Glass Rock, Black Balsam Knob, and Graveyard Fields, which all feature excellent views! If you come during the fall months, you can't miss the breathtaking autumn scenery at Grandfather Mountain and Craggy Gardens.
Wildlife Viewing
From black bears to gorgeous birds, several different species call the Asheville area home. One top wildlife destination is Cataloochee Valley in the Great Smoky Mountains, which provides the perfect opportunity to see massive elk. Some of these majestic creatures weigh up to 900 pounds! If you're looking for a bird-watching adventure, head over to Douglas Falls, Chimney Rock, or Beaver Lake. You may witness Peregrine Falcons, Bald Eagles, and Great Blue Herons!
Waterfall Exploring
People come from all over the world to see the waterfalls in the Asheville area. And many of these falls are within a few miles of several campgrounds!
Here are some of the coolest waterfalls in the area:
• Dry Falls
• Crabtree Falls
• High Falls
• Rainbow Falls
• Mingo Falls
• Chasteen Creek Falls
If you love waterfalls, Asheville is the place to be. Be sure to stop by as many of them as possible!
Camping
With adventure around every corner, the area offers several campgrounds for your convenience. Luckily, many of them are found just minutes away from the area's top attractions!
Here are some awesome campgrounds to consider:
• Mama Gertie's Hideaway Campground
• Kinderhook Hollow
• Wilson's Riverfront RV Park
• Grumpy Bear RV Park
Several campgrounds in the area have RV hookups, making your life that much easier on the road. Some of them even have showers, grills, and other sweet amenities!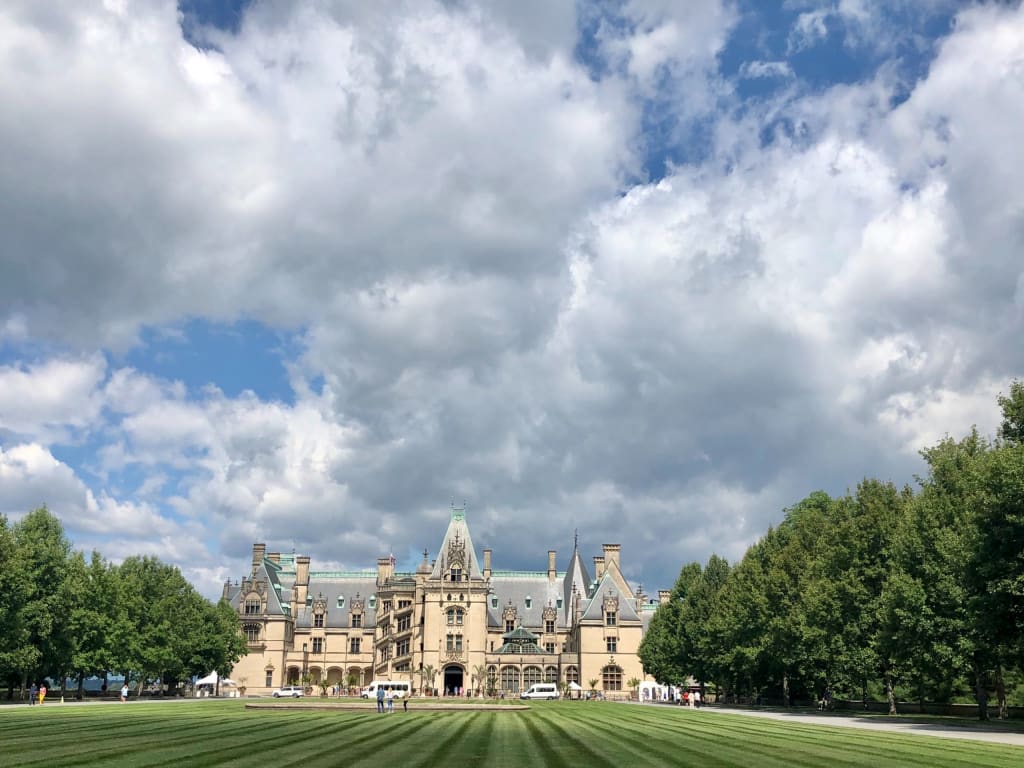 Travel Tips
Here are some insider tips to make the most of your trip:
• The area has over 30 different breweries, so get out there and try some delicious local brews!
• Experience Van Gogh Alive at Biltmore—it's a visual display you won't soon forget!
• Try the local cuisine—this area is a top culinary destination
• Winters are generally mild, but plan for low temperatures below freezing
• The summer months are warm and humid with high temps in the 70s and 80s—so plan accordingly
• Given the remarkable fall color display, the autumn months can get busy—try to explore during weekdays or in the morning
Keeping these tips in mind can create an Asheville adventure you'll remember for years!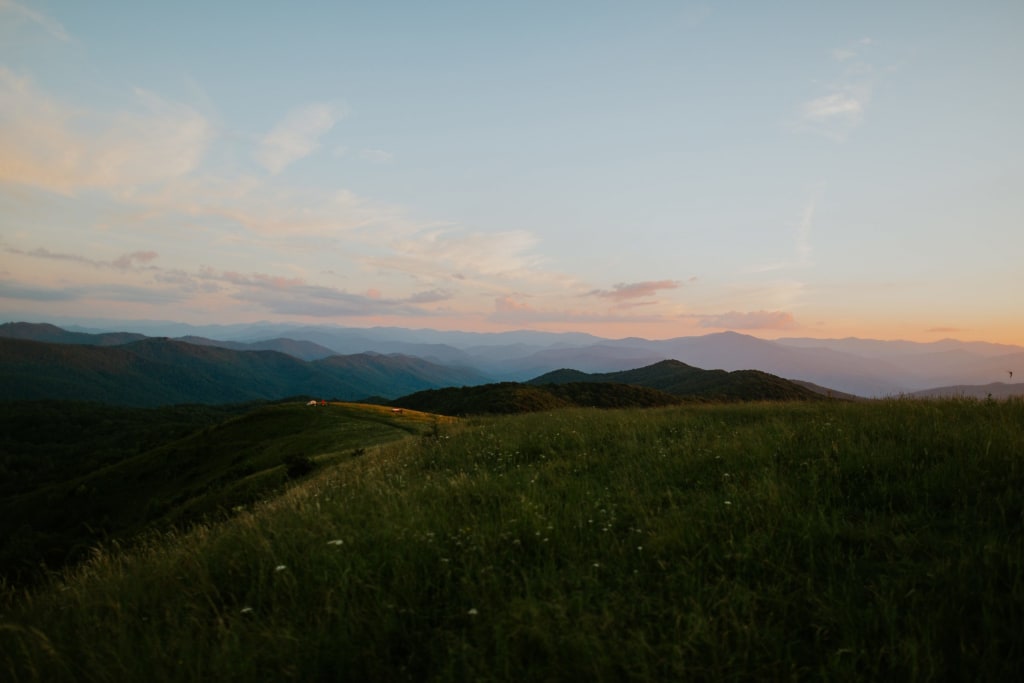 Map
Here are links and locations of the area's best attractions:
Hiking
• Deep Gap Trail: Black Mountain Crest Trail, Burnsville, NC 28714
• Max Patch Hike: Max Patch Rd, Hot Springs, NC 28743
• Hard Times Loop Trail: 375 Wesley Branch Rd, Asheville, NC 28806
Waterfalls
• Dry Falls: Dry Falls, North Carolina 28741
• Crabtree Falls: Crabtree Falls, North Carolina 28777
• Chasteen Creek Falls: Chasteen Creek Cascade, Chasteen Creek Trail, Cherokee, NC 28719
Campgrounds
• Mama Gertie's Hideaway Campground: 15 Uphill Rd, Swannanoa, NC 28778
• Kinderhook Hollow: 875 Long Branch Road, Swannanoa, NC 28778
• Wilson's Riverfront RV Park: 225 Amboy Rd, Asheville, NC 28806
• Grumpy Bear RV Park: 2030 Old River Rd, Bryson City, NC 28713
Hidden Gems
Check out these hidden gems in the area:
• Helen's Bridge
• Pritchard Park Drum Circle
• Folk Art Center
• Craggy Mountain Line
Start Your Next Trip with Rec Van!
If you're looking for a one-of-a-kind campervan for all of your adventures, Rec Van is here to help. Check out our available vans today and start making the trek towards Asheville!