When you think of the perfect getaway in the Rocky Mountains, Aspen comes to mind. This place is a winter wonderland during the colder months, bringing in skiers and snowboarders from all over the country. In the summer, millions flock to the area for epic hiking trails, water adventures, and soaking up the fresh mountain air.
Whatever brings you to Aspen, make sure to bring your campervan! There are plenty of awesome campgrounds to park your ride, putting you right in the heart of outdoor adventure.
In this post, we'll discuss some reasons why Aspen is a top outdoor destination. We'll talk about the leading activities and attractions in the area, including Aspen's best campgrounds!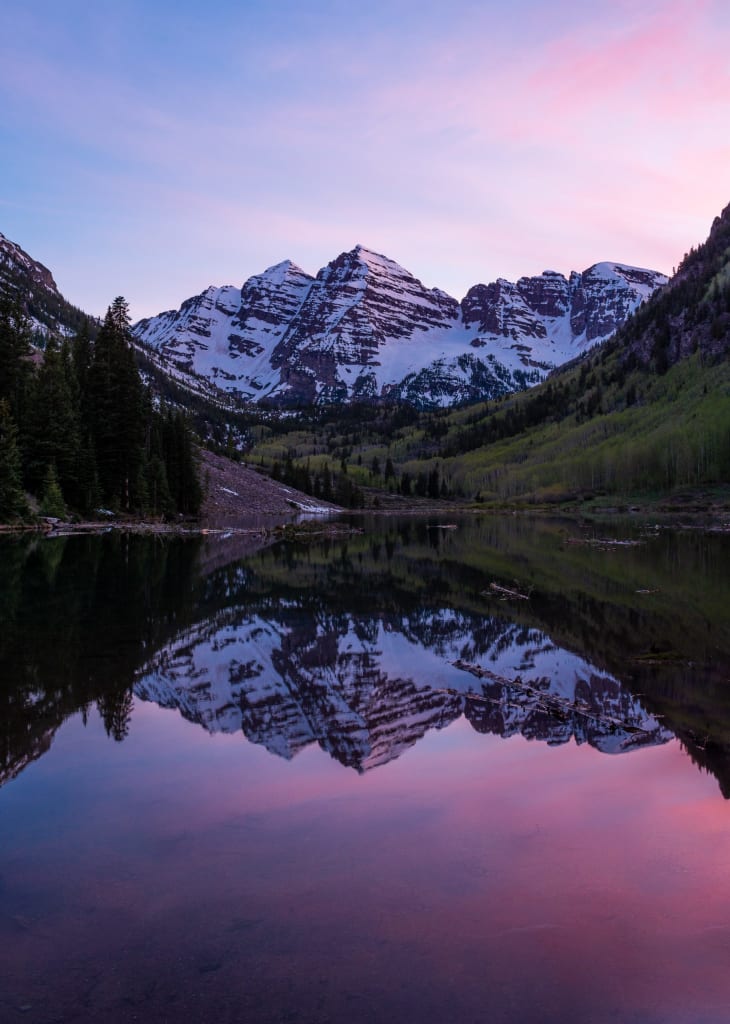 About Aspen, Colorado
Once inhabited by the Ute Indians, Aspen became a silver-mining town in the late 1800s. Today, it's known as one of the top ski destinations on the planet. The Winter X Games call Aspen home almost every year, while the Olympics have also been held in this gorgeous mountain town. With four mountains to enjoy, there is plenty of room to shred in the powder!
Aside from winter activities, summer attractions also bring in crowds from all over. The flowers are blooming, the temperatures are perfect, and there are outdoor activities for the whole family!
Where to Stop Along the Way
As you're making your way to Aspen in your campervan, there are several incredible destinations to check out on the drive over. Whether you enjoy peaceful scenic drives or heart-pounding adventures, take a look at our favorite stops along the way:
Driving North
Aspen is located in the west-central portion of Colorado along the Rocky Mountains. If you're driving north towards the area, consider stopping in Crested Butte, Telluride, Silverton, or Durango. These areas are known for astonishing mountain views, vibrant forests, and loads of outdoor excitement!
If you find yourself in Arizona, you have to check out Sedona, Flagstaff, and Grand Canyon National Park. You could also visit Taos, New Mexico, another popular skiing destination!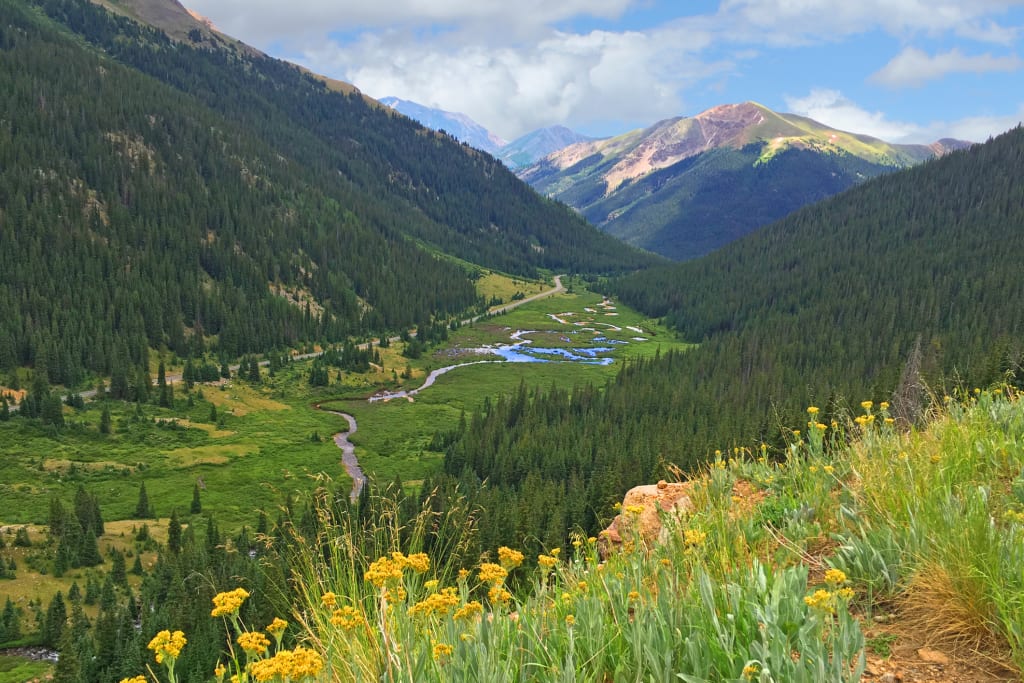 Headed West
Driving to Aspen from the Midwest or Northeast? If so, plenty of outdoor activities will accompany your ride! In parts of Arkansas and Missouri, you'll find the breathtaking Ozark Mountains. This is one of the country's most beautiful regions, with waterfalls, creeks, and campgrounds all over!
If you're starting further east, consider stopping in Acadia National Park, the Application Mountains, Great Falls National Park, or Assateague Island National Seashore.
Driving South
If a southern drive is on the agenda, there's a long list of cool places to visit. First, you can't pass up a few destinations just north of Aspen. This includes Rocky Mountain National Park, Vail, and Steamboat Springs.
If you're starting your drive further north, Yellowstone National Park should be on your itinerary. From geysers to buffalo, this place offers a bit of everything. You should also consider checking out Glacier National Park, Big Sky, and the Sawtooth Mountains—all offering stunning scenery!
Headed East
On an eastern trek to the area, you'll find plenty of adventure-filled spots in California, Utah, and Nevada. If the trip allows, make a stop in Yosemite National Park. Here you'll see rock formations your eyes won't believe! Also, soak up the beauty in Lake Tahoe. From the stunning water clarity to the white sandy beaches, it's the ideal place for a late summertime getaway. Also, depending on when you make the trip, you could see some beautiful fall colors!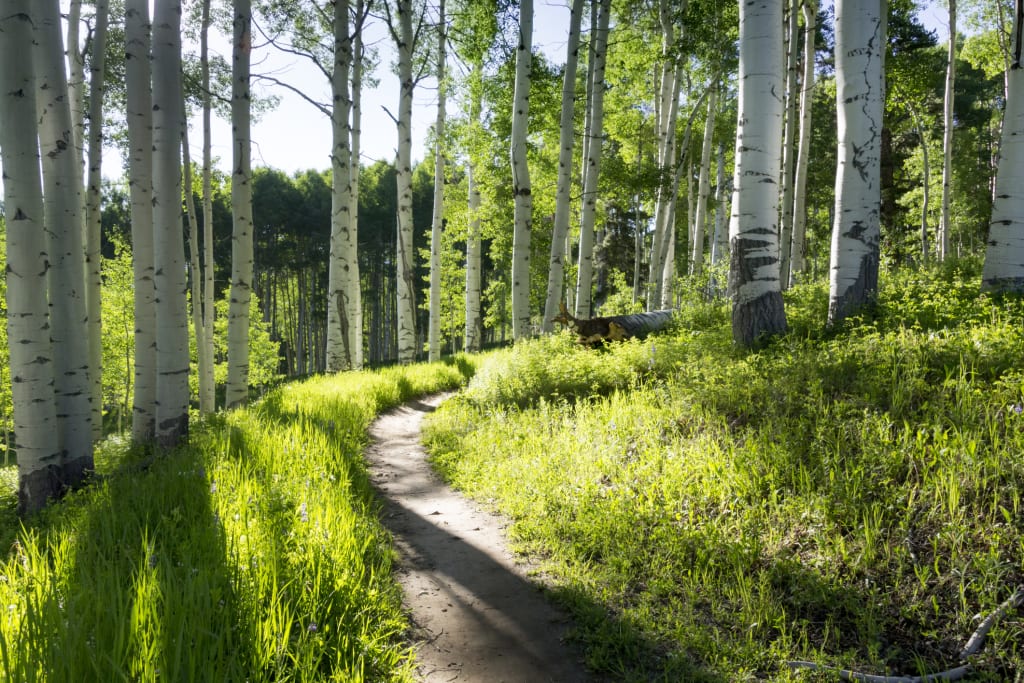 Aspen, Colorado—Hiking, Biking, Camping, and More!
During the late summer/early fall months, Aspen comes alive in a dazzling display of fall beauty. Whether you're kayaking down the Roaring Fork River or hiking up Snowmass Mountain, there's a good chance you'll see some colorful fall foliage.
Take a look at our favorite outdoor adventures during this fantastic time of year:
Hiking
If you enjoy out-of-this-world scenery, lush forests, and fresh mountain air, Aspen should be on your travel bucket list. As temperatures are comfortable this time of year, the outdoor wilderness is waiting for you. Aside from great temps and epic views, Aspen also features an abundance of hiking trails. Whether you're an avid hiker or a first-timer, the area offers something for everyone. A few popular hikes in Aspen include:
Rio Grande Trail (easy)
Smuggler Trail (easy-moderate)
Sunnyside Trail (moderate-difficult)
Red Butte Trail (difficult)
Ute Trail (difficult)
Now it's time to lace up those hiking boots and hit the trail!
Biking
Looking to adventure on two wheels? While Aspen is a hiker's paradise, you'll also find a fair share of excellent biking trails. Smuggler Mountain Road, located in downtown Aspen, is a popular spot among bikers. This area features several loops, providing easy access to the gorgeous backcountry! You should also check out Sky Mountain Park, offering 50 miles of trails for all ability levels. Tom Blake Trail, Summer Road, and Rio Grande Trail are a few other biking hot spots in the area.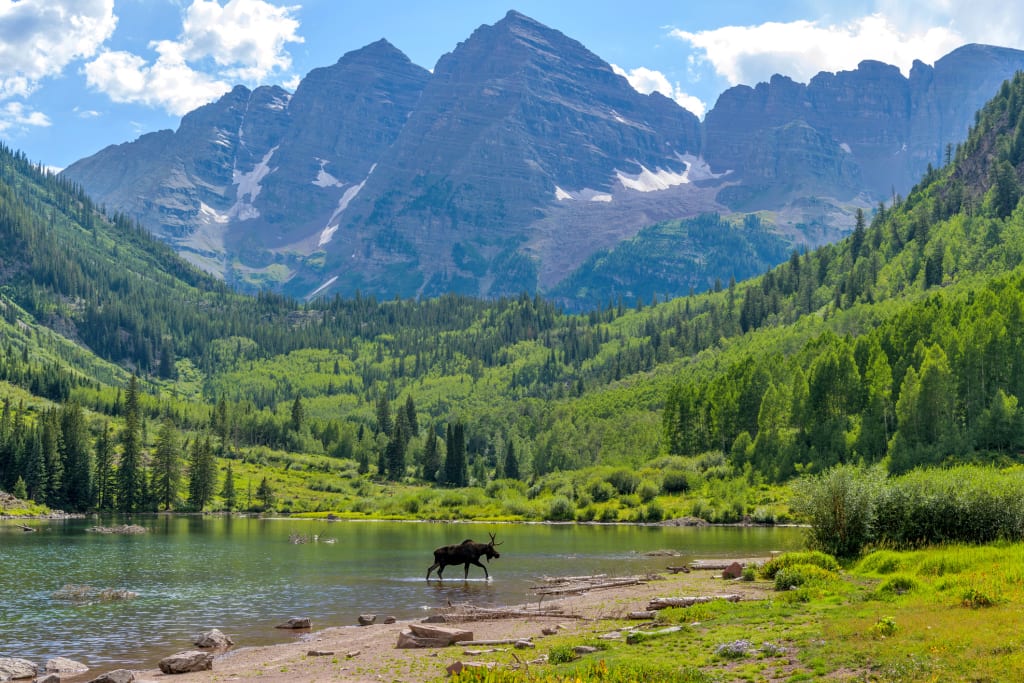 Water Activities
As temperatures are still warm in late August and into September, you still have a chance to experience the fun-filled water activities in Aspen! This region features canoeing, kayaking, stand-up paddle boarding, and good old-fashioned swimming. Roaring Fork River is a popular destination for rafting and soaking in the beauty. However, the water can get treacherous, so ensure you're with a professional when rafting. We recommend hiring a rafting guide to stay safe and experience these waters to the fullest! If you're looking for something more mellow, check out North Star Nature Preserve for a peaceful stream through nature.
Fishing
With rivers, creeks, and lakes covering Aspen and beyond, this region is a fishing mecca. You'll find world-class fly fishing just outside of town along the Roaring Fork River, considered one of the best fishing areas in all of Colorado. While several different species call these waters home, large rainbow and brown trout are some of the most common. These fish average 12 to 18 inches in length!
Camping
As the late summer months feature comfortable temperatures and long days, this makes for perfect camping opportunities! Whether you're looking to camp near a trickling creek or next to several hiking trails, Aspen has you covered. In fact, you may be able to camp alongside the changing fall colors!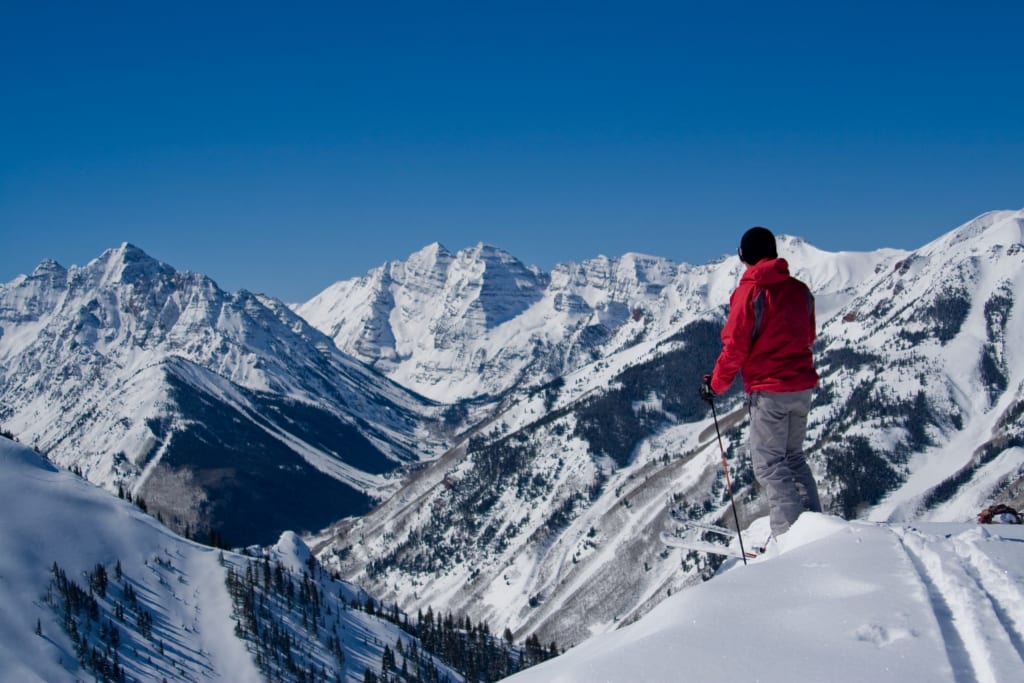 Travel Tips
Here are some insider tips to ensure your Aspen trip is one to remember:
Visit during late summer/early fall to avoid the crowds!
To see the fall colors, try visiting in early September through mid-October
Head over to the Maroon Bells Recreation Area for a stunning display of colorful leaves
Aspen is a popular place for leaf-peeping, so some areas can get busy
Book campgrounds ahead of time to ensure you get a spot
The nights and mornings are chilly this time of year, so plan accordingly
Keep these tips in mind to ensure an enjoyable, stress-free vacation!
Map
Check out the following details about the area's top activities:
Hiking Trails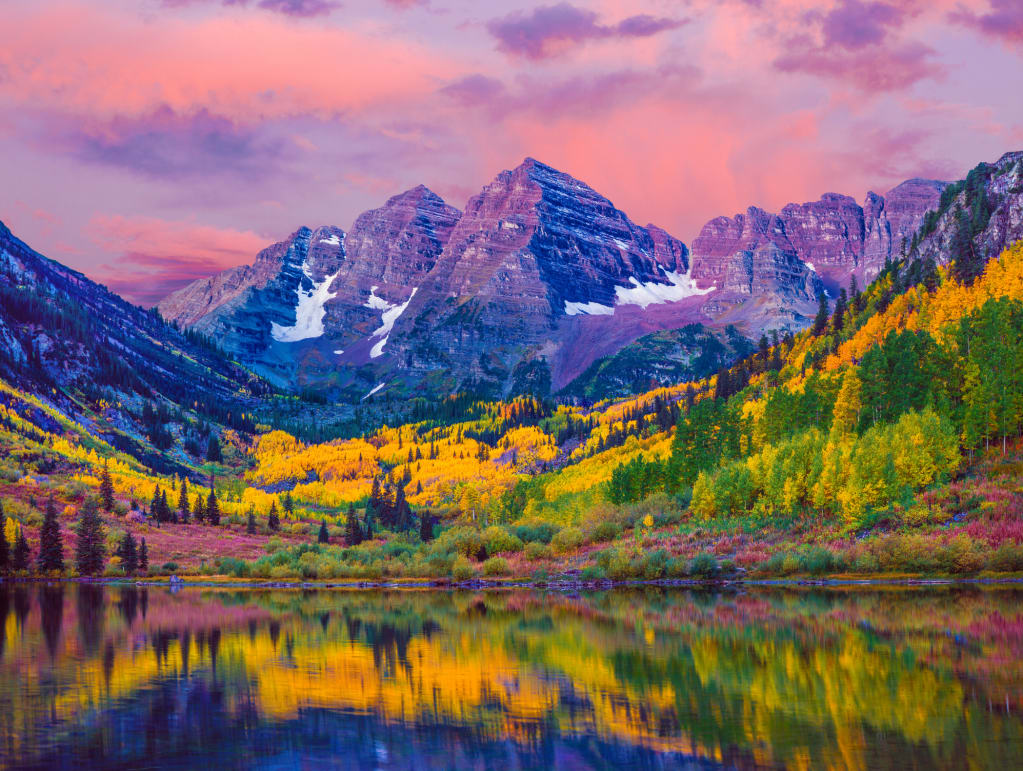 Campgrounds
Hidden Gems
Looking for something off the beaten path? Here are the top hidden gems in Aspen:
Ashcroft Ghost Town
Woody Creek Tavern
Aspen Brewing Company
Smuggler Mine
Magic Mushroom House
Conundrum Hot Springs
Start Your Aspen Adventure With Rec Van!
Whether you're searching for comfortable summertime temperatures or majestic fall beauty, Aspen is the place to be! If you need a high-quality, dependable campervan for this one-of-a-kind adventure, Rec Van is here to help! We proudly carry a complete line of top-notch campervans.
Browse through our extensive inventory today, and give us a call with any questions!