Crater Lake is one of the most majestic lakes on the planet. The lake sits in the middle of a giant crater formed 7,700 years ago when a massive volcanic eruption caused the collapse of a tall peak. This event was witnessed by local Native Americans.
Today, Crater Lake is a protected area known as Crater Lake National Park. If you're looking to visit the area, there's no better way than taking your campervan to this adventure destination! You'll find breathtaking hikes, fishing opportunities, stunning campgrounds, and scenery you won't believe.
Keep reading to learn more about visiting the area, including where to stop on the drive over, what activities to experience, and even some good-to-know travel tips!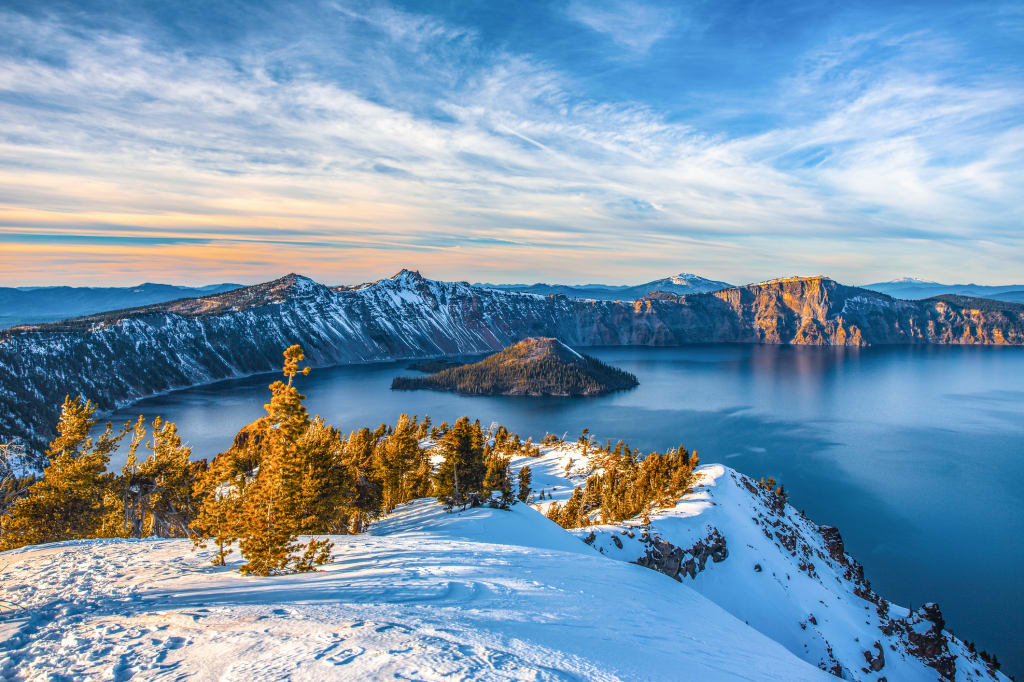 About Crater Lake National Park
Crater Lake is the deepest lake in the United States—with a max depth of 1,949 feet! As these pristine waters are a unique natural treasure, it's no wonder why Crater Lake became a national park. About 700,000 visitors enter the park every year, with most arriving during the summer months. Although the park is open year-round, the cold winters steer away many travelers.
As many visitors make a quick stop at Crater Lake when driving through the area, we recommend staying for a few days. Camping options are close by, and the remote wilderness makes for a perfect peaceful getaway.
Where to Stop Along the Way
Located in southwestern Oregon, Crater Lake is in the heart of a nature lover's playground. No matter which direction you're driving, there are several excellent stopping points along the way.
Consider visiting the following areas on the drive over:
Driving North
If you're making your way to the area through California, be sure to stop at Yosemite, Mammoth Lakes, and Lake Tahoe. These areas feature epic hiking trails, magical swimming spots, cool campgrounds, and dramatic mountain views everywhere you look! If you're starting further south, catch some beach vibes in San Diego, Santa Barbara, or Big Sur.
Headed West
When driving west on your voyage, there are several outdoor hot spots in Idaho. The Sawtooth Mountains should be near the top of your list, which feature some of the most breathtaking peaks in the U.S. Further east is Yellowstone National Park, which is another must-see destination. Be sure to see the geysers and witness the abundant wildlife!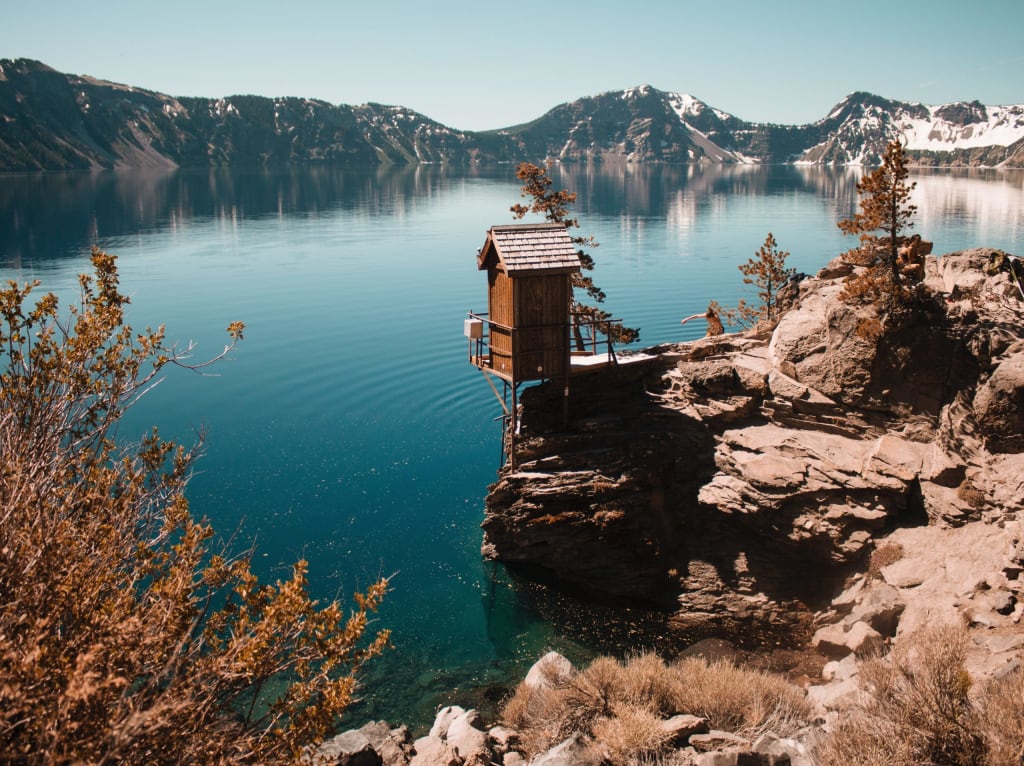 Driving South
Crater Lake is located in an outdoor lover's paradise. Several incredible outdoor destinations are just hours away. If you're starting your trek near the northern border of Washington, North Cascades National Park should be on your list. You really can't beat those mountain views. You should also check out the thriving city of Seattle, and Olympic National Park is another place you have to see.
In Oregon, be sure to visit Portland, Mt. Hood, and Bend. You'll be amazed at the abundance of outdoor activities!
Headed East
While Crater Lake is located a few short hours from the coast, we recommend making a few stops on the drive over. There are a number of quaint towns along the Oregon coast, including Port Orford, Gold Beach, Ophir, and Wedderburn. Some of our favorite areas in this region include Cape Blanco State Park, Floras Lake State Natural Area, Kimball Creek Bend RV Resort, and Kissing Rock.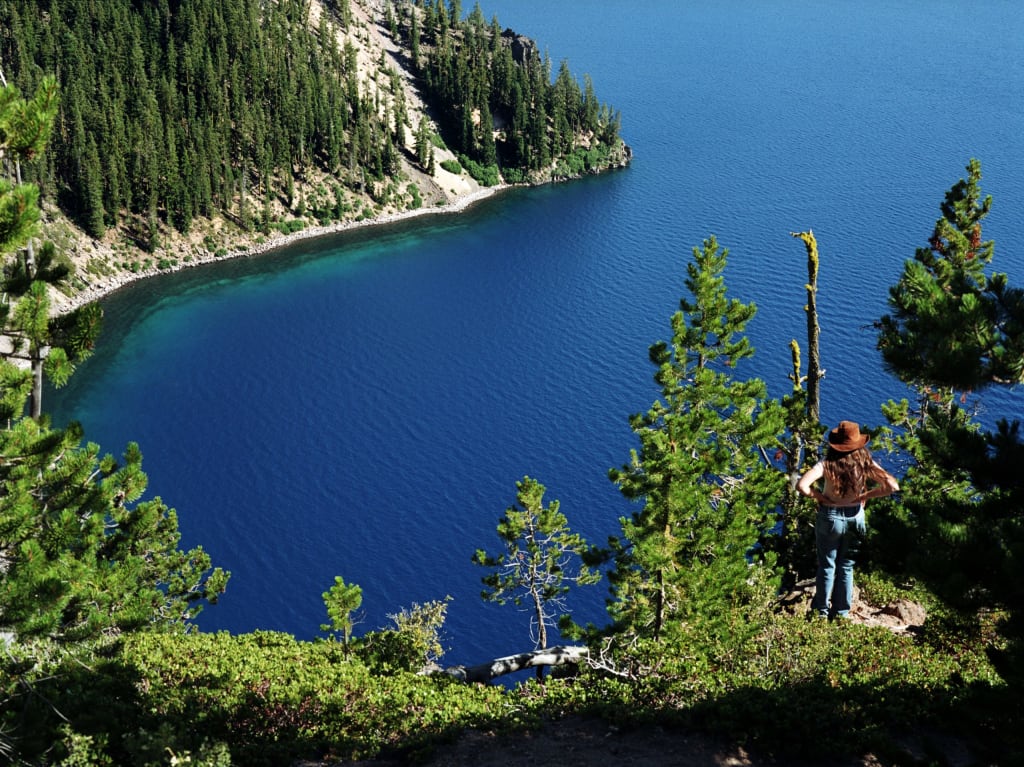 Activities at Crater Lake—Exploring Pristine Nature
If you're searching for some peace and quiet while gazing at a remarkable lake, Crater Lake National Park is the place for you. This remote destination offers several sightseeing opportunities to experience the area in all its glory. However, there is more to do than just look at the pristine waters.
Check out our favorite adventure activities in the region:
Sightseeing
For breathtaking views of the lake and surrounding mountains, take a ride along Rim Drive. This excursion covers the entire perimeter of the crater, spanning 33 miles around the caldera. However, the road is only open when weather permits, usually from summer through early fall. As you meander your way down the road, there are a whopping 30 overlooks that highlight a specific region of the lake or another geologic or environmental feature.
Keep in mind that you can only access this road by entering just north of North Junction, or from Rim Village or Steel Visitor Center. You'll want to give yourself at least two hours to drive along the road, including stops to soak in the view.
Hiking
Adventuring on a hiking trail provides scenery you simply can't get along the road on Rim Drive. However, some trails take quite a bit of effort. After conquering a challenging hike, the breathtaking views are well worth it.
For an easier trek, consider hopping on Discovery Point Trail, Plaikni Falls Trail, or Sun Notch Trail. If you want something more challenging, check out the following:
• Garfield Peak Trail
• Cleetwood Cove Trail
• The Watchmen Peak Trail
• Crater Peak Trail
The views along these routes provide one-of-a-kind views of the crater and beyond. You may also see some majestic birds and other wildlife along the way!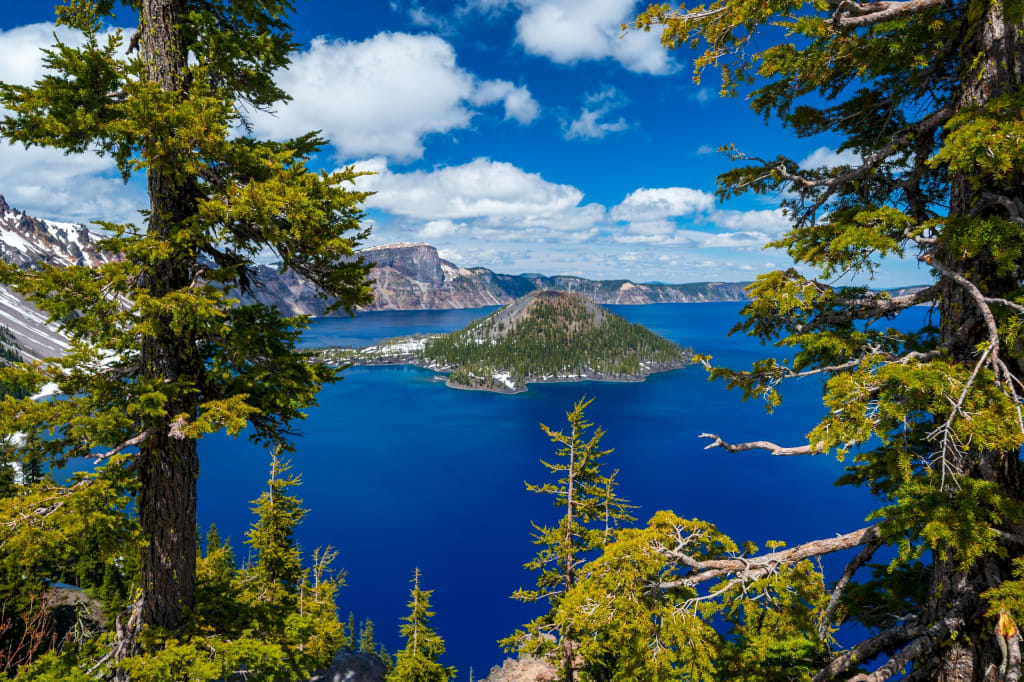 Fishing
Several years ago, Crater Lake was stocked with seven different species of fish, but only two of those still thrive today. Experts say the lake currently holds about 60,000 kokanee salmon and rainbow trout. Visitors are able to fish in the lake and nearby streams, and you don't need a fishing license within park boundaries.
Camping
Camping is one of the most beloved activities in the area. It's the perfect solution for being close to the hiking trails and stunning scenery. Crater Lake National Park has two lodges and two campgrounds. However, they're only open about six months out of the year when weather permits. Keep in mind that staying overnight within the park is only for lodge guests, those camping at campgrounds, and backpackers staying in the backcountry.
Mazama Campground is a popular option for those looking to stay within the park. There are 214 campsites, RV spots, and some sites with electric hookups. This is the perfect place for camping in your adventure van! Mazama is also in a forested setting, so the scenery is top-notch.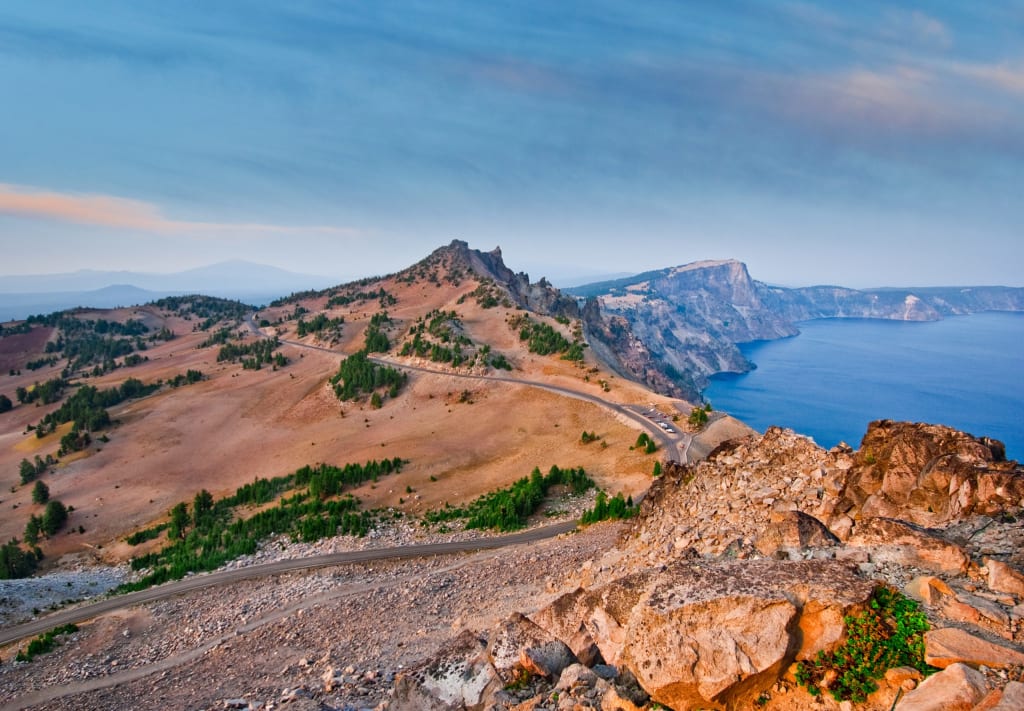 Travel Tips
Crater Lake is a remote travel destination with tons to offer the adventurer. Here are some key travel tips to make the most of your vacation:
• Avoid the crowds: Get an early start to the day, and avoid visiting in June-September.
• Choose a hidden trail: Hikes away from the lake tend to be more remote.
• Don't enter the caldera: It's illegal anyway, and it's also extremely dangerous.
• Take a swim: Cool off by jumping in the pristine waters at Cleetwood Cove.
Crater Lake is a magical place that should be enjoyed by everyone. Keep these tips in mind to have a trip you'll never forget.
Map
Here are some details of the area's leading attractions:
Hiking Trails
Fishing
Cleetwood Cove (only access to the lake): North side of the lake off Rim Drive
Annie Creek: Just past the south entrance of the park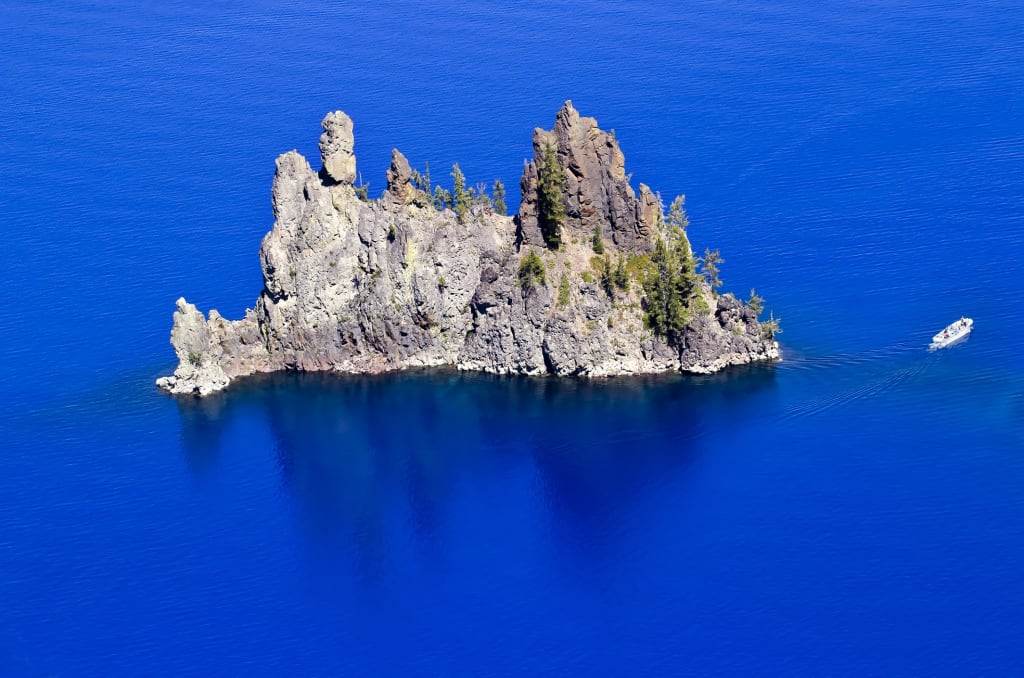 Hidden Gems
As Crater Lake National Park is a phenomenal place, it can get crowded. To escape the people, check out these hidden gems:
• Take a boat tour
• Hike outside of the park
• Take a guided snowshoe hike
• Try dispersed camping outside the park
• Visit Vidae Falls
Consider the ideas above to find some peace and quiet on the trip.
Explore Crater Lake NP with a Ride from Rec Van!
While finding exciting activities in Crater Lake National Park is one thing, you also have to think about getting there. Why not bring a brand new campervan? Here at Rec Van, we carry a wide variety of incredible adventure vans—all ready for a memorable trip to Crater Lake National Park!
Our adventure mobiles come loaded with advanced features, including 4WD capabilities, exterior camp kitchens, and even murphy beds.
Check out our available adventure vans today, and contact us with any questions