Olympic National Park is a true gem of the Pacific Northwest. With epic coastlines and lush, magical forests, this place is straight out of a fairytale. Just one visit to the area and you'll see why it's loved by nature lovers worldwide.
As you can travel to the area and stay in a nearby hotel, the best way to experience Olympic is in your campervan! There are numerous places to park your van for a camping adventure you won't soon forget.
In this post, we'll discuss some reasons why you should take a road trip to Olympic National Park. We'll talk about where to stop on the drive over, what outdoor activities to experience, and even some hidden gems in the area. Keep reading to learn more!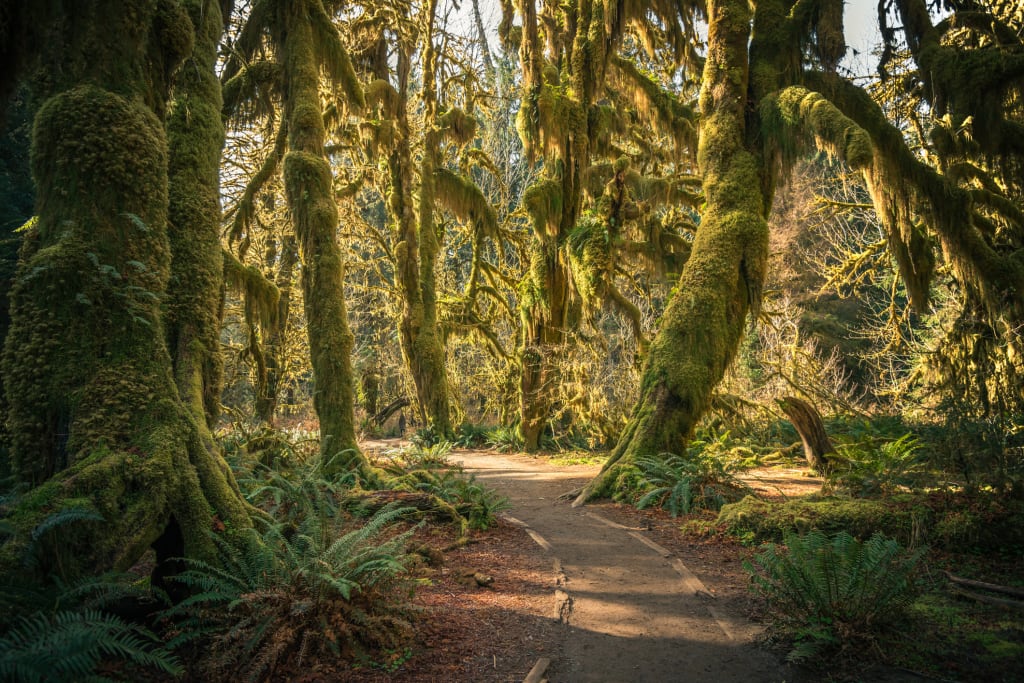 About Olympic National Park
This magnificent national park is known for its diversity. With tons of rain and a huge range of elevation, it's one of the more diverse places in the country. Furthermore, the park is massive. Spanning nearly one million acres, there is plenty of room to explore this one-of-a-kind wilderness. A few other notable features of the park include its glacier-capped mountains and old-growth temperate rainforest.
Where to Stop Along the Way
Olympic National Park is a fascinating, gorgeous place with activities for everyone to enjoy. But before arriving in the area, you'll want to make a few stops on the drive over.
Check out the following destinations for an epic road trip:
Driving North
Starting your trip in California? If so, think about stopping in Mammoth Lakes, Yosemite National Park, and Lake Tahoe. These areas feature gigantic mountains, crystal-clear waters, and some insane rock formations! When passing through Oregon, try to visit Bend, Portland, and the Columbia River Gorge. You can find several awesome trails and waterfalls right off the Historic Columbia River Highway.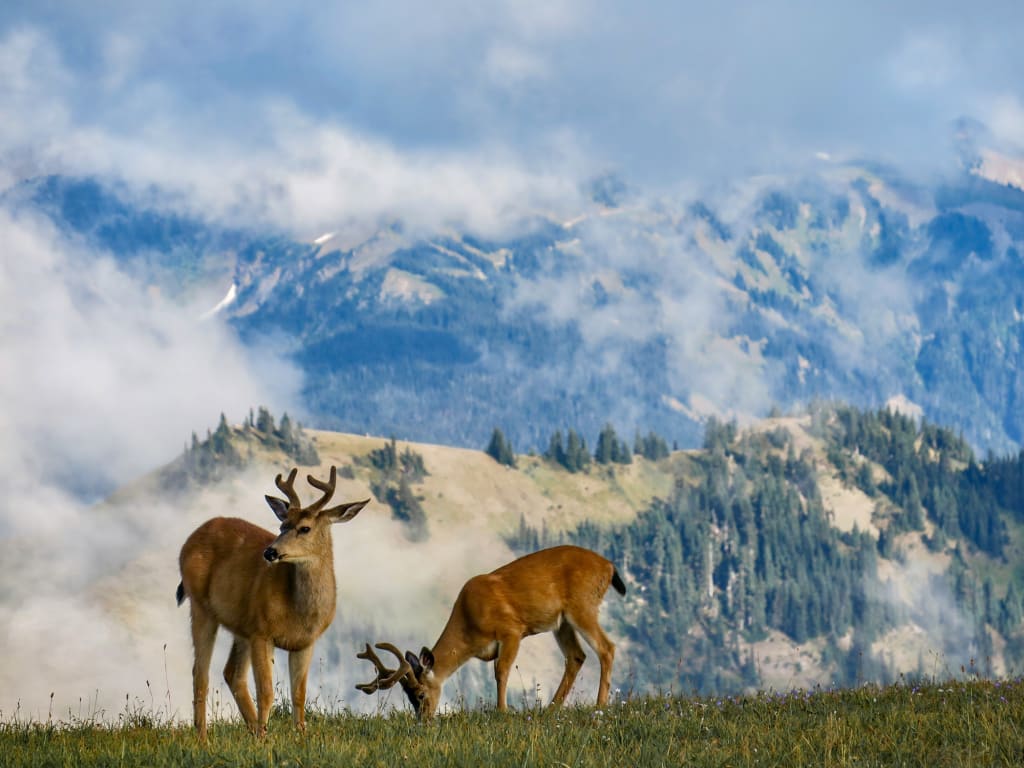 Driving West
If you find yourself heading west on your journey, adventure is waiting. If you're passing through northern Montana, Glacier National Park has to be on your list. Here you'll see some mind-blowing mountains, thrilling hiking trails, and an abundance of wildlife. As you pass through northern Idaho, a few popular outdoor destinations include Coeur d'Alene and Sandpoint. These towns sit right along some gorgeous lakes! While you're cruising further west, consider stopping at the astonishing Mount Rainier National Park!
Driving South
On a southern trek into the area, you may pass through Cascade National Park along the way. This fantastic place is known for its jagged peaks, cascading waterfalls, and vast field of glaciers. In fact, you find over 300 glaciers in the area! If your journey takes you through the Vancouver region of Canada, there is no shortage of outdoor adventure. If you ski or snowboard, you must visit Whistler Blackcomb in the wintertime. This mountain has 38 lifts! For those hikers out there, check out St. Mark's Summit, Mount Seymour, or Eagle Bluffs.
Driving East
Olympic is located in the northwest corner of the country. That said, there isn't much room to drive from the west. However, there is still a cool coastline with some awesome towns. Rialto Beach, Second Beach, and Third Beach are a few places to check out. Here you'll see majestic rock formations and incredible scenery. You may also see an eagle or even a whale!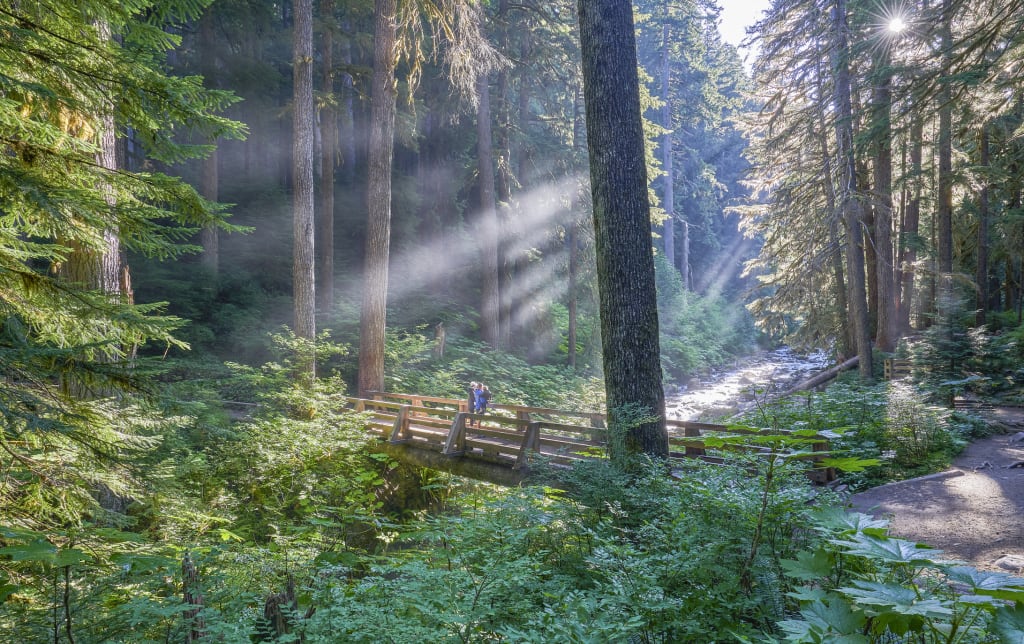 Olympic National Park—An Outdoor Lover's Dream
As soon as you drive into the area, you won't believe your eyes. From magical waterfalls to lush, mossy forests, Olympic National Park is a captivating place.
Take a look at some of our favorite outdoor activities in the region:
Mountain Biking
With a wide variety of different terrain, Olympic National Park offers several mountain biking opportunities. Whether you enjoy steep single-track routes or calm rides down a wide trail, this area has it all.
Take a look at some of the most popular mountain biking trails below:
Wynoochee Lake Shore Trail
Olympic National Park Foothills Trail
Lower South Fork Skokomish Trail
Spruce Railroad Trail: Lake Crescent
These amazing trails are some of the most unique in the country. Chances are you'll pass by waterfalls, creeks, rivers, lakes, and massive mountains!
Hiking
Hiking is the most beloved activity in the park. One reason being is that you can embark on a variety of hiking excursions. You can choose hikes in the temperate rain forest, lowland forest, on the coast, or up massive mountains. With various types of terrain, this makes Olympic National Park a hiker's paradise!
Here are some of the most incredible hiking trails in the region:
Hurricane Hill
Marymere Falls
Hoh River Trail
Ruby Beach
Sol Duc Falls Trail
Rain Shadow Loop
You can spend several days hiking in the area and never get bored. Before hitting the trails, be sure to wear some sturdy shoes and pack your bug spray!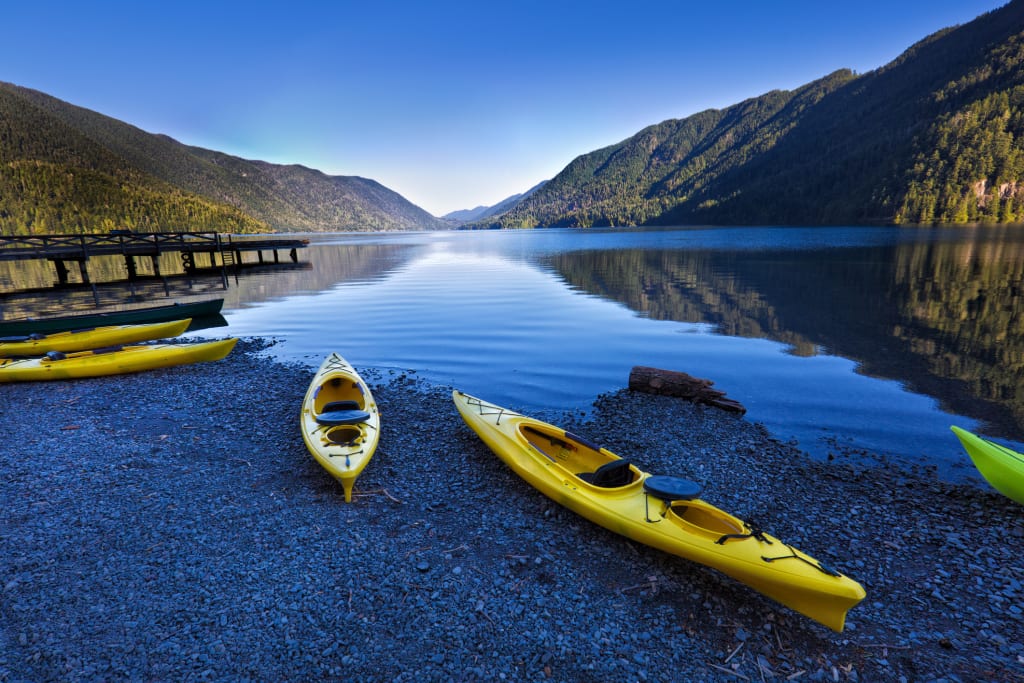 Paddling
The serene lakes in Olympic National Park are a real treat for paddlers. Whether you have a paddleboard, canoe, or kayak, there are numerous bodies of water to experience. Lake Crescent, found on the park's north side, is a fan favorite. Being a glacier lake, the water is remarkably clear. If you want something more challenging (with waves and frigid water), try paddling on Lake Ozette. It's the third-largest lake in the state!
Fishing
Need a calm day of fishing? Luckily, Olympic National Park has tons of water. Not only can you find over 75 miles of Pacific Coastline, but you also have 800 lakes and 4,000 miles of streams and rivers. Fishing enthusiasts worldwide flock to the area to catch trout, salmon, and char.
Camping
Camping is another popular activity in Olympic. You can camp next to lakes, streams, mountain peaks, waterfalls, and everywhere in between. If you're looking for campsites with RV hookups, check out Fairholme Campground, Kalaloch Campground, or Log Cabin Resort RV & Campground. If you would rather have a quieter, more remote camping experience in the heart of nature, consider Deer Park Campground or Dosewallips Campground.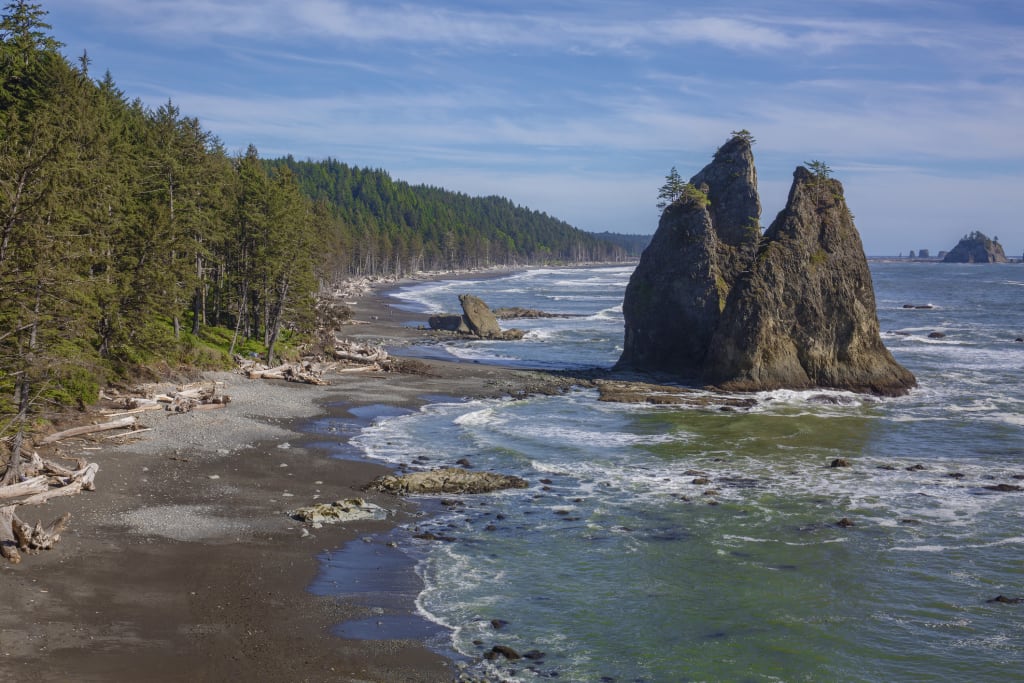 Travel Tips
Follow these tips to make your trip that much more enjoyable:
• Pack bug spray: Millions of bugs call the area home, so bring insect repellent to stay protected
• Prepare for rain: It rains quite frequently in the area, especially in the coastal region. Make sure to watch the weather forecast and pack your rain gear.
• Visit in the off-peak season: July and August are the busiest months in Olympic, so consider traveling here during off-peak times to avoid the crowds.
The tips above can come in handy when you need them most!
Map
Here are some links and addresses of the area's top attractions:
Hiking Trails
• Hurricane Hill: Trailhead is located up Hurricane Ridge Road near Port Angeles
• Marymere Falls: Starts about 20 miles west of Port Angeles off Highway 101
• Hoh River Trail: Begins 20 miles southeast of Forks, WA.
• Ruby Beach: Right off US 101 and mile marker 165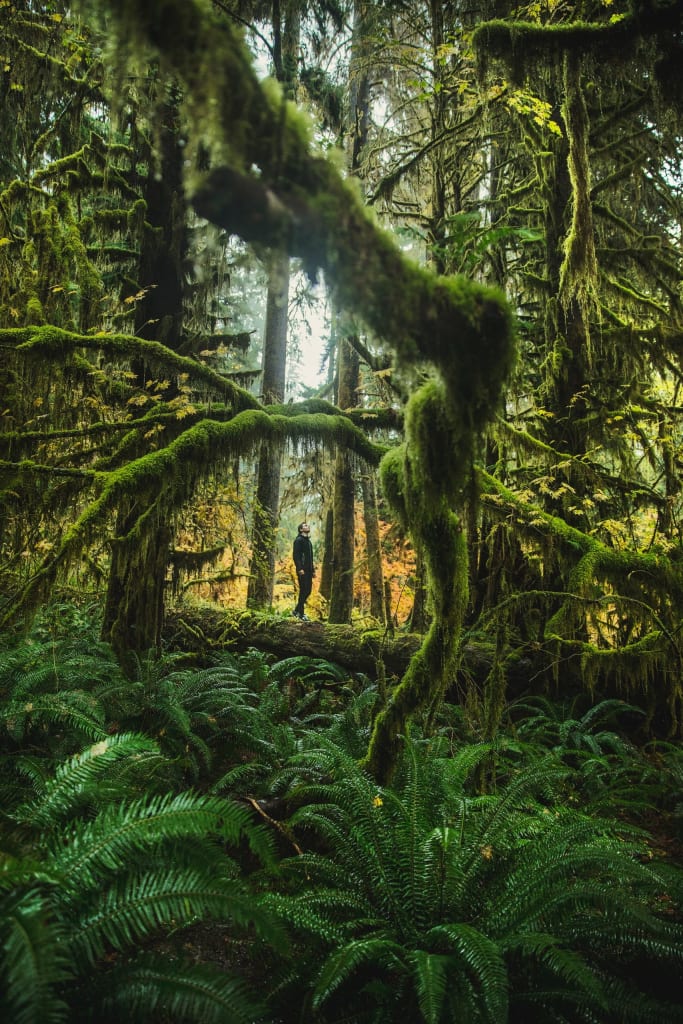 Visitor Centers
• Olympic National Park Visitor Center: 3002 Mount Angeles Road, Port Angeles, WA 98362
• Hoh Rain Forest Visitor Center: 18113 Upper Hoh Rd., Forks, WA 98331
Campgrounds
• Kalaloch Campground: Off Highway 101, 34 miles south of Forks
• Log Cabin Resort RV & Campground: 3183 E Beach Rd, Port Angeles, WA 98363
• Deer Park Campground: Off Deer Park Road from Highway 101
• Dosewallips Campground: Located just east of Dosewallips State Park
Hidden Gems
Looking for something less crowded? Here are some off-the-beaten-path areas and attractions in Olympic National Park:
• Quinault Valley
• Tree of Life
• Olympic Hot Springs
• Ozette Archeological Site
• Dungeness National Wildlife Refuge
Experience these areas for less noise and fewer crowds!
Start Your Road Trip Today!
Visiting Olympic National Park can be a life-changing experience. As soon as you step into the old-growth forest, you'll be propelled into a different world. If you're looking to soak in the beauty of the area, consider bringing your campervan! Here at Rec Van, we're proud to sell various new and used campervan models.
View our extensive inventory today, and call us if you have any questions!