With over 700 miles of trails, Glacier National Park is a hiker's paradise. Whether you're interested in a short, easy hike, or a days' long backpacking trek over strenuous terrain, Glacier National Park has something for everyone.
One of the best times to take full advantage of everything the park has to offer is to come in the summer. A major reason to book in summer is that the highest number of trails will be open, as in other seasons there are many road and trail closures due to weather and other conditions. Even in early summer, there will still be some closures to contend with. It's worth remembering that there are plenty of trails on the high-elevation routes that still have snow until mid-July!
Another great reason to come in summer is the temperature. The high elevation allows you to beat the usual heat that plagues summer hikes, and by getting an early start, you can ensure a day hike is conducted in pretty temperate weather.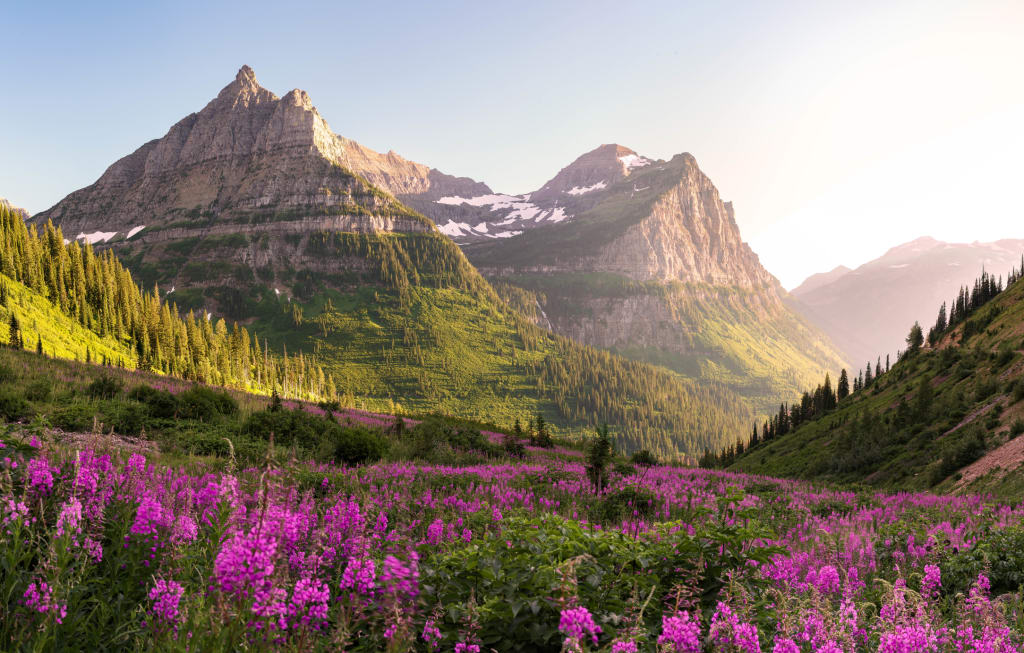 What to Bring on Your Hike
Regardless of the difficulty, there are some things you'll want to be prepared with on any hike you take in Glacier National Park. This includes:
The fee for the Park: To find out what the fee is for when you go, check here.
Fuel: make sure to stop at a gas station before visiting the Park, as there won't be any facilities to purchase gas within the park.
Sturdy footwear: don't forget how important ankle support is on the trail!
First-Aid Kit: get a pre-made one and make additions to suit your medical needs and specifically for a hiking trip (adding Ace bandages is a good idea).
Navigation: having a GPS unit can certainly help, but it's much better if you can back that up with a topographical map and compass and know how to use them for when there's reception outages.
Bear spray: and be sure you know how to use this important protection!
Insect repellant: Glacier National Park will help you beat the heat, but the bugs are still enjoying summer time.
Sunscreen: outdoor activities lead to lots of sun exposure. A hat and sunglasses are a great idea as well.
Lighting: you never know when a trip is going to take longer than expected, so don't get caught in the dark. pack a couple of headlamps and extra batteries. Lanterns and flashlights work too but headlamps have the advantage of being both lightweight to carry and hands-free to use.
Fire: in an emergency this can be a life-saver. Waterproof matches, a lighter or firestarters are great to include in your gear.
Warm layers and rain gear: weather at Glacier National Park can change on a dime. You always want to be prepared for sudden shifts in weather.
A lot of water: you can't count on the water in Glacier National Park being safe to drink.
Food and snacks: just remember that Glacier National Park follows a carry-in carry-out  policy so take what you don't use as well as any waste with you.
Tools: scissors, a knife, duct tape, can opener and screw driver are all useful to have, especially on longer trips.
Shelter: for those going on longer trips, or who regularly hike, it's worth investing in an emergency shelter, even as simple as a tarp or space blanket. These can be important survival tools should something unexpected happen.
Now that you know what to bring, here's where to visit to Glacier National Park. We've listed our favorite day hikes with the easiest trails at the top, and harder ones at the bottom.
8 Trails to Visit in Glacier National Park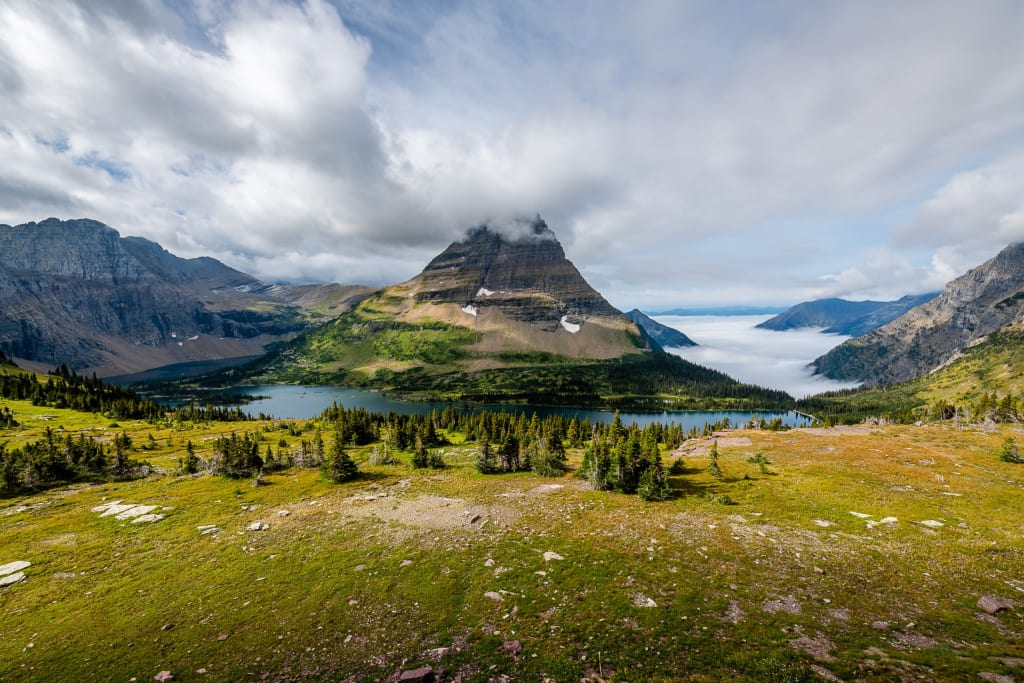 Hidden Lake Overlook
Difficulty: Easy
Length of Time: 1 hour, 30 min
Distance: 2.8 miles
Total Ascent: 460 feet
Trailhead Location: Logan Pass
One of the most popular trails at Glacier National Park, you'll start at Logan Pass before traversing a mix of gravel paths and boardwalks to get to the overlook, which provides spectacular views of Hidden Lake. This trail has the added advantage of being one of the easiest places to see mountain goats in the Park. After the overlook, the path continues another 1.2 miles to the lake itself.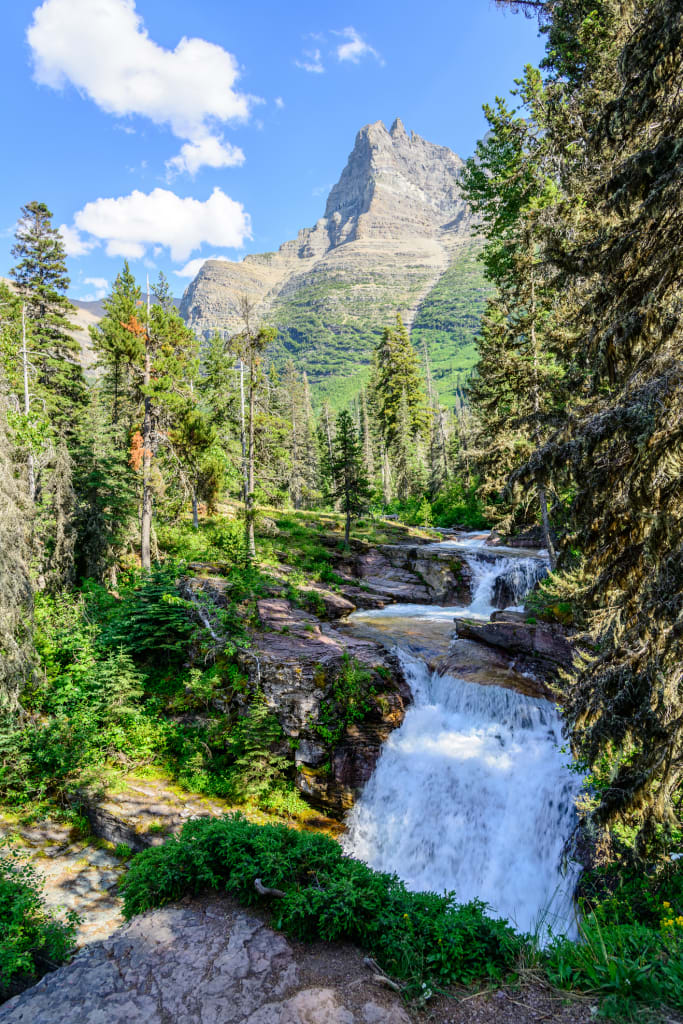 St. Mary and Virginia Falls Trail
Difficulty: Easy
Length of Time: 1 hour, 17 minutes
Distance: 2.9 miles
Total Ascent: 452 feet
Trailhead Location: Going-to-the-Sun Road
This is the ideal trail for someone who wants to enjoy some of the best of what the Park offers, on an easy and quick route. What's not to love about a hike that gets you up close and personal with waterfalls very quickly? In addition to the striking St. Mary Falls and Virginia Falls, there are several other waterfalls as well as lake views. As an added bonus for summer visitors, the trail provides several perfect spots for taking a cooling dip. If a hike that clocks in at just over an hour seems to short for you, the trail offers several opportunities to extend the hike.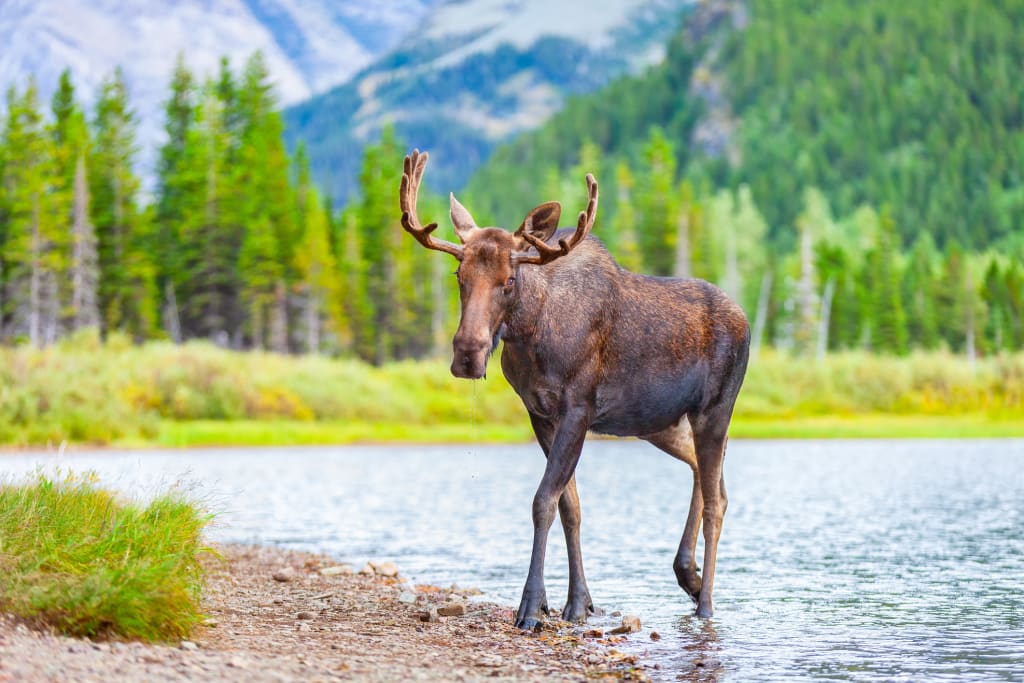 Fishercap Lake
Difficulty: Easy
Length of Time: 45 minutes
Distance: 1.5 miles
Total Ascent: N/A
Trailhead Location: Swiftcurrent Trailhead near Many Glacier Campground
This trail is quick and easy, making it a great family-friendly option that is perfect for introducing little ones to the joys of hiking. The thing about Fishercap Lake is that it has a big payoff in that the lake's shallow waters is a magnet for wildlife. It's likely you'll even get to see a moose!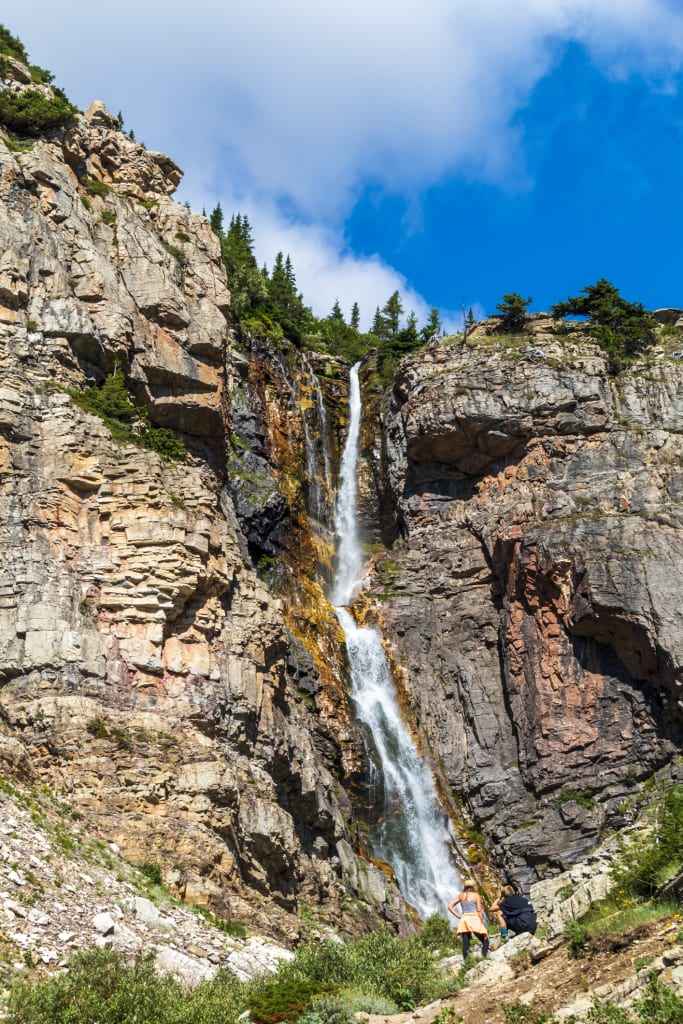 Apikuni Falls
Difficulty: Easy to moderate
Length of Time: 1 hour
Distance: 2 miles
Total Ascent: 700 feet
Trailhead Location: Apikuni Parking Area
This short hike is highly popular for the waterfall at its end.
Iceberg Lake Trail
Difficulty: Moderate
Length of Time: 6-7 hours
Distance: 9.6 miles
Total Ascent: 1275 feet
Trailhead Location: Iceberg Lake/ Ptarmigan Tunnel Trailhead
Providing terrain of wildflower-filled alpine meadows and incredible views of the emerald lake, with icebergs floating in it as the name suggests.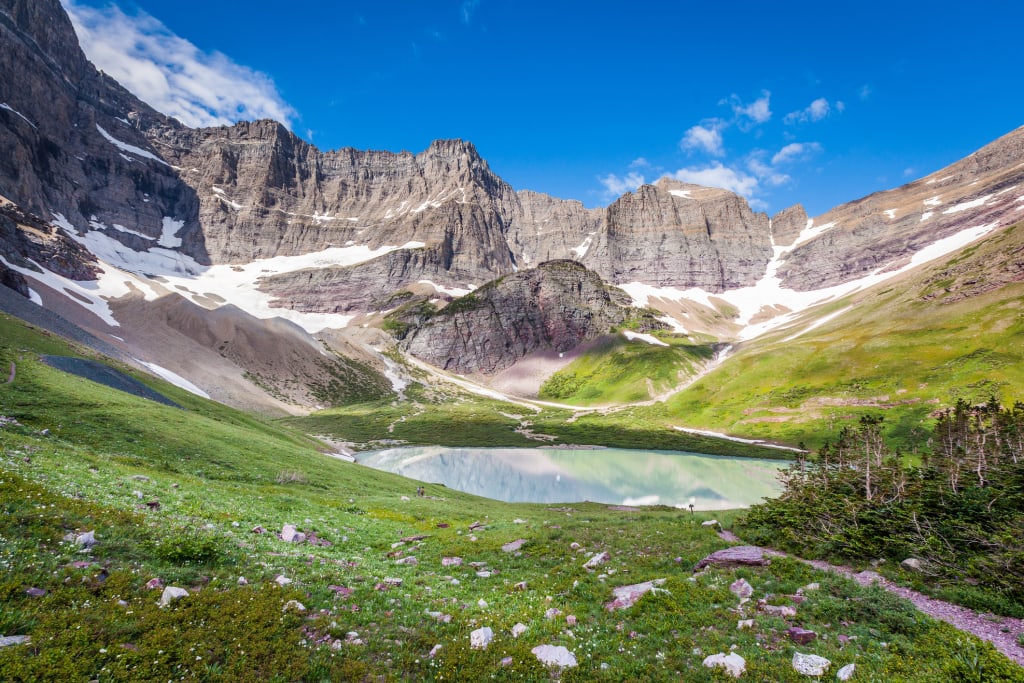 Cracker Lake
Difficulty: Moderate to Hard
Length of Time: 6-8 hours
Distance: 12.6 miles
Total Ascent: 1400 feet
Trailhead Location: Many Glacier Hotel Parking Lot
With its striking aquamarine water, Cracker Lake provides a stunning visage, especially when combined with the wildflowers that dot its grassy shores in warmer weather.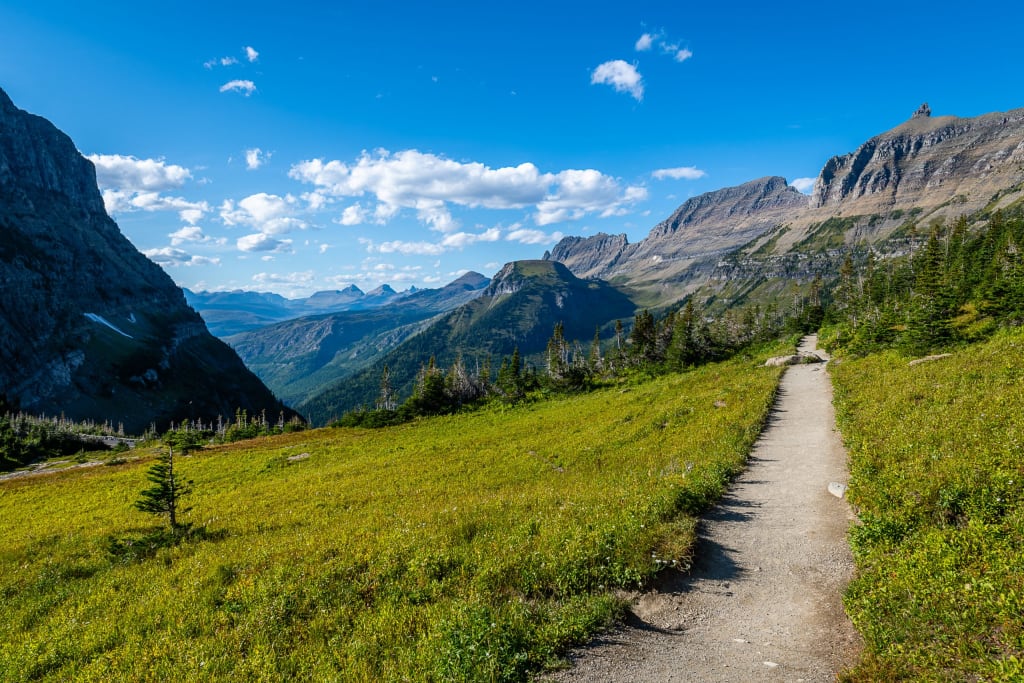 Highline Trail
Difficulty: Hard
Length of Time: 8 hours
Distance: 11.8 miles
Total Ascent: 690 feet
Trailhead Location: Logan Pass Visitor Center
This hike is a true Glacier National Park classic, offering jaw-dropping views. It is not incredibly steep, but should only be undertaken by the experienced hiker. And while it is quite safe, with hundreds traversing the trail daily, there is one spot early on that requires passing over a ledge, which can make this trail extra challenging for those with fears of heights. This is another great trail to look for mountain goats as well as marmots. This is a one-way trail, so you will require transportation back after your hike.
Grinnell Glacier
Difficulty: Hard
Length of Time: 5-7 hours
Distance: 10.6 miles
Total Ascent: 1840 feet
Trailhead Location: Grinnell Glacier Trailhead
This trail provides hikers with panoramic vistas of the 300-acre glacier that sits above the Continental Divide, and provides Glacier National Park with its name. Pro-tip: instead of parking at the trailhead, take the boat across Swiftcurrent Lake and Lake Josephine to shave 3.4 miles off your hike, for a shorter 7.2 mile jaunt.
Looking for more details on Glacier National Park? Check out our Adventure Guide!