Are you a van lifer spending part of summer in the Sunshine State? If you're considering a van trip to Florida take our advice – you do not want to skip over the fresh water springs that are scattered throughout the state. These springs are perfect for those you want to explore the natural elements that make old Florida so unique. Check out the list below for a round up of our personal favorite swimming holes to dip while adventuring this coming season!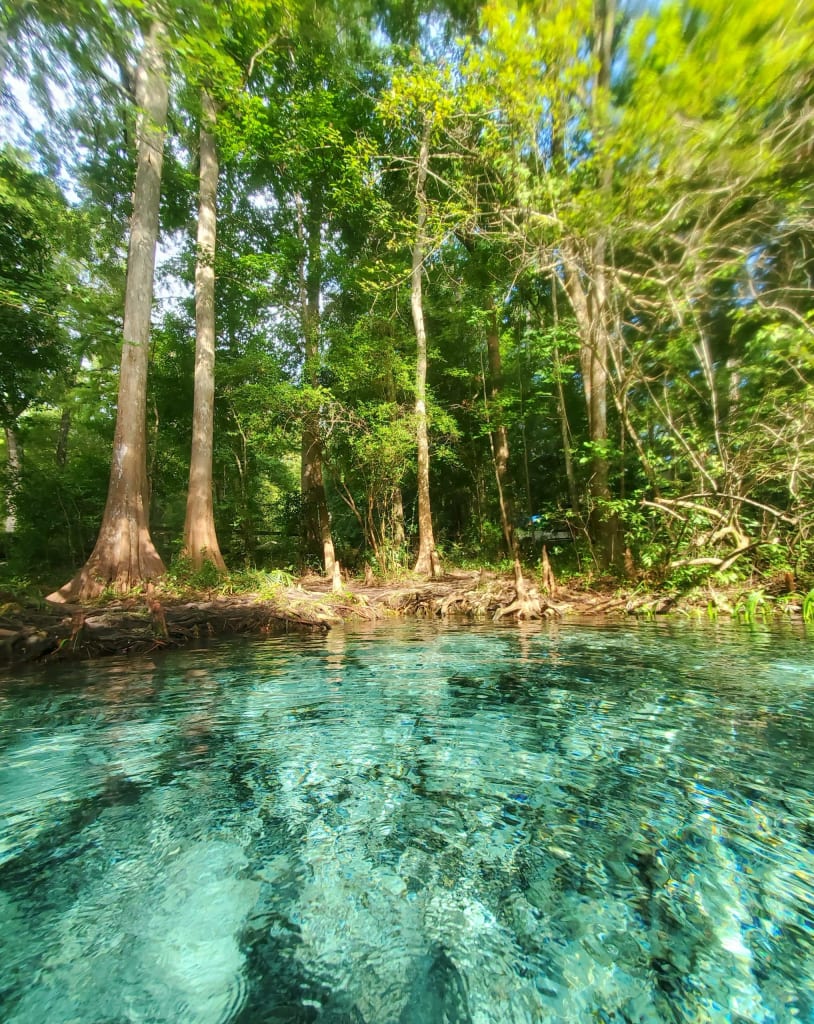 Ginnie Springs Outdoors, High Springs, FL
Ginnie Springs is a privately-owned swimming hole in High Springs with cool, clear water that comes from the Santa Fe River. The site is open year-round and offers a wide variety of activities, like swimming, snorkeling, diving, camping, tubing, kayaking, canoeing, volleyball, paddle boarding, and more. There are 123 water and electric campsites that can be rented by either RV owners or tent campers, making it a great place to stop overnight or even for a weekend. Ginnie Springs is often regarded by residents and visitors as one of the best swimming holes in the area, if not the state.
Madison Blue State Park, Lee, FL  
The Madison Blue State Park in Lee is another popular swimming hole that boasts first-magnitude springs, which means that the spring pumps out a whopping 2,800 liters of water every second. The 85′ wide and 25′ deep freshwater springs are a beautiful blue-green and are an excellent spot for swimming, snorkeling, and cave diving. Other fun activities at Madison Blue State Park include paddling, fishing, bird watching, picnicking, and tubing. Restrooms and parking are available, but this swimming hole may be better suited for a quick stop versus an overnight stay, since camping and other lodging appear to be limited.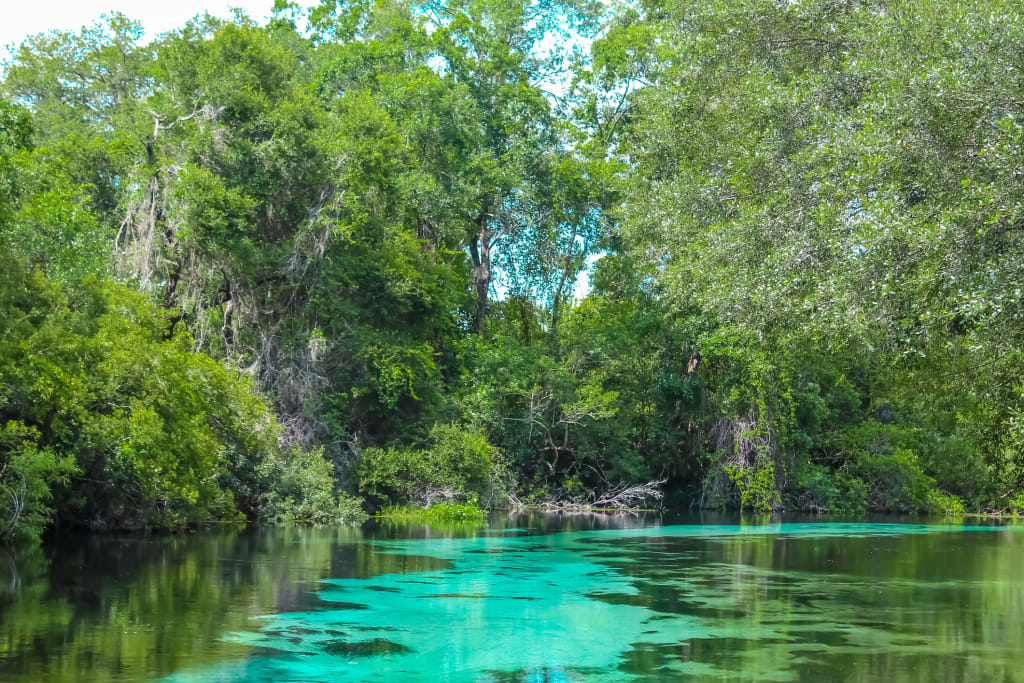 Weeki Wachee Springs State Park, Spring Hill, FL
Weeki Wachee Springs State Park is the home of the famous Weeki Wachee mermaids, a group of experienced divers dressed as mermaids that put on a creative fantasy show that brings mermaid lore to life. This swimming hole is a bit of a tourist spot, so you should note that crowds may be heavy at times. Another claim to fame at Weeki Wachee is that it's the deepest freshwater cave system in the United States and boasts a lot of nationally protected wildlife. Concessions, a restaurant, showers, a playground, and parking are also available at Weeki Wachee Springs State Park.
Edward Ball Wakulla Springs State Park, Wakulla Springs, FL  
Wakulla Springs State Park is situated just 14 miles south of Tallahassee in Wakulla County. Wakulla Springs is the largest and deepest freshwater springs in the world, right in sunny Florida. A gorgeous, ancient Cypress tree swamp surrounds the springs, creating an ethereal and magical swimming experience. Stay in the historic lodge with its old Hollywood movie vibes, enjoy a historic boat tour, or view the abundance of natural wildlife around the springs. Available amenities include concessions and a restaurant, parking, a playground, restrooms, a picnic pavilion, laundry and shower facilities, recycling, and an equestrian trail.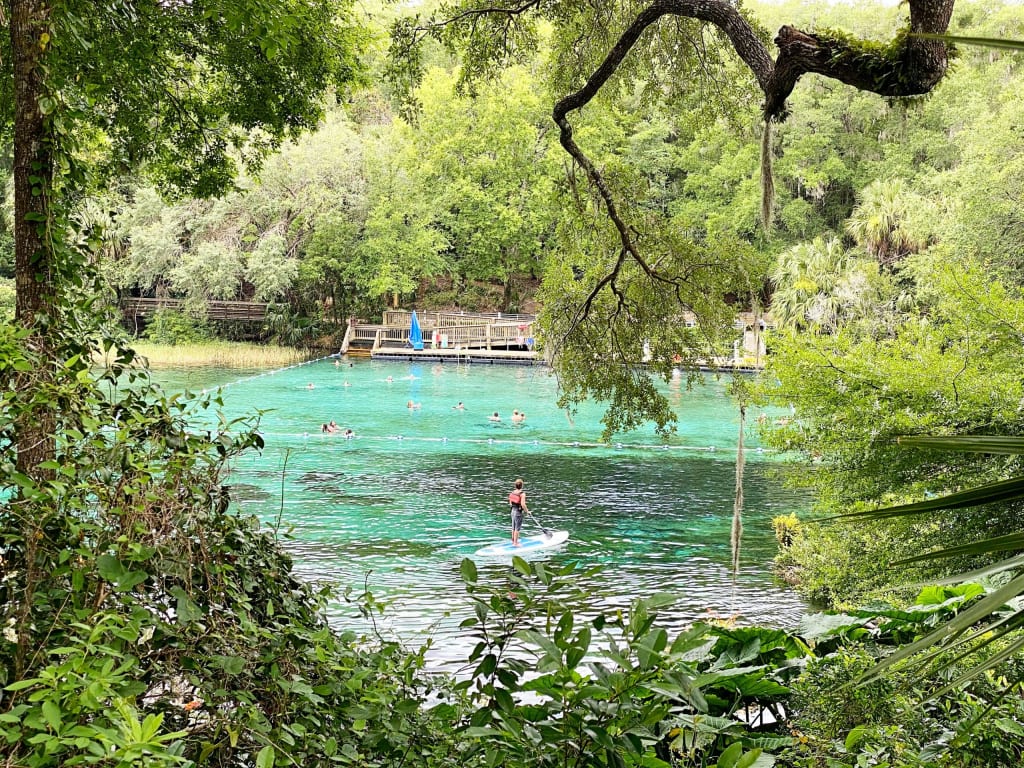 Rainbow Springs, Marion County, FL
Rainbow Springs in Marion County are smaller and less touristy than Weeki Wachee but offer relaxing swimming, tubing, and kayaking in their crystalline aquamarine waters. Other activities that are available at Rainbow Springs include but aren't limited to hiking, snorkeling, geocaching, wildlife viewing, and picnicking. Parking is limited and is available only on a first-come, first-serve basis. If the parking lot is full, entering vehicles will only be allowed to park once a certain number of vehicles exit. There are changing rooms at Rainbow Springs, but there are no showers on-site.
Ruth B. Kirby Gilchrist Blue Springs State Park, High Springs, FL
The Ruth B. Kirby Gilchrist Blue Springs State Park is a beautiful blue swimming hole in High Springs that is one of the smaller, more quaint spots on this list. The park is open between 8:00 a.m. to sunset every day, 365 days a year. Like Rainbow Springs, Blue Springs will close when the park reaches capacity, which may occur on weekends and holidays. There are 23 campsites available at Blue Springs, 16 of which have an electric hookup for tents and RVs and 7 sites that are reserved for tent-only non-electric camping. Geocaching, hiking, snorkeling, and paddling are also available.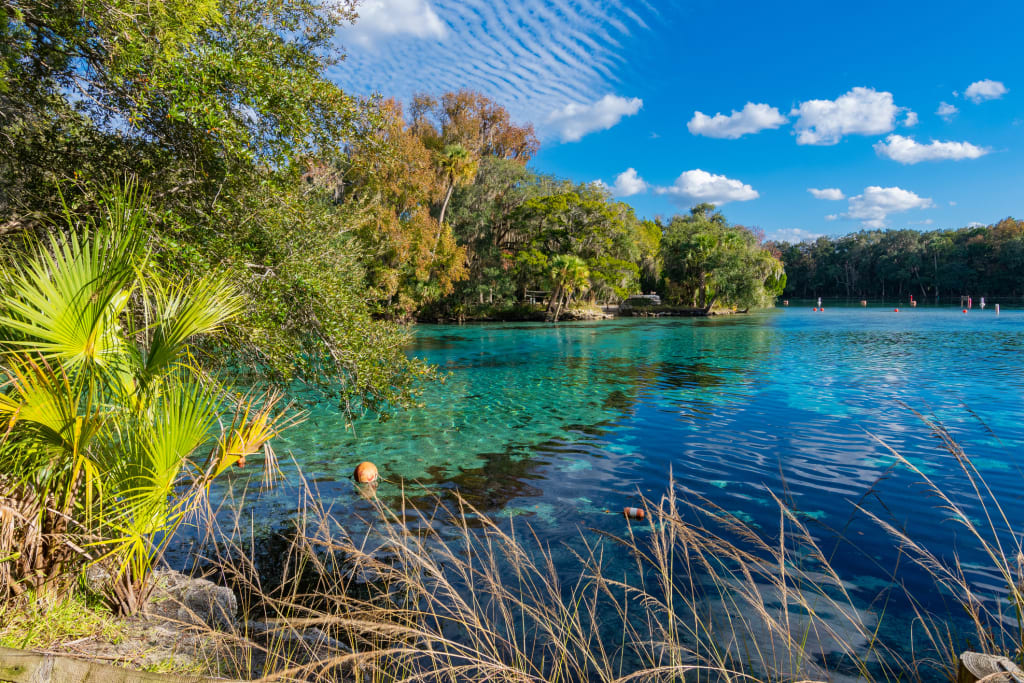 Silver Glen Springs Recreation Area, Salt Springs, FL 
Not only is Silver Glen Springs a gorgeous, refreshing swimming hole tucked away in the enchanting groves of Salt Springs, but it's also an important cultural and archeological site. The springs are open from 8:00 a.m. to 8:00 p.m. daily. However, hours are subject to change by season and weather. Restrictions at this park include no boating in the swimming area, no scuba diving or diving, and no entry into the middens, which are sacred Native American coastal features that preserve food waste, tools, pottery, and animal bones. Portable toilets, changing facilities, and picnic tables are available.
Juniper Springs Recreation Area at Ocala National Forest, Silver Springs, FL 
Juniper Springs at Ocala National Forest is one of the oldest and most well-known swimming holes in Florida. Located just a half-hour outside of Ocala in Silver Springs, this enchanting and picturesque swimming hole was developed in the 1930s and now features walking and hiking trails, a campground, and a picnic area alongside the freshwater springs. A bathhouse with hot showers is also available, making this a must-stop for van lifers and road trippers who need to clean up and rejuvenate after long hours on the road.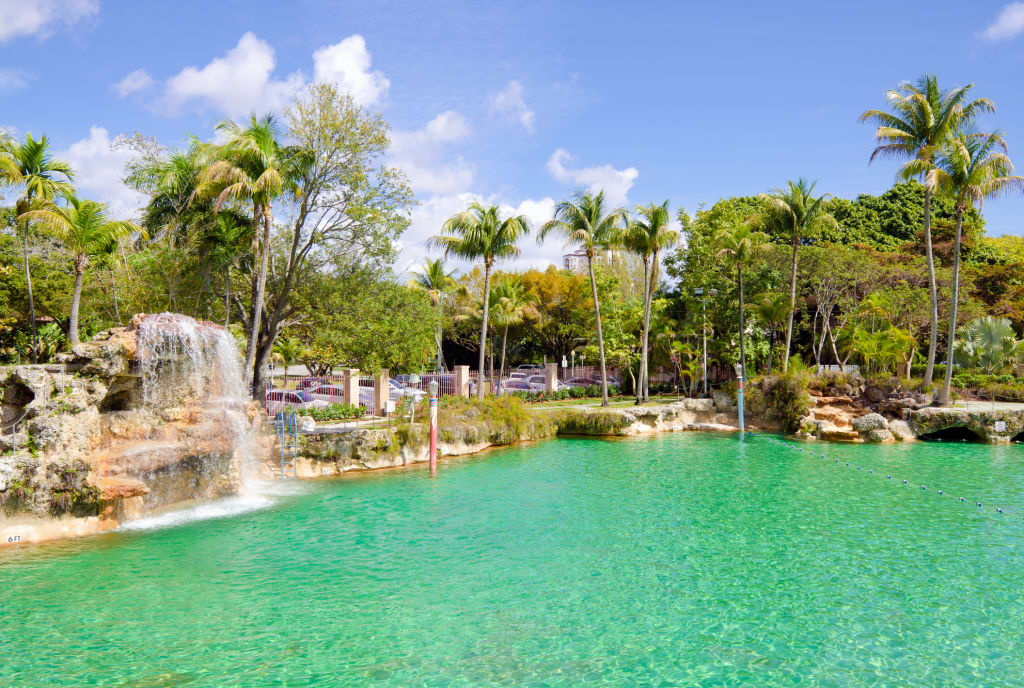 The Venetian Pool, Coral Gables, FL 
The Venetian Pool is the only swimming hole on this list that isn't a traditional spring. This historic public swimming pool was built in 1924 from a coral rock quarry, and the original rock borders the pool. You don't have to worry about chlorine here though — the pool is filled with cool, fresh spring water straight from an underground aquifer. The pool is drained and refilled every day during the summer seasons to keep the water clean. Hours at the Venetian Pool vary, so call ahead and check when they open and close on the day you're planning to visit.
Royal Springs, O'Brien, FL 
Last but not least, Royal Springs in O'Brien is the perfect swimming hole in Florida for those who want to go somewhere a little bit off the beaten path. Nestled along the Suwanee River, Royal Springs is 42 feet deep and astonishingly clear. The stairs to get to the swimming hole are not accessible and the hike to get to the springs is about a half-mile, so you may want to plan your trip elsewhere if disability accessibility is something you or someone in your group needs to have. Portable toilets and picnic tables are available for lunch or snacks, but no camping at this spot makes it best suited for a day trip.
Why Van Lifers Should Put These Swimming Holes On Their Summer Maps Today 
Don't miss the opportunity to enjoy some of the clearest blue waters that Florida has to offer outside the Gulf of Mexico and the Florida Keys. These freshwater springs are calm, cool, and many of them are shaded with giant, moss-covered oak trees for a truly surreal summer experience.