When searching to plan your next big camping adventure, you want a destination that's not only filled with fun but also somewhere you can relax and soak up some rays. There's nothing better than sitting on a gorgeous beach, feeling yourself bronze up, and smelling that fresh salty air while sipping on an ice-cold beverage. If you are looking for white sand beaches and see-through turquoise water, then the Florida Keys is your next van destination. The Keys are filled with exciting wildlife, several scattered beaches, and tons of fun-filled aquatic activities.
Now planning the trip may get a little overwhelming because the Florida Keys consist of several coral islands. Altogether, the chain of islands makes up over 800 keys! So, I understand if you're a little confused about where to start, but do not stress any longer! In this article, I've mapped out ten different "hot spots" to check out while you're driving through Key West, Key Largo, and Marathon, as well as campgrounds nearby, to set up your traveling home during the stay!
Guest Post by Brianna Walsh-Earp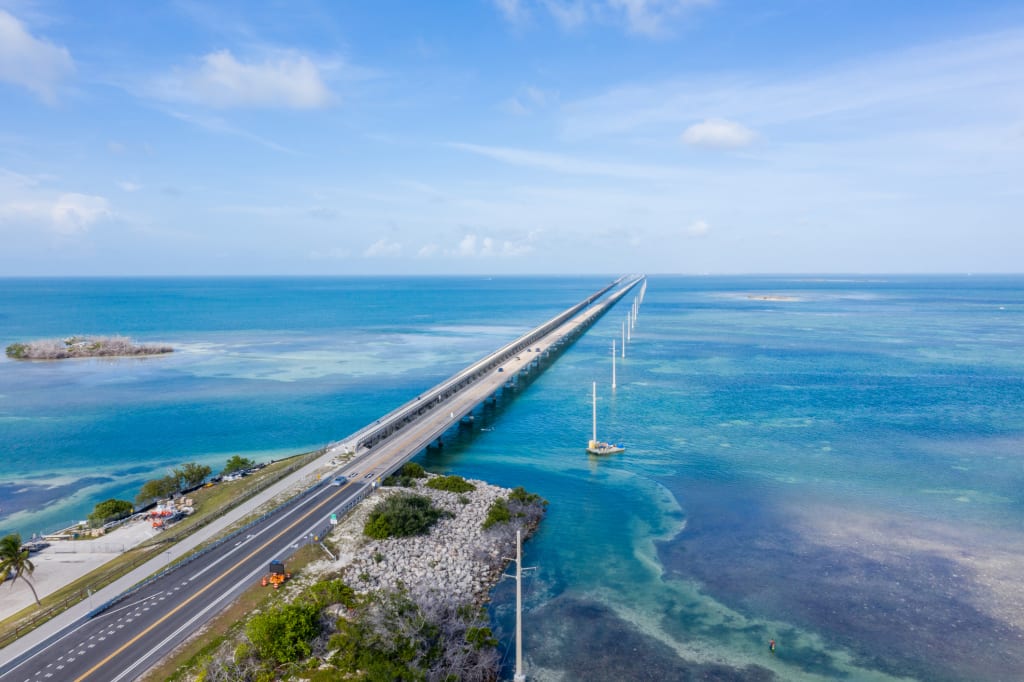 Key West
Campgrounds
• Leo's Campground & RV Park
• Boyd's Key West Campground
Duval Street
Take a stroll down or spend the day touring through the iconic Duval Street of Key West, home of the famous "Southernmost Point" marker. The mile-and-a-quarter bustling strip has everything imaginably to peak your interests like shopping, dining, barhopping, people-watching, and sightseeing. Duval Street hosts several fun annual events and parades that you'll want to be a part of. Every summer is the Hemingway Days festival and a 10-day costume party, the Fantasy Fest, in October!
Ernest Hemingway Home & Museum
History stands on every corner down in The Florida Keys, you can find plenty of historical attractions anywhere you go. Consider putting Ernest Hemingway's house on your list of top destinations. Visitors can tour the home filled with 17th– and 18th-century Spanish Furniture. The house is also famous for the gardens that feature many species of flowers and over 60 feline descendants of Hemingway's original famous 6-toed kitties.
Old Town Key West
Old Town Key West is a part of Key West that has plenty of diverse activities for you to participate in and make some good memories while doing it. Whether you're looking for a relaxing beach day at Fort Zachary Taylor State Park & Beach or feigning to tour a haunted Victorian mansion with Key West Ghosts and Gravel Tour held nightly. Treat yourself to a Miami vice while watching the sunset on the Sunset Pier surrounded by laughter and great music. You can even walk to the "end of the road" and take a picture next to the Mile Marker 0 sign or find the Southernmost point buoy and tell your friends that you've been as far south as you can go in the United States!
Key West Butterfly & Nature Conservatory
If you are van-traveling with your kids, then you'll most likely want to make this trip as entertaining and memorable as possible. There's absolutely nothing wrong with spending the day at the beach, but if you spice things up a bit, then check out the Key West Butterfly & Nature Conservatory. You can learn all about the life stages of over 60 different species of Butterfly, and also witnessing live the stages of a Caterpillar's life. The butterflies are allowed to soar freely throughout the conservatory, so keep still and if you're lucky, one will land on you!
Key West Lighthouse & Keeper's Quarters
No matter the reasoning for taking a trip or going on vacation, you should always include a little bit of history wherever you go. Lighthouses are a great way to get a little of that in your schedule considering most lighthouses were built long ago to help ships navigate through dangerous areas. The Key West Lighthouse was built in 1848 and has been restored, along with the keeper's quarters, to look the way it did in the 1900s. Throughout the tour, you'll get to see vintage furniture and highlights of the workers' lives who lived there in the past. Once you reach the end, you're encouraged to climb the steep 88 steps to the top to overlook miles of Key West!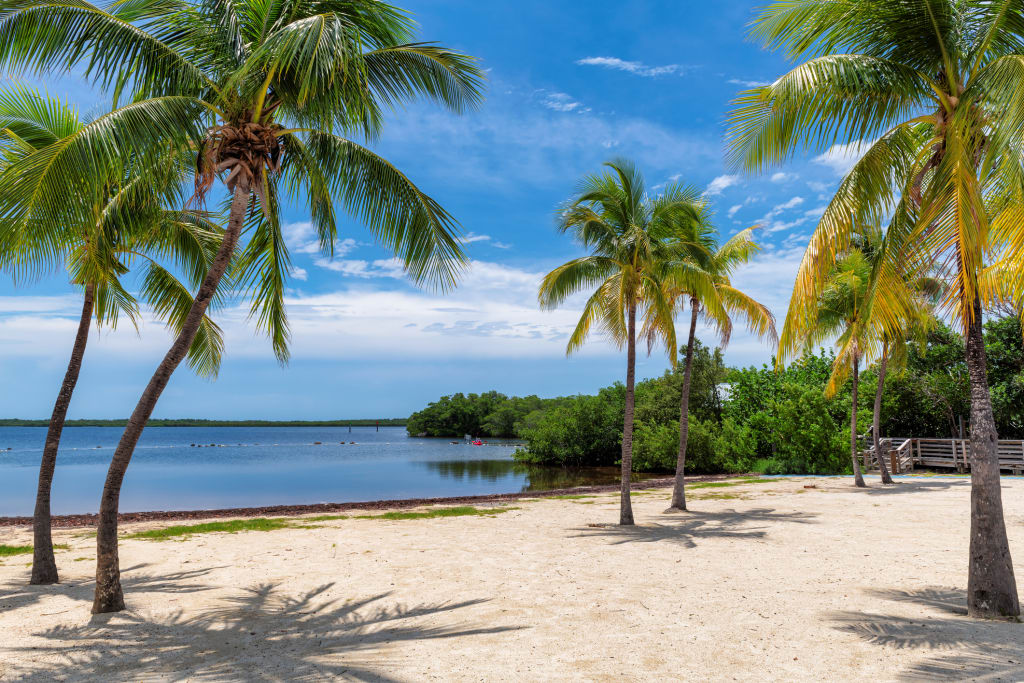 Key Largo
Campgrounds 
• John Pennekamp Coral Reef State Park
• Key Largo Kampground & Marina
John Pennekamp Coral Reef State Park
If you plan on stopping in Key Largo for a few nights, then you'll want to stay here for a few days. His state park is widely known for its easy access to its underwater coral reefs, making it a hot spot for scuba divers and snorkelers. They even offer lessons to inexperienced snorkelers and divers just trying to witness the wide variety of fish and sea life below the surface. While you're down below, look around to see if you can spot the 9-foot-tall statue of an underwater Christ, named the Christ of the Abyss. 
Dagny Johnson Key Largo Hammock Botanical State Park
For those who enjoy spending time in mother nature or strolling through miles of special greenery, Key Largo features a gorgeous botanical state park boasting West Indian hardwood hammock and rare native plant species. Set out for a pleasant hike throughout the park's six-mile network of walking trails, while keeping a close eye out for the fascinating wildlife. Pack yourselves a quick lunch in a picnic basket and take full advantage of the covered pavilions. The park is home to bountiful birdlife, so you can sit back and listen to the tune while enjoying your favorite sandwich!
Island Dolphin Care
Island Dolphin Care is a great marine life experience your kids wouldn't want to miss! You have the decision to opt for more interactive activities with the sea mammals or sit dockside and watch them interact with their human guardians. The care center focuses on rescuing and rehabilitating the dolphins as well as educating humans about them. Another awesome relaxing activity you can do is float on a raft in the dolphin pool and participate in some dockside yoga!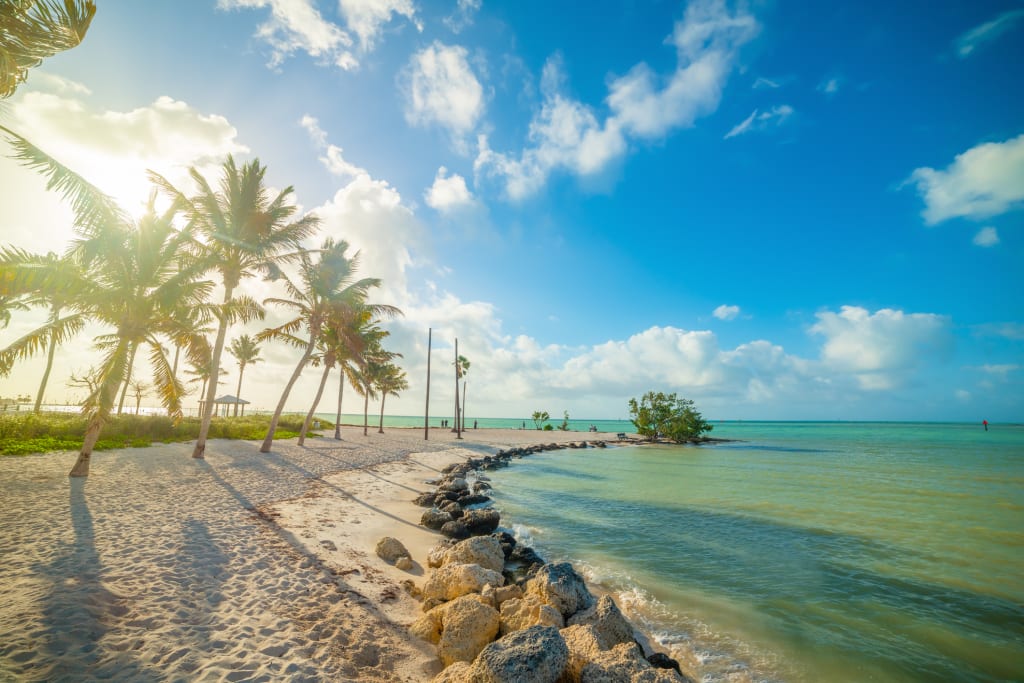 Marathon
Campground 
• Curry Hammock State Park
• Grassy Key RV Park & Resort
Sea Turtle Hospital
Another great activity to do with your kiddos is to bring them to any place with animals, especially one that rescues, rehabilitates, and releases them. A lot of these organizations are usually non-profit, which means they rely on donations to continue their work. The Sea Turtle hospital was opened in 1986 by Richie Moretti, who noticed the alarming numbers of injured and sick sea turtles in the area. You and your children can tour all through the building to witness the rescued turtles gathering their strength to eventually be released back into the ocean. The tour costs around $22 a person but every dime earned is used for the turtles.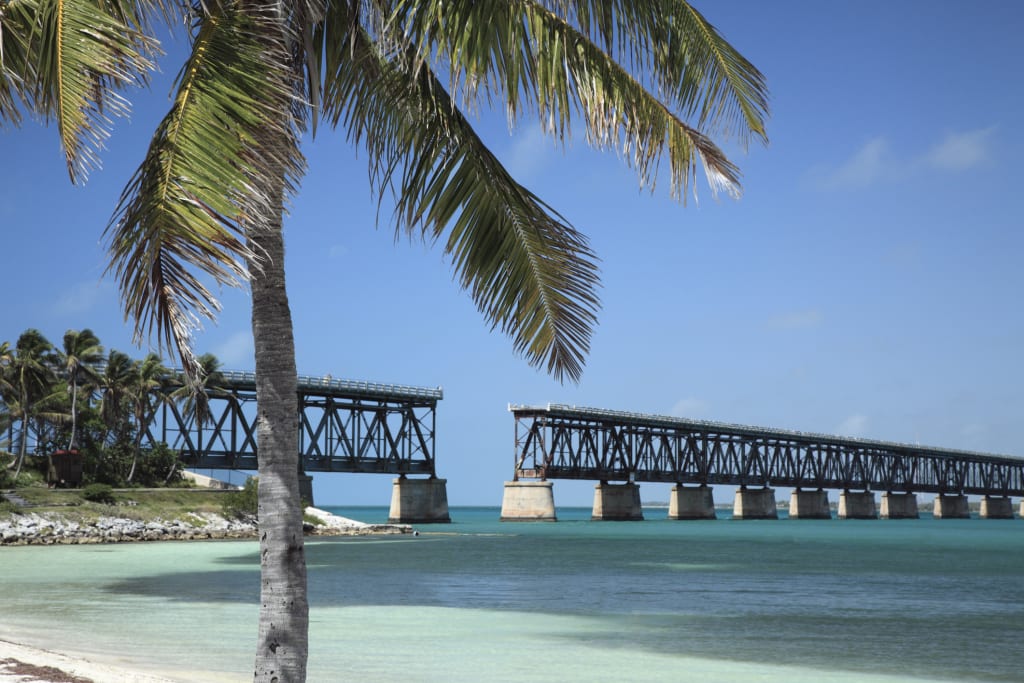 Bahia Honda Key
Campgrounds
Bahia Honda State Park
This state park is perfect for the beach day that you have been longing for since you arrived in the Florida Keys. Whether you spend it with your family or alone, it will easily be one of the prettiest beaches you have ever seen. The park features two separate beaches, the large one faces the open ocean, and the other, which is smaller, overlooks an old railroad bridge. Before heading to the park, make sure to pack a cooler with cold beverages and yummy sandwiches to enjoy at the ground's many picnic tables.
Wherever you're traveling from, the Florida Keys could be a bit of an overwhelming drive. That's why it is imperative to have a van that can take you that far! If you're feeling a little nervous about the long excursion ahead, check out Recvan's website to find a great deal on a new or used camper van!