It's that time of year again–your kids are almost on summer break, you can't wait to finally use some of your vacation days, and the whole family is generally antsy to have some fun together. While any vacation probably sounds like a treat right now, we suggest a camper van road trip for unparalleled bonding.
Feature Image by @alvarezgrandtour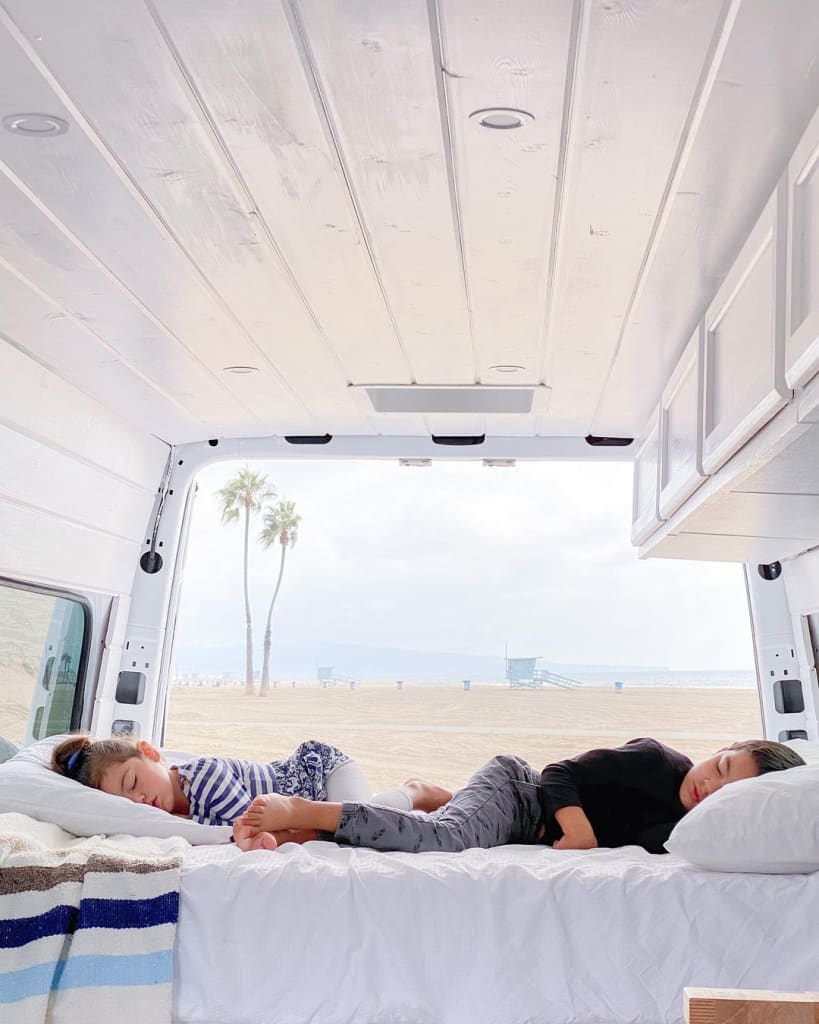 Photography: @writtenritmos
Why Van Travel?
Road trips have a nostalgic quality that allows families to focus on the simple pleasures and being present together. Camper vans in particular provide the flexibility you'll need to match your kids' spontaneity. Found a campsite you're in love with? Stay as long as you like! Need to change things up to keep your kids engaged? Switch locations earlier than planned.
You'll get to keep your traveling home constant throughout the trip (whew–no accidentally leaving favorite toys at hotels) while having new and exciting experiences. Camper vans also allow prepared parents to easily store everything kids need on deck, from board games and sports equipment to nutritious snacks and beds for midday naps.
No matter how old your children are, this summer is your chance to take an epic road trip they'll never forget. Whether you already own a van, are considering buying one, or plan to rent one for the trip, our tips will come in handy for planning the ultimate van vacation for the whole family.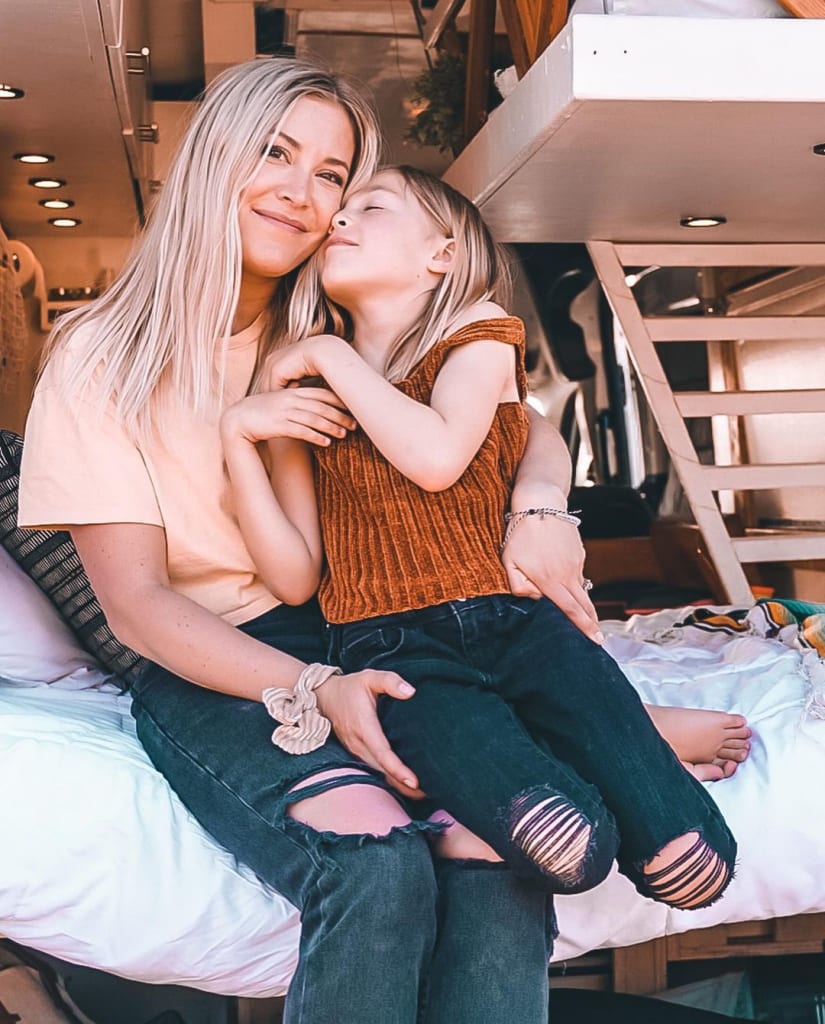 Photography: @thefites
Decide on Your Destinations and Route
Any good vacation starts with a killer destination. You might choose to go down to Mexico for a laidback beach trip or head up the West Coast to beat the heat in the Pacific Northwest. You could also plan a road trip around a subject your whole family is interested in (check out "8 Road Trip Destinations for Movie Lovers" and "10 Immersive Art Attractions to Add to Your Road Trip Bucket List"). Or you might visit a few nearby national parks and let your kids rack up their junior ranger badges while you unwind in nature. For more summer travel ideas, read "Top Van Destinations for June 2022."
The sky's the limit when it comes to continental travel destinations, but there are a few guidelines you should keep in mind for van road trips. It may sound like a no-brainer, but your destination should be a place you can easily reach by car (with plenty of breaks) in the amount of time provided. This means you should consider routes that start near your home base.
The route also needs to have multiple stops of interest along the way. Unlike a vacation you reach by plane, the journey is just as important as the destination in van travel. With kiddos on deck, you'll probably want to drive for half days and spend the remainder of each travel day exploring new sights and hanging out at your campsite.
Don't forget to factor in ample time for the way back. If you can, spice up the return trip by taking a different route or stopping at places you intentionally saved for later on the drive there. If you need to pack a lot of the driving into a few days to get to a further destination, frontload the long driving days at the beginning of the trip and allow your family to take a more leisurely pace on the way back when everyone is tuckered out.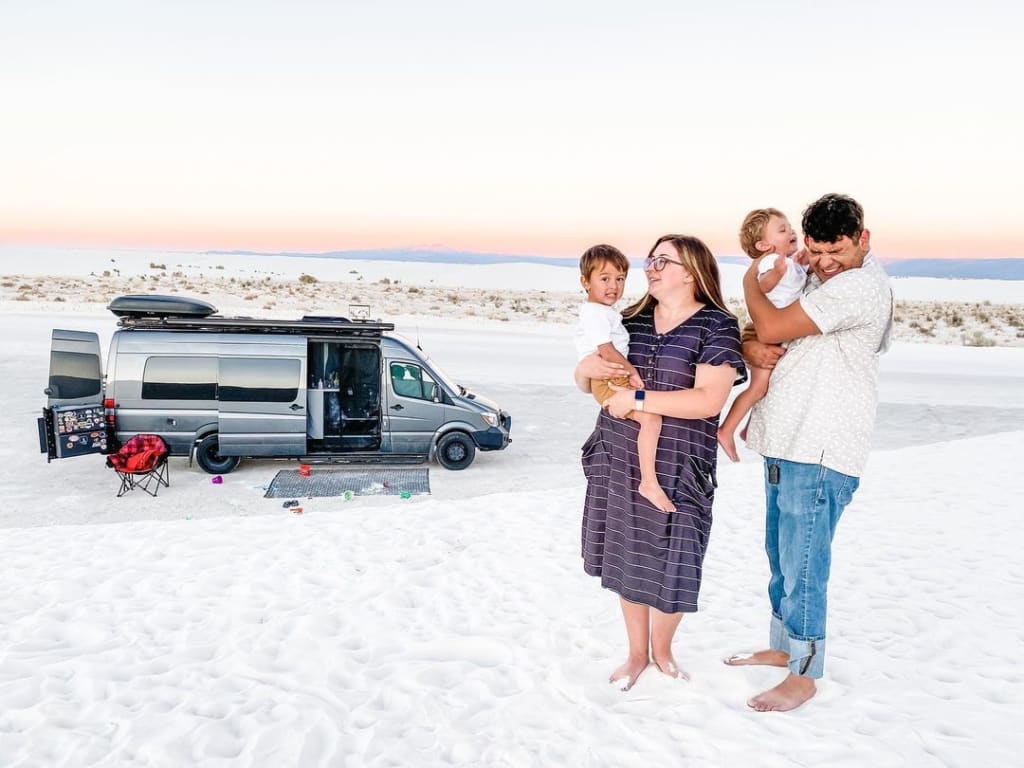 Photography: @alvarezgrandtour
Research, Research, Research
So you've got a general idea of where you'd like to go this summer. Now it's time to put in some work sorting out the details. Trekaroo, also known as the TripAdvisor for families, is a great place to get started. There, you can browse hundreds of destinations, road trip guides, and user reviews, all tailored for families with kids. Undercover Tourist is also a helpful resource to score discounted tickets for theme parks and more.
Next, it's time to figure out where you'll stay each night. Boondocking (camping off the grid) is completely possible with kids and can be a great opportunity for little ones to get in touch with the natural world. However, you should consider staying at campsites with hookups at least a few times a week. Why? In general, staying in a van with multiple people means you'll run through resources faster. Little ones also tend to get dirty more quickly, and being hooked up to water will allow the whole family to shower comfortably without running through your stored H2O supply. You'll also be able to dump your van's black and gray water holding tanks and take advantage of limitless electricity.
RV resorts are a great option for families because, in addition to full hookups, they usually have pools, activities, and laundry machines. Stay at an RV resort for a few days or longer to let your kids run free and tap into that true summer break feeling. Keep in mind that some sites in popular spots need to be booked well in advance.
Besides your main destinations and campgrounds, you may want to research parks along your driving route so your crew can get out of the van, stretch, picnic, and squeeze in a little physical activity. The free Playground Buddy app is your new best friend with photos and helpful information for over 200,000 parks around the world.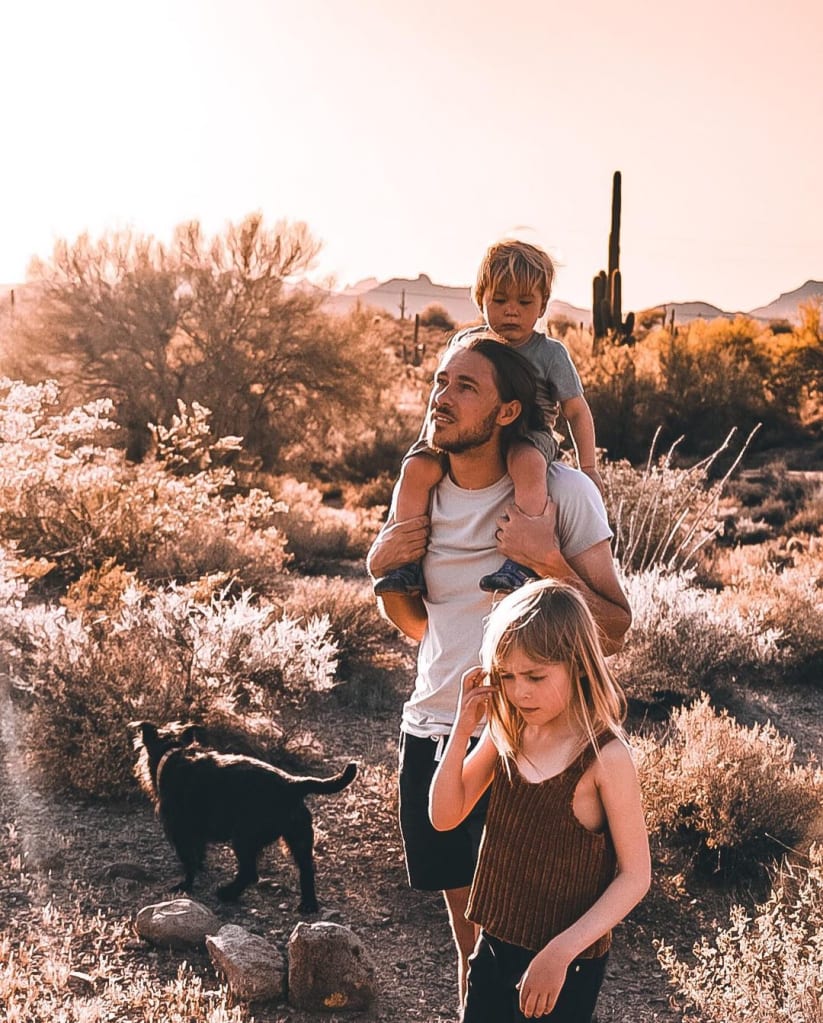 Photography: @thefites
Tips for Road Trips with Kids
After choosing your destinations and coming up with an itinerary, you might still feel a bit apprehensive about embarking on a new type of adventure with kiddos. You could be striving to avoid that dreaded road trip question, "Are we there yet?" Or you might worry about your kids bouncing off the walls while staying each night in a compact living space. Have no fear–we have a few tips to minimize any potential challenges of family van travel while maximizing all of the highlights.
To keep kids entertained while driving, variety is key. Download music and audiobooks for the whole family to listen to together. Movies and phone games are perfect for kids to enjoy individually. All of these forms of distraction help pass the hours quickly, but some of your kids' best road trip memories will come from the whole family engaging with each other by talking and playing group games.
Try guessing games like 20 questions and animal vegetable mineral. Or challenge yourselves to come up with things in a particular category for every letter in the alphabet. Looking outside the window can also be a great source of entertainment. As a group, try to find each letter of the alphabet (in order) in the ever-changing scenery. You can also prepare bingo sheets in advance with notable road trip sights for kids to find.
The amount of time you can drive at once will depend on the ages and temperaments of your children. As a rule of thumb, stop every two to three hours to give everyone a chance to stretch and use the bathroom. Packing a ball, frisbee, or jump rope will help youngsters get out extra energy on short breaks.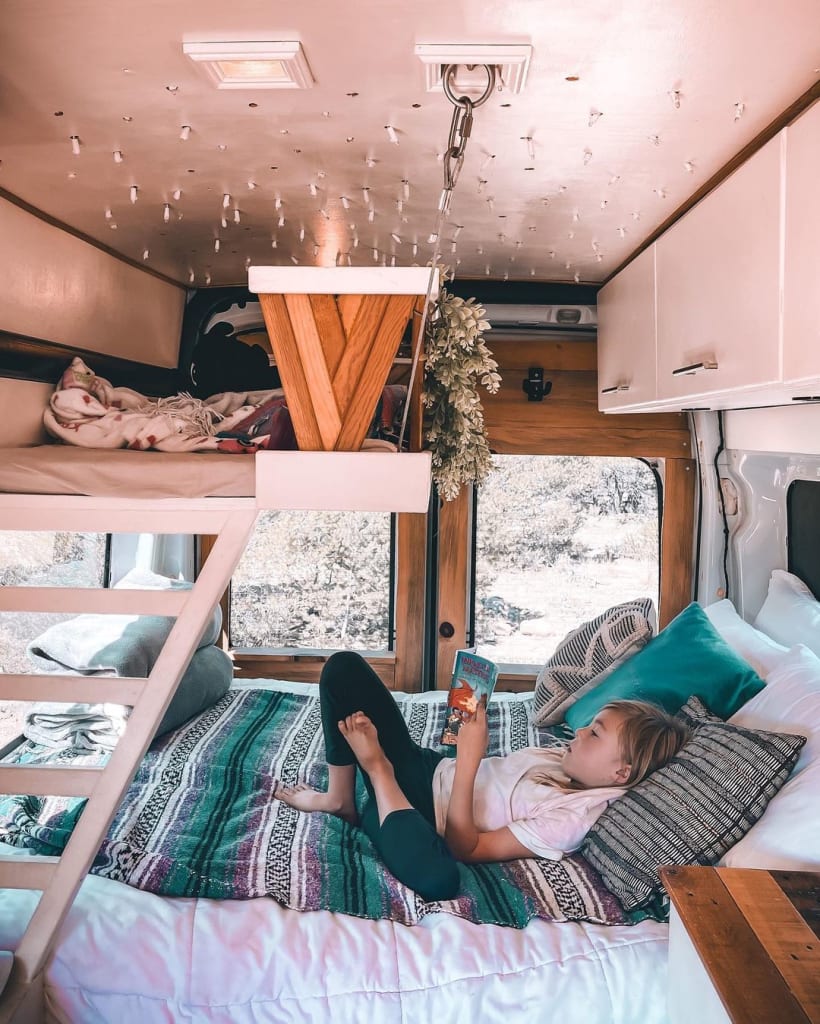 Photography: @thefites
What to Do When You Get There
When you reach your destinations, engage in a wide variety of activities outside of the van so no one gets cabin fever. Hiking, swimming, snorkeling, visiting amusement parks, checking out museums, collecting leaves and rocks, making sandcastles… The possibilities are endless. For evenings or bad weather days, pack a few games or crafts to do inside the van.
Our most important tip for traveling with kids–which you probably already know from parenting in general–is to be flexible. Plans may need to change if your little ones are feeling tired or antsy. Luckily, van life offers flexibility and freedom. You can challenge your whole family to get out of their comfort zones with a new style of travel while making sure everyone is comfortable and cared for along the way. The more new experiences you have together, the more lifelong memories you'll be making.
Considering buying a van for endless family van vacations? Visit Rec Van to browse our wide variety of new and used camper vans. If you found this post helpful, you might also like "Tips for Van Travel with Kids" and "Plan Your Next Van Staycation."