Who doesn't love movies? If you're looking to take a themed road trip, why not draw inspiration from the silver screen? Whether you're partial to bustling cities or remote wilderness, you and your trusty van can visit the iconic filming locations of some of your favorite flicks. Across the U.S., you'll also find fascinating cinema museums, film festivals, indie theaters, and theme parks that will make you feel like a kid again.
These destinations are bound to give you a newfound appreciation for the movies you know and love. They will also take you off the beaten path to see beautiful buildings, manicured gardens, and national parks that you might not think to visit otherwise. Ready to plan your movie-themed road trip? Read on for eight of the best destinations in the U.S. for cinephiles.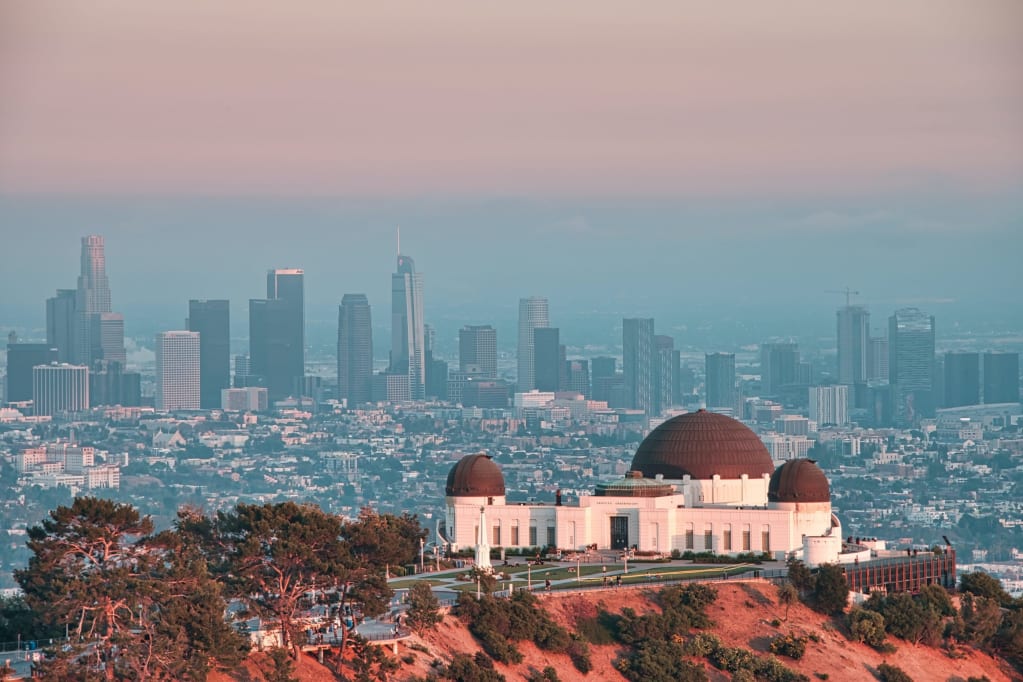 Los Angeles, California
You can't write a list of movie-lovers destinations without mentioning America's film industry capital. Los Angeles is filled with enough cinema-related activities to keep you busy for several weeks. Of course, you can check out the tourist traps of Hollywood Boulevard and the city's multiple theme parks, but we prefer a slightly slower-paced side of L.A.
Pay homage to bygone sirens of the silver screen at the Hollywood Forever Cemetery, which also hosts outdoor movie screenings in the summer. Learn about the art of filmmaking at the new Academy Museum of Motion Pictures. Studio Ghibli fans will be thrilled with the museum's retrospective on filmmaker Hayao Miyazaki.
Notable filming locations are nearly endless in L.A. One highlight to visit is the architecturally-unique Bradbury Building, which was featured in films like Bladerunner and 500 Days of Summer. Or opt to spend a day following in the footsteps of Emma Stone and Ryan Gosling in La La Land. Galavant around spots featured in the movie from the Colorado Street Bridge to Grand Central Market, and wrap up the evening with stunning views of the stars and city from Griffith Observatory.
Park City, Utah
This small mountain town comes alive each January for the Sundance Film Festival. Sundance is one of the most respected indie film festivals in the U.S. Many of the movies that debut at Sundance go on to win Oscars, including the 2022 Academy Award Best Picture winner, CODA. If you want to get the first look at future winners, consider buying a ticket. One of the best things about Sundance is that it is open to everyone, from industry leaders to film fans. The festival lasts 10 days but is broken up into two nearly identical five-day sessions. You can buy a ticket for one of these five-day sessions or just buy tickets for the individual screenings you're most interested in.
After taking in some of the year's best independent films, it's time to enjoy Park City's other offerings. The area is known for winter sports like skiing, snowboarding, sledding, tubing, and snowshoeing. Looking to enjoy the snowy scenery without all the physical exertion? Take a horse-drawn sleigh to a cozy lodge for live music and a hot meal.
If you aren't visiting in winter, you can still enjoy some movie-related stops. Check out Park City Film for independent movie screenings year-round. Or catch a live performance at the Egyptian Theatre, a kitschy historic building that served as the first home of the Sundance Film Festival and continues to be part of the festivities today.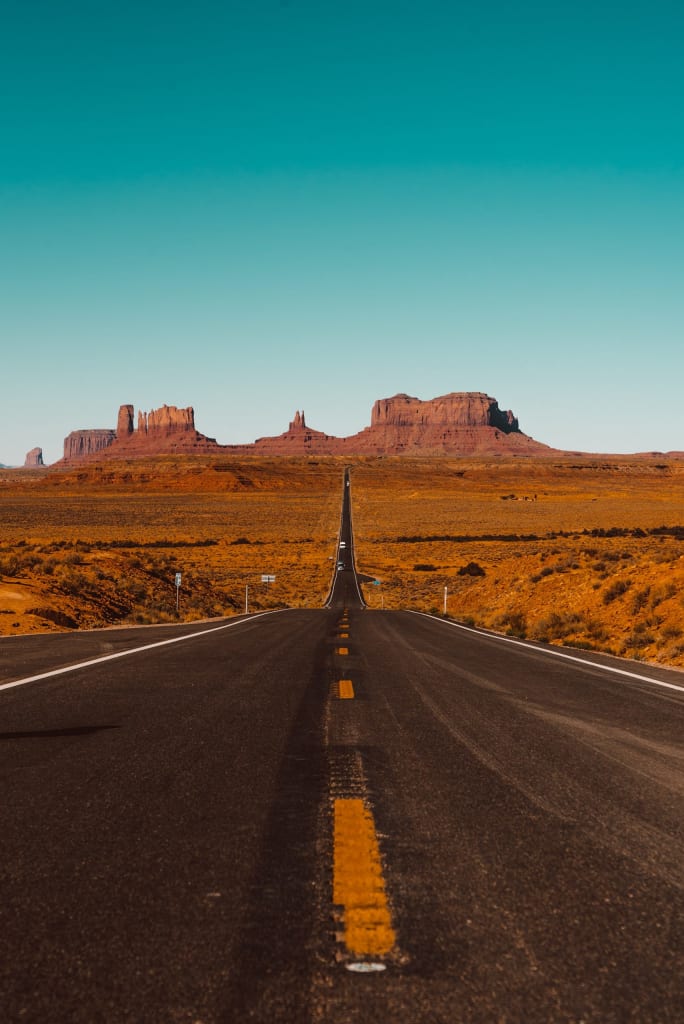 Monument Valley, Utah and Arizona
If you want to continue the van adventure from Park City, head down to the border of Utah and Arizona for a visit to Monument Valley Navajo Tribal Park. This wild desert landscape of red rock mesas, cliffs, and buttes has captured the imaginations of filmmakers and audiences since the 1920s.
Director John Ford and actor John Wayne popularized the location in the 1939 film Stagecoach. Ford went on to shoot many other Westerns in Monument Valley. Today, there is even a lookout point named after John Ford. Speaking of movie-related spots in Monument Valley, you can also visit Forrest Gump point, where the popular movie of the same name shot one of its most iconic scenes. More recently, movies like A Million Ways to Die in the West, Transformers, and Lone Ranger have been shot in the valley. Even without these claims to fame, the park is a simply stunning place to camp and hike.
After you've soaked up the massive and majestic landscape of Monument Valley, head to Kanab, Utah. This small town was such a popular location for shooting Westerns in the 20th century that it was nicknamed "Little Hollywood." Step back in time as you explore abandoned film sets on the outskirts of town. Then visit the free Little Hollywood Movie Museum. There, you'll find well-preserved Western sets along with hundreds of photographs and props.
Redwood National and State Parks, California
For another landscape with its fair share of stardom, visit the redwood forests in Northern California. The giant trees and verdant ferns create the perfect setting for otherworldly flicks, including Star Wars VI: Return of the Jedi, Rise of the Planet of the Apes, E.T., and The Lost World: Jurassic Park.
Despite these big names, the redwoods aren't known as a destination for film fans. So if you prefer to kick back in nature and simply experience a cinematic environment, rather than hitting different tourist spots to take pictures, this one's made for you. Northern California has a constellation of national and state parks with redwood trees, meaning there are plenty of peaceful spots to van camp.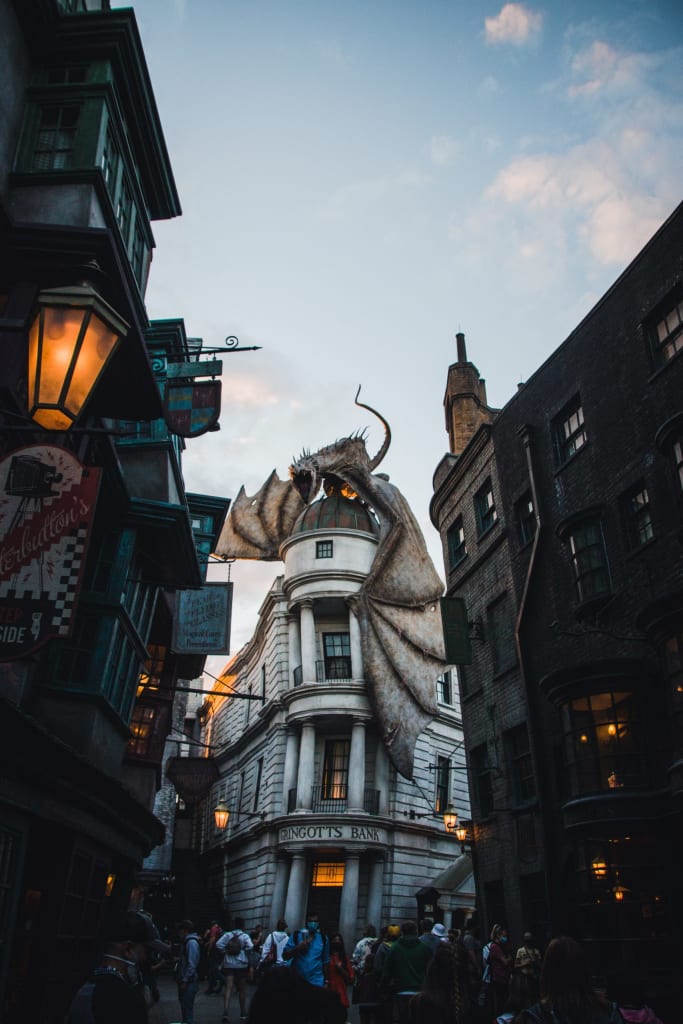 Orlando, Florida
On the other side of the spectrum, you can find capital "F" fun in Orlando. This city feels like an exhilarating playground for all ages. Movie-related theme parks include Walt Disney World and Universal Studios Florida. At the latter, you can wander through Diagon Alley in the Wizarding World of Harry Potter. Then, take the Hogwarts Express train to a second theme park, Universal's Islands of Adventure, for more rides and immersive Harry Potter experiences. Whether you're reliving your childhood dreams or making memories with your own kiddo, theme parks let you step into the magical worlds of your favorite movies.
Think theme parks are all Florida has to offer for cinephiles? Think again. On the first Friday of each month, the sprawling Leu Gardens in Orlando hosts outdoor film screenings. You can also take a day trip to Tampa to watch independent films and live performances surrounded by ornate architecture at the Tampa Theatre.
New York City, New York
The Big Apple is one of the most iconic cities in the world. It's only fitting that the city has become a muse to many directors over the years. Central Park alone has been featured in over 200 films, including When Harry Met Sally, Spiderman 3, Wall Street, and Avengers. Spend a day enjoying the 843-acre park and seeking out spots you recognize from your favorite blockbusters. Another location scout favorite is Grand Central Station. Everything from Alfred Hitchcock's Spellbound to Francis Lawrence's I am Legend has been filmed in these hallowed halls. Oh, and Avengers shot there too.
Every June, New York City hosts the Tribeca Film Festival. There, you can watch independent films, attend panels and talks, and immerse yourself in virtual reality and augmented reality. For an educational and entertaining experience year-round, check out the Museum of Moving Image in Astoria, Queens. This museum is dedicated to the past, present, and future of movies. If you're interested in the inner workings of the film industry, you'll love the museum's illuminating Behind the Screen exhibit.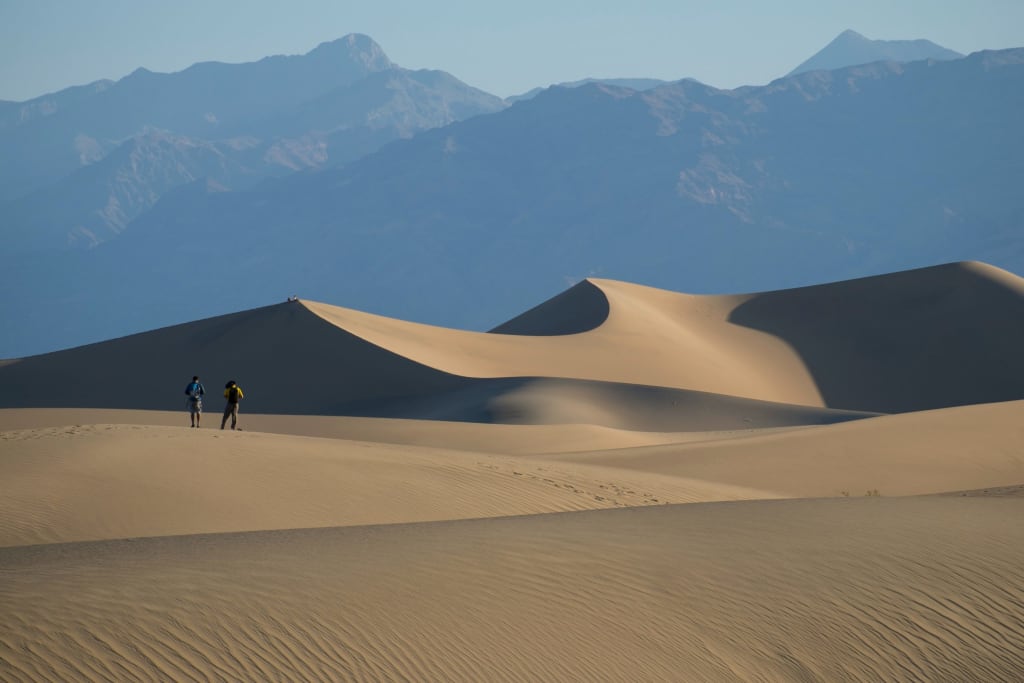 Death Valley National Park, California and Nevada
The name might sound unwelcoming, but this huge national park has so much to offer. Diverse landscapes from gleaming white salt flats to super blooms of spring wildflowers draw admiring visitors. Of course, there are plenty of desolate scenes of sand and rock as well. It is primarily these landscapes that have captured the attention of filmmakers looking for otherworldly settings. Most famously, two of the Star Wars movies used Death Valley as a stand-in for alien planets.
However, Death Valley has been playing host to film crews for much longer. Hollywood's first all-color movie, Wanderer of the Wasteland, was shot there in the early 1920s. This kicked off a long and steady stream of filming in the park. If you'd like to see some of Death Valley's storied vistas for yourself, we suggest Zabriskie Point, Badwater Basin, Darwin Falls, Artist's Palette, and Mesquite Flat Sand Dunes–to start. As the largest national park in the lower 48 states, Death Valley has a near-infinite array of interesting attractions. Just don't visit this underrated national park in the summer as temps soar.
Atlanta, Georgia
Georgia's capital city is quickly becoming a movie-making hot spot. Thanks to Atlanta, the Peach State is generating billions of dollars each year from the film industry. What does this mean for a movie lover like yourself? There are plenty of filming locations and tours to enjoy.
Check out Swan House, a beautiful historic building featured in the Hunger Games movies as President Snow's mansion. There you can wander the grounds and see some original props from the franchise. The Hunger Games was also filmed at the eye-popping contemporary Atlanta Marriott Marquis Hotel. The undulating shapes of this skyscraper were also showcased more recently in the Loki TV series. If we allow a detour into the world of TV shows for a moment, you'll find multiple tours of Walking Dead and Stranger Thingslocations and sets.
After a day spent experiencing these iconic places in person, head to the art deco Plaza Theatre, Atlanta's oldest operating cinema, to watch a film. For something more interactive, check out the movie trivia at The Independent.
Pro Tip: Vanlife Movie Nights
Whichever destination strikes your fancy, consider planning movie nights inside or outside your van. Set up a projector and projector screen or white sheet along with chairs, pillows, and snacks for a deluxe private theater at your campsite. Refresh your memory by watching movies before you see their shooting locations the following day. Or, in the case of the national parks on this list, watch movies while in the iconic landscapes that are depicted.
Looking for the perfect vehicle for endless road trips? Visit Rec Van for a wide variety of state-of-the-art camper vans.