If you're in the mood to experience nature's great fall transition up close and personal, look no further than Shenandoah National Park. This park hugging the Blue Ridge Mountains in Virginia is known for its jaw-dropping display of red, orange, and yellow leaves every October. Enjoy the hills blanketed with vibrant color from a scenic drive along the crest of the mountains, five hundred miles of hiking trails, or even from the top of a rock climbing wall. 
These panoramic views and ample adventure opportunities mean Shenandoah is quite popular during the fall season. However, van dwellers are perfectly poised to enjoy this gorgeous scenery with fewer crowds. The flexibility of van life means you can visit on weekdays which are far less busy. Plus, almost all of the park's hundreds of campsites are accessible to RVs. 
From activity ideas to campgrounds to busy season tips, we're sharing everything you need to know for a fall van adventure in Shenandoah National Park. Read on for the details.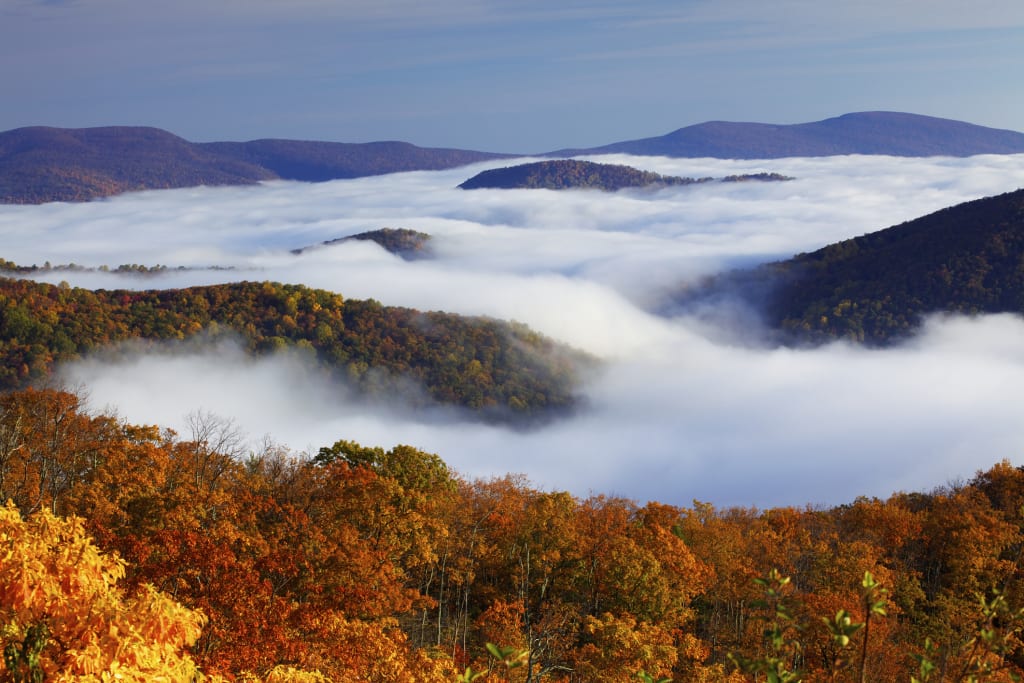 About Shenandoah National Park
Shenandoah encompasses 300 square miles of protected wilderness. Most of the park is mountainous forest but you can also find pockets of wetlands, waterfalls, and wildflowers. The best views of the park are reached at higher elevations, whether by car or by foot. Part of the classic Appalachian Trail runs through this park so backpackers can get in on the fun. 
October is the ideal month to visit Shenandoah for cool weather and spectacular scenery. The exact peak time for fall foliage is different every year and usually lasts about two weeks. The leaves change first at higher elevations; the transformation ripples down the mountains in the following weeks.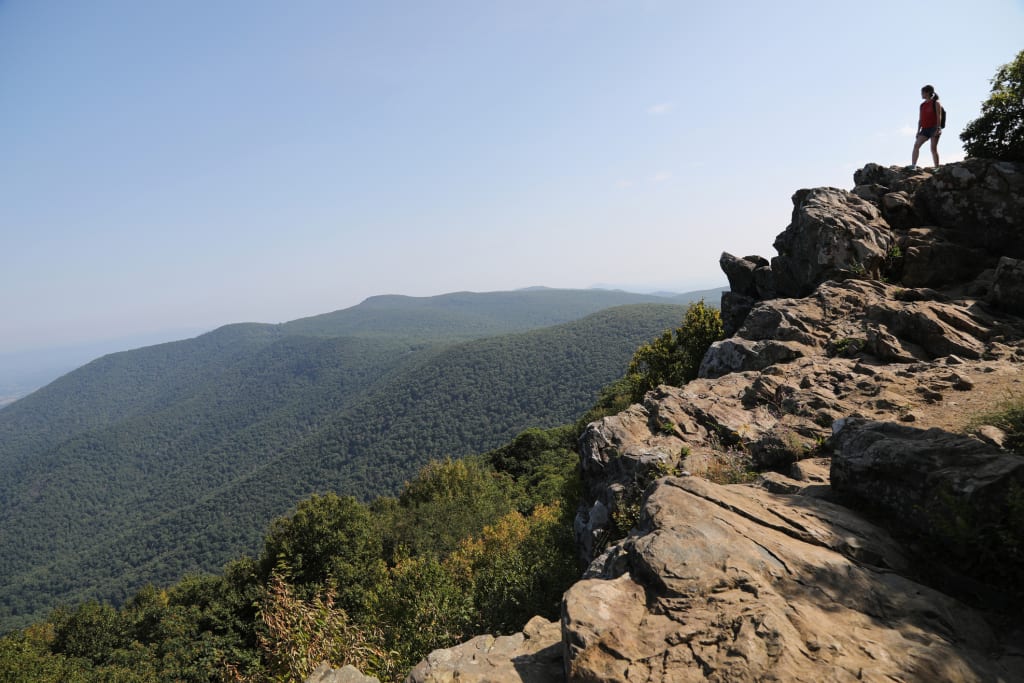 Outdoor Adventures at Shenandoah National Park
You'll want to get outside and stay outside at this epic national park. Whether you stay for two nights or a week, your trip will be jam-packed with adventures in nature. Hiking, backpacking, rock climbing, and scenic drives are all on the menu. 
Hiking
This national park has tons of day hikes at a range of difficulty levels. Whether you want a leisurely walk through the forest or a challenging trek up a mountain, you'll find it here. The National Park Service website can help you find your ideal route, with trails categorized by length. They also have special lists of hikes to waterfalls, hikes for kids, hikes for birdwatchers, and hikes to avoid crowds. Pay special attention to that last category if visiting during the peak season. Notable journeys off the beaten path are the 5-6 hour Hazel River Falls hike to a waterfall and the 2-3 hour Chimney Rock trail with next-level views and unique rock formations. 
Backpacking
Want to step it up a notch? Plan a backpacking trip in Shenandoah. You'll get to survey the land on foot over multiple days and camp in remote backcountry spots. One of the most iconic backpacking routes in the U.S., the Appalachian Trail, runs through this national park. There are also dozens of other suggested backcountry trips. 
NPS makes it easy to choose–they organize the trips by camping and hiking difficulty levels. If you're a strong hiker but don't know much about seeking out undesignated camping spots, there are options for you. If you're looking for a less-strenuous hike that still provides that sense of adventure of map reading and finding the perfect spot to lay down your head, you'll find that too. Of course, there are also routes that cater to beginners in both hiking and camping as well as ones for experts in both areas. Check out their guide here.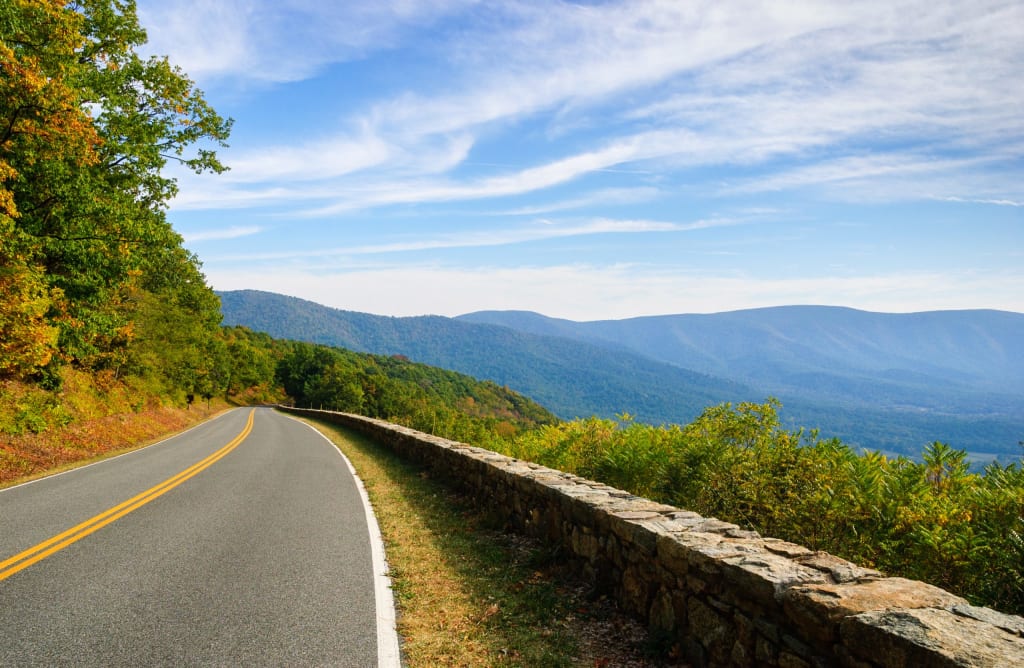 Rock Climbing
Get an unbelievable view (and sense of accomplishment) when you reach the top of a climbing route in Shenandoah. The national park offers two main areas for climbing, Little Stony Man Cliff for beginner to intermediate single-pitch climbs and Old Rag Mountain for intermediate to expert level single and multi-pitch routes. If you're new to climbing, consider booking a day with a climbing tour company like Blue Ridge Mountain Guides that will provide you with gear and instructions. Independent adventurers can also find plenty of boulder problems and climbing walls along Skyline Drive. 
Scenic Drives
Speaking of Skyline Drive, you won't want to miss the fiery-colored vistas that can be seen from the road. Skyline Drive is around 100 miles long and traces the crest of the mountains. The drive takes around three hours, but you can make it into a full-day affair by stopping along the way for photos, hikes, scenic overlooks, climbs, or picnics. Cyclists are also welcome to enjoy the eye-catching twists and turns of Skyline Drive.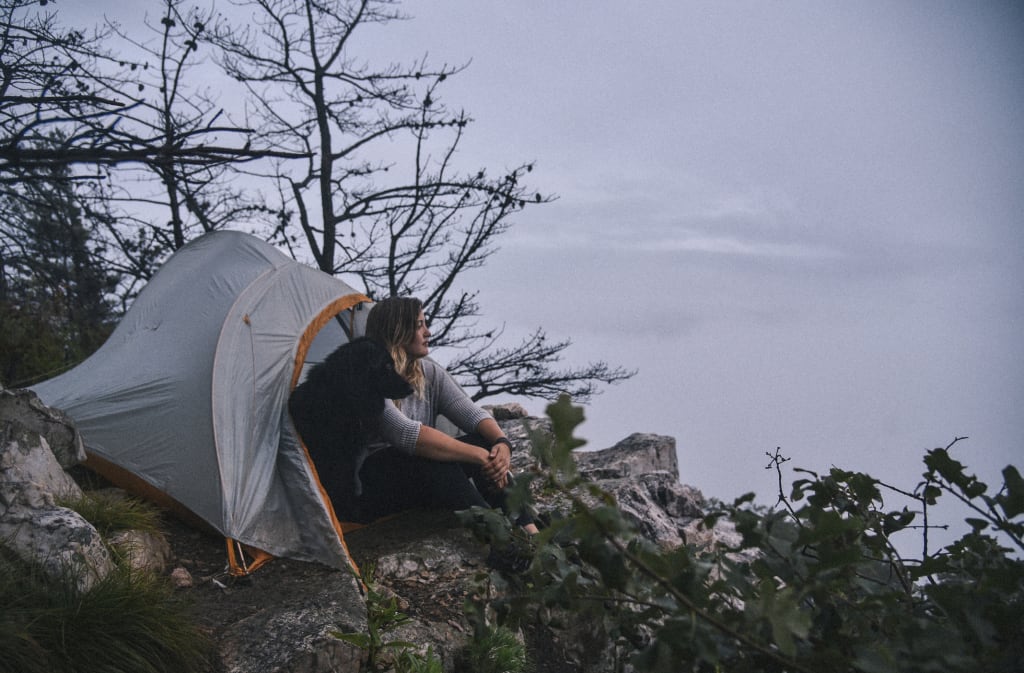 Van Camping in Shenandoah National Park
As we mentioned earlier, the majority of Shenandoah National Park's campsites are RV-friendly. However, you won't find hookups or cell service, so be prepared to disconnect from technology and reconnect with nature. Your options are Mathews Arm Campground, Big Meadows Campground, Lewis Mountain Campground, and Loft Mountain Campground. All four campgrounds offer lovely wooded sites and access to attractions and trails nearby. Most campsites are reserved months in advance for weekends, but weekdays are widely available. 
Tips for Busy Season
Visiting on weekdays means far less crowded campgrounds, trails, and other areas of interest. To avoid long wait times going into the park, NPS recommends buying your entrance pass online before visiting. While the most popular hiking trails and climbing areas are beloved for a reason, you'll still get to experience all the beauty Shenandoah has to offer if you seek out smaller spots off the beaten path. 
Searching for more inspiring destinations? Check out "The 10 Best National Parks to Venture to in Your Van this Fall." In case you're wondering, Shenandoah National Park made it onto this list. Looking for the van to take you there? Find your perfect rig at Rec Van.