Start your day off right with a hearty bowl of nuts, seeds and berries. It's the quintessential breakfast or snack in the great outdoors. This recipe is gluten free, low carb, keto and paleo friendly. Along with being super delicious, filling and packed with healthy nutrients. It's part of our new cooking series called Get Cookin' RV Style. Each recipe post will feature a short cooking video with a guest chef showing you how to make the recipe. Make sure you subscribe to both our blog and YouTube channel for notifications when each new recipe is released.

The convenience of this recipe, especially when you're in a camper van, is that it's based on a pre-packaged keto granola that you can purchase at a local grocery store, or have shipped to you wherever you are or are going to be. Whether you're on a strict keto diet, or you just like to eat a good low-carb or keto meal on occasion, this granola can be a tasty addition to your diet.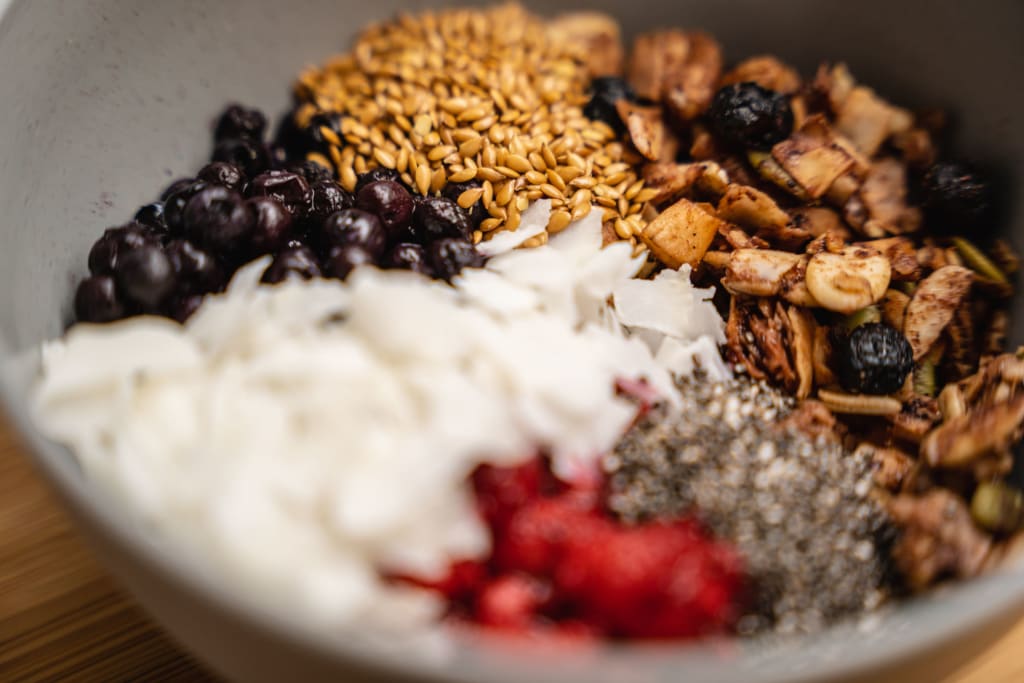 Download and Save This Healthy Keto Recipe
The Keto Diet
If you're not familiar with the keto diet, here's a bit of background information for you (or you can skip to the recipe). As we get older, most of us put on extra weight and find it increasingly more difficult to lose. The American diet is filled with a lot of processed and packaged carbohydrates and sugars, which you either need to burn off every day, or they turn into stored fat on your body. More than two-thirds of American adults are currently overweight or obese. And these extra pounds can lead to many health concerns, including diabetes, heart disease, high blood pressure, and high cholesterol and triglycerides.
You've probably heard about low carb and ketogenic diets. They've been around for decades. The South Beach and Atkins diets were two of the most popular in recent memory. And now the keto diet is all the rage. These lower sugar or sugar-free diets are a great way to lose weight and live healthier. While some doctors and nutritionists frown on lower carb diets, there are also plenty who promote the positives of eating a lot less carbs. Especially as a strategy for getting your weight under control for a period of time.
Many people lose a good amount of weight on a keto diet. Especially when combined with medium-intensity daily exercise for 30-60 minutes, such as walking, running, biking or swimming. Scientific studies on low carb diets have proven that they are generally safe and beneficial. If you have diabetes, keto foods and recipes are often sugar-free or very low sugar, so they can be a good way for you to manage your blood sugar levels. Of course, you should talk with your doctor about your individual health status before making big changes to your diet. And research the keto diet to determine if it's right for you.
Find out more about keto diets at these evidence-based links:
– A Keto Diet for Beginners
– 10 Health Benefits of Low-Carb and Ketogenic Diets
– Pros and Cons of a Keto Diet 
If you're already on a keto diet or considering incorporating it into your healthy lifestyle, our new cooking series will feature some keto recipes to help you support keto eating while traveling or living in an adventure van. Here's the first one for you to give a try.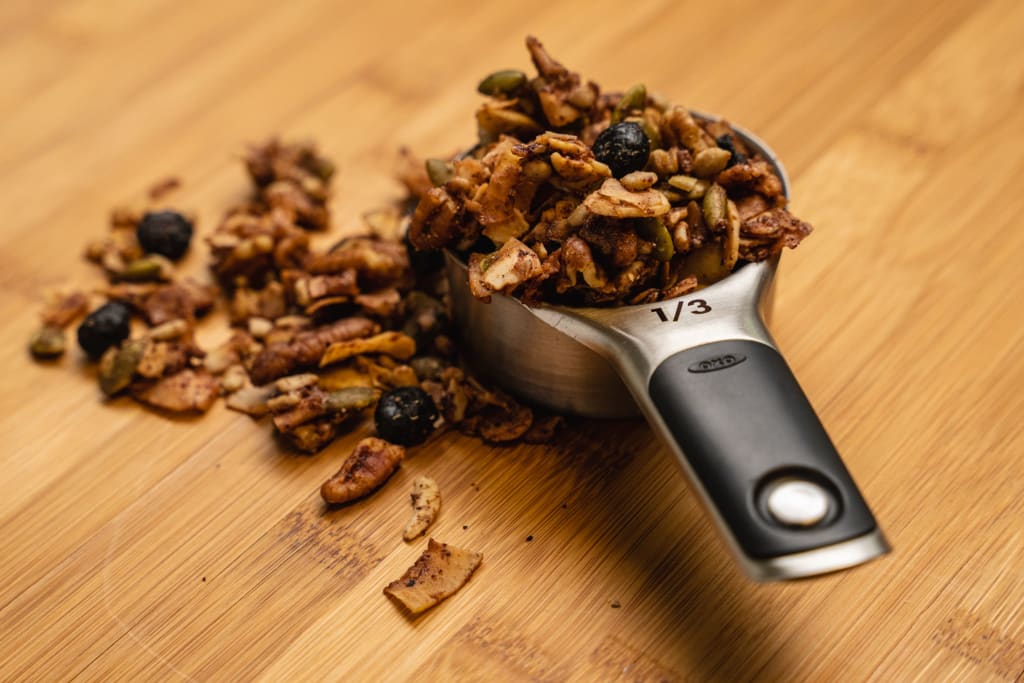 Keto Nut & Seed Granola with Berries
This recipe is fast and easy. It starts with a pre-packaged Keto Nut & Seed Granola. With the primary ingredients being nuts and seeds in Keto Granola, these packages are typically higher cost than what you might spend on a regular breakfast cereal. But a little goes a long way. Traditional granolas are filled with high-carb oats and sugars as the main ingredients. Here are a some of the best keto granolas available on the market:
Click on each image below for more detail:
1. Nutrail Low Carb Keto Nut Granola
– 7 flavor varieties: Cinnamon Pecan, Blueberry Cinnamon,
– Vanilla Strawberry, Vanilla Raspberry, Cacao, Vanilla Blueberry, and Birthday Cake
– Available at Sprouts Farmers Markets or Amazon
– Also available in a 22-ounce Blueberry Cinnamon value package at some Costco Wholesale stores
– Information current as of July 2021
Click on each image below for more detail:
2. The Granola Bakery Keto Granola
– 4 flavor varieties: Cinnamon Crunch, Blueberry Crunch, Strawberry Crunch, and Chocolate Crunch
– Available at Amazon
– Information current as of July 2021
Click on each image below for more detail:
3. Livlo Granolō Keto Granola
– 3 flavor varieties: Cinnamon Almond Pecan, Chocolate Hazelnut, and Frosted Blueberry
– Available at Amazon
– Information current as of July 2021
Disclaimer:  La Mesa RV has no connection to any of the companies, brands or products listed in this recipe, blog post and video, and does not receive any financial consideration from the companies, brands, and products mentioned.  No endorsement of La Mesa RV by the companies, brands and products mentioned should be assumed.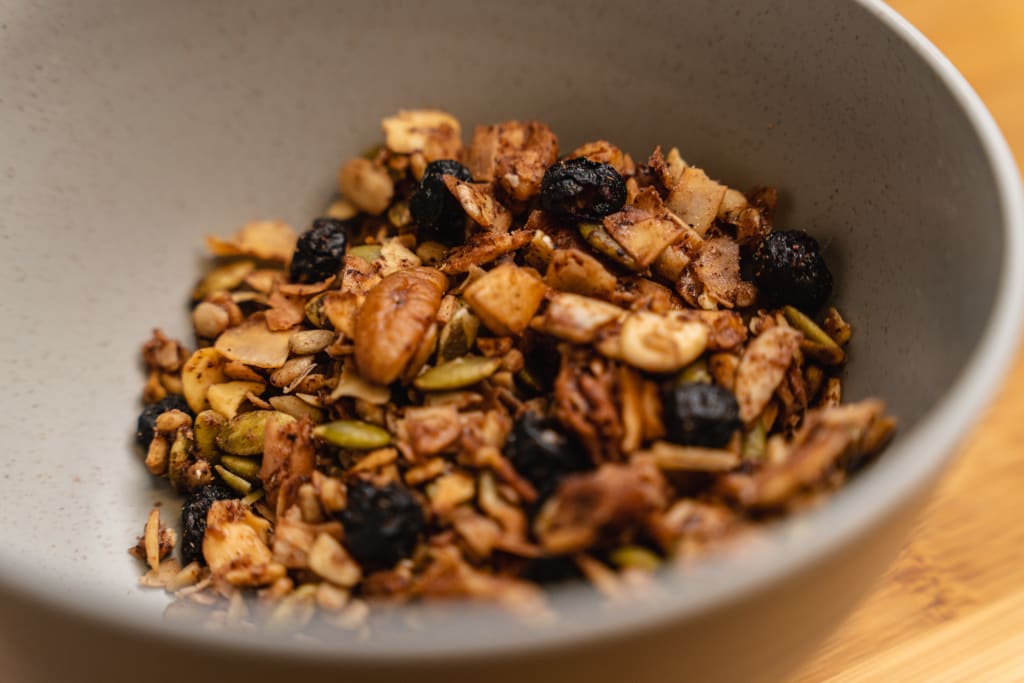 In addition to the main ingredient of Keto Nut & Seed Granola, a few other key ingredients in this recipe that you might want to learn more about include:
Chia Seeds
These very tiny black and white seeds, popularized by the Chia Pet commercials of the 1980s, pack a powerful nutritional punch in very few calories. They were a food staple for the Aztecs and Mayans. Native to central and southern Mexico, these edible seeds come from Salvia hispanica, a flowering plant in the mint family. They're high in fiber, protein and omega-3 fatty acids. And they're a good source for calcium, manganese, magnesium, phosphorus, zinc, potassium, vitamin B1 (thiamine), vitamin B2 and vitamin B3 (niacin). Chia seeds are loaded with antioxidants that help fight the production of free radicals in your body, which can cause damage to cell molecules and contribute to cancer.
Flax Seeds
Flax seed is an ancient food crop, cultivated extensively in Egypt and the Fertile Crescent region for millennia. It has emerged in recent years as a "super food", and one you should think about consuming on a regular basis. The flax plant has been used for food, oil, textiles and other uses. Flax seeds occur in two basic varieties: yellow (or golden) and brown. Both have similar nutritional content and are high in omega-3s, fiber, and a host of vitamins and minerals such as Vitamin B1 (thiamine), magnesium and phosphorus. Flax seeds are rich in lignans, which are plant compounds that have antioxidant properties and estrogen that help lower the risk of cancer and improve your health. They may even help lower blood pressure, lower cholesterol levels, and control blood sugar levels.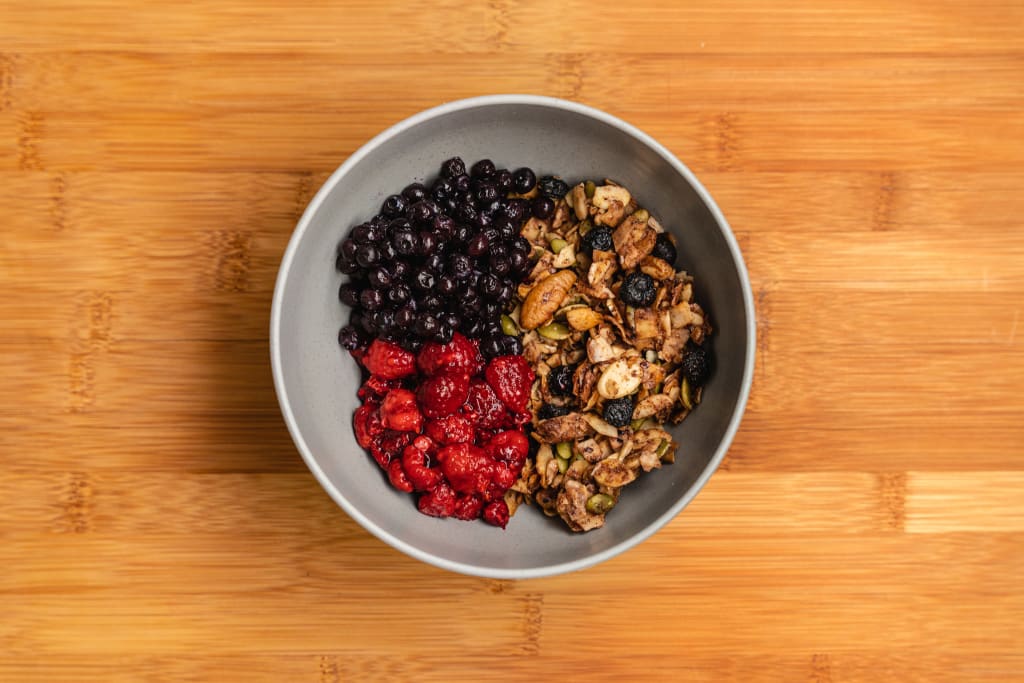 Wild Blueberries
You've probably heard doctors and nutritionists rave about blueberries.  But you may not know about the important difference between regular (or cultivated) and wild blueberries. Wild blueberries are known as "low-bush" blueberries, and regular/cultivated blueberries are known as "high-bush" blueberries. The wild ones are smaller in size and have less water content. That makes them sweeter, more intense and tangy in flavor compared to regular blueberries. But the big reasons you should consider eating wild blueberries instead of regular ones are:
– Twice the antioxidant capacity per serving
– Twice the fiber
– 30% less sugar
– 8 times more manganese
– More nutrition for less calories
Blueberry consumption also helps reduce oxidized and damaged DNA. It promotes gut health, and shows potential to prevent chronic disease.
Wild blueberries are mostly grown in the state of Maine in the U.S. and in the provinces of Quebec, Nova Scotia, New Brunswick, Newfoundland and Prince Edward Island in Canada. You'll probably need to buy frozen wild blueberries most of the time. But depending on where you venture in your camper van, you may find a local farmer or farmer market's where you can purchase fresh wild blueberries in season.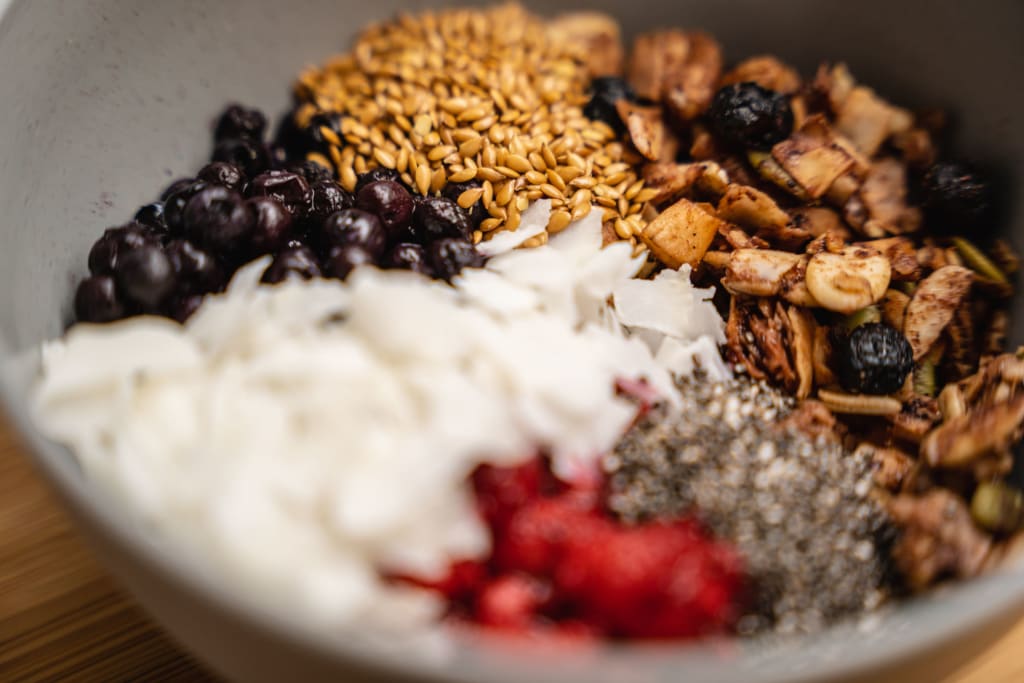 Unsweetened Keto-friendly Milks
Unsweetened almond milk has become one of the most affordable and widely available nut milks. It's perfect for the keto diet since it's low in carbs and sugar. There are also some other nut milks that are great on keto, such as macadamia nut milk, cashew milk, soy milk, coconut milk and flax milk. Just make sure there are no added sugars in the milk you choose for this bowl of nut granola.
VAN RECIPE: Keto Nut & Seed Granola with Berries
Ingredients for a Small Serving:
– 1/3 cup Keto Nut & Seed Granola, such as NuTrail "Blueberry Cinnamon" Keto Nut Granola
– ½ tsp Chia Seeds
– ½ tsp Whole Flax Seeds
– 2 tsp Wide Sliced Coconut, unsweetened
– ¼ cup Blueberries, fresh or thawed frozen
– ½ cup Raspberries, fresh or thawed frozen
– 6-8 Blackberries, fresh
– ½ cup Unsweetened Almond Milk (or to your taste)
Ingredients for a Large Serving:
– 2/3 cup Keto Nut & Seed Granola, such as NuTrail "Blueberry Cinnamon" Keto Nut Granola
– 1 tsp Chia Seeds
– 1 tsp Whole Flax Seeds
– 1 Tbsp Wide Sliced Coconut, unsweetened
–  ¼ cup Blueberries, fresh or thawed frozen
– ½ cup Raspberries, fresh or thawed frozen
– 6-8 Blackberries, fresh
– ¾ cup Unsweetened Almond Milk (or to your taste)
* Other Berry Options:  Use ¾ cup of a three-berry blend of raspberries, blueberries, and blackberries instead of separate frozen blueberries and raspberries with fresh blackberries. Costco sells a 4 lb. bag of Kirkland Signature Three Berry Blend frozen berries that is value-priced and delicious. Trader Joe's also sells bags of a frozen three berry blend.
** Additional Milk Options:  Macadamia Nut milk, Cashew milk, Soy milk, Coconut milk and Flax milk
Click on each image below for nutritional information: 
Instructions:
In a cereal bowl, use a 1/3 measuring cup to portion out your keto granola into the bowl. Add blueberries and raspberries (or a triple berry blend). Then add the chia seeds, flax seeds and extra coconut. Finish with fresh blackberries and pour on the nut milk to your taste.
Start-to-Finish Time:  5 minutes
Cooking Tools Needed:
– 1 small or medium cereal bowl
– 1/3 cup size measuring cup
– 1 tsp size measuring spoon
– ½ tsp size measuring spoon
– 1 Tablespoon size measuring spoon
– ¼ cup size measuring cup
– ½ cup size measuring cup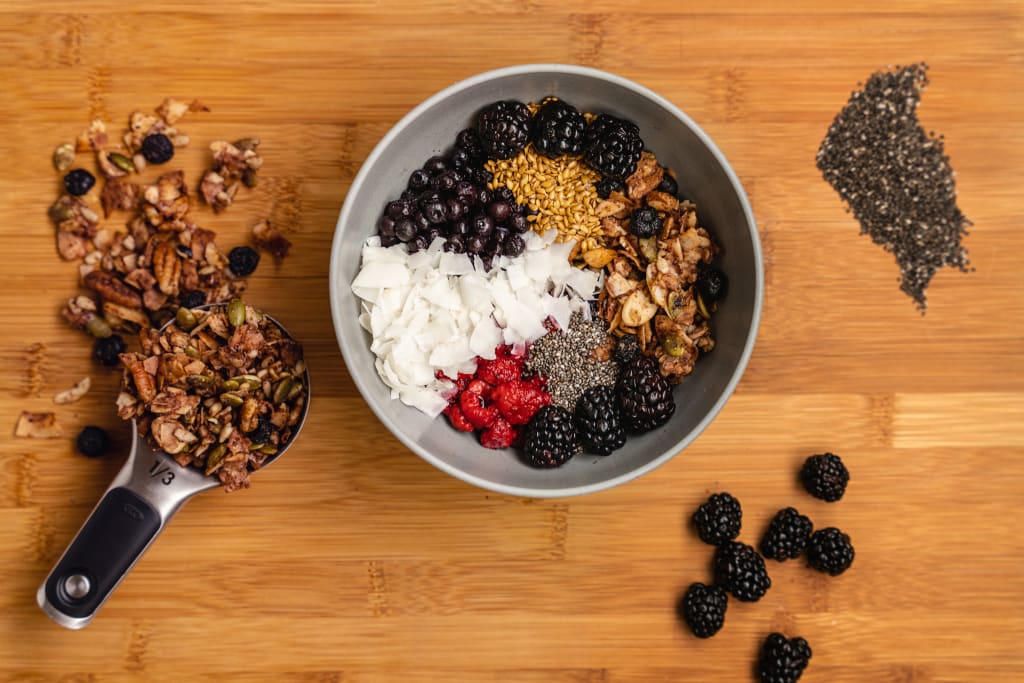 RV LIFESTYLE TIP:  Wheat Straw Plastic Tableware
When you're looking for lightweight and hard to break tableware for your travel van, you should consider wheat straw plastic bowls and plates. Our Keto Nut and Seed Granola recipe uses a gray-colored greenandlife bowl purchased from Amazon. It's dishwasher, microwave, refrigerator and freezer safe, and won't rattle when you're cruising down the road. And if you treat this tableware right, it should last you many years. Plus, it's good for the environment by using wheat straw that might otherwise be burned or wasted after harvesting wheat crops. This tableware is made of wheat straw, starch, food-grade plastic and is BPA free.