The leaf-peeping season is upon us, and the U.S. is brimming with fall foliage pockets you don't want to miss. It's tough to decide, isn't it? Have you decided which way you'll travel once you load up your campervan this fall to see the leafy wonders of our beautiful country?
If you and your family are still wondering which way you'll travel, you might consider heading south because you'll have a dazzling array of options and plenty of variety from state to state. The southern route will also give you a little more time to select your campground sites in advance before hitting the road since the southern states experience leaf color changes a little later than the northern states.
Let's explore some top fall foliage spots in the southern U.S. to see where you should plot your course in your trusty campervan.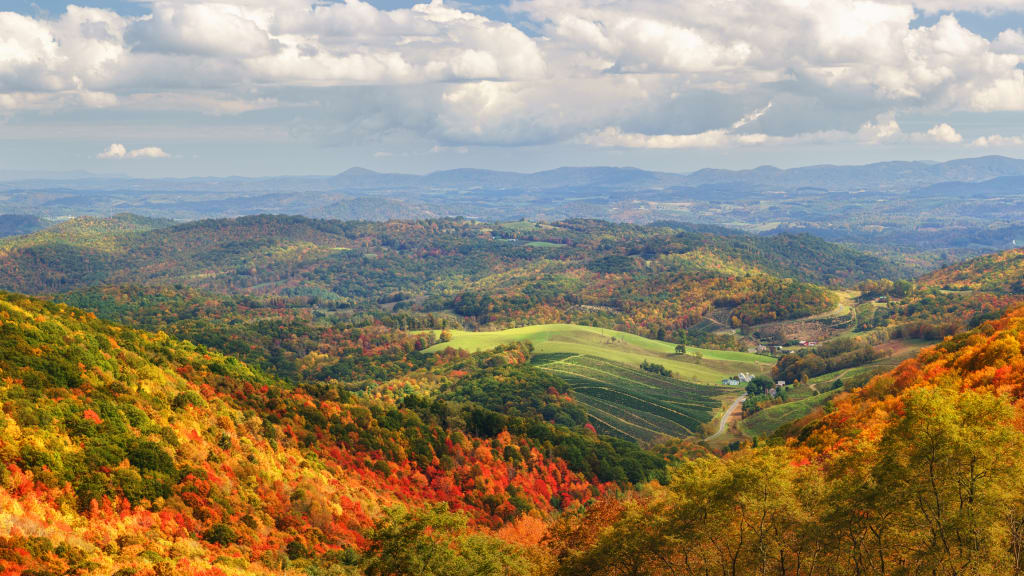 Virginia
Virginia is for lovers and leaf peepers! The Commonwealth puts on a fiery spectacle across the state from the Atlantic shorelines to the expansive woodlands and the blue-tinged mountain peaks throughout October. Whether you plan to pass through, along the byways or you want to stretch your legs and see everything up close at one or more of the beautiful parks, you're in for a show of red, yellow, purple, and orange.
Grayson Highlands State Park 
Located near Whitetop Mountain and Mount Rogers, Grayson Highlands State Park features stunning peaks that soar to over 5,000 feet. You'll see breathtaking views of the tree-lined valley below.
Damascus, Virginia 
Damascus, Virginia bears the nickname "Trail Town USA," and it's easy to see why. The small town has earned this apt title because it connects multiple beloved trails, including the one and only Appalachian Trail and the Virginia Creeper and Iron Mountain Trails. Enjoy hiking and spotting nature's wonders under the canopies, up close and personal.
Additional fall foliage highlights in Virginia include Shenandoah National Park, the Priest Wilderness, Pocahantas State Park, and Marby Mill.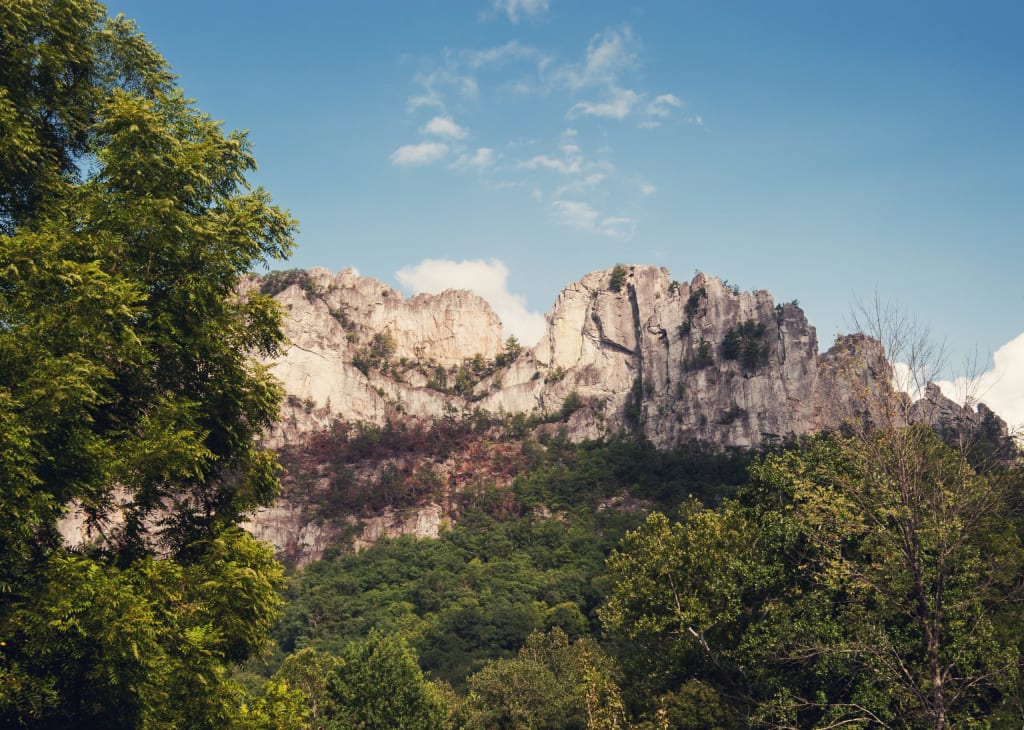 West Virginia
West Virginia, the Mountain State, is the only state that fully falls inside the Appalachian Mountain region. It features elevations higher than any other state east of the Mississippi River, so you know it's a spectacular leaf-peeping region for all the reds, yellows, and oranges.
Here are some highlights we think you might enjoy experiencing in person:
Seneca Rocks 
Located in the well-known Monongahela National Forest, Seneca Rocks rises almost 900 feet above the North Fork River, allowing for sweeping views of the colorful valley below. Catch the leaves changing here from mid to late October.
Spruce Knob
Spruce Knob reaches 4,863 feet above sea level if you want a higher vantage point than Seneca Rocks. It's worth the effort once you reach the peak to see an early fall foliage extravaganza of orange and yellow in late September and early October.
There are several additional locations to see the leaves in fall, including Dolly Sods & Bear Rocks, Blackwater Falls, and Canaan Valley.
A fantastic bonus option in West Virginia includes taking Fall Foliage Train Tours through the state's wilderness. A few train tours include:
Cass Scenic Bald Knob Trip
Potomac Eagle Through Trip
The Durbin Rocket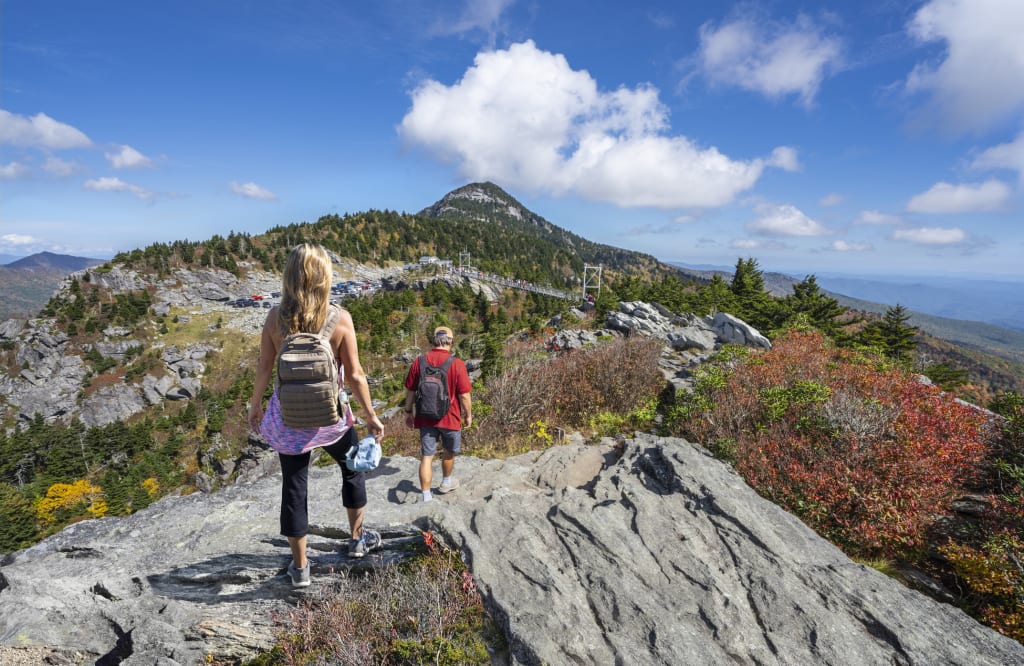 North Carolina
You can spy the yellow and orange fall foliage in North Carolina from late September through early November in various settings and from multiple elevations.
Grandfather Mountain
If you can make it to Grandfather Mountain in Linville, North Carolina by late September, this 6,000-foot peak offers majestic views of the beautiful trees below, including red maples, yellow poplars, and many others. Make sure to visit the mile-high swinging bridge while visiting.
Additional fall foliage spots you shouldn't miss in North Carolina include the Blueridge Parkway, Great Smoky Mountains National Park, Biltmore Estate in Asheville, and Chimney Rock State Park.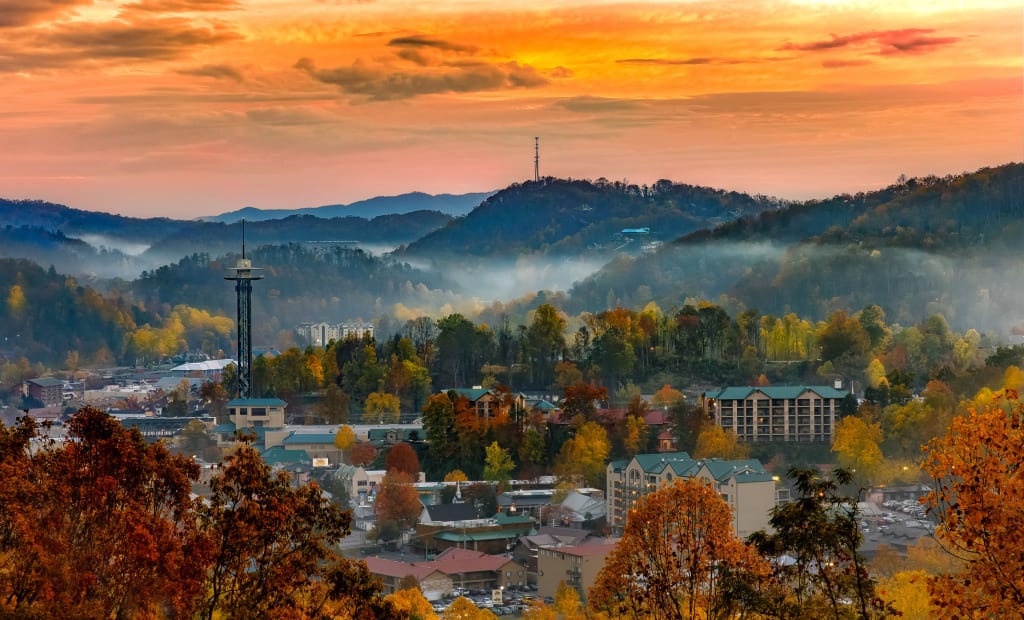 Tennessee 
You might want to put the Volunteer State on your fall itinerary for October and November. Tennessee is packed with fall foliage sites that shouldn't be missed, whether you visit this year or next.
Gatlinburg
If you haven't visited Gatlinburg before, you've probably heard stories from friends and family who have visited. It's beautiful any time of year, but it takes on epic proportions and is a sea of warm and glowing color in the fall, brimming with reds, yellows, and oranges.
Meeman-Shelby Forest State Park
This state park borders the Mississippi River and features Lake Piersol and Poplar Tree Lake on the grounds. Meeman-Shelby Forest has plenty of trees for a colorful variety, including soaring beeches, oaks, and elms.
Other places to put on your fall foliage roster in Tennessee include Newfound Gap Road, Natchez Trace Parkway, Prentice Cooper State Forest, and Cades Cove.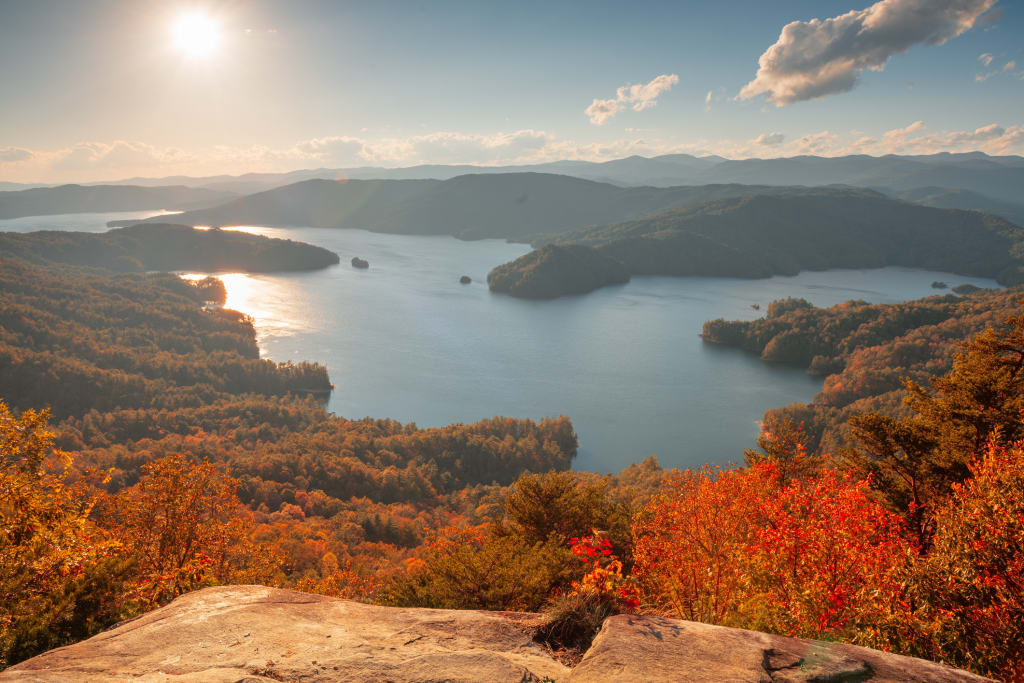 South Carolina and Georgia 
South Carolina and Georgia have plenty to offer for some deep southeast fall foliage adventures. If you want to enjoy leaf color changes in late October and November, these states are perfect, allowing for picturesque views from the marshy Atlantic shore areas to the Blue Ridge Mountains.
Let's explore some places to visit in these beautiful, deep southern states.
South Carolina
Jumping Off Rock Overlook is our top pick for South Carolina. The sunset view is spectacular and well worth the visit all on its own. Add in the colorful display, and you'll never want to leave this spot that might rival western landscapes for its meditative properties.
Other fall foliage spots you'll love in South Carolina include Caesars Head State Park, Devil's Fork State Park, Paris Mountain State Park, and Table Rock State Park.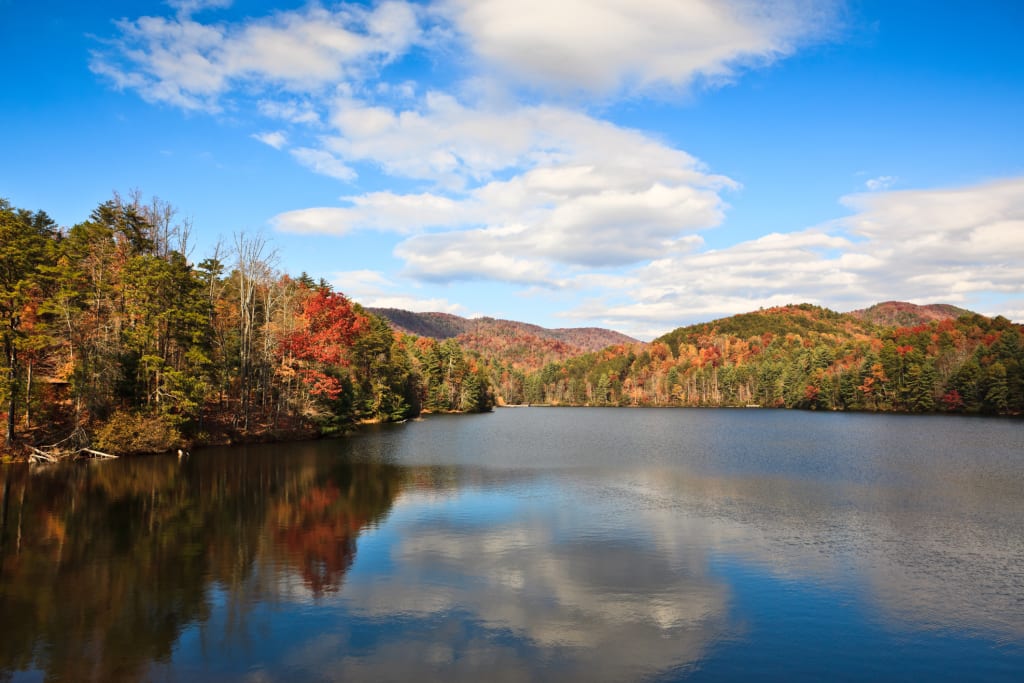 Georgia 
Unicoi State Park in Helen, Georgia is our top leaf-peeping destination in Georgia. Here, you can zipline over the fall foliage canopy to capture it all beneath your feet while you zoom overhead.
Additional Georgia stops you should make include Fort Mountain State Park, Amicalola State Park & Falls, and Black Rock Mountain State Park.
Florida 
Many non-Floridians might wonder if Florida experiences fall foliage changes, and fortunately, the answer is "yes!" Most changes occur in northern Florida, but the intense displays make up for the rest of the state remaining green during winter, which is fantastic in its own way, making for much-needed getaways while trees are bare everywhere else.
Here are some Sunshine State leaf-peeping spots you shouldn't miss in mid to late November:
Three Rivers State Park, northeast of Tallahassee
Edward Ball Wakulla Springs State Park, south of Tallahassee
Torreya State Park, west of Tallahassee
Flying Eagle Preserve, northeast of Orlando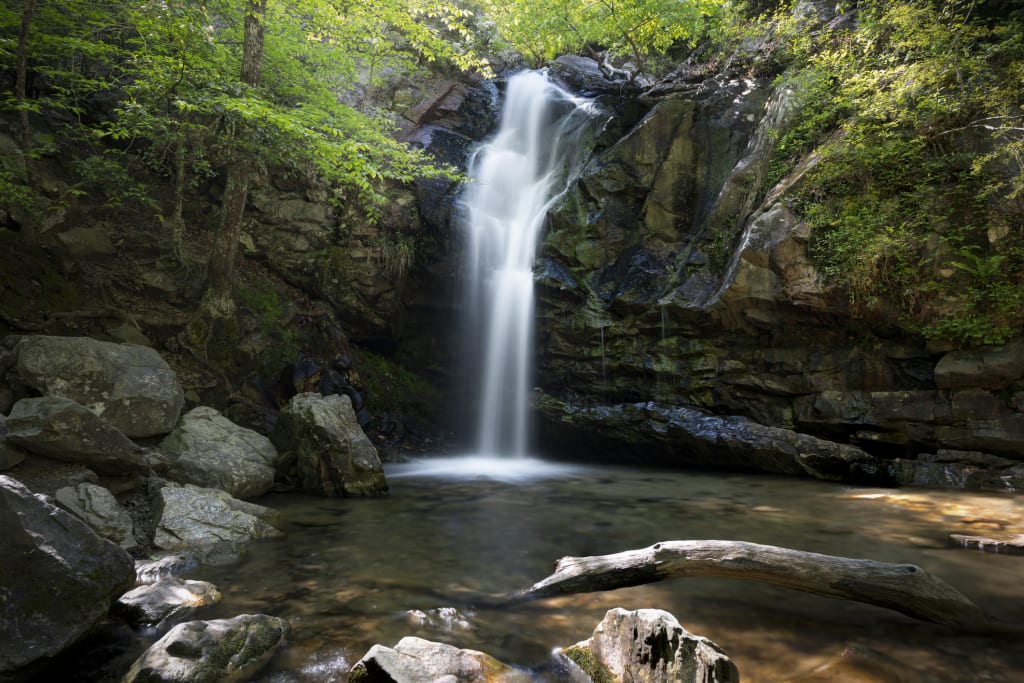 Alabama, Mississippi, and Louisiana 
Heading into the deep, deep south, you'll find plenty of fall foliage in Alabama, Mississippi, and Louisiana.
Alabama
In the deep south, it's all about the cooling that happens from summer and early fall to late fall. Everyone there breathes a sigh of relief, and they're ready to enjoy the beautiful fall foliage. It's a great time to visit prime leaf-peeping locations, including Oak Mountain State Park, Cheaha State Park, and the Skyway Motorway.
Mississippi
In Mississippi, you can visit fall foliage sites, such as Homochitto National Forest, Noxubee National Wildlife Refuge, and Holmes County State Park.
Louisiana
If you want to visit Louisiana, late October and early November are perfect. You'll enjoy the foliage entertainment and cooler weather in leaf-changing hot spots, including Chemin-A-Haut State Park and its waterway-lined cypresses, Kisatchie National Forest amid horse-riding trails, and Jimmie Davis State Park.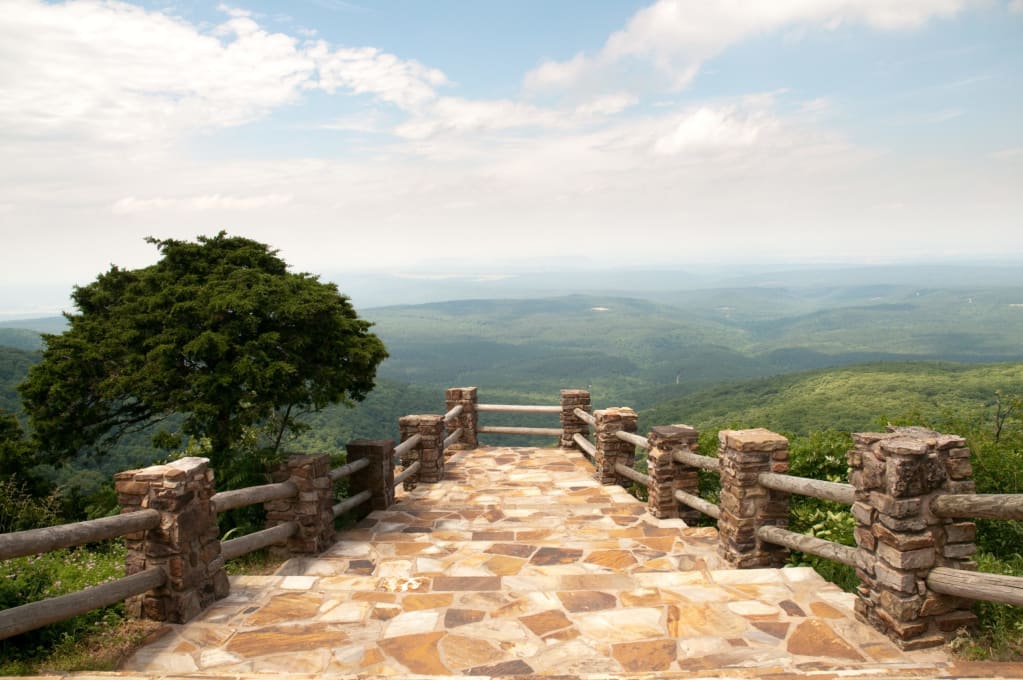 Arkansas, Missouri, Oklahoma, and Texas 
Moving west into the central southern states, you might want to add Arkansas, Missouri, Oklahoma, and Texas to your fall foliage travel schedule. It's easy to think of the eastern seaboard-oriented southern states as the top spots to see leaves changing, but you'll miss out if you keep these states.
Arkansas
Arkansas is home to year-round beauty, but it all goes off the charts in late October and early November when the leaves change to red, yellow, and orange. You probably won't be surprised to read that our first recommendation is Ozark National Forest, which features Hawksbill Crag with hiking trails, waterfalls, and plenty of colorful trees.
We also love Ouachita Mountains, Hot Springs Mountain, and Mount Magazine.
Missouri
Missouri is another mid-October through early November leaf-peeping favorite. During this peak time, you'll see oaks, ashes, maples, and hickories go wild with color in places, including Johnson's Shut-ins State Park, Elephant Rocks State Park, and Taum Sauk Mountain State Park.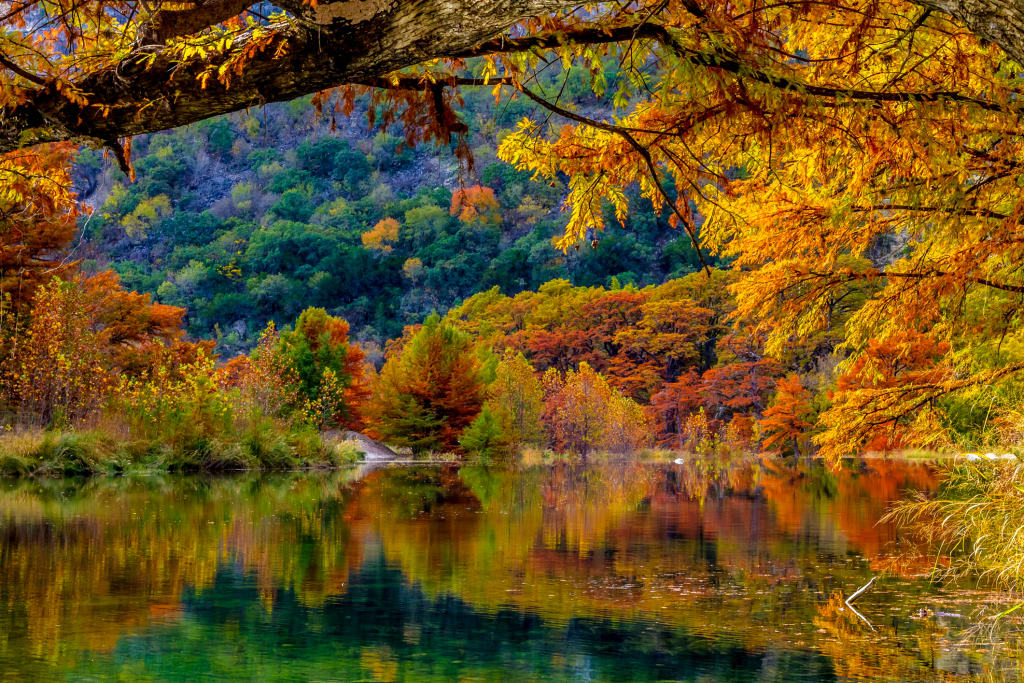 Oklahoma
You'll be heralded into Oklahoma through a curtain of crimson in late October and early November. Some favorite leaf-peeping destinations include Chickasaw National Recreation Area, Robbers Cave State Park, and Lake Tenkiller.
Texas 
Texas is another state that perplexes leaf-peppers who haven't visited the Lone State. Many might think of it as full of dusty plains and tumbleweeds, but those landscapes are only part of the picture. It's a big state, after all!
In Texas, visit fall foliage spots like Garner State Park and its Frio River, Daingerfield State Park, Tyler State Park and its 64-acre lake, and McKinney Falls featuring Onion Creek.
Hopefully, this list will help you determine the best destinations and routes you want to take for your fall foliage excursion in your sporty campervan.