A trip out west to see fall foliage is probably high on your bucket list if you've never traveled west of the Mississippi. Fortunately, beautiful leaf-peeping awaits you all along the Pacific Coast and inland. The question for you is: which western states pique your interest?
We've compiled our favorite spots out west and want to share them with you, so get ready to pack up your campervan. Once you've read the details, you'll be ready to roll.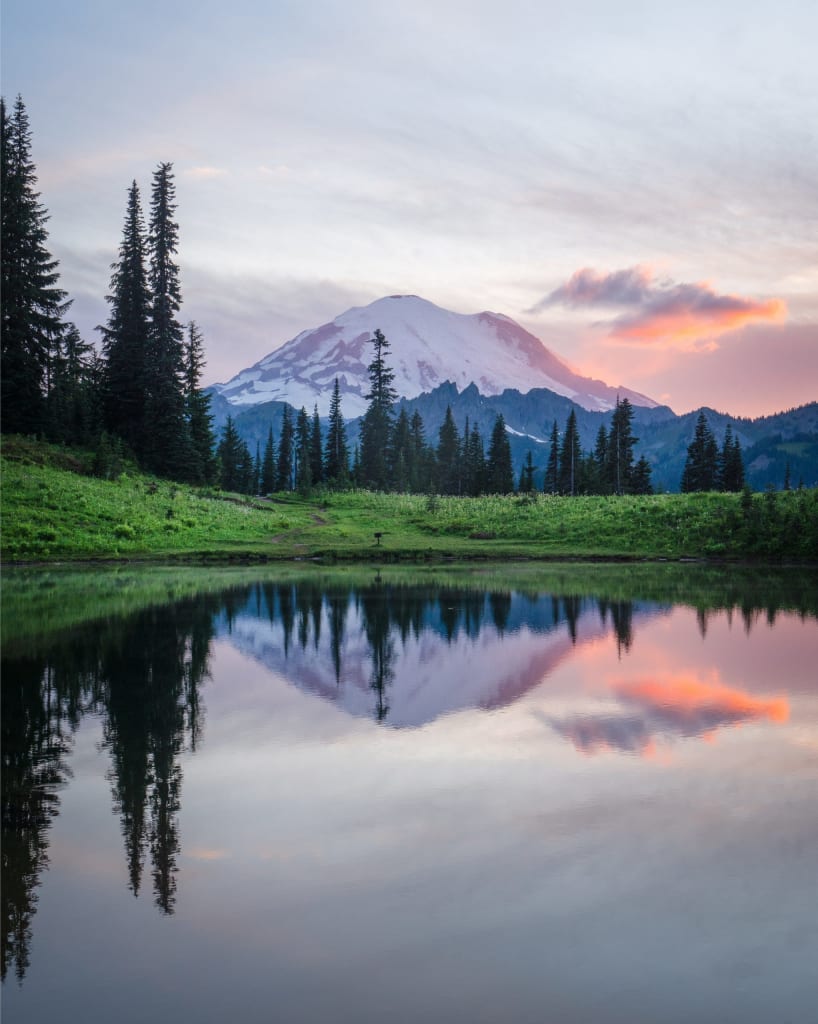 The West Coast: Washington, Oregon, and California 
Let's start our exploration as far west as you can go, continentally speaking. Between the Redwoods, wine country, and many fruit orchards, you will love the colorful leaves and everything on this leg of your western journey.
Washington 
While many think of Washington as an evergreen-heavy state, you'll find plenty of reds, yellows, and oranges.
Here are some favorite places to spy on the fall foliage in Washington:
Mount Rainier National Park. Mount Rainier provides a gorgeous fall leaf display between Sunrise and Chinook Pass from mid-October through November.
Rinehart Riverfront Park and Yakima River Canyon. You'll find heavy yellows and oranges on display at Rinehart Riverfront Park, which hugs the Yakima River. Some describe the view here as feeling like they are inside a patchwork quilt.
Hoh Rainforest. You don't see many fall foliage sites boasting a rainforest, but here we are in the haunting Hoh Forest in Olympia National Park. While much of the forest stays evergreen, the vine maples turn a fiery red.
Oregon
The non-evergreen leaves start to change in late September, but things really kick into high gear in October in Oregon. You can enjoy the fall foliage from the Pacific to the high desert farther east, so you have a bounty of options.
Here are a few leaf-peeping favorite locations to get you started in Oregon:
Mount Hood. At the top of the 2,000-foot trail, Mount Hood offers you a spectacular view of the vine maples turning red against the lush evergreen landscape.
Upper Klamath Canoe Trail. Paddle amid the fall foliage explosion in this southern Oregon nature haven.
California
California is another state where people mistake it as being full of palm trees and nothing deciduous to be spotted. However, you have to remember the Redwoods! Even better, there is more fall foliage than that.
Here are some fall foliage fan favorites in the Golden State:
Northern California. Visit spots like Redding, Mount Shasta in the Shasta Cascade Range, and Ahjumawi Lava Springs State Park for beautiful fall displays. Annadel State Park features tons of big leaf maples and black oaks, giving way to fall yellows and oranges. Hope Valley in the Lake Tahoe region has yellow aspens and cottonwood that turn everything a golden yellow. Don't forget Sonoma County's wine country and all the Redwood Forests you can fit into your schedule.
Southern California. We admit that your options are somewhat limited in southern California, but we recommend stopping in Cuyamaca Rancho State Park in San Diego County to see the black oak leaves turn a golden yellow.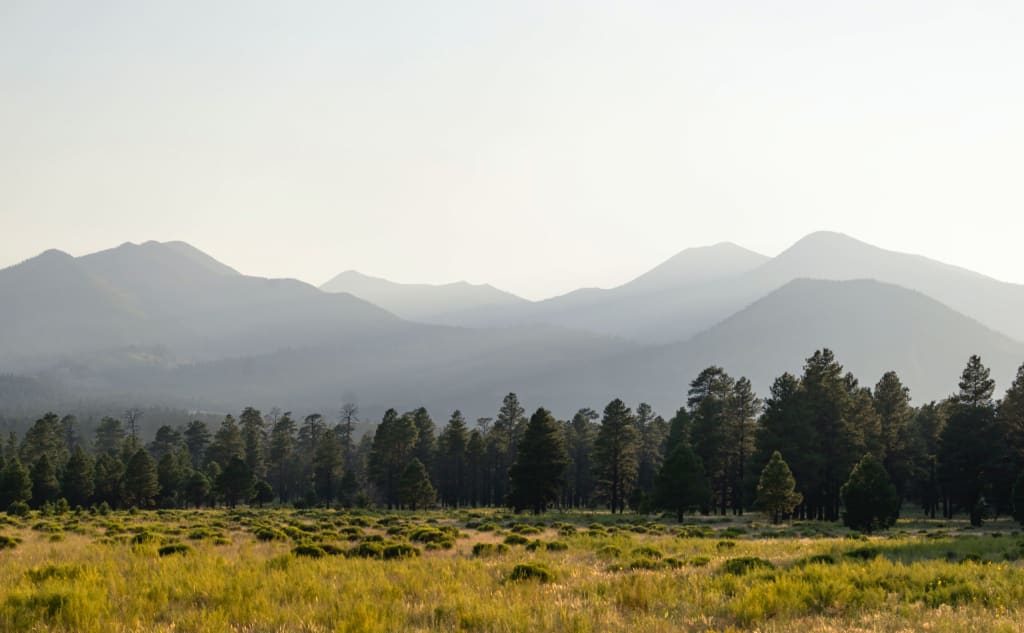 The Mountain States aka Rocky Mountain States
The Mountain States include several northern and southern states that you might include in your schedule. These states include those in the inland southwest and northwest.
Southwestern States: Arizona, New Mexico, Utah, and Colorado
Well, if you were skeptical about the coastal western states having fall foliage, you might be even more so in some southwestern states like Arizona and New Mexico. But once again, there's more than meets the eye and expectation in these states.
Arizona
You might think the Grand Canyon State doesn't have much landscape besides the desert and the Grand Canyon if you've never visited the state. Fortunately, you can see plenty of fall foliage from late September through October.
Let's break up the options in northern and southern Arizona:
Northern Arizona. In northern Arizona, you can visit Flagstaff's San Francisco Peaks. There, you'll see the golden-tinted aspens that drift along the mountain slopes and further into the gentle meadows. State Highway 260 passes through the Arizona White Mountains, featuring meadow landscapes and shimmering blue lakes surrounded by fall leaf colors.
Southern Arizona. Don't forget your Aravaipa Canyon permit when visiting this highly popular prime autumn foliage viewing spot in Winkelman, Arizona. Most leaf-peepers report that their pictures don't do this location justice, trying to capture natural wonders all around, including bright yellow cottonwood groves, small rapids, large pools, and soaring canyons. Other spots in southern Arizona that leaf lovers visit include the Santa Catalina and Santa Rita Mountains.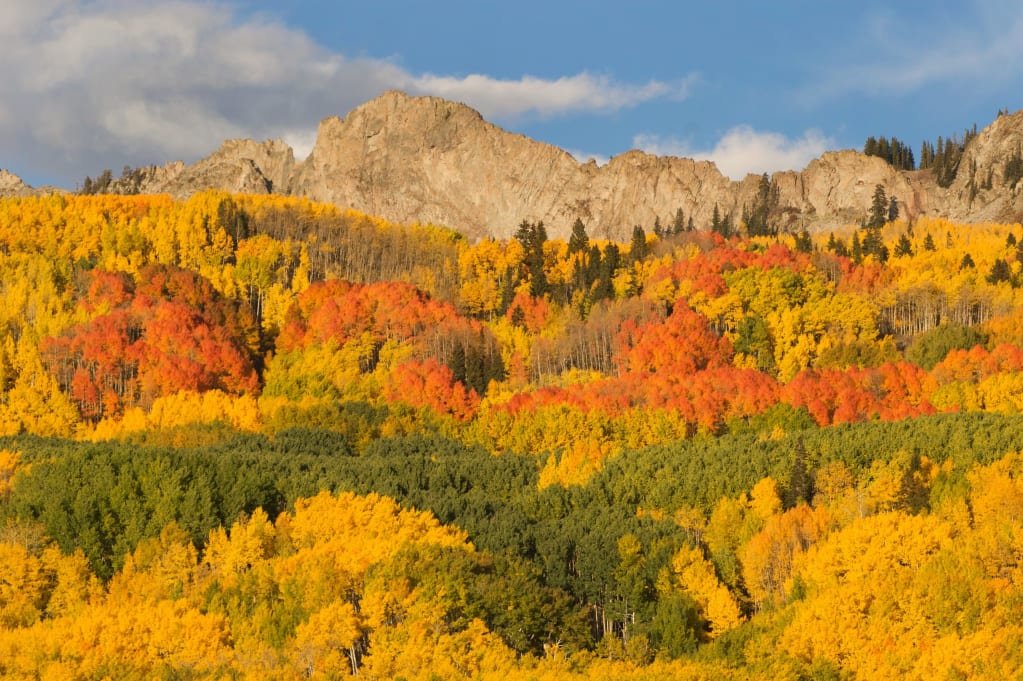 Colorado 
More aspens await you in Colorado when the aspens turn a shimmery gold in the fall. Never fear, this southern Mountain State offers plenty of oranges and reds too.
Let's see what you'll find in Colorado:
Trail Ridge Road. Winding through the Rocky Mountains, this longest continuously paved road in North America has become a fall haven for leaf lovers and photographers.
Kebler Pass. Kebler Pass features the largest aspen grove in North America, making it irresistible to shutterbugs and leaf-peepers.
New Mexico 
It's challenging to predict when you should visit New Mexico for fall foliage, but you're likely to see some golden hues in October or November. If not, you'll still get to see the glory of this beautiful state and its stunning vistas.
Here are some spots worth visiting, regardless of how much fall foliage you see:
Enchanged Circle Scenic Byway. This lovely byway features stops at Taos Canyon, Angel Fire, and Eagle Nest Lake. You and your family can also visit Bobcat Pass, which runs above the Red River. The river then cascades into the high-alpine Moreno Valley.
Santa Fe National Forest. This 13,000-foot alpine wilderness is a sight to behold in late September when the leaves turn to gold.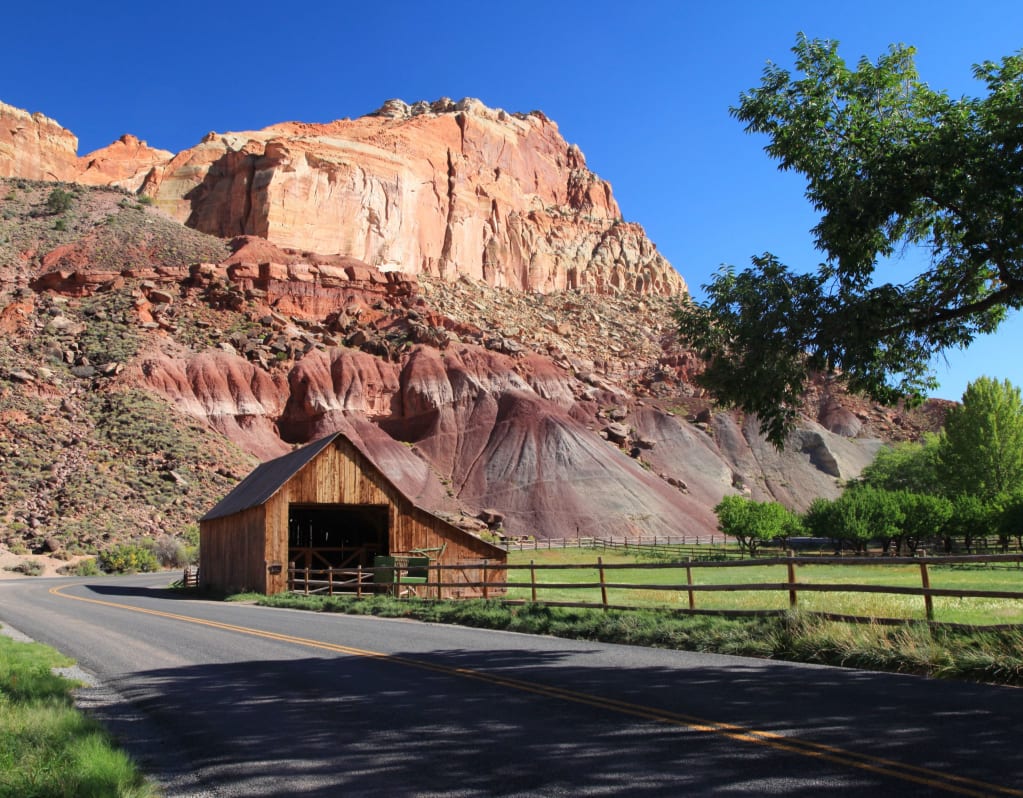 The Upper Mountain States: Utah, Nevada, Idaho, Wyoming, and Montana
While still in the Rocky Mountain States, these areas offer even more unique fall foliage experiences. Let's explore all that these northern Mountain States have to offer leaf-loving travelers.
Utah
Perhaps known best for the Great Salt Lake and amazing skiing, the Beehive State also features a wealth of fall foliage destinations.
Whether you want to drive or hike, Utah is brimming with fall foliage spots, including:
Alpine Loop Near Sundance. Along this winding 20-mile loop, you'll see Mount Timpanogos and Sundance. You can stop along the route for a hike or a leg-stretch at Pine Hollow Trail.
Capitol Reef National Park. Here, you can enjoy fall foliage, breathtaking views, and a sea of fruit orchards. Your family can become part of the fall harvesting season, picking apples for free.
Nevada
You might think of dusty browns when imagining Nevada, but oh now, the state features plenty of fall foliage destinations that burst with reds, yellows, golds, and oranges. Don't miss these spots as the cottonwoods, maples, oaks, and aspens retire for the fall and winter.
Great Basin National Park. The best way to experience this park is via the 12-mile Wheeler Peak Scenic Drive.
Mount Rose Scenic Byway. Near Reno, this splendid byway passes through the vibrant Tahoe Meadows.
Bowers Mansion Regional Park in Washoe Valley. Here, you'll see fiery reds in this park between Reno and Carson City.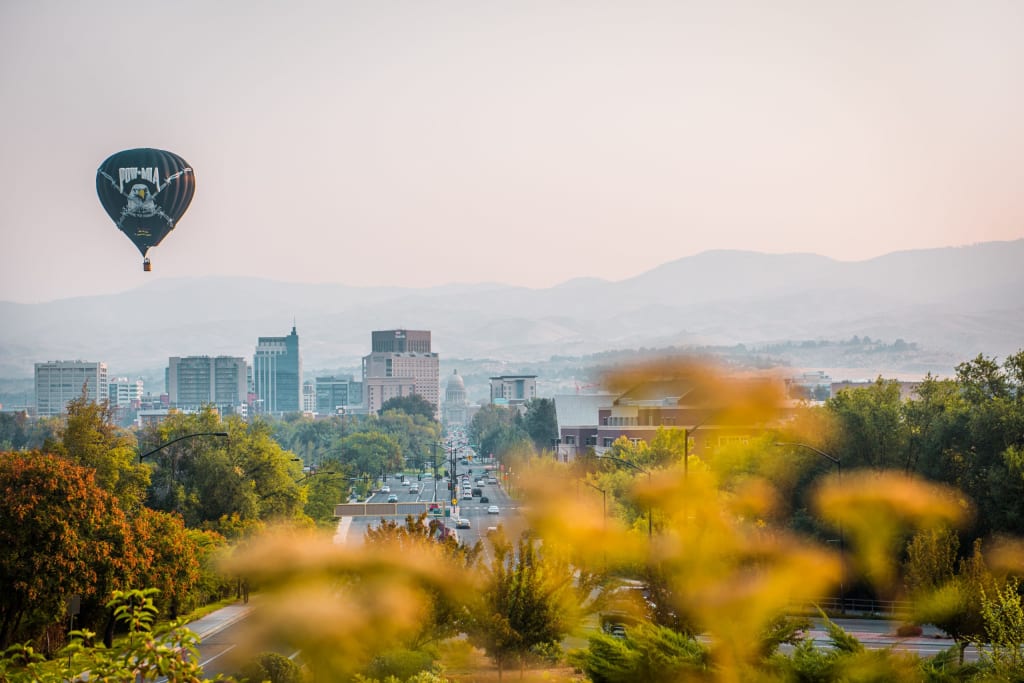 Idaho
Idaho features a wide variety of landscapes, including dunes, forests, pastures, and mountain peaks. Let's see what the peak fall foliage season offers leaf-lovers in its peak season, October.
Boise. Boise is the pinnacle of leaf-viewing each October. Known as "The City of Trees," Boise's downtown and river belt tout a fall light show, starring cottonwoods, oaks, and bright maples set ablaze by nature.
Wyoming
From mid-September through October, it is a magical time for foliage lovers in the Cowboy State. Get ready to saddle up to visit these fall foliage hot spots.
Grand Teton National Park – Oxbow Bend. Enjoy all the wildlife, including otters and black bears, while watching the cottonwoods and aspens turn to shimmering golds and yellows. Double the color experience when you glance into the Snake River to see the trees' and leaves' reflections.
Shoshone National Forest. This highly scenic spot features mountain and valley views, filled with aspens and cotton woods. The scene might remind you of a movie or two you've seen in the past. Drive along the Chief Joseph Scenic Byway to see a little of everything, including the Clarks Fork River.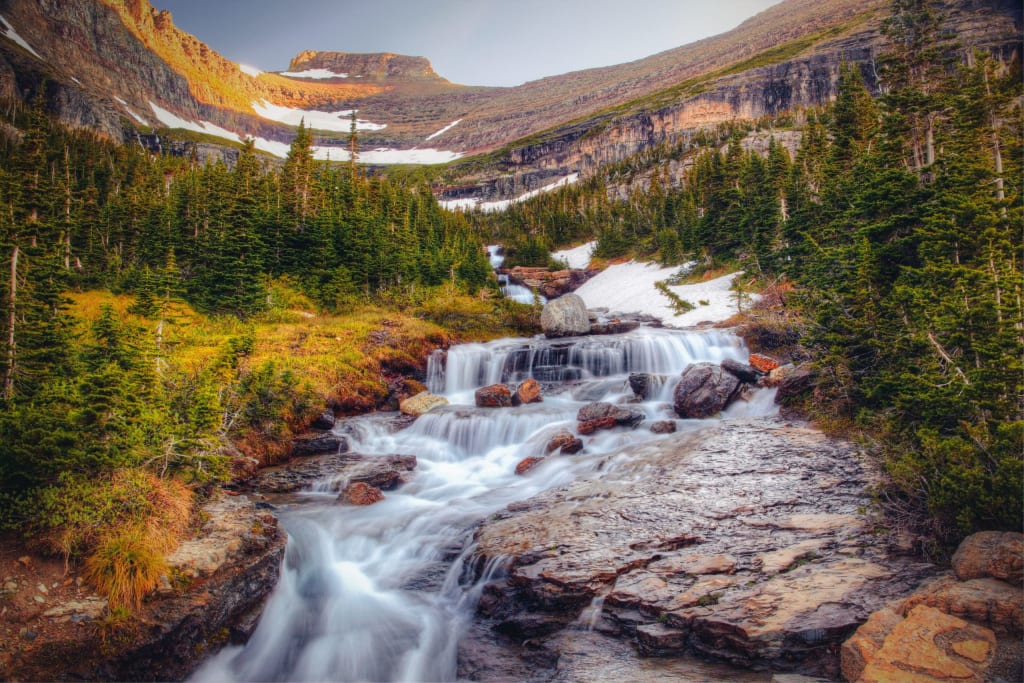 Montana
Prime leaf-peeping time in Montana is in mid-to-late September and early October. The whole state is a dream come true for nature lovers, and fall is no exception. Learn about some top fall foliage spots in Montana.
Glacier National Park. Catch the North Fork of the Flathead River in Glacier National Park where you'll find aspens galore, showing off their beautiful golden colors. Travel to higher elevations to se the larch trees turn yellow. Finally, the lush forest amid Bowman Lake is a wonder to behold in the fall.
Yellowstone National Park. We're not sure any list including Montana would be complete without a mention of Yellowstone National Park, filled with cottonwoods and wildlife, such as bald eagles, pronghorn, bison, and grizzly bears.
Pack Up and Enjoy the Western States! 
As you can see, the western states offer a completely unique fall foliage experience from one state and region to the next. It's a different experience from anywhere else in the country, so we know you'll love it.
Visit our website to learn more about our campervans or call us at (833)-667-0854 to learn more about these places and others!