West Virginia has been a lusted-after state for years. Known for its rolling mountains, hills, and valleys, it has been nick-named the Mountain state. Brimming with recreational summer fun, such as white-water rafting, hiking, mountain biking, rock climbing, and more! Pack up your family and embark on a historical van-venture! West Virginia is exploding with Civil War history, amazing food, stunning scenery, and culturally diverse musical arts!
Before setting out on this huge summer adventure, check out Van-lifer's Summer Road Trip Packing List, to better prepare you and your family for the journey ahead. If you plan on hiking the strenuous terrain of the Appalachian Trail, you'll most likely want to invest in some good hiking boots. Continue to read on to learn about "Mountain Mama's" highly sought-after, must-see destinations. Queue "Take Me Home, Country Roads'"!
Guest Post by Brianna Walsh-Earp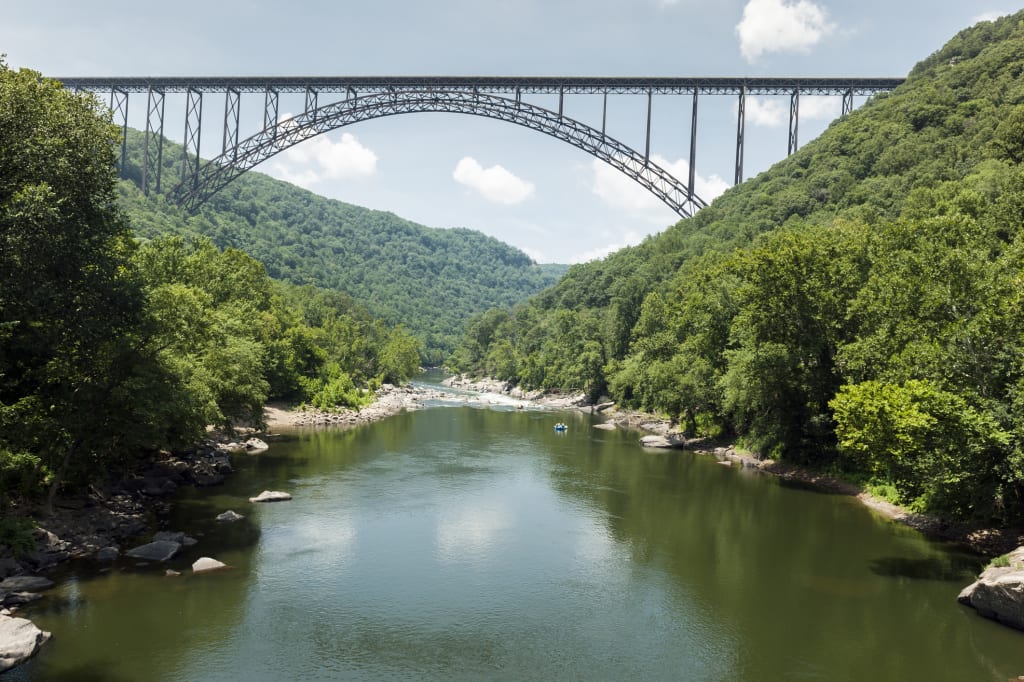 Amongst the oldest rivers in the world, the New River, flows through one of West Virginia's sacred National Park. New River Gorge consists of over 73,000 acres of adventurous recreational activity including hiking, whitewater rafting, rock climbing, and mountain biking. Now, this is not a park that you can just breeze through in a day, so ideally, there are over eight campgrounds where you can park your van. Check out New River's rules and regulations regarding camping within the park. There are so many opportunities to explore nature's waterfalls and go sightseeing here that you'll most likely want to stay awhile.
Blackwater Falls State Park acquired its name from the Blackwater River that flows and falls through it, achieving its dark complexion through the tannic acid from fallen leaves. Within the park are many activities that cater to a van-lifers audacious needs this summer. You can set up your mobile home at the campground provided within the park and set out to explore the five-story magically cascading river or witness its beauty from the viewing platforms. Wake up early and hike the 0.8-mile trip to the wooden overlook to watch the world come alive below you. To get the ultimate Instagram photo, you can stand on the large rocks surrounding the viewing area but be very cautious while doing it.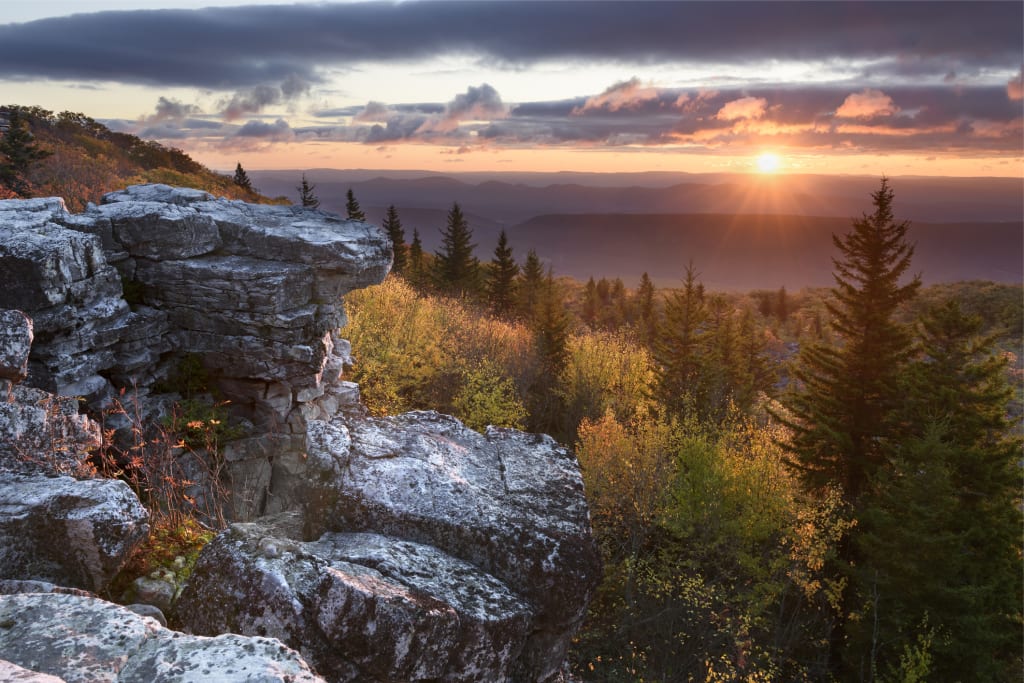 Located in eastern-central West Virginia, Monongahela National Forest is the best destination to satisfy your wanderlust. Consists of 921,000 acres of protected backwood roads and scenic hiking trails. Suppose your idea of heaven is a relaxing stroll through nature. In that case, there are plenty of easy nature trails inside the forest that are great for the whole family! Feeling cooped up in your van lately? Ramp it up a notch and set out for one of the park's strenuous hiking trails. The elevation does increase throughout the hike so make sure to pack plenty of water and a few nutritiously dense snacks to keep your body up to par.
If you consider yourself quite the history buff, then Berkeley Springs is the place for you. Just a walk around the park will have you yearning for information as you pass by several historically dense attractions. At the center of the park is a mineral spa that's been used for decades by local Native Americans for medicinal and spiritual purposes. Another popular feature is the town's oldest building! Right inside, on the second floor, you will find the Museum of Berkeley Springs. Originally built in 1815, the museum provides in-depth tours of the attractions exhibits including the geology of Berkeley Springs, Native American artifacts, Tomato Festival, George Washington, and several more!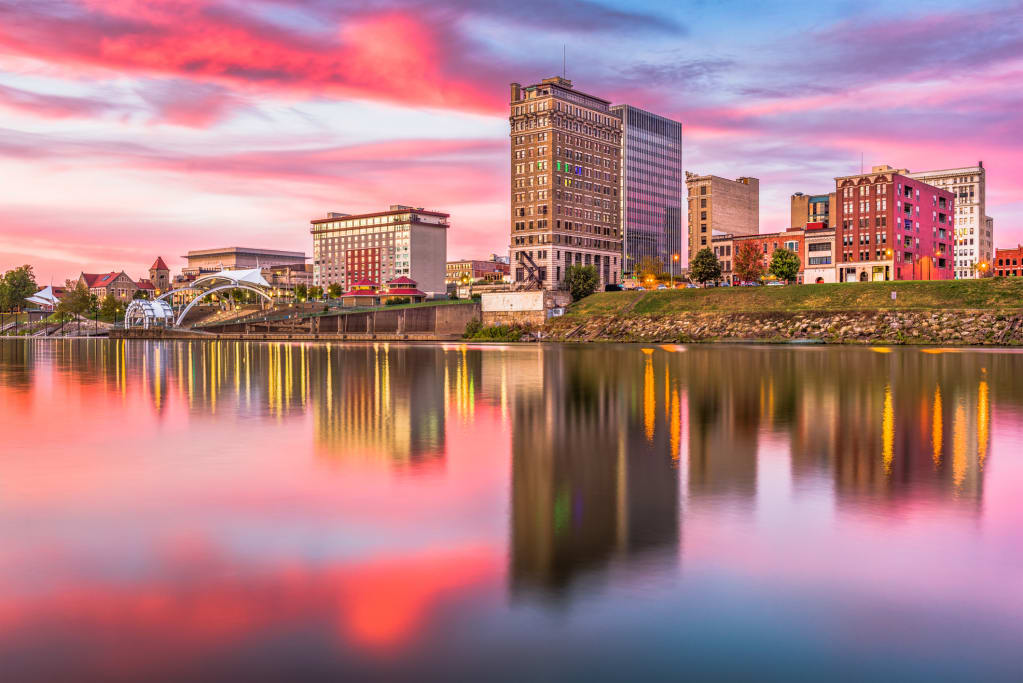 Representing the heart and soul of West Virginia, is Charleston, the capital of this beautiful state. Many attractions ooze rich histories like the West Virginia Veteran Memorial, State Museum, the Capitol Building, and the East End Historic District. If you're feeling hungry or want to purchase a souvenir for your van, walk down Capitol Street where you'll be greeted with cafés, bookstores, and boutiques. If you're like me then you love a good farmer's market. Just at the end of the street, you will find Capital Market, which is an indoor/outdoor market that offers an abundance of fresh locally grown produce, flowers, and homemade goods. This is the most popular town to shop in so be prepared for some crowds!
If you find yourself traveling around southern West Virginia, highly praised for its cascading beauty is Cathedral Falls. It is known as the tallest and most gorgeous waterfall in all of West Virginia. There's nothing more calming than enjoying your lunch by a flowing 100-foot waterfall. You can visit year-round to discover the ever-changing water pressure the falls seem to provide. Unfortunately, if you can't fit Cathedral Falls in your itinerary, then just driving along US 60 you can witness the last 60 feet of the waterfall from your van.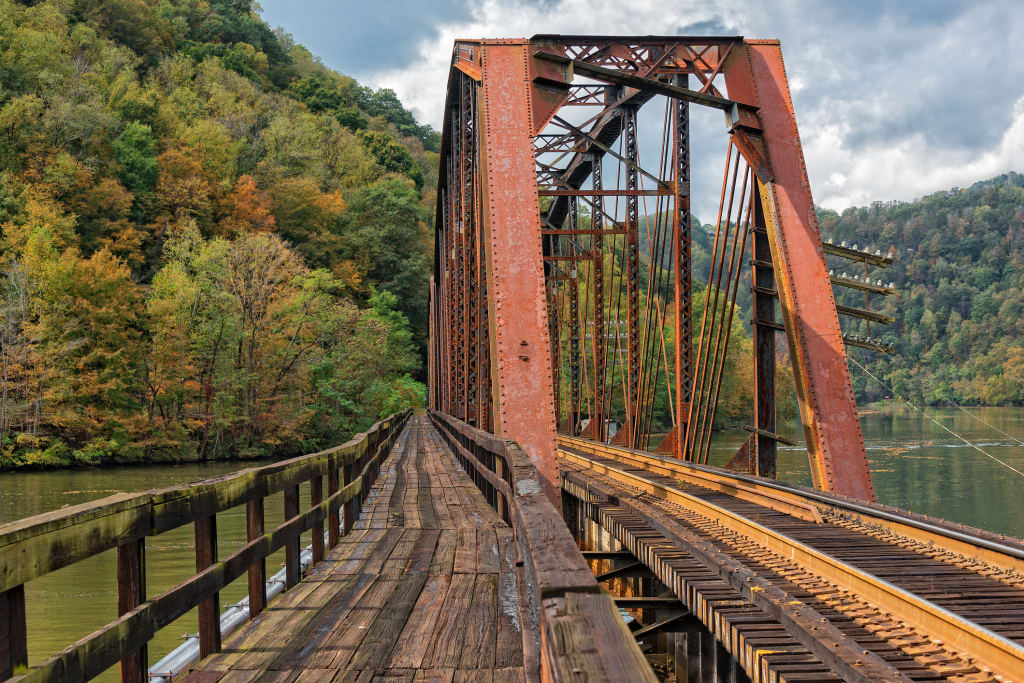 Known to have the most challenging whitewater boating waterways in the nation, Hawks Nest has quite the adrenaline rush waiting for you. If you're looking to get a night out of your van, then treat yourself and your family to a night's stay at the local lodge located within the park. The lodge and the adjoining restaurant are open year-round and require you to make your reservations online. Hawks Nest State Park offers plenty of recreational to keep your family busy like jet boat rides, an ariel tramway, a nature museum, and several hiking trails. I know I mentioned previously that the park has the most rigorous white-water rafting, but it may not be an ideal family activity to do with your younglings.
Not far from the New River Gorge, you have the most photogenic place in West Virginia. People come from all over to fly their drones and take pictures of the heavenly views. Just like most state parks, Babcock offers your typically scenic nature hikes, white-water rafting, biking, and trout fishing. Haven't got your historic fill? Explore some more at the park's fully functioning main attraction, the Glade Creek Grist Mill, it is supposed to replicate the original Coopers Mills that once stood in its place.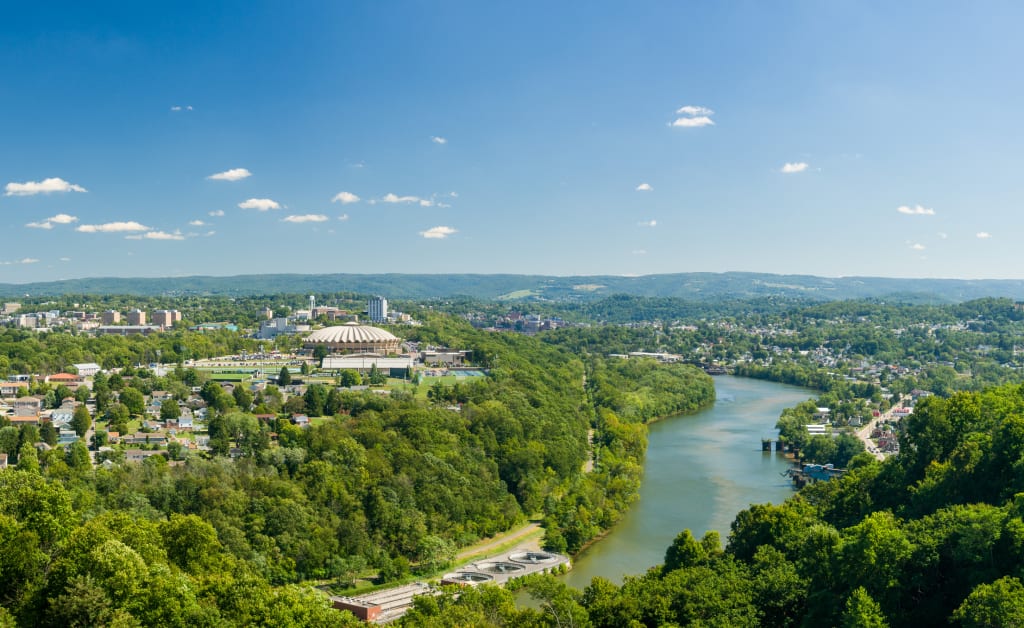 Morgantown has endless activities for you and your family to indulge in. Home to West Virginia University, the town is very much lively and family-friendly. I suggest doing some internet surfing when making your itinerary for the day because it's impossible to fit that much in just a paragraph. Morgantown is loaded with unique foods like the notorious pepperoni roll and the iconic West Virginia hot dog, which includes mustard, onions, chili (without beans), and in some places, slaw. Be sure to head to Yann's to try out West Virginia's spiciest sauce!
If you've been daring lately, clear your schedule and make a trip to Seneca Rocks National Recreation Area, which is inside The Monongahela National Forest. Here you will find the highest peak in West Virginia, Spruce Knob, a popular spot for mountain climbers. The terrain is mostly spruce forest and meadows but, once you reach the slopes, you will hit some large talus/boulder slabs comprised of Pennsylvanian Pottsville Sandstone. If you are not looking forward to the strenuous trek, you can reach the summit via van or car. It is suggested to visit the area during the summertime because the snowy months may limit access or cause dangerous driving conditions.
West Virginia is your family's ideal van-life traveling destination this summer. With several state parks within the state, you can set up camp anywhere for free. I dream of the day when I can journey through America's "almost heaven", with the windows down, singing John Denver's "Take Me Home, Country Roads".