Ready to trade in the winter blues for sunshine and sparkling blue water? Look no further than Florida for all of your vacation needs. This lucky state's mild winters make it a favorite holiday destination for travelers of all walks of life. Whether you're craving the resort-style relaxation of sipping cocktails on a tropical beach or an adventurous outing like snorkeling or scuba diving in Manatee Spring, Florida has you covered. With plenty of stunning coastlines, diverse state parks, and outdoor sports opportunities, the Sunshine State has something for everyone. Florida is also known for being particularly welcoming to RVers. This winter, take advantage of the nomadic nature of van life to go on the balmy beach vacation you've been waiting for.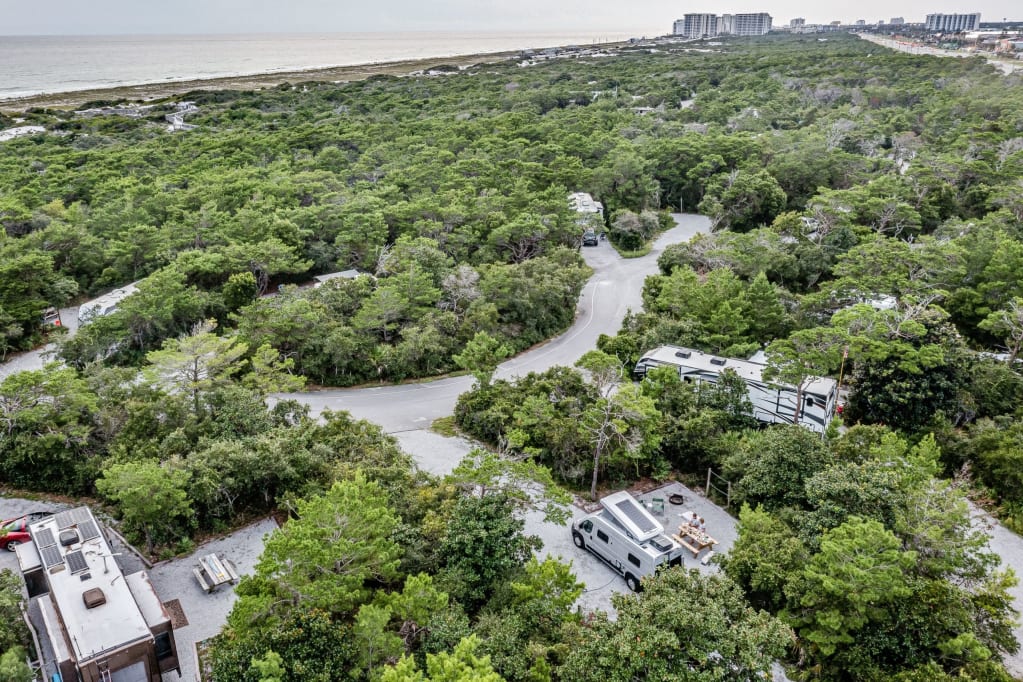 BEST CAMPGROUNDS AND RV PARKS IN FLORIDA
With so many tempting spots to visit, how will you decide where to go? We're here to help with a list of our top ten campgrounds in Florida, including links to book your stay and details on what to do in each location. We recommend stringing a few spots together for an epic road trip.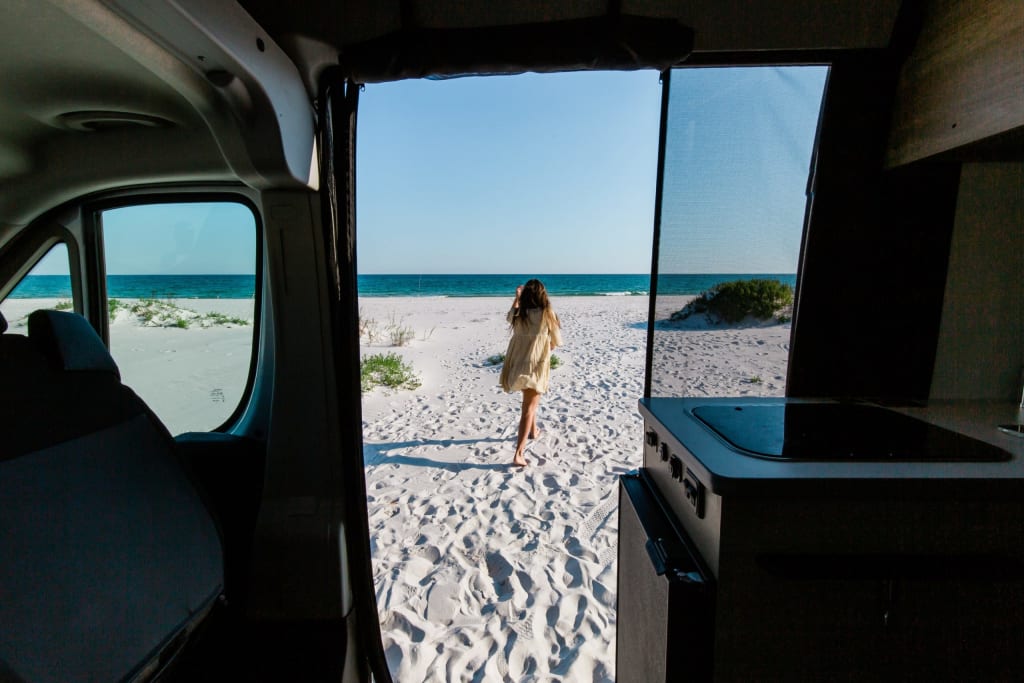 CAMPGROUNDS ON THE BEACH
If you're traveling from a landlocked state, your first destination will probably be the beach. After all, who can resist the pull of the sun, sand, and sea? You may be able to find free beach camping in some parts of Florida. If you'd rather plan in advance—which is a good idea during the busy winter season—here are three beachside RV parks to check out.
Note: the RV parks listed below are not located in state parks. If you're looking for beach camping in state parks, scroll down a bit further.
Fisherman's Cove Resort – Click Here to Book
Why we love it: This southern Florida RV resort delivers on both city comforts and wilderness adventures. Explore the nearby mangrove-filled oasis of Terra Ceia Preserve State Park by day, then venture into one of the surrounding cities for delicious dining at night. The next day, try stand-up paddleboarding or fishing on the resort's pier, then enjoy a sunset from the hot tub.
Grassy Key RV Park & Resort – Click Here to Book
Why we love it: The Florida Keys are a popular group of tropical islands known for boating, snorkeling, spas, bars, shopping, beaches, and much more. Luckily, you can actually drive your van to this little slice of paradise over the scenic 113-mile Overseas Highway. However, living in your van is illegal in the Florida Keys, so be sure to snag a spot at an RV park on one of the islands in advance. We favor the Grassy Key for its generous amenities—white sand beach with included beach games, anyone?
North Beach Camp Resort – Click Here to Book
Why we love it: Surfers will love this resort nestled between the Atlantic Ocean and the North River. Catch some waves, then relax on the St. Augustine Scenic Cruise (staying at the resort will earn you discounted tickets). The hour-long narrated boat ride navigates waterways to show off the landscape and notable landmarks of St. Augustine. If the salty breeze stirs your appetite, you're in luck—there's a seafood restaurant on the resort property.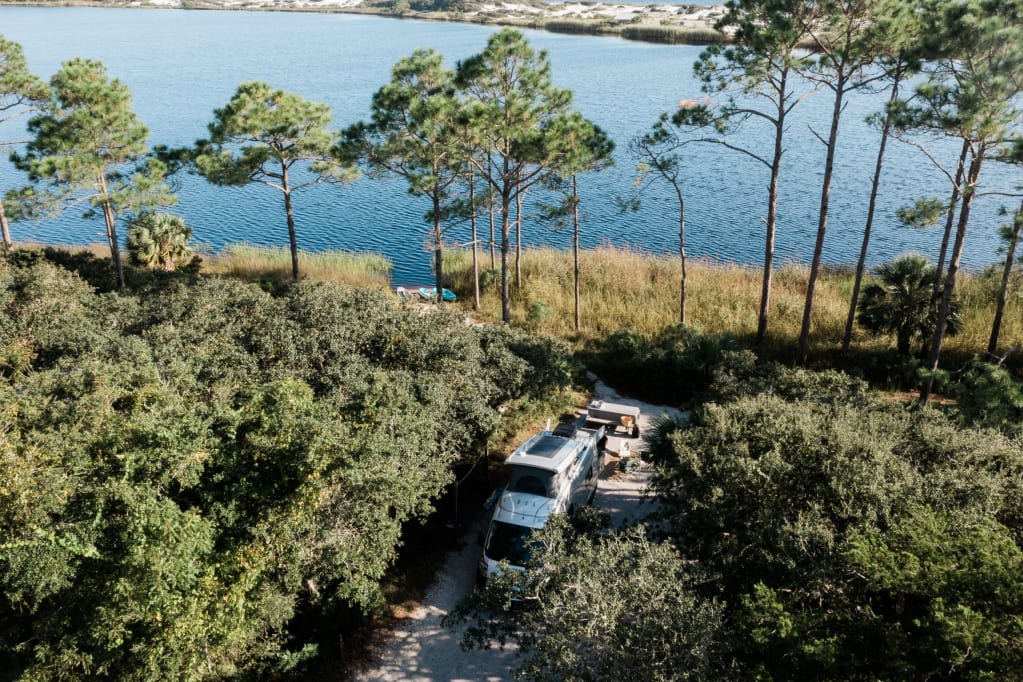 FLORIDA STATE PARKS WITH RV CAMPING
Florida has a plethora of state parks with overnight camping options. Below, we're sharing four of our favorite state parks with van camping for inland escapades.
Manatee Springs State Park – Click Here to Book
Why we love it: This state park offers a tranquil scene of turquoise water, wetlands, and cypress forest to meander through. While the natural landscape alone would be worth a visit, winter is also the active season for the park's namesake animals, manatees, who flock to the area for the warmer spring water. If you're lucky, you'll get to observe these gentle giants from the shores of the spring. If there are no manatees present, your consolation prize will be the opportunity to swim, snorkel, and even scuba dive in the aquamarine waters.
Paynes Prairie Preserve State Park – Click Here to Book
Why we love it: For something drastically different from the other terrains on this list, head inland to Paynes Prairie Preserve State Park. This 21,000-acre savanna is home to an impressive array of wildlife like bison, horses, birds, and even alligators. Hike your choice of eight trails, enjoy fishing on Lake Wauberg, and get a panoramic perspective from the park's 50-foot tall observation tower.
Falling Waters State Park – Click Here to Book
Why we love it: Explore a landscape straight out of a fairytale at Falling Waters State Park. Standing proudly at 73 feet, the waterfall is Florida's tallest. It's hidden within a majestic landscape of limestone sinkholes, huge trees, and ferns, which visitors can easily traverse on a boardwalk. The delights don't end there—the park also features a butterfly garden, small lake, and pine forest. We recommend packing your favorite foods for an alfresco meal. For our tips on creating the perfect van life picnic, click here.
Florida Caverns State Park – Click Here to Book
Why we love it: For another otherworldly landscape, you need only drive 30 minutes away from Falling Waters to reach Florida Caverns. This state park boasts caves filled with colorfully lit rock formations including the classic stalactites and stalagmites. Take a guided cave tour to learn all about this geological wonder. Above ground, get your heart pumping with hiking, biking, and kayaking.
FLORIDA STATE PARKS WITH VAN CAMPING ON OR BY THE BEACH
If you can't decide between staying within arms reach of the beach or camping at a pristine state park, may we suggest the best of both worlds? Here are four of the most loved beach state parks in Florida.
Grayton Beach State Park – Click Here to Book
Why we love it: Water lovers rejoice! Grayton Beach State Park offers both white sand beaches and a large coastal dune lake. Swimming is popular in the turquoise waters of the Gulf of Mexico, while Western Lake is great for canoeing, paddleboarding, and kayaking. The park also offers four miles of hiking trails.
Dr. Julian G. Bruce St. George Island State Park – Click Here to Book
Why we love it: This pristine island in the Florida Panhandle ranks in the top 10 beaches in the United States, according to Dr. Beach. Away from urban areas, the wilderness is able to truly shine, as are the stars. We recommend laying somewhere along the nine miles of beautiful beach to watch the transition from day to night over the sea.
Bahia Honda State Park – Click Here to Book
Why we love it: Secluded and popular might seem like opposites, but Bahia Honda State Park is described equally by both terms. The small island the park is located on is basically uninhabited, but visitors flock from everywhere to camp there. Book a snorkeling experience at Looe Key Reef to swim with a dazzling array of colorful fish. Back on land, go on a real-life treasure hunt as you seek out the state park's four geocache locations.
We recommend making your reservation at any of these locations as early as possible—spots fill up fast! For the van to take you there, check out Rec Van.